HIGHLIGHTS
* WhatsApp Web may soon allow users to share images in full resolution & original quality .
* Sharing full resolution photos is also expected to come to WhatsApp for Android soon.
* Currently, WhatsApp compresses photos to save space.
* Users can set the photo quality by changing the Settings.
* WhatsApp also announced new features for Status.
WhatsApp Web users are in for the much awaited surprise a new report suggests that the option to toggle and share images in their original quality is soon coming to the platform.
This comes right after reports claimed that WhatsApp for Android will get this feature in future software updates.
In an attempt to take on rival messaging and social-sharing apps, WhatsApp is working on this new toggle feature, which is expected to make its way to beta versions of the Android and Web versions of the app.
The report by WABetaInfo, known for its highly accurate WhatsApp feature reporting, claims new feature is currently under development as seen in the screenshot shared by the publication.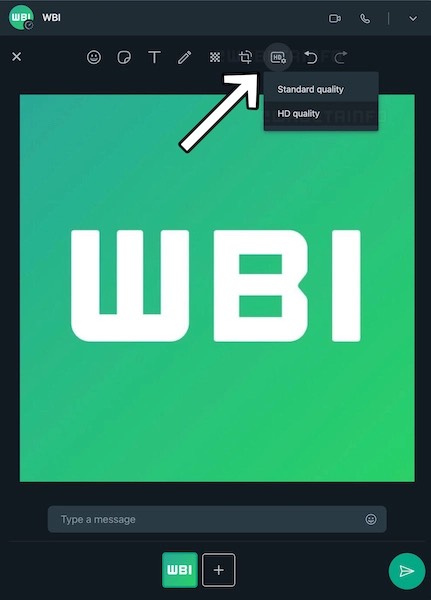 This feature will help users preserve the original resolution and clarity of the image they intended to share, thus maintaining its quality for printing purposes.
However, the report also mentions that you will still be able to use the existing compressed version of your image, in an attempt to save space and decrease upload time.
The feature to share original resolution images on WhatsApp Web is expected in the new few updates for the app.
However, the report has not mentioned the build number for the same.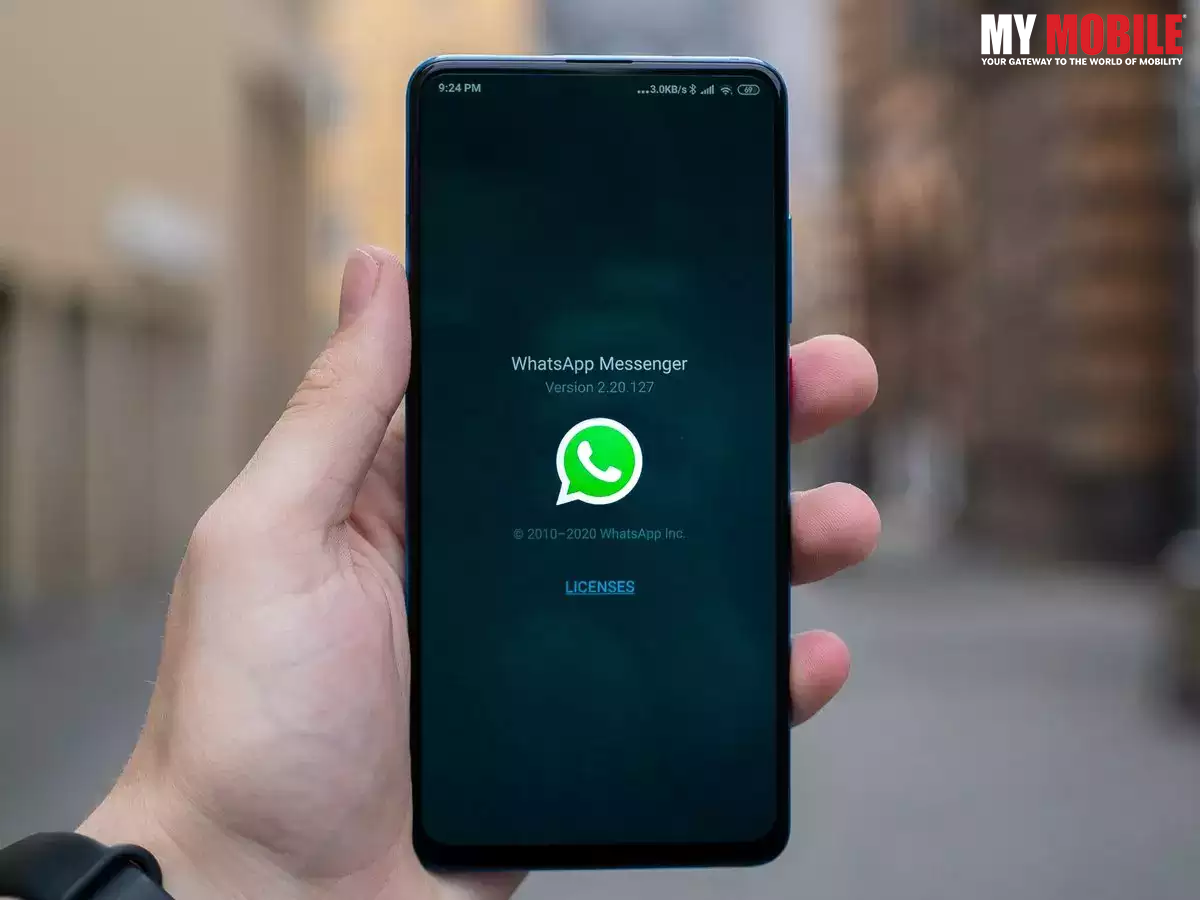 The instant messaging app is also rolling out a new camera mode to some users.
With the new camera mode, users will be able to switch to video mode from photo mode with just a tap.
They will no longer need to tap and hold to record videos, enabling hands-free video recording. The feature is available to users who have installed the WhatsApp beta for iOS 23.2.0.70 update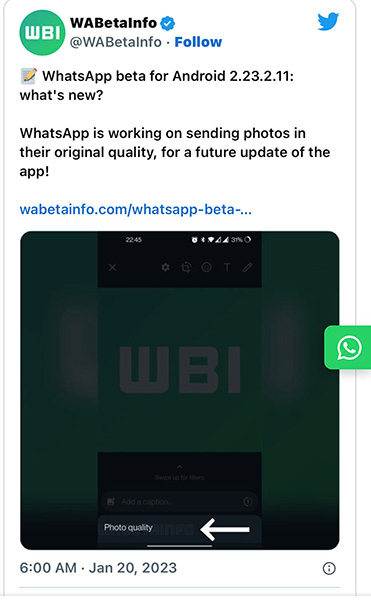 A previous report revealed that WhatsApp for Android has gotten this feature in the 2.23.2.11 update.
WhatsApp is of planning many new and exciting features for 2023, in an attempt to take on rivals such as Telegram, Discord, and Signal. Users have already seen features like a dedicated video mode, voice status capabilities, private audience selector, and status profile rings on WhatsApp in 2023.
In terms of what's coming next, you can expect companion mode, view once text, PiP for video calls on iOS, pinned message capabilities, business directory, and the ability to share up to 100 media files in one message.
How to send photos in original quality on WhatsApp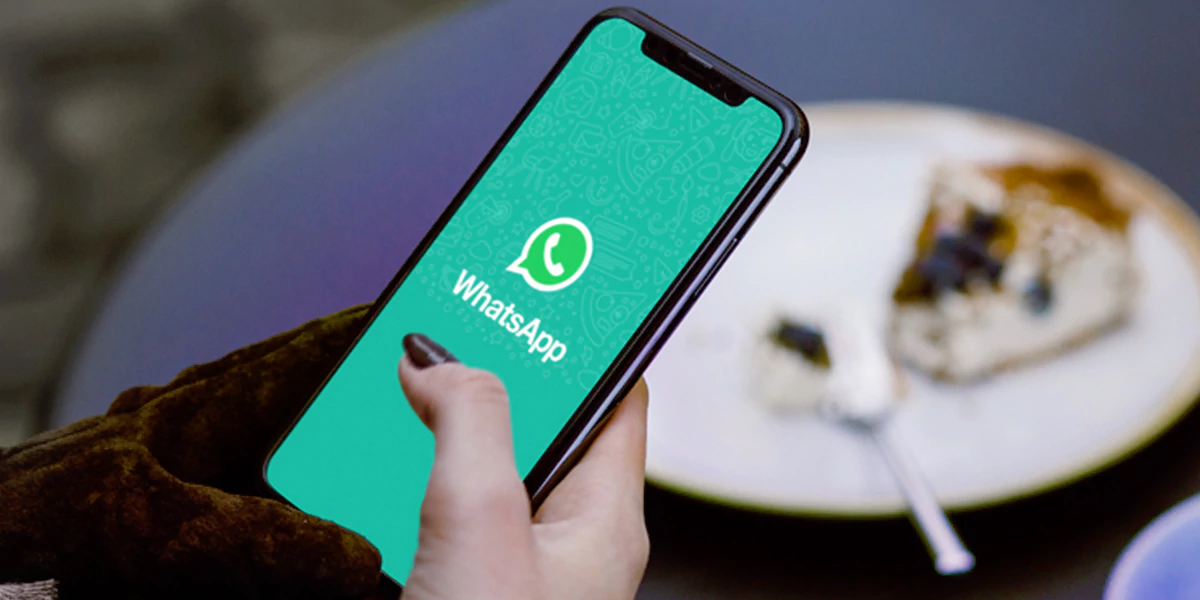 The photo quality feature is currently available for iOS and Android WhatsApp users.
Users can now see a dedicated photo upload quality section in the app's Settings. To set photo quality-
Open the WhatsApp app.
Go to Settings.
Now tap on Storage and Data> Media Upload Quality.
Under the upload quality section, you can choose the quality of the photo from three options. 'Auto', 'Best Quality', or 'Data Saver' (send a compressed photo to save data). Notably, to send a large file in the best quality, WhatsApp will take a bit longer and consume more data.
Also, if you are not able to find the new photo quality option in Settings, then update your app or wait a bit longer as WhatsApp will roll out the feature for everyone in the coming days.
Meanwhile, the platform has also announced some new features for WhatsApp Status, making it easier for users to express themselves and connect with others.
Here is the list of the upcoming WhatsApp Status features, which will soon be available to users with the upcoming app updates.
Private Audience Selector: WhatsApp is now providing users with the flexibility to update privacy settings per status, so users can now choose who views their status.
The app will also save the recent audience selection as the default so that you can choose the same setting in the next status.
Voice Status: WhatsApp will also soon give the ability to record and share voice messages up to 30 seconds on status. Users can use the upcoming Voice status for sending more personal updates and recording feelings in voice notes if not in the mood to write.
Status Reactions: WhatsApp is also adding status reactions to Status to provide a quick and easy way to respond to status updates. Users will be able to quickly reply to any status by swiping up and tapping on one of eight emojis.
Status Profile Rings for New Updates: Similar to Instagram, Meta is also adding the profile rings feature to WhatsApp.
The feature will allow users to quickly see the status. The status ring will be visible in the chat lists, group participant lists, and contact info.
Link Previews on Status: WhatsApp has also officially announced the link view feature. With this feature.
Users can share rich link previews when sharing a link as a text status update.
What do you think about the potential ability to share images in their uncompressed form on WhatsApp?
Faq's on WhatsApp Updates
1)How to hide your "Last Seen" on Whatsapp?
Ans)Step 1. Open WhatsApp on your iPhone or Android.
Step 2. Go to your WhatsApp settings.
On iPhone, tap Settings – the gear icon – in the bottom right corner.
On Android, tap the More icon – the three vertical dots – in the top right corner, and then select Settings in the menu.
Step 3. In Settings, tap Account.
Step 4. On the Account page, tap Privacy.
Step 5. Tap on the "Last Seen" option to change your online status.
Step 6. There are two options to hide the online or Last Seen status on your WhatsApp account — you can choose for only My Contacts to see your status or for Nobody to see your status.
After saving your settings to "Nobody" in the Last Seen section, you can rest assured that nobody would be able to check your Last Seen time stamp.
2)How To Be Online on Whatsapp Without Being Visible to Your Contacts?
Ans)There are no internal WhatsApp settings that can assist you in remaining invisible when online to the rest of your contacts. In order to stay online without being visible, you will have to use certain third-party apps such as "WA Bubble for Chat."
You can visit Play Store on your Android device or App Store if you are iOS to download the "WA Bubble for Chat" app. Once downloaded, you can start using the app for chatting without opening WhatsApp.
All your WhatsApp will be visible in different bubbles and you can start chatting in any particular bubble without actually opening WhatsApp. This way you actually never technically are online and thus, remain invisible to the rest of your contacts.
3)What is the Companion mode for whatsapp?
Ans)Currently, WhatsApp doesn't allow its users to log in with their WhatsApp accounts on more than one smartphone. This is most likely going to change in 2023 with the instant messaging app introducing a new "Companion Mode." Using this feature, users will be able to link their WhatsApp accounts or the same mobile number on different smartphones.
4)What is the View Once Text feature in WhatsApp ?
Ans)The View Once Text, as the same clearly suggests, is a feature that will delete messages sent once the recipient opens and reads them once. The app already has a view once photo feature that deletes photos shared once seen. The View once text could be extremely useful when you are sharing information that you do not want the recipient of your message to save on their device.
Also Read: How to Recover Whatsapp Deleted and Archived Chats on Android and iPhone Check All Important Steps to the Guide Of WhatsApp Chat Restore
Also Read: WhatsApp New Features 2023: New Video Shooting Mode, Shortcut for Blocking Accounts from Notifications
Also Read: How to be Online on WhatsApp Without Being Visible to Your Contacts?
Also Read: WhatsApp in 2023 – All Features Anticipated in this New Year