Introduction
Wings has introduced the Phantom 850 gaming TWS in India, following the recent introduction of the Phantom 200 gaming TWS.
The earbuds have a total playback length of up to 50 hours and include Bullet Charge quick charging technology, among other features.
In the review we'll explain the Advantages & Disadvantages of these Wings Phantom Earphones. Is the 65ms latency claim real, and are they the finest gaming earbuds around Rs 2500? Have a look at details.
Wings Phantom 850 – Highlight Specifications
TWS Earbuds
In the Ear
Wireless Headphones
Bluetooth 5.3
Microphone
15 m Range
20 Hz (Min) – 20 KHz (Max) Frequency Response
13 mm Driver
Wings Phantom 850- Key Features
 Orientation Type: In Ear
Connectivity: Bluetooth, Version 5.3
Battery Life: 50 Hours
Fast Charging: Yes
Noise Cancellation: Environmental
Noise Cancellation
Voice Assistant: Siri | Google Assistant
IPX5 Water Resistant, 13mm High FID Composite Drivers
Warranty: 12 Months Warranty
Quick specifications: Wings Phantom 850
Split Cover Design with LED Lights
13 mm High Fidelity Composite Driver
Dedicated Game mode with 40ms Ultra
Low Latency
Quad Mic with ENC
Touch Controls
Game Mode, Battery Level Indicators
Bluetooth Version: 5.3; 15 m range
Battery: Up to 50hrs with case and 10hrs on Earbuds
Bullet Fast Charge support
IPX5 Water and Sweat resistance
Wings Sync App support
1 Year warranty
Wings Phantom 850 Pros & Cons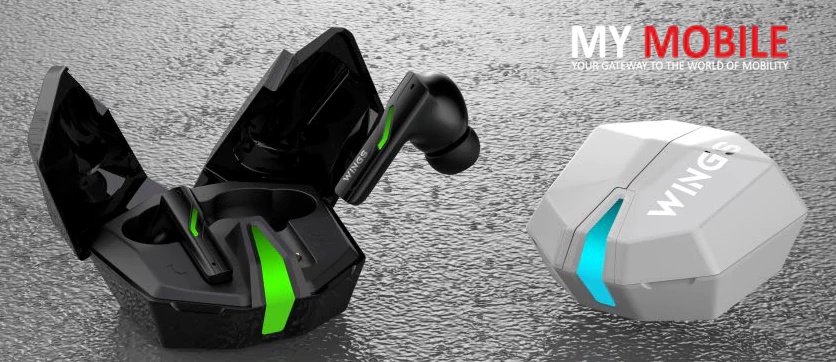 Pros
Cons
Sweat-resistant

Waterproof

Low-latency gaming mode

Bluetooth 5.3

Easy-to-wear design

Good playback time

Bullet charge technology

No scratch resistant

Unstable Connectivity
Why Buy Wings Phantom 850 TWS Earbuds with Environmental Noise Cancellation?
Bluetooth v5.3 provides high efficiency and high-speed connection.
Premium and stylish looks make it more attractive and very impressive.
With quad microphones great for making phone calls for several reasons.
What's in the Box
Wings Phantom gaming earbuds
Charging case
Type-C charging cable
User manual
Extra eartips
Wings Phantom Box Content
Wings Phantom's box is full with specs and product graphics with all white combination.
This white combo appealed to me. Inside the box we have TWS case with earbuds inside them, a charging cable, and a pair of ear plugs, in case you lost these one.
Wings Phantom- Build Quality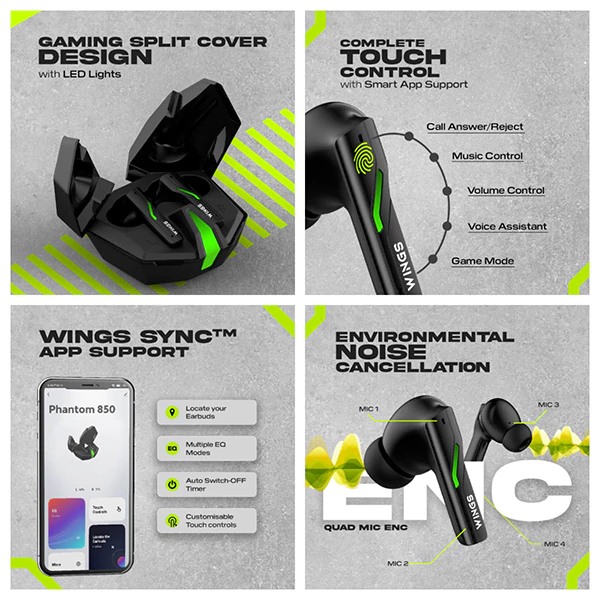 When it comes to the charging case, it features a unique and hefty design. It includes a variety of motifs on the box and the Wings logo on top.
On the rear, there is a Type-C charging connector and two Green LED lights. While these LEDs have the appearance of a Batman Eye, there is no way to turn them off.
They automatically switch off after the earphones have been fully charged. These LEDs irritate me at night because I generally use these TWS before going to bed.
Wings claims that this case may be used as a mobile holder. This case is definitely sturdy; I dropped it on a concrete road to test its toughness, and everything, including the LEDs, is still operational.
The earphones, on the other hand, have a stem-like shape followed by some design pattern with lightning on them. The earphones are composed of high-quality plastic and are rather strong.
For me, the fit is fantastic and comfy. I used these while travelling and they were excellent. However, as previously stated, these earphones are strong and feel weighty after a while. They include IPX5 protection, which is helpful for perspiration during exercises.
Wings Phantom- Sound Quality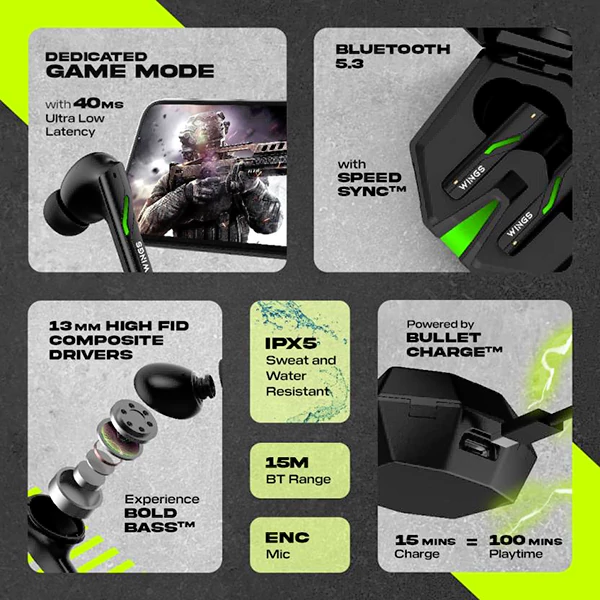 The Wings Phantom performs an excellent job. In music mode, the sound quality is clear, and the treble is well-balanced.
Bass fans will be disappointed because the bass isn't very punchy; yet, it's still a good phone for everyday use.
One may immediately sense the improvement in sound details after switching to game mode by holding the touch control for 2 seconds.
I tested it on Call of Duty: Mobile and the latency is now really minimal.
Wings use 3-hole MEMS microphone technology to provide crystal clear calls and in-game chat audio.
The mic quality does the job; I used the Wings Phantom for meetings and everyone could hear me clearly. Still, the voice is not particularly clear, but it gets the job done. In the video below, you can learn more about the sound quality and mic test.
Wings Phantom- Connectivity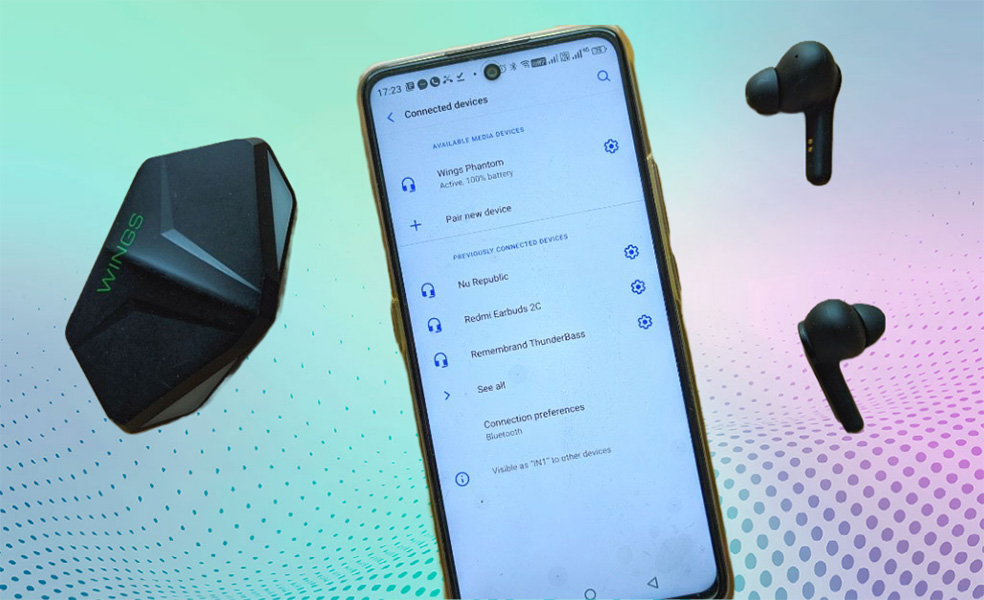 It is simple and quick to pair your Wings Phantom earbuds with your device. After removing the earbuds from the case, you may need to turn them on. It does not automatically turn multiple times.
One of the most serious concerns I had with these earphones was unreliable connectivity. The majority of the time, these earbuds immediately detach from the smartphone, and this is not limited to a particular device. This problem occurred on my OnePlus 7, and Windows Laptop, Wings must investigate this matter immediately.
Wings claims 20 hours of total Phantom gameplay. For me, the earbuds lasted about 4 hours 30 minutes at 80% volume, which is over 1 hour 30 minutes less than Wings claims for a single charge. The case provides three more charge cycles, allowing it to last up to 20 hours, which I believe is an excellent bargain for the price. It supports Type-C charging and charges in one hour. Those LEDs glow when the case is charging and continue to do so until it is fully charged (Again irritating).
Wings Phantom Review: Dedicated Game Mode
The most important feature of any gaming earbuds is its dedicated gaming mode.
In the Wings Phantom gaming true wireless earbuds, you will also get to see the dedicated gaming mode, to access which you have to tap and hold the right side earbuds for 2 seconds.
After this your earbuds will go into gaming mode.
The specialty of this mode is that you get to see very low latency in it.
It has been claimed by Wings that these earbuds have a latency of 65ms and this proved to be true during my testing. Plus, when you turn on the gaming mode, the LED lights on the earbuds are lit with a breathing effect that looks really beautiful and provides a gaming vibe.
Wings Phantom Review: Water Resistant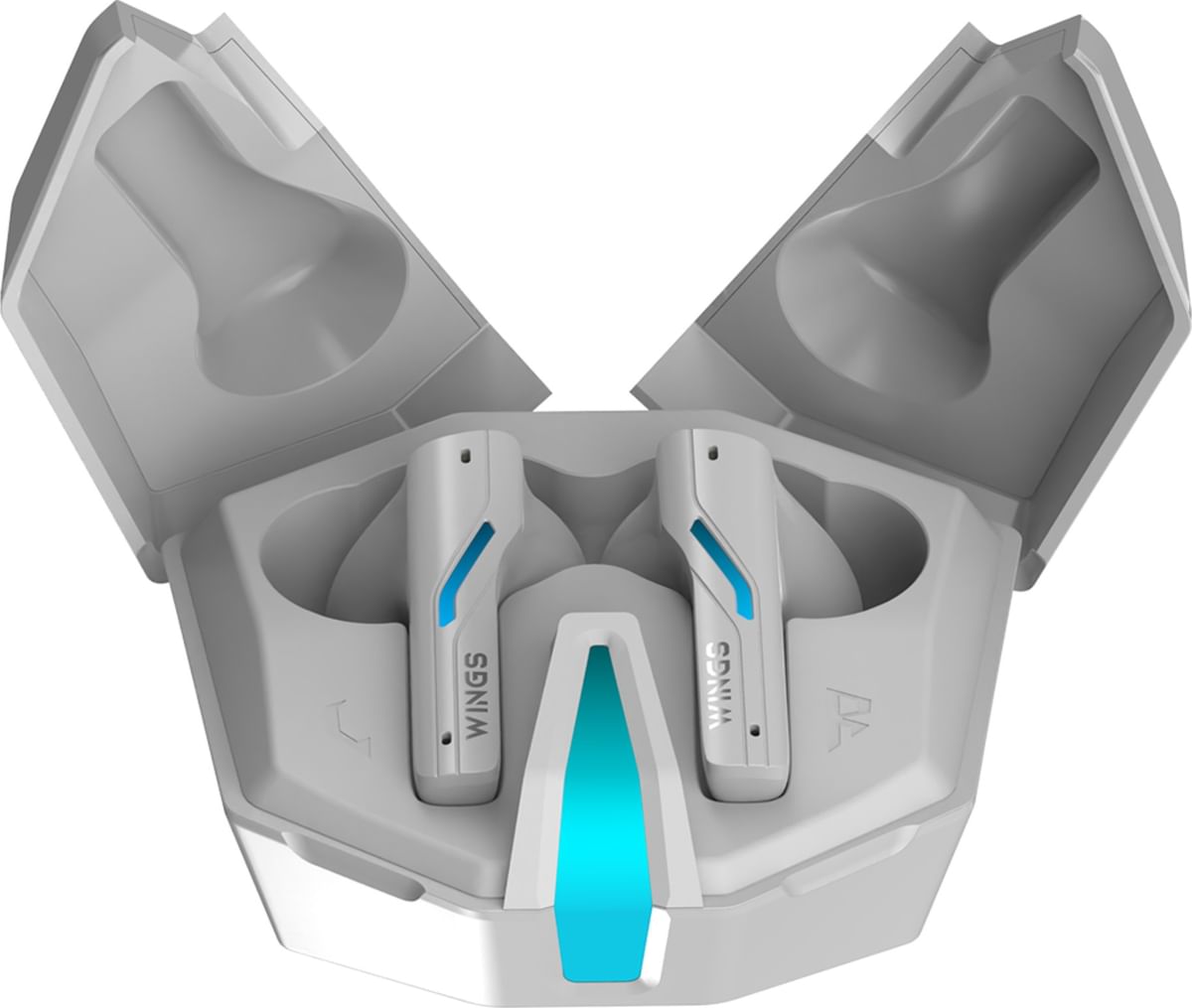 The Wings Phantom gaming true wireless earbuds have IPX5 ratings, making them water resistant and sweat proof.
So if you ever workout with it or get splashed with water there is no need to panic.
Although I have never felt that much benefit of this feature for any gaming earbuds but still it is an add-on feature.
Wings Phantom Review: Battery Life & Charging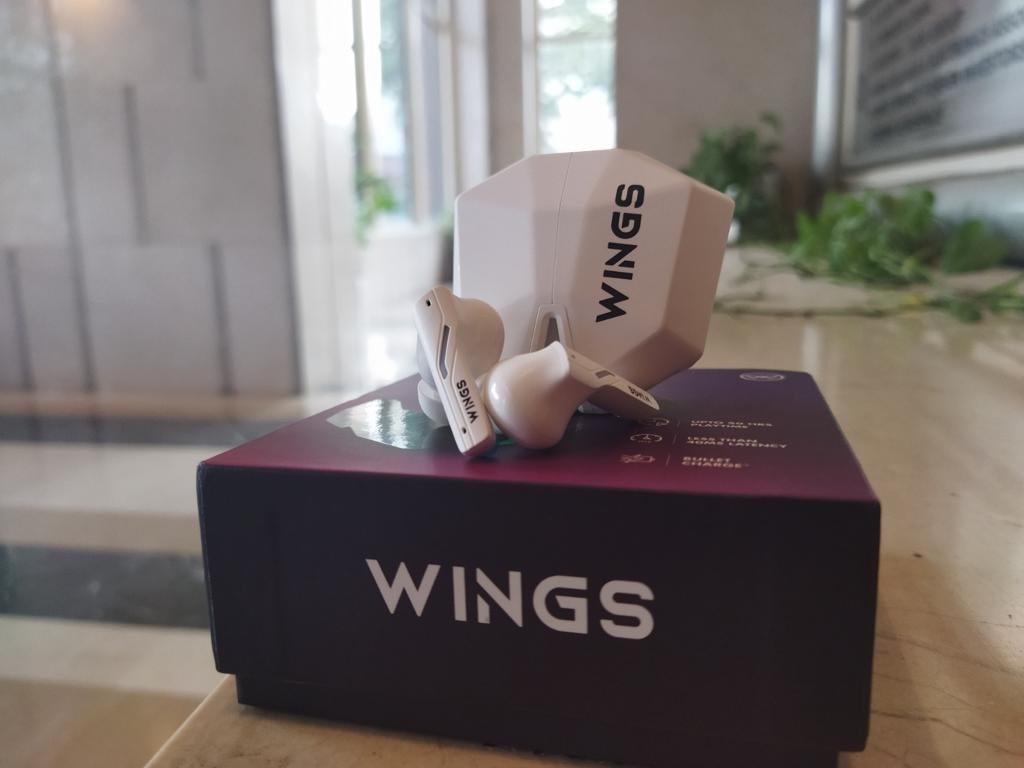 The Wings Phantom gaming true wireless earbuds didn't disappoint me at all in terms of battery life.
On a full charge, these earbuds gave me about 6 hours of battery backup which is really impressive.
I am only talking about the earbuds here, I have not included the case.
If we talk about the charging case, the total play time is about 20 hours with them.
You also get a Type-C charging cable to charge the case.
These earbuds support fast charging which is a good feature and maybe even necessary because nowadays you get to see fast charging support in all the smart gadgets due to which all the users have become used to it.
And keeping the battery in mind, I can say that the Wings Phantom gaming earbuds are a good option for gamers who are looking for good gaming earbuds for long gaming sessions.
Wings Phantom Review: Mic Quality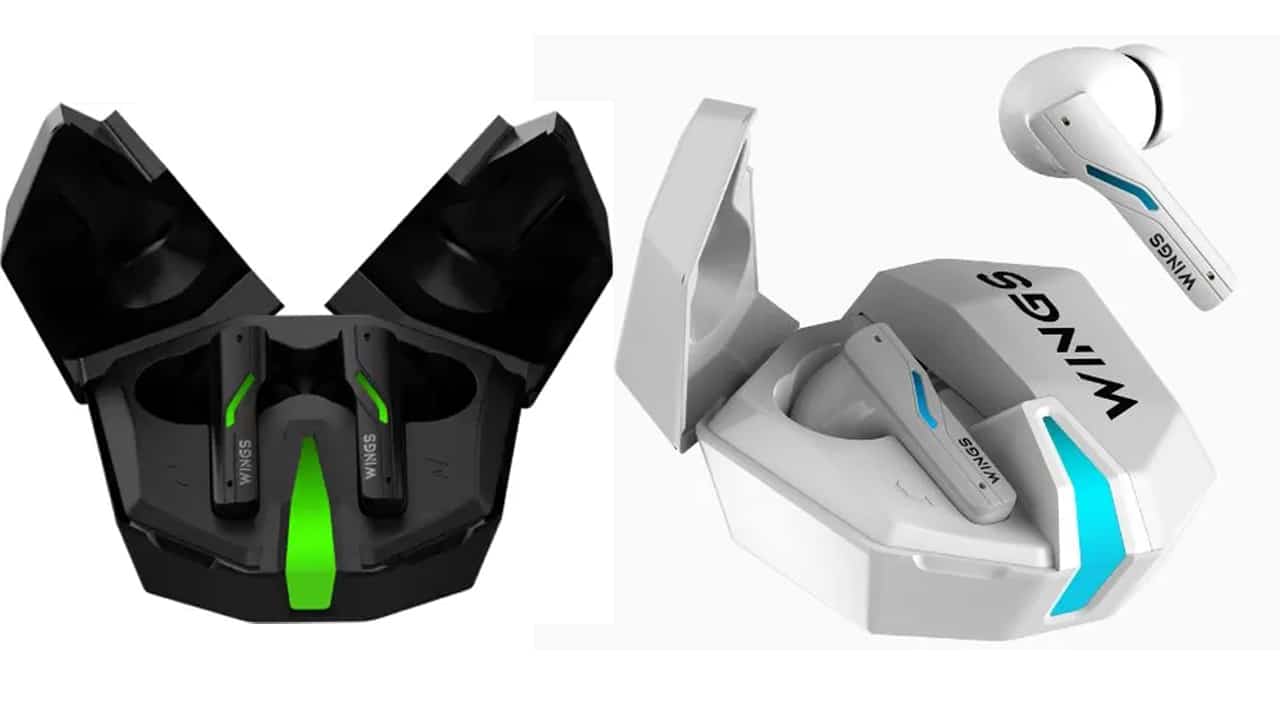 Talking about the mic of Wings Phantom gaming earbuds, in this you have been given a microphone with 3 hole system MEMS technology design in the bottom of the earbuds so that your voice can be cleared in a better way.
And whether I am talking about in-game chat voice or calling, the quality of its mic is really good.
If you do squad gaming these gaming earbuds will prove to be very helpful for you, your voice will reach your teammates in a clear way.
Wings Phantom Review: Fitting & Comfort
Now that the total weight of these earbuds is only 10 grams, you are going to be very comfortable with it.
They are designed in such a way that it fits snugly in your ears.
Also, with these you also get extra eartips which you can use according to the size of your ears.
I have also done workouts with them and I can say that you will not have any complaint with these earbuds in terms of fitting or comfortability.
Wings Phantom Review: Controls
You get to see touch controls in Wings Phantom gaming earbuds and touch sensors have been given in both the earbuds.
If you double tap while calling, the call is received and on double taping, the call is also rejected.
On the other hand, if you are listening to music, you have to tap the left earbud to turn the volume down, while tapping the right earbud will turn the volume high.
Apart from this, you have to tap the right earbud three times for next music and three times on the left earbud for previous music.
Also, if you want to access Google Assistant or Siri, you have to tap and hold the left earbud for 2 seconds.
To turn on Game Mode, you have to tap and hold the right earbud for 2 seconds and to go back to music mode, hold for 2 seconds again.
Wings Phantom 850 Key Features
The design and build quality of both the earbuds and the case are excellent.
Sound quality improves significantly due to dedicated gaming mode.
Very low latency in the gaming mode, due to which there is no lag in getting the response from the game.
Supports fast charging so that you can charge them in a very short time.
It is very lightweight, thereby you do not have pain in your ears even after wearing it for a long time.
There are very handy touch controls so it's not a problem to use them at all.
Wings Phantom 850 Gaming Earbuds Price and Availability
The earbuds are available for a limited time at a launch price of Rs 899. Available in black and white colours, the Wings Phantom 850 Gaming Earbuds are available for purchase on wingslifestyle.in, Amazon, and Flipkart.
Verdict
Wings Phantom is a straightforward suggestion from my end if you're seeking for a set of gaming earbuds with a stylish appearance, touch controls, excellent sound, a specialised gaming mode, greater battery life, and a respectable mic.
The bass, however, does not seem to be up to par, and I believe there is a connection problem.
Those LEDs repeatedly start to annoy me. Wings need to have provided a toggle switch to turn off these LEDs.
In direct competition with the Rs 2,699 OnePlus Buds Z is the Wings Phantom. Does Wings Phantom perform superior to OnePlus Buds Z? Since I haven't tried the Buds Z yet, I can't say for sure, but I can say that the Wings Phantom is a good value for the money.
Good For
• All types of gamers
• Music lovers
• Those looking for budget gaming earbuds
• Those who like easy controls in earbuds
• Who do long gaming sessions
Not Good For
• Those looking for cheap gaming earbuds
• Who needs this for competitive gaming
WINGS PHANTOM 850 KEY SPECIFICATIONS
GENERAL
| | |
| --- | --- |
| Brand | Wings |
| Model | Phantom 860 |
| Design | TWS Earbuds |
| Type | In the Ear |
| Connectivity | Wireless |
FEATURES
| | |
| --- | --- |
| Bluetooth | Yes, 5.3 |
| Bluetooth Range | 15 m |
| USB | Yes |
| Microphone | Yes, Quad Mics |
| Voice Assistant | Yes |
| Water Resistant | Yes |
| Monaural | Yes |
| Controls | Touch Sensors |
| Music Controls | Play/Pause |
| Call Controls | Answer/Hold/Reject |
| Switch between Call and Music | Yes |
| Additional Features | LED Indicators, 40ms Ultra Low Latency, IPX5 Rated |
SOUND FEATURES
| | |
| --- | --- |
| Deep Bass | Yes |
| Frequency Response | 20 Hz (Min) – 20 KHz (Max) |
| Driver Unit | 10 mm |
| Driver Type | Dynamic |
| Environmental Noise Cancellation | Yes |
EXTRA
| | |
| --- | --- |
| Sales Package | 1 Pair of Earbuds, Cable, Extra Ear Tips, Charging Case, User Manual |
| Other | 10 min charge= 100 min Playtime |
POWER FEATURES
Power Input
DC5 V-1A
Battery
Lithium-ion
Battery Life
50 hours (With Case)
10 hours (Earbuds)
Charging Time
2 hours (Case)
WARRANTY
| | |
| --- | --- |
| Warranty | 1 year, Manufacturer Warranty |
| Warranty Type | Manufacturer |
| Covered in Warranty | Manufacturing Defects |
| Not Covered in Warranty | Physical Damages |
FAQS on Wings Phantom 850 Review
1. Is there any problem with device?
Answer- Wings Phantom 850 has a good battery life. Sound of it is amazing and clear. Only there is a bit lag in the microphone, rest product is worth for money.
2. Where can i get Wings Phantom 850?
Answer-  You can buy them online from Amazon and flipkart. There are some offers running on some specific banks.
3. Wings Phantom 850 Price ?
Answer- Wings Phantom True Wireless Earbuds price in India starts from ₹1,299.
4. Are the Wings Phantom gaming earbuds worth buying?
Answer- There is no doubt that the Wings Phantom are one of the best gaming earbuds in this segment.
5. Such amazing features in this TWS justify its price?
Answer- And I think these earbuds have all the features that a gaming earbud should have. So that's why the Wings Phantom is worth buying.
6. What is the battery life of Wings Phantom gaming earbuds?
Answer- When I used them on full charge, I got a battery backup of more than 6 hours in which I enjoyed gaming as well as music.
7. Does Wings Phantom have ANC?
Answer- No, in Wings Phantom you get to see Passive Noise Cancellation instead of Active Noise Cancellation.
Due to the easy fit of the earbuds, the surrounding noise is reduced to a great extent.
8. Is Wings Phantom waterproof?
Answer- The Wings Phantom gaming earbuds are IPX-5 water resistant and sweat proof.
9. How to Turn On/Off Wings Phantom gaming earbuds?
Answer- These earbuds turn on when you take them out of the case and off when you put them back in the case.
10. What is the latency of Wings Phantom?
Answer- You get to see a latency of around 65 ms in these gaming TWS earbuds.
Also Read: Wings Phantom 200 TWS Gaming Earbuds Review: Gamer Tool
Also Read: Wings Phantom 550 Gaming Earbuds Review; Leisure Unlimited
Also Read: WINGS launches PHANTOM 260 TWS Wireless Gaming Earbuds