After the success of Wings Phantom 550 Gaming Earbuds, Wings rolled out its new model, Wings Phantom 200 TWS Gaming Earbuds on November 25, 2022, with some upgraded features that will be a treat for both music lovers and game-savvy individuals.
Wings is one of the premier audio brands in India that has acquired an excellent reputation among music and game lovers across the country through which they can play their favourite games in an immersive environment with no distractions.
Wings Phantom 550 Gaming Earbuds Review; Leisure Unlimited
Highlights
Wings Phantom 200 TWS are excellent gaming earbuds that are slowly getting more and more popular with each passing day.
The buds come with a portable charging case and a charging cable, along with 2X Bluetooth Earbuds.
The new earbuds aim to celebrate the modern Indian gamer through the products that reflect drive and finesse required in sports.
Wings Phantom 200 TWS in Brief
There are numerous electronic gadgets that cater to the tastes of people because they are extremely fickle minded and change tastes whenever it suits their convenience.
India is a country where both music and games are at a whole new level when it comes to popularity. Earbuds play a huge role in providing the necessary entertainment quotient while listening to music and playing games through them.
It is because pretty much every person in India plays games and listens to his favourite songs through earbuds because they provide adept sound quality that they players' look for.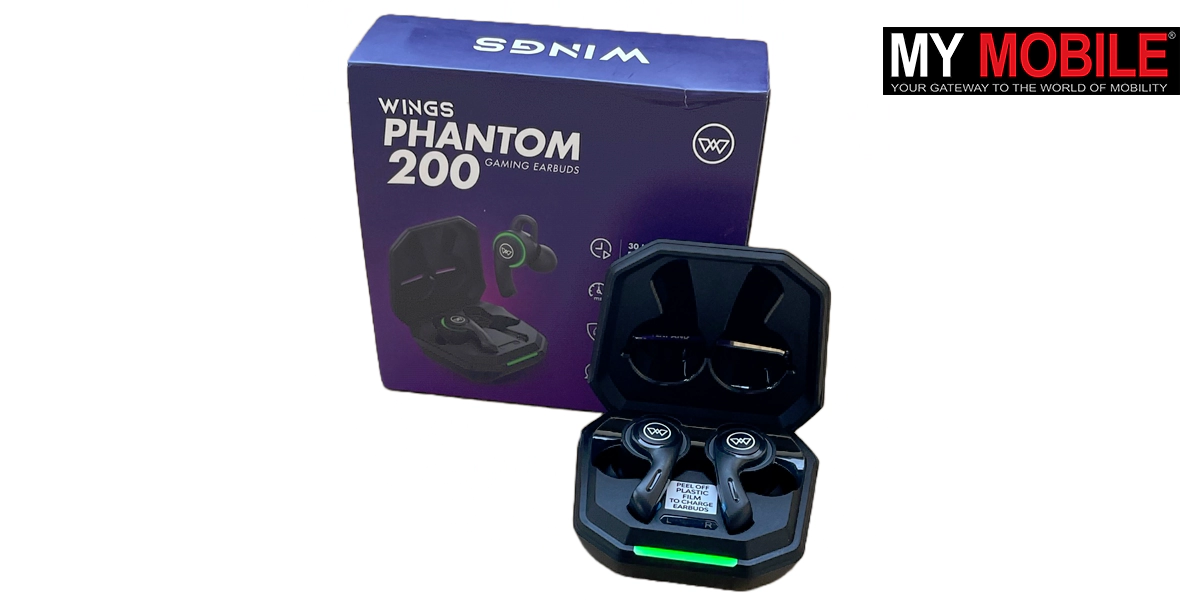 Wings Phantom 200 TWS Gaming Earbuds were launched very recently at the end of November 2022, which was launched by Wings, India's premium audio brand through which you can play games in a convenient and easygoing manner where the environment is noise-free and there are no distractions to worry about.
There is no dearth to mobile games nowadays but there was a time during the 80s, 90s, and 2000s, when there were only video games and play stations on which you could play your favourite ventures like Pokemon, Super Mario, Ninja Turtles, and their ilk.
People born and brought up in the era are not as enamored with mobile games and continue to play games on play stations and PCs without a trace of embarrassment that they will be ridiculed by the millennials, which often happens because the latter cannot understand the nostalgia that it invokes.
Those who want powerful Bluetooth wireless earbuds that are made specifically for gaming purposes can definitely give Wings Phantom 200 TWS a try as it can more than live up to their expectations, while its price is quite affordable too.
To begin with, Wings Phantom 200 is the latest addition to the list of TWS earbuds launched by reputed brands and will soon be counted among its illustrious predecessors, which will only serve to further enhance Wings' reputation as an audio brand of reliable gadgets.
Wings Phantom 200 TWS Gaming Earbuds come in a squared purple box, which is around the same size of a clenched fist but the design on the cover looks quite exquisite.
The box has "WINGS PHANTOM 200 Gaming Earbuds" at the top, while at the top right hand corner you can see the Wings logo and below it are the list of features listed along with their symbols that users are so eager to try out for themselves.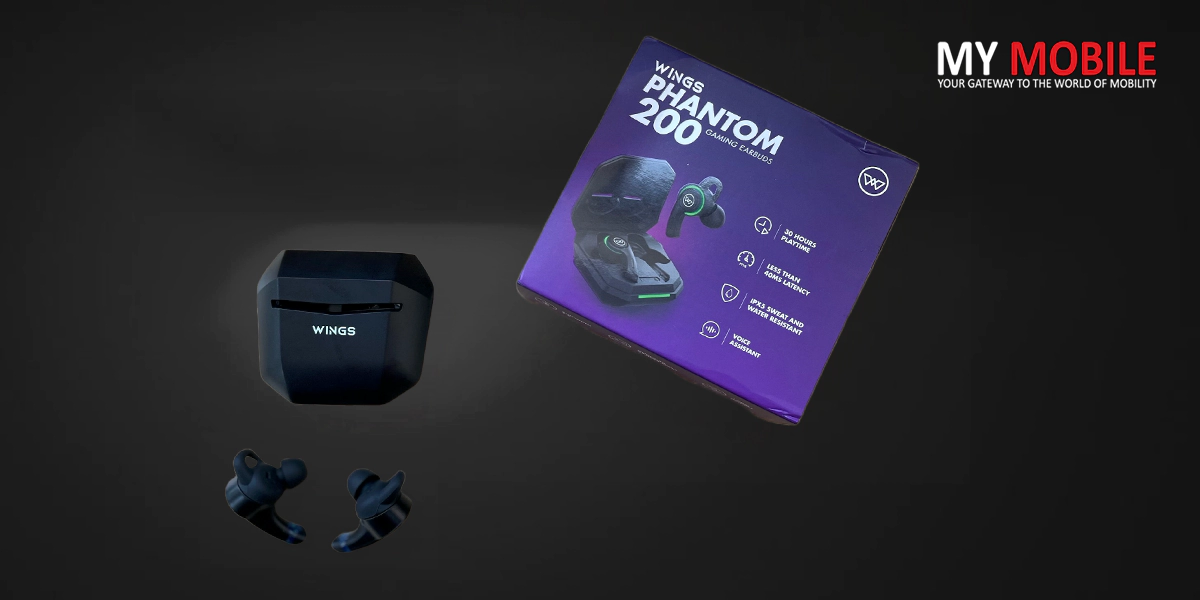 The box is extremely light to hold and it gives a feeling of excitement and euphoria that only a music/game lover can understand because the thought of playing games with a brand new pair of earbuds is difficult to put into words.
Once the box is opened, there is a small milky cover in which the buds case is kept, which has 'WINGS' engraved in the front and is black in colour. Upon opening the case, I found the earbuds kept inside their respective slots.
Then there was the charging slot that will be difficult for some people to locate in the initial stages as they would normally expect the slot to be on the right or left side but here it is at the back.
Once I took out the earbuds and placed them in my ears, they fit in snugly although they were slipping out during the first few attempts, which is why it took some time to get going.
The earbuds provide a perfect balance of sound and bass, which is excellent for gaming where the players can focus their entire attention on the mission without getting distracted by the noise in their surroundings.
The initial sound experience was a little noisy and coarse but once I had the hang of it, I started listening to my favourite songs and suddenly felt a wave of calm and tranquility take over my whole being.
The buds were kept in the inner box which had to be removed with care as I was instructed much earlier do so lest any damage was caused but once done, at the bottom of the box, I found a small rectangular box in which the USB cable, charger pin, were kept.
Then there was a smaller cover that had four spare black earbuds were kept and lastly, there was the user/safety manual with the necessary instruction on how to operate the device and what all precautions should be followed while doing so.
Wings Phantom 200 TWS Specifications
Wings Phantom 200 TWS Earbuds come with a Bluetooth V5.2 chip, which is touted to be one of the fastest in terms of speed with the effective distance of its pairing up to a device being 15m.
The speaker size is 13mm premium with excellent vocals of deep bass, clear highs, where you have customized EQ modes due to which users can avail a balanced sound quality of bass and vocals so that you can watch your favourite movies, listen to your favourite songs, and play your favourite games.
The content becomes even more interesting due to the Acoustic Echo Cancellation as you are transported into a whole new world the moment you put them on where you become oblivious to everything except the game at hand.
The ultra-high audio quality performance refuses to let you become distracted to your surroundings where you can gain an edge over other players by keeping an ear out for skulking footsteps and gunshots that alert you to the enemy, prompting you to make a move.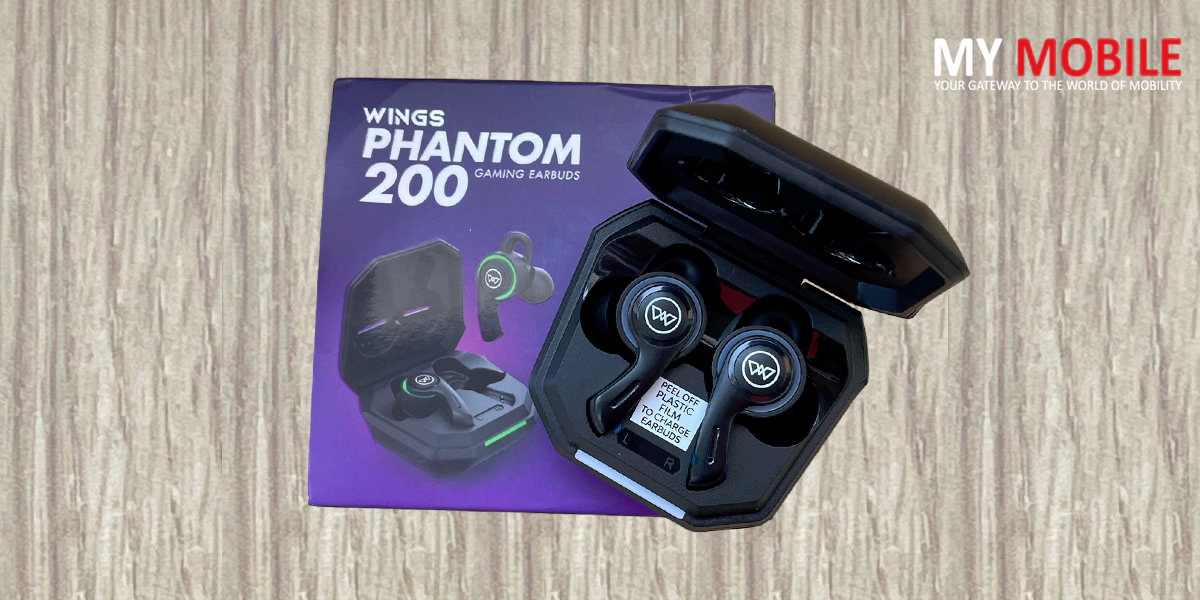 The standby time for the buds is about 200 hours, while the talk time is about 25 hours, which means that you can talk to your friends for that specific time period without the need to charge your phone.
Then there is the high speed Bullet Charge technology with a USB-C port that solves your charging issues by providing super-quick charging, thereby giving whopping 20 hours of playback with just a 10-minute charge.
Then there is the 30-hour battery life, along with 40ms ultra-low Latency and DNS ENC Mics for Noise Reduction, the wireless earbuds can hold their own against some of the most competitive gaming buds in the segment.
The playtime in single charge is about 8 hours, while the play time in total is about 30 hours. The earbuds come with an IPX5 rating, which makes it invulnerable to sweat and water so that you can go out in the rain or wear the buds while working out without any worries.
The battery life is further enhanced by the charging case that charges the buds in 1.5 hours, while the charging time for earbuds is one hour, and its frequency is 20Hz to 20KHz, which is excellent.
NODWIN Gaming announces investment in gaming accessories brand Wings
Wings Phantom 200 TWS Safety Precautions
After playing a long match, gamers usually hydrate the earbuds but in this case, they need to be kept dry, far away from humid conditions otherwise it runs the risk of short circuit.
There is a fire inside every gamer but these earbuds have to be kept from being exposed to peak sun or high heat conditions for an extended period of time as the lifespan of electronic components will shorten and the battery will be damaged.
Never expose the buds to a cold environment either otherwise it can damage the PCB board.
Never charge the buds for more than 5 hours otherwise it leads to loss of battery life quickly.
Wings Phantom 200 TWS Conclusion
Wings Phantom 200 TWS is well worth trying out due to the aforementioned features where you get a different experience while playing games, listening to music, and watching movies, without getting distracted.
My rating for the earbuds is 4 out of 5 stars.