A fintech revolution is sweeping across India and Southeast Asia (INSEA). In fact, India currently has the highest fintech adoption rate in the world at 87%. Compared to the global average of 64%, this is quite a feat. The region's increased dependence on cashless transactions and its rapid adoption of digital finance have positioned it as a competitive fintech app market. We've extracted key insights from recent Adjust data on the area that will benefit app marketers looking to make a mark in INSEA.
Also Read: The Future of AI and Gadgets
Fintech app adoption explodes
With the pandemic causing mass lockdowns in a heavily cash-reliant region, many INSEA mobile users pivoted to fintech apps for payments and other finance-related activities.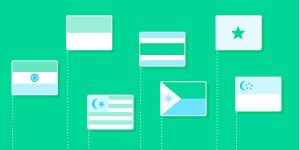 Noteworthy INSEA fintech app statistics
Fintech app installs grew by 44% from 2019 to 2020 and 41% from 2020 to 2021.
Fintech app sessions grew 136% from 2019 to 2020 and 186% from 2020 to 2021.
Adjust data reveals a significant jump in installs from the end of March 2020 until the end of April 2020, which was the precise time Covid restrictions and social distancing rules came into effect. However, the install rate continued to grow at an astonishing rate through 2021, suggesting wide fintech app adoption.
And by looking at sessions data, it's apparent there was also a major increase in user activity during the pandemic. Fintech app sessions grew steadily through 2021, indicating an increasingly engaged user base in the region.
Also Read: Security Risks and Privacy Challenges in the Metaverse
Takeaway 1: Study user behavior
With more fintech app users than ever before, the INSEA population has come to utilize fintech apps in their everyday lives. However, as the number of users has grown, so has the competition. Therefore, it's essential app marketers analyze user behavior to know how to increase brand loyalty.
For instance, you can look at time-based segmentation to see which day of the week users are most engaged to know the best time for communication.
Wealth management apps soar
The average user age of fintech apps in all INSEA markets is between 20 and 40, with most countries on the younger side. Today, many millennials and Gen Z in India and Southeast Asia seek a mobile-first approach to wealth management.
But, what types of fintech apps interest them the most?
In 2021, payment apps were the most installed fintech subvertical at 81%, followed by banking at 10%, stock trading at 6%, and cryptocurrency at 3%. While payment apps remained in the first spot for sessions at 53%, stock trading notably came in second at 27%, with crypto at 12% and banking at 8%.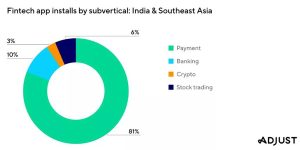 Takeaway 2: Consider your target audience
When introducing your app to a country within the INSEA region, conduct market research to determine your target audience's demographic by looking at factors like location, age range, gender, language, etc.
Your market research should also identify what pain points your competitors aren't addressing so that you can discover differentiator opportunities for your app. For example, Zenda, a UAE-based fintech app for school fees, recently raised $9.4 million in seed round funding for its pay-now, pay-later model for an expansion into India. The app addresses the lack of convenience and inflexibility typically experienced in paying school fees in India.
Investment in INSEA fintech rises
In Southeast Asia, fintech funding hit $3.5 billion in the first nine months of 2021, while India reached $8 billion by the end of that same year. Investors attribute this growth to the rapid adoption of digital payments in recent years.
So, how are fintech companies entering the INSEA region where previously little was known about the industry? Believe it or not, many are working with governments.
Also Read: There is a tremendous potential in satellite communications, says ISpA Director General
Takeaway 3: Partner with government initiatives
Given that a vast majority of the INSEA population remains unbanked and financially underserved, governments are stepping in to provide digital banking solutions for greater financial inclusion. Several fintech apps have worked in tandem with government initiatives, which has proven mutually beneficial.
Gojeck, an Indonesian ride and delivery services platform, worked with Indonesia's Ministry of Communication and Information Technology to improve the country's digital literacy. Gojeck launched a public awareness campaign on online fraud and cybersecurity best practices using in-app games.
Becoming a trusted source of digital information in INSEA can serve your app well. First, your app will likely earn a trustworthy reputation, thanks to its participation in a government initiative. Second, more users will become familiar with your app in terms of branding and how the app works.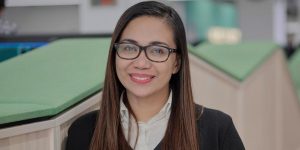 The author, April Tayson, is Regional VP – INSEA, Adjust.
Also Read: Why third-party apps are unsafe and compromise your safety?