The pandemic induced an unconventional modern-era culture in every sphere of life. The disruption was not limited to our work lives or the way we interact with each other, it even changed the way we consume content. This, certainly, includes the way we now watch movies, TV and other forms of mass entertainment. Unless you are living under a rock chances are that you must have already heard, used or read about OTT. The Over The Top (OTT) technology, though existed much before the pandemic, was definitely accelerated further after the lockdown. The question is, what is OTT? Let's understand.
OTT is the term used for the delivery of content, such as movies, TV shows, or other video content, directly to the audience over the internet. This is the modern way of bypassing cable or any other traditional satellite service provider. Also popularly known as video streaming services, OTT content is available through multiple devices including mobile phones, gaming consoles, tablets, computers and television sets with internet connectivity. Some of the well-known OTT or streaming platforms include Netflix, Amazon Prime, Disney +, Hulu, and Apple TV.
As a viewer, it is imperative not to get confused between OTT and video streaming services. Both terms, while sound and seem the same, are quite different in terms of experience and technology. Video streaming is when videos are streamed on different devices such as mobile phones, tablets or computers. A popular example of this is YouTube. OTT, on the other hand, is an on-demand video content platform where users pay for a subscription or particular content and stream it on different devices. The OOT service providers create their own apps and websites to reach their audience.
The focus on OTT has rather increased in the past year with many industry experts positioning it as a threat to traditional ways of theatres or cable TV. The instances of cord-cutting are believed to be on the rise giving another reason to worry. Cord-cutting is when viewers completely reject the traditional ways of viewing content by cancelling their subscription to satellite or cable service providers. This audience segment dedicatedly switches to streaming services for content or entertainment.
Let's understand more about OTT.
How is OTT Delivered to the end consumer?
OTT is all about streaming content on-the-go. The easy access that comes with OTT makes it popular amongst the young generation. The only requirement to stream OTT content is high-speed internet and a smart device. Viewers can then consume any content from any corner of the world at their own convenient time. If you are a smartphone or tablet user, all you need to do is download the streaming platform application. For personal computer users, content can be easily accessible through desktop applications or web browsers. The third option is to use any connected TV device or game console.
What are some popular examples of OTT Services?
Like mentioned before, unless you are living under a rock chances are that you are already using some OTT service. Even then some of the popular names of OTT services include Netflix, Amazon Prime Video, Disney+, Hulu, HBO Max, Zee5, SonyLiv, and Apple TV. However, the credit to make OTT a household name and completely take over the market of online entertainment somewhere goes to Netflix.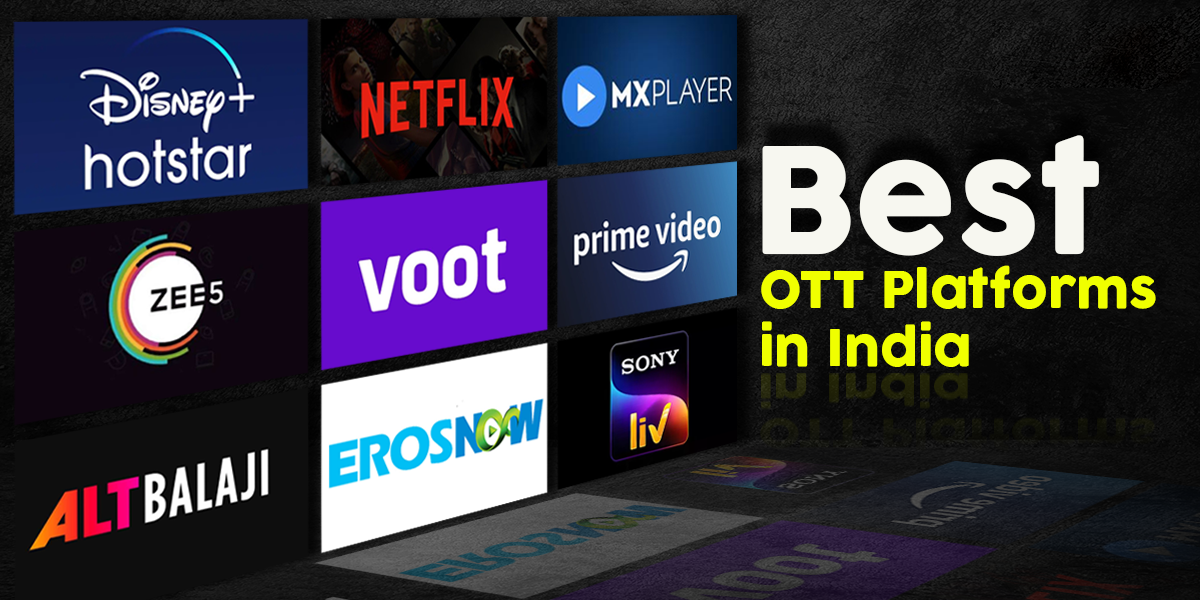 Netflix, undisputedly, has been the leader and should be credited for establishing an entire industry on its back. The company started their streaming media and video on demand services as early as 2007  and while many at that time wouldn't have believed in the idea, Netflix carved a niche in no time. The success has been surprising for many including the earlier DVD rental giant Netflix. The CEO of Netflix, mentions in the popular book No Rules Rules: Netflix and the Culture of Reinvention, "what did [Netflix] possibly have to offer that [Blockbuster] couldn't do more effectively themselves?"
What are the advantages of OTT Over Traditional Satellite or Other Service Providers?
While we have already mentioned some of the biggest pluses of OTT, below are some major benefits discussed in a brief.
The audience, through OTT, gets a variety of content and gets access to content from all across the world
There is great freedom associated with OTT for the viewers. Rather than getting exposed to what the service providers want you to watch, here you can choose your source of entertainment from a gazillion of options.
Simple content delivery systems with no hassles on how, where or when an audience can consume the content.
The affordability of these streaming platforms is one of the major driving forces for many medium-earning people to go for them instead of buying a movie ticket or getting a poorly managed monthly cable subscription.
OTT service provides unprecedented data transparency that otherwise traditional sources of entertainment could never manage. It is one of the reasons why many content producers are also willing to release their products on these platforms because they get to know the potential of their content well in advance through the streaming service's willingness to share data.
What is the future of OTT?
The way people watch Television or Movies has seen drastic shifts in the past decade. Entertainment is no longer a dinner table pass time or weekend family getaway. People have now learned to enjoy content on their own and most of the young generation even prefer it that way. OTT has been a game-changer in this regard. Having said that, the quality of content is where the buck is going to stop.
Netflix is no more the sole player and stale content is no longer going to get you more eyeballs. The audience will no longer watch something just because the content provider is streaming it, something that was the case with old-school television. The future of these OTT platforms completely depends on the quality of their content.