Highlights
Vivo V25 Pro Model
Camera Setup
Battery Capacity
What are your expectations for the latest Vivo V series model? Do you think V25 Pro is a worthy option? What are your thoughts on its features and specifications?
In Brief
When it comes to choosing the best electronic gadgets, we're all spoiled for choice and our preferences entirely depend on which is the best brand in our eyes. Some might prefer Apple, some would go for Samsung, and yet there are some that are partial to the likes of Sony and Vivo.
They all are massive tech giants that have given their customers a reason to smile and rejoice with their extraordinary (to the customers) gadgets that are successful in catering to the tastes of every new generation.
Vivo is a Chinese tech brand that has rolled out some of the best smartphones, along with several other gadgets for many years. 2022 has been no different as all tech giants have given the best they have to offer, as of late, whether it is Apple with their iPhone 14 series smartphones, or Google with their new Pixel series of smartphones that were launched on October 7, 2022.
The latest is Vivo V25 Pro that was launched in India on August 17, 2022, with much anticipation as users were anxiously waiting for the smartphone to hit the market as many of them wanted to see whether it matches the expectations of its predecessors like Vivo V23 Pro, which was a mid-range model where the main laser focus was on its design.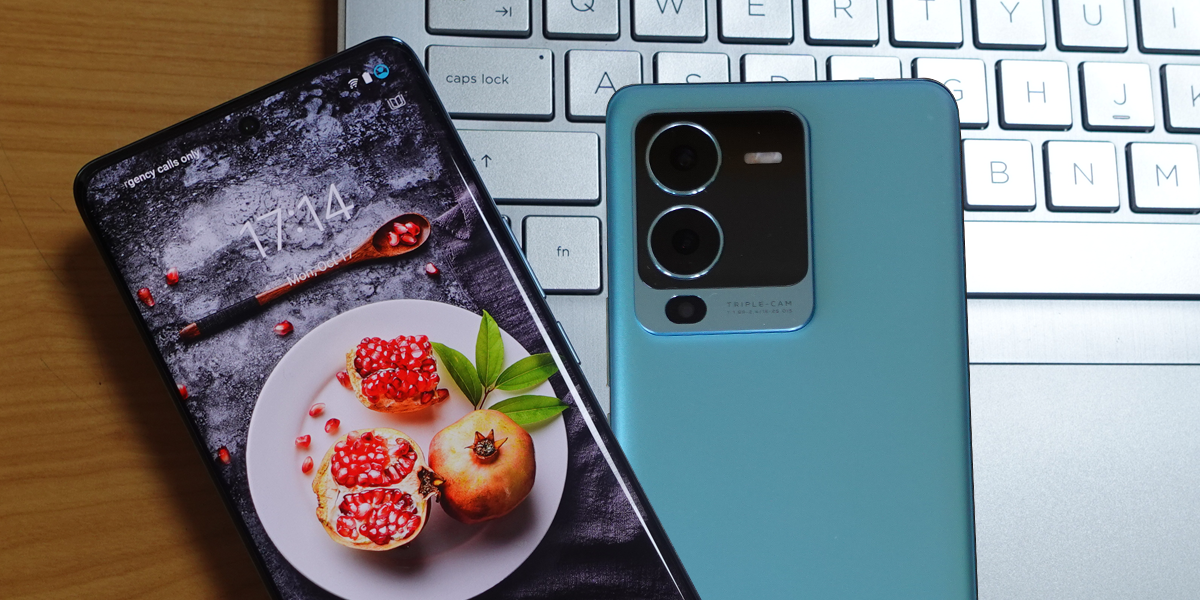 It was V23 that first introduced the colour changing panel as its USP for the V series, apart from the usual surge in its price that was higher than Vivo V20 Pro, its predecessor while this V23 came at Rs.38,990.
My Opinion
Vivo V25 Pro comes in a grey coloured rectangular box with 'V25 Pro emblazoned at the top with the company's title 'Vivo' at the bottom right. The imprinting is quite unique as the font is larger than what you usually get for other brands.
The box is slightly heavy to hold as you can feel the weight of its contents inside and, sure enough, on opening it, I found the smartphone kept in a transparent plastic sheet through which the device, of blue colour, was visible.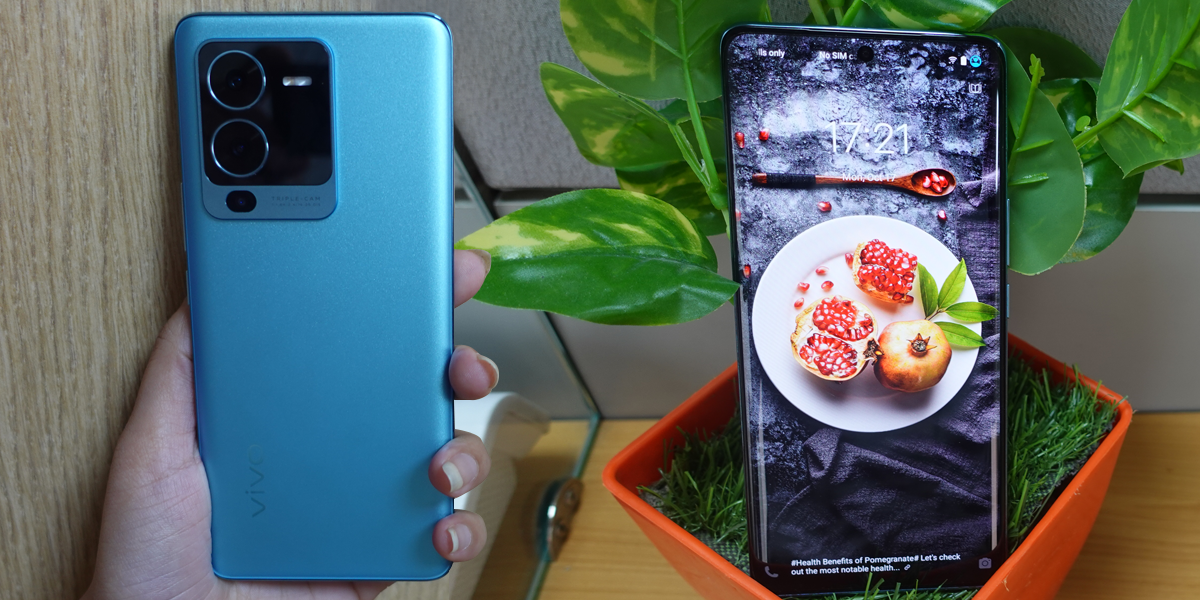 The plastic sheet, in question, was a UV glue tempered glass screen protector, whose job is to protect the side buttons and receiver parts so as to prevent the glue from tampering the device in any way possible.
V25 Pro model was encased in a plastic backcover kept in the opening, which I immediately took out and examined the phone. The device is quite light with a backscreen that was blue in colour, as mentioned above, and had a triple camera setup where it was given 'TRIPLE-CAM' and, right below, was 1:1.89-2-4/16-25 OIS (acronym for Optical Image Stabilization).
I then explored the box even further and found the handset's manual and a guide labelled 'V2158' Quick Start Guide, where it provided a brief intro on how to set up the phone and use its main features.
The manual contained safety instructions on how and how not to operate the device, apart from the necessary details regarding its maintenance, warranty card, smartphone usage, along with the regular instructions.
At the bottom of the box, was the charger encased in its opening with the USB Type-C port adjacent to it, which finally completed the entire picture of the box and its array of contents that made up the device.
I held the smartphone in each hand for a few seconds very delicately as though I was holding an expensive painting made of glass that was worth billions. I was careful to handle the handset properly and found many of its features and specifics quite similar to V23 Pro and was slightly disappointed, even though the new model is quite good.
Its software performance is quite fluid for multitasking as I didn't feel any kind of stuttering or lag, which was due to the 120Hz refresh rate display, while the pOLED display is good for bright outdoors and produces saturated colours at default standard screen setting.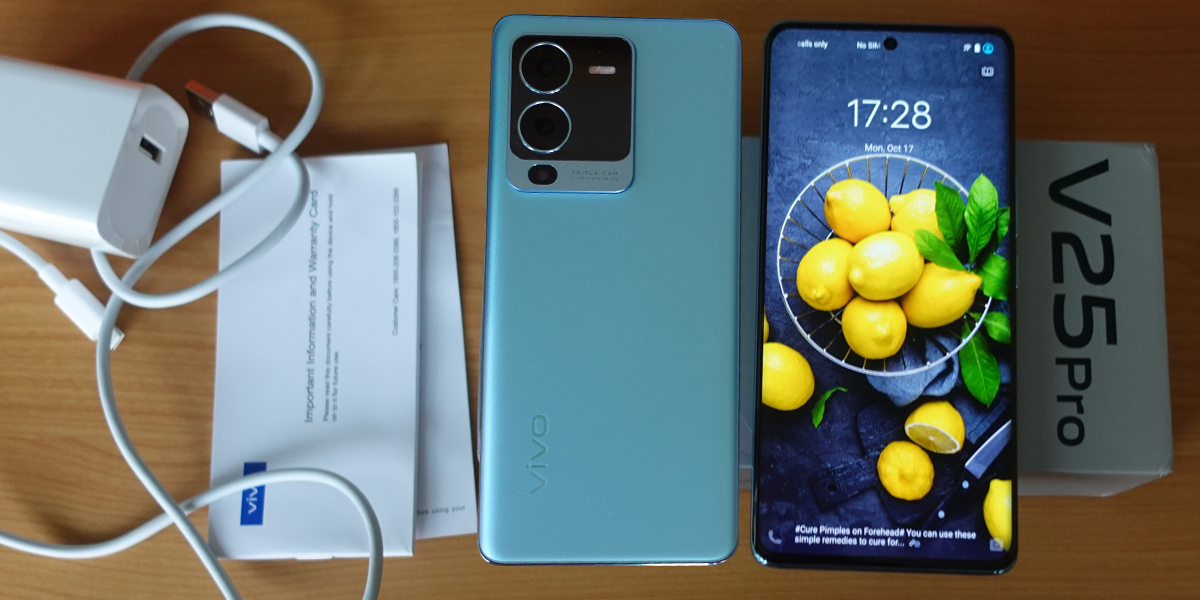 Features & Specifications
The device, as mentioned, is similar in design to V23 Pro, although while the latter was quite slim and a little chubby, V25 is not as much because it has a thickness of 8.62mm, while the mid-frame is chrome finished and comes with a glossy texture.
It comes with a 6.56 inch full HD+ pOLED display with a thin and uniform bezel all around that curves on the right and left sides, which gives the smartphone a premium and regal look.
It also comes with two storage variants- 8GB RAM + 128GB internal configuration, and 12GB RAM + 256GB internal configuration, while the display itself is HDR10+ certified and content too is quite strong.
A disappointing thing about the device is that it has no IP Rating, which means that it might get damaged if exposed too much to water, dust, and storm, while the stereo speakers too are conspicuous by their absence.
I was quite happy to see that V25 Pro disposed of the display notch that looked quite dated on V23 Pro and it has been replaced by the new hole-punch cavity that is essential for selfie cameras and does not interfere with the viewing experience of the user.
Also, I was quite satisfied with the handset's gaming performance as most of them ran at a smooth pace at default settings and that too without the device heating up, like for example Call of Duty: Mobile that ran at the 'very high' frame rate and graphics settings.
Vivo V25 Pro is powered by MediaTek's Dimensity 1300 SoC, which is quite common for mid-range handsets and uses UFS 3.1 Storage and LPDDR4X RAM, although there isn't any storage expansion to look forward to.
It runs on the company's FunTouch OS12 based on Android 12, while Vivo has also added a new colour palette picker that allows users to pick between a basic preset colour or a multi-colour theme, which is based on applied wallpaper.
The UI Colour changes in the Settings App and keyboard, while the widget colours failed to do so and required to restart the device to take effect. The handset is replete with pre-installed apps, which was surprising considering its premium price, which could be uninstalled with ease.
V25 Pro also comes with the issue of spammy notifications, along with those from the native browser app, despite me not using it since unboxing the handset. I found that the software experience needs a little improvement given its price at Rs.35,999, like switching to Android 13.
The battery capacity is 4,830mAh units that comes with an 80W fast charging support, along with a transparent TPU Case, and Type-C to Type-A USB port, while NFC support is negligible while 66W is all the charging speed is limited to, which is actually quite fast enough to charge the handset from 0 to 100% within an hour.
As mentioned above, V25 Pro comes with a triple rear camera setup, with a 64 megapixel primary camera with OIS, 8 megapixel ultra-wide-angle camera, and 2 megapixel fixed-focus macro-camera, and 32 megapixel front-facing camera meant for taking selfies.
The photos taken in broad daylight are quite sharp with detailed range of dynamics while the colours resemble oversaturated filters, while portrait photos taken outdoors by the rear camera too are sharp and soft when taken indoors.
However, the videos are quite average in terms of quality, along with good dynamic range in broad daylight, while the recorded videos too look oversaturated. HDR videos are good with numerous resolutions, while 4K 30fps videos are excellent.
Conclusion
All in all, it does have a few drawbacks here and there, but Vivo V 25 Pro has come with many excellent improvements when compared to V 23 Pro. Its pricing and strategy might need reconsidering but the display that is curved-edge gives it a premium and regal look.
It is a considerable option for users to try out and much better than its predecessors even though you can get good alternatives. My rating is 3 out of 5 stars.
Read More: Vivo V25 to launch in India: Expected Specifications and Price
Read More : Vivo V25 Pro 5G Released, Other Details Revealed