To have more than one email id for different purposes is extremely common nowadays. People have a separate email id for official work, one for personal use, and sometimes one as an alternate email simply to keep important document backups. Ever wondered what would happen if you forget one of these IDs or passwords and your access to your accounts gets blocked? Passwords can still be regenerated in most cases, but forgetting your email id itself can be nothing short of a nightmare. To help you in situations like this, here's a quick step-by-step guide on how to find your email ID in case you forgot it or lost it somehow.
This guide covers popular email services such as Gmail and Microsoft among others. However, users can find similar instructions for almost every email service. You can use a computer, a laptop or even a smartphone to perform these steps and find out your email id.
There are a few methods which can be used to find your email address in case you have somehow logged out and forgotten your ID. The first and most simple way is to check the history section on your device. There you might find your email id mentioned in the history section. This, however, is only possible if you still have the device where you were logged in last time is still with you. The second method, in case you don't have the device where you were last logged in, you can try finding your email ID using the email platform's recovery service. Below are simple steps on how you can use the recovery service to find your Microsoft, Gmail or even Cloud IDs.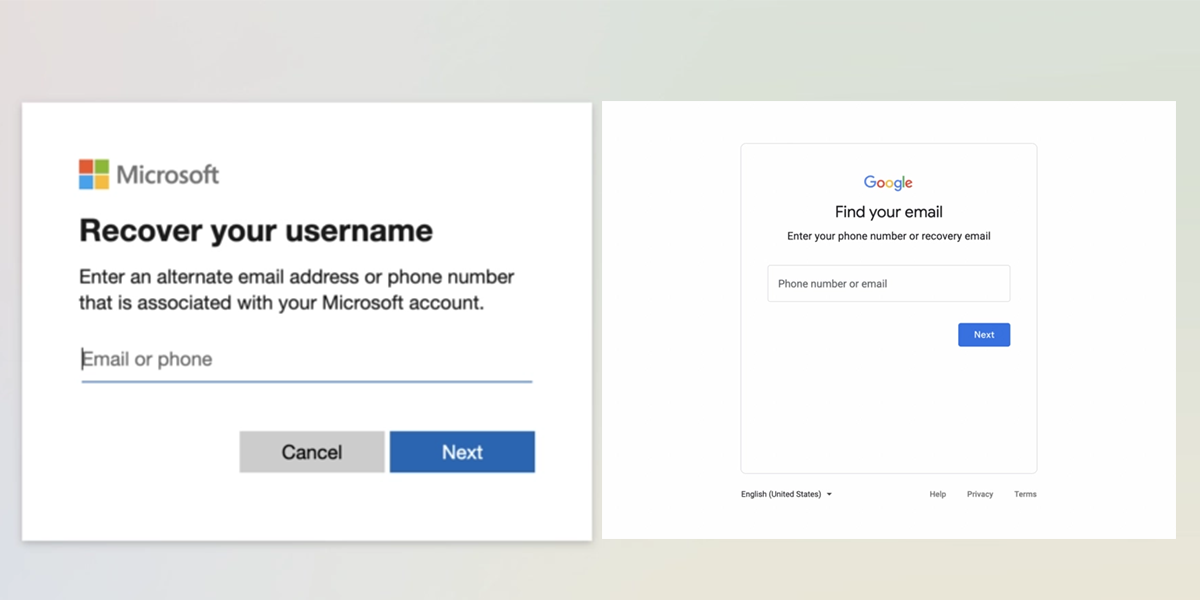 To Find Microsoft Email IDs Microsoft Recovery
Open the Microsoft email recovery page on any system that you have.
Enter the phone number in the section provided. The phone number should be the one which was linked to your Microsoft account. It could even be associated with an alternate email ID and not necessarily with Microsoft. Once you enter the phone number, click Next.
The system will ask for an OTP verification.
Once you receive the OTP, enter it in the provided section and your Microsoft email account recovery process will start automatically.
Follow the next instructions onscreen and complete the process.
To Find Google Email ID using Google Recovery
Find and open the email page.
The screen will ask for your phone number. Please enter the phone number that is linked to your Gmail account. You can even enter your phone number that is lined with your recovery email address. Once the phone number is entered, click Next.
On the next page, fill in your first and last names.
Once the name and number are added, click Next.
You will receive a verification code on the next page.
Now, enter the 6-digit code you just received and the Google account recovery process will start.
To Find Cloud Id using the iCloud Recovery
Go to the iCloud email recovery page on your system,
On the page, you need to enter your First and Last name along with your email address. Click on the next page to click Continue.
Your linked phone number will act as a substitute at times when you cannot remember your associated email ID.
Follow the instruction on the next page and your Cloud ID recovery process will start automatically.
Recommended Reads: