December is a month usually reserved for reminiscing, a time to look back and indulge in the enjoyable recollection of the year that just passed by. Some of our favourite apps do come up with campaigns that help in reliving those spent well days with their innovation memories or recollection features. Spotify's annual viral campaign "Spotify Wrapped" is one such feature that allows users to see a compilation of their top 5 artists, songs, and playlist of the year based on the music they listened to throughout the year. So, how can you check your Spotify Wrapped 2022? Let's find out.
How to see your Spotify Wrapped 2022? Follow the steps below and get a compilation of your top 5 artists, songs, and playlists of the year on your app:
Step 1. Update Your Spotify App
First things first, make sure you have the latest version of Spotify updated on your device to be able to access the Spotify Wrapped 2022 feature. To see if your current version needs an update or not, all you have to do is Visit the Play Store or App Store on your smartphone and open the Spotify app page. If your app is up-to-date, you will see an Open button in green colour and in case your app has to be updated, you will see an Update button instead. If you see an Update button, then update your app by tapping on it before moving on to the next step.
Step 2. Open the Spotify App and Log In using your Spotify account id, password
To be able to know your music listening history on the app, it is a must that you are logged in using the account you have been using throughout the year. The app has to identify you for being able to fetch your listening data. So, check if you are logged in or not. Users can use their Google or Apple IDs or any other Email ID to have a Spotify account. So, in case you can't recall your ID and Password for logging in, make sure your check those IDs or Emails.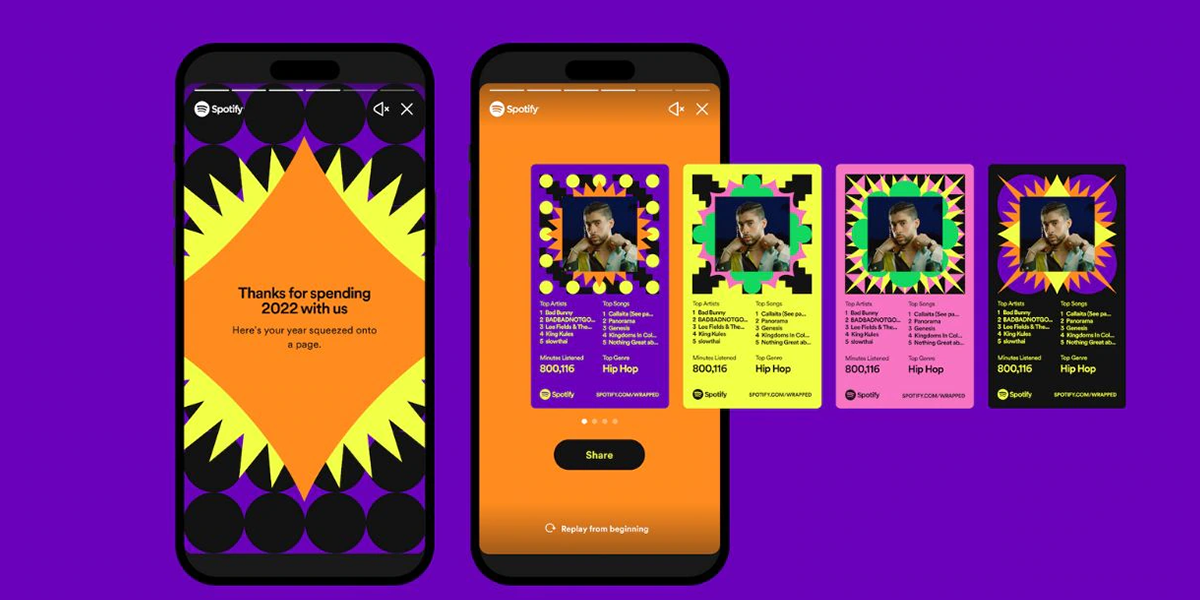 Step 3. Get Your Spotify Wrapped 2022 feature
Once you logged in to your account on the up-to-date version of the Spotify app, simply go ahead and open the app. The first prompt in your updated logged-in account should be of Spotify Wrapped 2022 musical recap asking you to "Jump In" for the feature to prepare a compilation for you. You can tap on the "Jump In" button at the bottom of the screen for the feature to work.
The Spotify Wrapped feature will show multiple slides with a recap of your top 5 artists, songs and playlists of the year. Once you check all the slides on the Spotify Wrapped results, you will see an option with multiple cards that you can go ahead and share on your social media timelines.
In case you wish to postpone this feature at the first prompt, you can dismiss the pop-up and later check the feature again. In case you accidentally dismissed the pop-up, you can still come back later and check the Spotify Wrapped 2022 feature through a shortcut. The shortcut to the feature can be found on the home page of the Spotify app whenever you open the app next time.