Now that Apple has also launched its much anticipated iPhone 14 and Samsung's Galaxy S22 Ultra is already in the market, you might get confused about which phone to buy. Since, both are premium phones and perfectly suits the price you pay for them.
They both have powerful batteries, great cameras, and a long battery life. Alternatively, you can call them the most attractive phones that have existed on the planet till now!
This might leave you confused as to which phone to buy. Should you purchase the Apple-supported iPhone 14 Pro Max or opt for the Galaxy S22 Ultra due to its added features like a built-in S Pen and amazing 10X zoom camera? But don't worry! In this article, we will try to help you resolve your dilemma.
Also Read: Samsung Galaxy Watch 5 vs. Apple Watch Series 7
We will do a comparison of the specifications and features of both the phones and then you can choose what fits you.
Design and display
In terms of design, both of these are top-notch in every way; they are both well-built but also distinctive.
Galaxy S22 Ultra
The Galaxy S22 Ultra has a sturdy and robust design thanks to its armoured aluminium construction. Corning Gorilla Glass Victus+ shields the front and back of the phone. The smartphone's sleek design is another bonus feature.
The individual lens housing at the back also improves the design. Three colour choices are available: Phantom Black, Phantom White, and Burgundy.
A 6.8-inch WQHD+ Dynamic AMOLED 2x display with an adaptive refresh rate of 1Hz to 120Hz is included with the Samsung Galaxy S22 Ultra. The panel supports HDR10+ and has a peak brightness of 1700 nits.
Also Read: India's swift response to product-safety approvals to benefit Apple
Vibrant colours, deep blacks, and high contrast levels are all combined to create a satisfying viewing experience. The phone also includes new Vision Booster technology to improve viewing in any environment.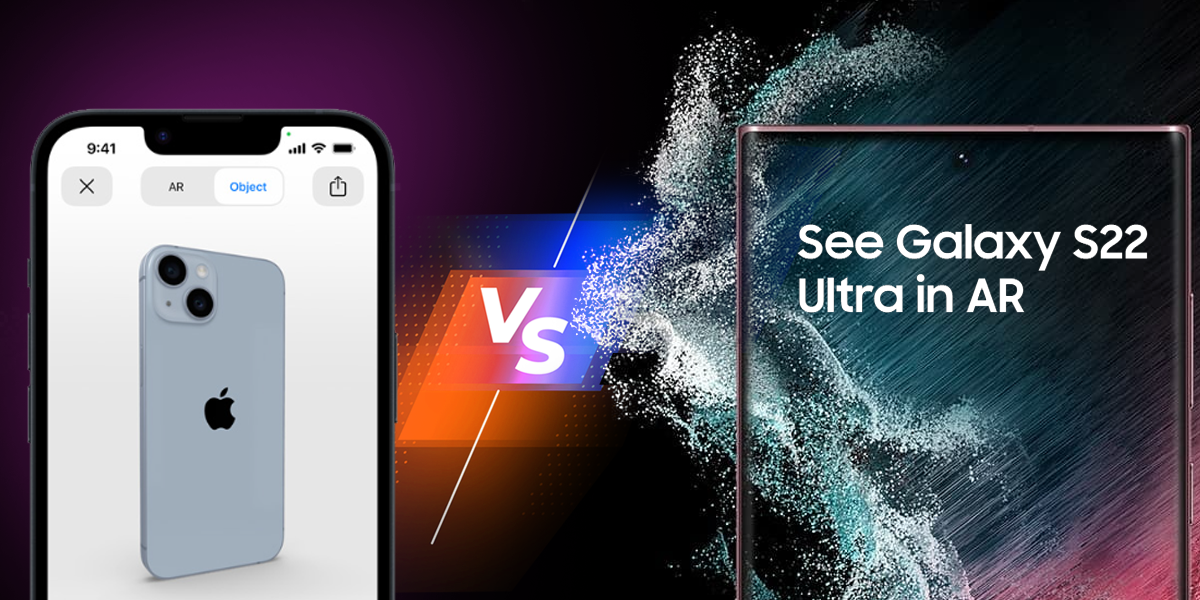 iPhone 14 Pro Max
Its front and back are protected by ceramic shields, and its design is made of stainless steel. Dynamic Island, which is shaped like a pill, has taken the place of the notch. Although the iPhone design has been updated, the Face ID cutout is still bigger than those on the best Android phones.
The new iPhone 14 Pro models are instantly recognisable from the front thanks to the Dynamic Island and always-on display features, which is crucial for people who prefer their new smartphone to look trendy in comparison to last year's model.
A maximum "peak" brightness of 2,000 nits can now be reached by the iPhone 14 Pro Max, making it brighter than before. It has a display size of 6.7 inches with LTPO Super Retina XDR OLED, 120Hz, HDR10, Dolby Vision, and a resolution of 1290×2796 pixels. It is available in four colours: deep purple, space black, gold, and white.
Performance and software
The Galaxy S22 Ultra is based on a Qualcomm Snapdragon 8 Gen 1 processor, while the iPhone 14 Pro Max has introduced the brand-new Apple A16 Bionic chip.
Also Read: From Apple To Samsung
The Galaxy cannot quite match the performance of the Apple silicon, even when compared to the 2021 iPhone 13 Pro Max, and now with A16, we expect further improvements.
One thing to note is that the A16 is produced using a 4nm process, and its parts are made to accelerate AI and other tasks across iOS process nodes and mobile apps, resulting in more power and efficiency.
The iPhone 14 Pro Max will continue to have 6GB of RAM (LPDDR5), compared to the Galaxy's 8GB in the base model and 12GB in the higher model.
Both phones have 128GB of storage as a base capacity, with upgrades to 256GB, 512GB, and even 1TB available for the most discerning users. Remember that neither phone has a microSD card slot, so they do not support expandable storage.
Camera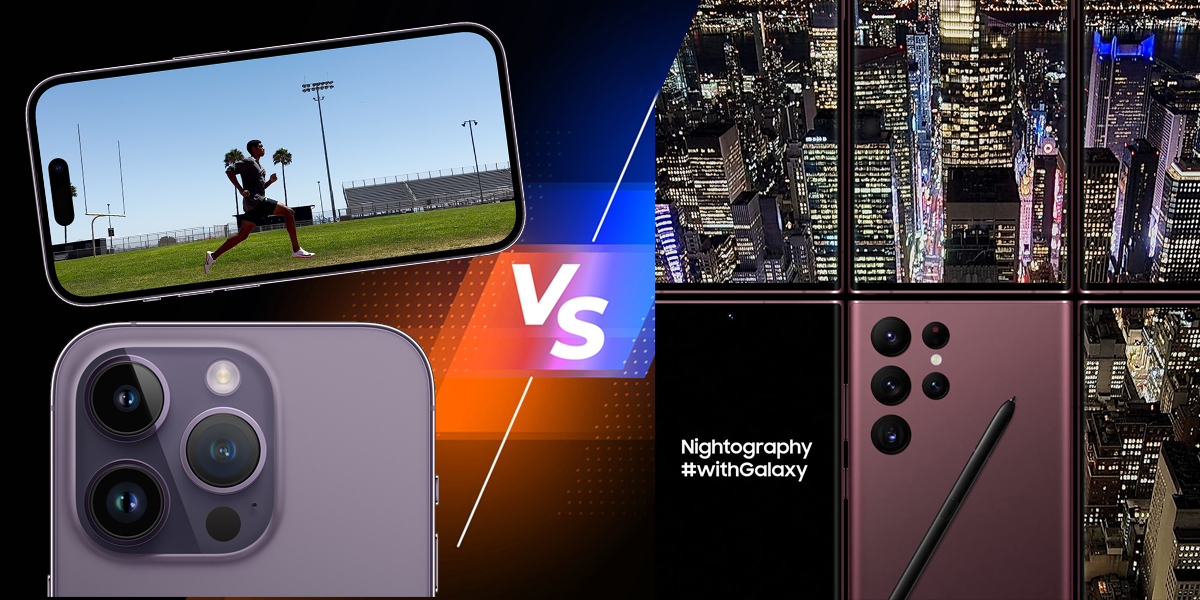 Compared to any of its previous models, the iPhone 14 Pro Max's main camera has a higher resolution sensor. In iPhone 14 Pro, Apple has replaced the previously used 12MP sensor with a new 48MP sensor for the primary camera.
On the other hand, Samsung has been using the main camera with an even higher resolution of a 108-megapixel sensor for a while now.
Also Read: New Apple Mac Leaked Online
The 10X periscope zoom lens on the Galaxy helps you achieve incredible quality at long zoom distances, and with digital zoom, you can go as high as 100X. This is one area where Apple has not been able to come close to matching.
In contrast, Apple's camera app may be more optimised, and it offers some features—like the Photonic engine—that the Galaxy simply cannot match.
Battery life and charging
With a massive 5,000mAh battery inside, the Galaxy S22 Ultra should easily stand out among its iPhone competitors, who can only manage 4,400mAh.
On the charging side, the Galaxy supports up to 45W speeds, while the iPhone goes as fast as 27W. And there is a significant difference between how quickly these two charge—the iPhone charges in almost twice as much time as the Galaxy does.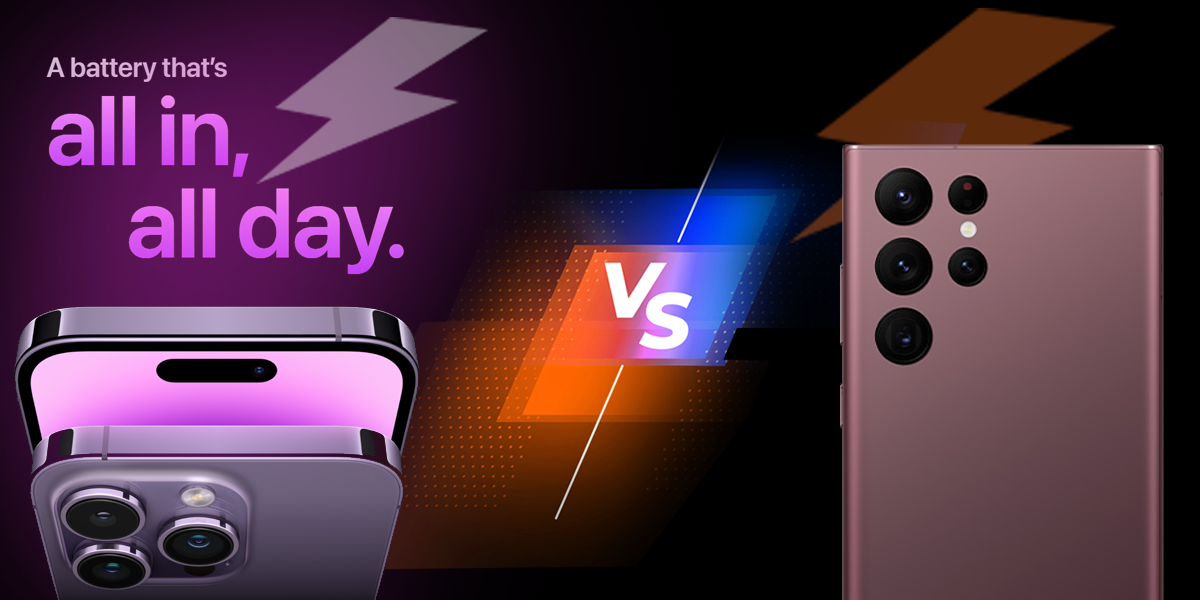 A 20W adapter or higher can charge an iPhone to 50% in about 30 minutes. The other charging options on the iPhone 14 Pro involve MagSafe wireless charging up to 15W and Qi wireless charging up to 7.5W.
Also Read: Samsung Galaxy A54 5G Specifications Leaked
Surprisingly, the Galaxy is the only device that lets you use reverse wireless charging to transfer a charge to a different device. When the feature is enabled, objects like a smartwatch or compatible wireless earbuds will top up miraculously when placed on top of the phone, a trick that the iPhone is unable to perform.
Other specifications
Samsung provides an ultrasonic under-display fingerprint sensor as a part of its security features, while the iPhone provides a facial recognition technique for security.
Samsung is quite heavy and large as compared to Apple. The Galaxy S22 Ultra has a dimension of 163.3 x 77.9 x 8.9mm and weighs 229g. On the other hand iPhone 14 Pro has a dimension of 147.5 x 71.5 x 7.85mm with a weight of 206g.
Summary
You can't go wrong with either because these phones are the best that their respective manufacturers have to offer. Simply choose the ecosystem you want to be a part of. However, it's difficult to convince people to switch from one to the other.
Also Read: Apple to Introduce a Foldable iPad in 2024
The iPhone 14 Pro and the Galaxy S22 Ultra, both have a lot to offer. The displays, battery life, and cameras of these smartphones are stunning. With four years of software updates and five years of security updates, Samsung has improved its software support. But even so, it falls short of Apple's software commitment.
This year, iOS 16 will also be released. The size option is the one significant point I'll give Apple. You can choose between the larger iPhone 14 Pro and the smaller iPhone 14 Pro without giving up any features. When it comes to the Galaxy S22 Ultra, Samsung does not give you a choice.
If you choose the smaller S22 and S22 Plus instead of the Ultra, you will lose out on the camera, display resolution, RAM, and storage. The Galaxy S line has benefited from the addition of the S Pen. However, if the Note series hasn't in the past persuaded an iPhone user to switch, it won't be a major selling point now.
Also Read: Samsung Galaxy M54 5G Smartphone