With audio industry growing like never before in India, many domestic electronics manufacturers have joined the bandwagon in bringing in products that are not just affordable but also giving a tough competition to the established global players. World of Play, co-founded by Vikas Jain of Micromax and Sandeep Banga, is one such brand that is scaling its highs with one after the other offerings. The company recently launched PlayGo Muze speaker along with BudsLite TWS earbuds and Flaunt neckband. PlayGo Muze is a Bluetooth-enabled portable Karaoke speaker which is made for the party lovers, whether at home or while travelling. Priced at Rs 2,499, the speaker has a lot to offer in terms of specs and features, and here is what we felt about this device after using it for a couple of days.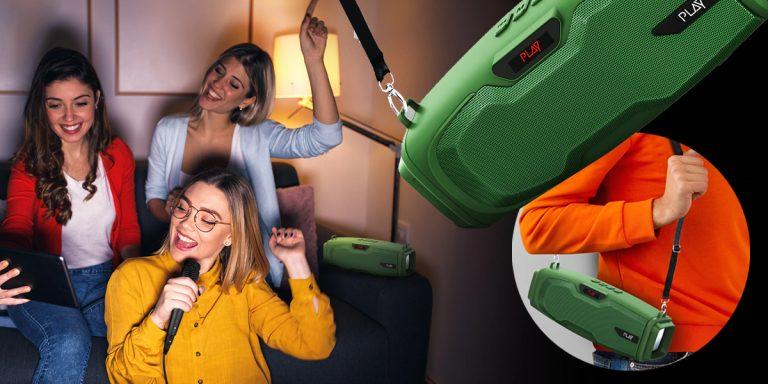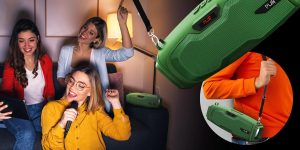 Build and Design
The PlayGo Muze comes in a Military Green colour which looks decent, and is made of a good quality plastic, which doesn't look fragile in any way. Having a rectangular design with curved edges, the speaker comes with two woofers on the left and right sides, and four tactile control buttons on the top (offering functionalities like play/pause, backward/forward, volume up/down). Even though it looks a bit bulky, the speaker offers you a comfortable grip in your hand owing to its evenly-distributed weight. Besides, there is a sling strap inside the box, in order to carry it around easily.
The front of the device has an LED display (on the top) which exhibits the modes of function. The company's logo/branding is placed on the left side of the metal mesh with two 10W speakers underneath both sides. On top of the back is a compartment housing an on/off slider button, a micro-USB charging port, a microSD port, a USB port, a karaoke mic port, a 3.5mm headphone jack and a red indicator showing charging status. On the bottom of the speaker are two rubber stands that hold the surface firmly and do not slide. Although there is no mention of any IP-rating, it's a good choice for harsher environments, as splashes and dust mean nothing to it.
Overall, the PlayGo Muze speaker is sturdily built and will give you a sophisticated feeling if you carry it outside. It looks slightly pricier than it is.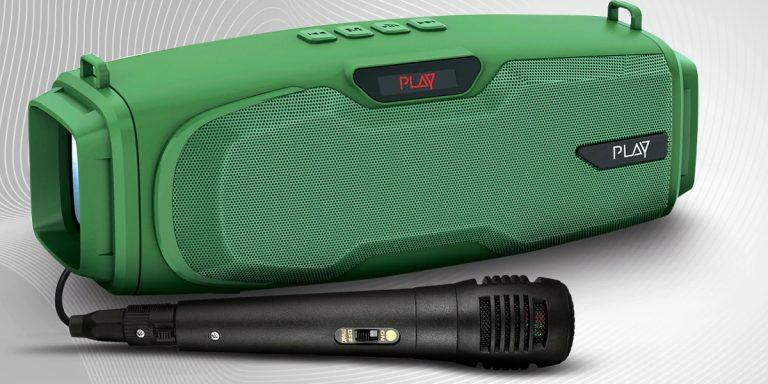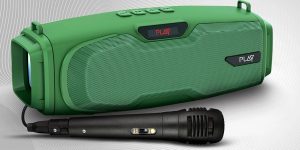 Functionalities and Performance
Here you get almost all necessary connectivity options that one would expect in a Bluetooth speaker. It pairs fast and easily wirelessly, having a Bluetooth range of 33 feet (up to 10 metres), besides offering facilities like Aux, SD, FM and USB. Setting up this Bluetooth speaker is very straightforward. Once paired, the PlayGo Muze will connect automatically the next time you turn on Bluetooth on your device.
Having two 10W speakers, the all-new PlayGo Muze pumps out 20W in total – this is enough to give you a thrill in a mid-sized room. In terms of audio quality, it offers a good amount of treble but lacks a lot in terms of bass despite having two exposed woofer drums on the sides. Besides offering good lows, the mid ranges and the highs are also magnificent. However, there's a little bit of distortion at the highest volume, which is quite common with many speakers at the given price point. Moreover, the frequency range of 20Hz~20KHz is not bad.
The best part with this speaker is the Karaoke mode which delivers a good performance. PlayGo also provides a basic external microphone which can be plugged into the speaker. Taken as a whole, the PlayGo Muze is definitely not good for bass-heavy songs but delivered a good performance on songs with a low bass.
In terms of FM, the radio quality was a hit and miss. Interestingly, the PlayGo Muze also has a TWS function which will allow you to pair another Bluetooth speaker to get an immersive sound, but we were unable to take advantage of this feature.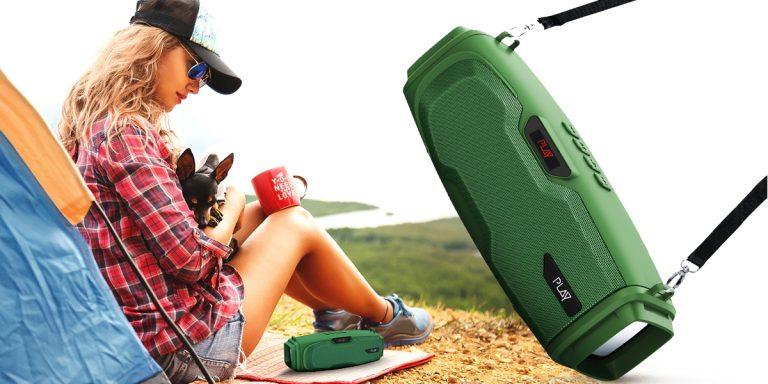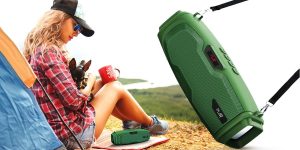 Battery
The PlayGo Muze is powered by a 2,400mAh Li-polymer battery, which claims to offer up to 7 hours of playtime on a single charge. Standing tall to its claim, the battery performed really well during our review, as we mostly used it with mid-level of sound for nearly an hour every day a week. Since there is not fast charging available, it takes around 4 hours to charge fully via the micro-USB port.
Conclusion
The PlayGo Muze offers a decent look and size with Karaoke feature which is good for a small gathering to enjoy a musical evening at home or while travelling. It's sturdily built and has multiple connectivity options, besides offering you a powerful battery. One area where this device will disappoint you is its bass, which is definitely not good as it delivered a lacklustre performance on bass-heavy songs during our review. Price-wise, it offers a good deal, which you cannot ignore.
Also Read: Oppo F21 Pro 5G Review: Prioritises style and camera
Also Read: IQOO 9 SE Review: A good mix of looks and performance
Also Read: Oppo Enco Air 2 Pro Review: Perfect for its price with impressive features and sound output