Nowadays, technology and fashion are interacting more than ever before. And it's not just high-tech clothing that's found a home in your closet. Accessories, such as smartwatches, are both fashionable and functional, making them a good investment for any modern women.
Smartwatches are ideal for everyday use since they provide the ease of having all of your important information right at your wrist. From having features that are geared toward women, such as menstrual cycle tracking and small fit sizes, these sophisticated items can do a lot more than just indicate the time.
Best Smartwatches For Women With Price in India
| | |
| --- | --- |
| Smartwatches | Price |
| Apple Watch Series 5 | Rs 40,900 |
| Fitbit Versa 3 | Rs 18,999 |
| Samsung Galaxy Watch Active2 | Rs 16,999 |
| Fossil Gen 5 Julianna | Rs 22,995 |
| Garmin Vivomove Sport | Rs 26,990 |
| Motorola Moto 360 Sport | Rs 9,490 |
| Huawei Watch GT Sport | Rs 6,999 |
| Misfit Phase Hybrid | Rs 30,996 |
| Pebble Time Round | Rs 14,853 |
Smartwatch for Women in India (2022)
Finding the proper blend of form and function, especially when looking for the best smartwatch for women, can be tough. Here's our picks for the best smartwatches for women in India that are both practical and fashionable. Let's check it out:
Apple Watch Series 5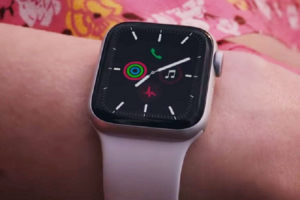 Whether you have the latest Apple iPhone 13 Pro Max or an older iPhone 8, if you're seeking for a smartwatch that'll be highly compatible with your device, the Apple Watch Series 5 is unbeatable. This is sure to keep you looking and feeling fantastic, thanks to an always-on display and a commitment to your health. It comes with an ECG app, a noise monitor, and a workout tracker to help you start and maintain a healthy lifestyle. With this wonderful watch, you may get closer to whatever health goal you wish to achieve. Apple Watch Series 5 price in India starts at Rs 40,900.
Features
64-bit dual-core S5 processor, watchOS 5
Fluoroelastomer strap material
Bluetooth and Wifi
Up to 18 hours battery life
Water-resistant up-to 50 meters
Built-in GPS
ECG Readings
Monitoring menstrual cycles, electrical, and optical heart sensors
Emergency SOS, GPS + Cellular, Noise app alert
Fitbit Versa 3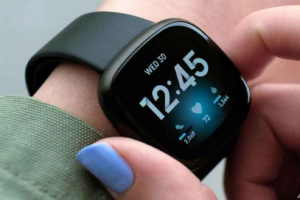 While the Fitbit Versa 3 isn't designed specifically for ladies, it can certainly pass as a women's smartwatch. With the correct band, you can make an intense workout robust and durable when you go outside. Switch to a beautiful band for a night out on the town when the evening arrives. Other notable upgrades over the original smartwatch include Google Assistant, a built-in mic/speaker, local music storage, and an upgraded proprietary band system. On the Fitbit Versa 3, you'll find all of the features you're used to, like activity/sleep tracking, heart-rate monitoring, Fitbit Pay, and more. The price of Fitbit Versa 3 in India starts at Rs 18,999.
Features
Improved battery life
Heart-rate monitoring
Built-in mic/speaker
Onboard GPS
Fitbit Pay, music storage
Samsung Galaxy Watch Active2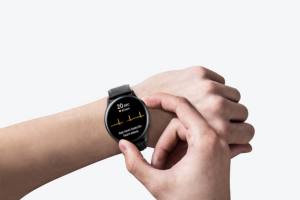 The Samsung Galaxy Watch Active2 smartwatches for girls takes sleep-tracking to a new level by providing insights into how you sleep. You can also use the stress level monitor and the calm app to help you relax. This watch is attractive and pleasant to wear, but the feature that sets it apart is that it is meant to help us better understand our fitness objectives. Sensors are used to track and monitor the technology, which also contains notifications for high and low heart rates. The Samsung Galaxy Watch Active2 price starts at Rs 16,999.
Features
Built-in sleep tracker
Built-in pace coaching
Tracking steps and calories
Heart rate tracking
Built-in GPS
Bixby voice command
Touchscreen functionality
Spotify Playlist
Customizable watch faces
Bluetooth and Wifi
Tizen Based Wearable OS 4.0
Up to 24 hours battery life
IP68 and 5ATM water and dust resistance
Fossil Gen 5 Julianna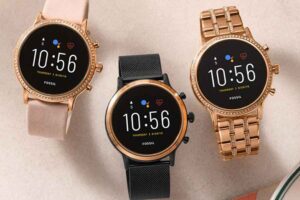 The Fossil Gen 5 Julianna smartwatch for women is based on Wear OS and works with both Android and iOS devices. It has high-end features, comparable performance to the Apple Watch, and a variety of strap options for women. The smartwatch, true to its roots, comes with a slew of fitness and wellness capabilities, including built-in GPS, 24/7 heart rate tracking, and a daily Sleep Score feature accessible via the Fitbit app. You can buy the Fossil Gen 5 Julianna Smartwatch for Rs 22,995 online.
Features
Built-in heart rate monitor
Activity tracking using Google Fit
Built-in GPS for distance tracking
Swim proof design
Bluetooth and Google Pay
Powered with wear OS by Google work
Compatible with Android OS 6.0+ (excluding Go edition) and iOS 10.0+
Up to 30 meters (Swimproof)
Speaker for Audible alerts and taking phone calls
Google assistant responses and more
Receive notifications and alerts of Smartphones
Download third party apps
Garmin Vivomove Sport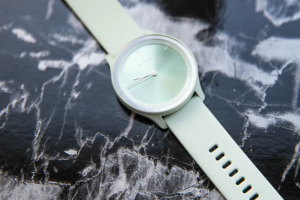 Sometimes you want the best of both worlds: a reliable activity tracker with a slew of features packaged in a budget-friendly wearable. All of these requirements will be met by the Garmin Vivomove Sport. There are numerous features to choose from. On a single charge, you'll get five days of battery life, 5 ATM water resistance, activity/sleep tracking, heart-rate monitoring, stress tracking, blood oxygen monitoring, female health-tracking, and much more. It's available in Gold, Pink, Black, Silver, and Rose Gold, among other colours. This watch's attractive design may make it appear that it's all about aesthetics, but that's not the case. The Garmin Vivomove Sport Smartwatch price in India is Rs 26,990.
Features
Heart-rate monitoring
Female health-tracking
Blood oxygen tracking
Activity/sleep tracking
Body Battery energy monitoring
Smartphone notifications
Also Read: Best Gaming Mouse in 2022 – List of Wired or Wireless Gaming Mouse which Makes Your Gaming Experience Better