Highlights
The OnePlus Pad is powered by the MediaTek Dimensity 9000 5G SOC and features an 11.61-inch LCD display with a 144hz variable refresh rate and a 7×5 aspect ratio.
It comes in a single colour variant, Halo Green, and has a slim, lightweight design with an aluminium chassis and matte finish back panel.
The pad has a 13-megapixel rear camera and an 8-megapixel front camera and is available in two variants with 8 GB RAM/128 GB storage or 12 GB RAM/256 GB storage.
It supports the OnePlus Stylo Pen stylus, quad-speaker setup with Dolby Atmos, 67-watt SUPERVOOC fast charging, and additional features that can be unlocked when used with a compatible OnePlus smartphone.
The OnePlus Pad Price in India starts at Rs. 37,999 and will be available for sale from 28th April 2023.
In this blog, we are sharing our hands-on in-depth OnePlus Pad review along with its pros & cons, final verdict and My Mobiles ratings.
Even the most ardent Android supporters out there would admit that in the world of tablets, the output of Android-based devices has dwindled in recent years.
Apple's iPad today sails through with little to no competition as not very many brands seem to be interested in presenting a product that stands a real chance against Apple's lineup. Now, it appears this tide is changing.
With Google's Pixel Tablet on the way, we now have OnePlus joining the fray with their OnePlus Pad.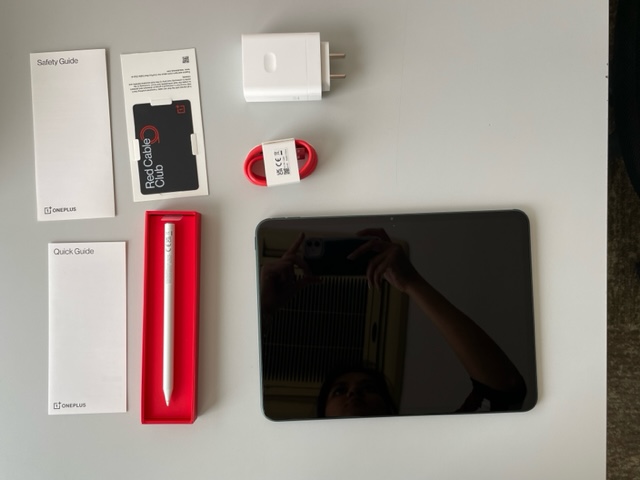 Our team, at My Mobiles, have managed to spend some time with this new addition to the Indian tablet market and here's our in-depth OnePlus Pad Review.
Before we get to the in-depth review, let's take a quick look at the product overview, its features and pros & cons.
OnePlus has powered its first pad with the reliable MediaTek Dimencity 9000 5G SOC while the tablet sports a 11.61-inch LCD display with narrow bezels and a 144hz variable refresh rate.
The display comes in a 7×5 aspect ratio which OnePlus claims will provide a book-like reading experience and should be comfortable for all-day use.
The OnePlus Pad Price in India starts at Rs. 37,999 and it is expected to go on sale on 28th April 2023.
The OnePlus Pad has been launched in a single colour variant called Halo Green and the pad features an aluminium chassis with a matte finish back panel. This slim and lightweight pad design definitely stands out and so is the camera module centred along the length of the tablet in a unique look.
The pad has a 13-megapixel single rear camera that can shoot up to 4K 30 FPS videos and will be available in two variants of 8 GB RAM with 128 GB internal storage and 12 GB RAM with 256 GB of internal storage.
OnePlus pad uses an 8-megapixel front camera that can record videos up to 1080p at 30 FPS.
The pad also supports the new OnePlus Stylo Pen stylus for sketching, note-taking or various other tasks.
It uses a quad-speaker setup that supports Dolby Atmos and has the ability to automatically orient its left and right audio channels depending on how you are holding the device.
The OnePlus pad comes equipped with a 9510mh battery that supports 67-watt SUPERVOOC fast charging via the bundled adapter.
Moreover, as part of the OnePlus ecosystem push, users will be able to unlock additional features on the pad such as seamless 5G tethering, copy and paste between two devices and more.
This will be possible if you have a compatible OnePlus smartphone with the latest software and are signed in with the same account
So, let's take a quick look at the key features and some device pros & cons.
OnePlus Pad Key Features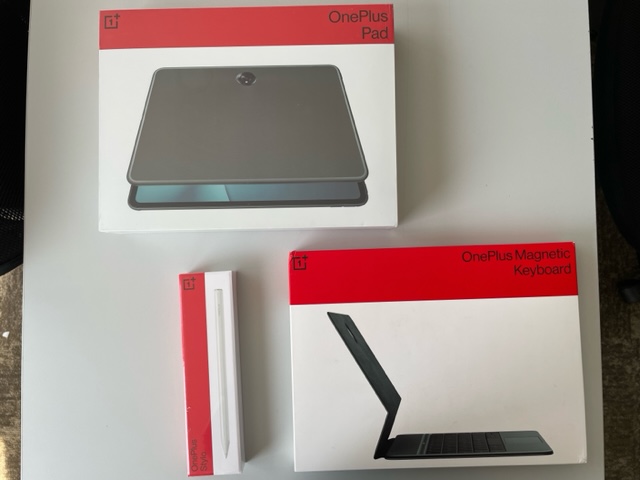 61-inch IPS LCD display with 2.5D Curved Glass and Dolby Vision
MediaTek Dimensity 9000 Processor
OxygenOS 13.1
8 GB/ 12 GB LPDDR5 RAM
128 GB/ 256 GB UFS 3.1 Internal Storage
13-megapixel rear camera with video zoom and EIS stabilisation
8-megapixel front camera with only EIS stabilisation
9510mAh battery with 67W SUPERVOOC fast-charging support
Quad-Speaker setup supporting Dolby Atmos
Bluetooth v5.3
OnePlus Pad Pros & Cons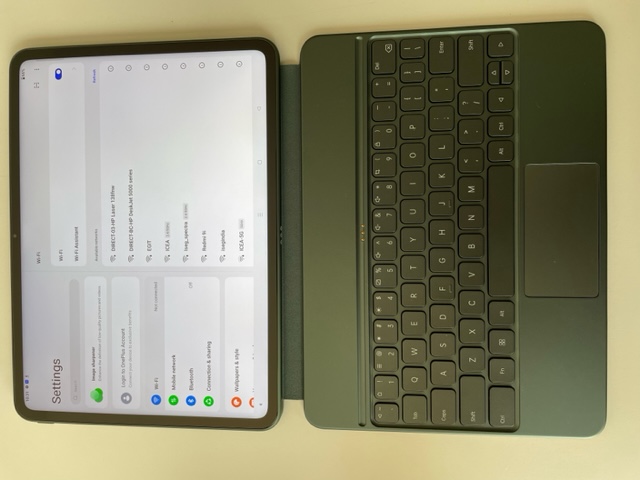 Pros
Cons
●     Huge 9510 mAh battery capacity with 67W SUPERVOOC fast-charging support

●     4K recording with gyro-EIS support

●     Stylus Pen support

●     OxygenOS 13.1 Custom UI

●     Amazing chipset performance for multitasking

●     Quad-speaker setup that supports Dolby Atmos

●     A 144Hz variable refresh rate support

●     Cellular Data sharing

●     1-Month Standby

●     No Sim connectivity

●     Low camera setup

●     Without a microSD card slot

●     Without a fingerprint scanner

●     Available in single-colour

●     Overpriced to some extent
OnePlus Pad Unboxing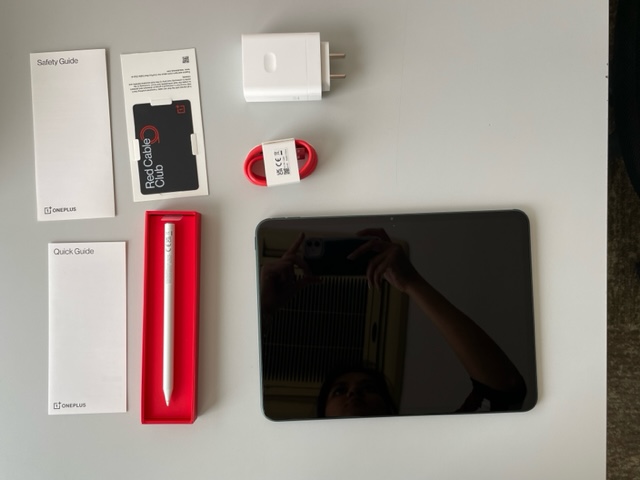 The OnePlus Pad is a highly anticipated tablet device from the popular Chinese smartphone manufacturer OnePlus. The device comes in a sleek and elegant package that is designed to catch the eye of its potential users.
The packaging is minimalistic and showcases the tablet's design with an image of the device on the front cover.
Opening the box, the first thing you will find is the OnePlus Pad neatly placed on top, securely held in place with from packaging. Removing the tablet from the box, you will notice its slim profile and sleek design.
The tablet is made of premium materials and has a beautiful finish that looks and feels premium.
Underneath the tablet, you will find a bunch of in-box content that comes bundled with the OnePlus Pad. These include a SUPERVOOC Power Adapter, Type-C Cable, a Quick Start Guide and the Safety Information and Warranty Card.
The charging cable is of high quality and allows for fast charging, while the charging brick is compact and easy to carry around.
Turning on the device, you will be greeted with a vibrant and clear 11.61-inch display ready to showcase the tablet's powerful performance.
At first glance, the OnePlus Pad appears to be a beautifully designed and highly functional tablet that is made to impress. The unboxing experience is also smooth and satisfying.
OnePlus Pad Design
The OnePlus Pad has a stylish premium design that sets it apart from other tablets in the market. OnePlus comes in only one colour option – the Halo Green.
However, it's the popular OnePlus subtle green hue and nothing too bright, thus, the OnePlus fans shouldn't have an issue.
The slim aluminium body of just 6.5 mm in thickness has a stylized metal back with a star orbit pattern, according to the company. This is how OnePlus is describing the machine's circular lines that surround the large camera lens in the centre of the device's back. This feature distinguishes it from the average Android tablet and from Apple's iPads as well.
The camera lens is nice and noticeable on the back making it a standout feature.
The back panel of the OnePlus pad has an engraved OnePlus logo.
Meanwhile, the pad's edges are mostly rounded with softly curved corners and the overall design is nothing but lovely. And there are uniform bezels around the display.
Interestingly, we also loved that there is a flat rather than rounded magnetic strip on the top right corner that allows you to attach and charge the stylus.
The OnePlus Pad is also relatively lightweight at just 552 grams. In fact, during our usage, we found it to be lighter than the Lenovo Duet 3i or even Apple's iPad Pro 12.9, making it a comfortable-to-use device.
OnePlus is also offering a separate stylus and folio case similar to what the iPad and the Lenovo Duet 3i offer. Based on our limited experience, the keyboard is pleasant to type on. Also, the trackpad beneath the keyboard and the stylus have good responsiveness.
The OnePlus Pad has a connector on the bottom edge that allows it to securely snap into the folio case and there's a power button on the top edge.
Though it lacks a fingerprint sensor, instead you can use Face Unlock or a Passcode to unlock this tablet. The volume rocker is located on the right edge and there's also a USB-C charging along with an audio port. When in landscape mode the speakers are located on the top and bottom edges.
OnePlus Pad Display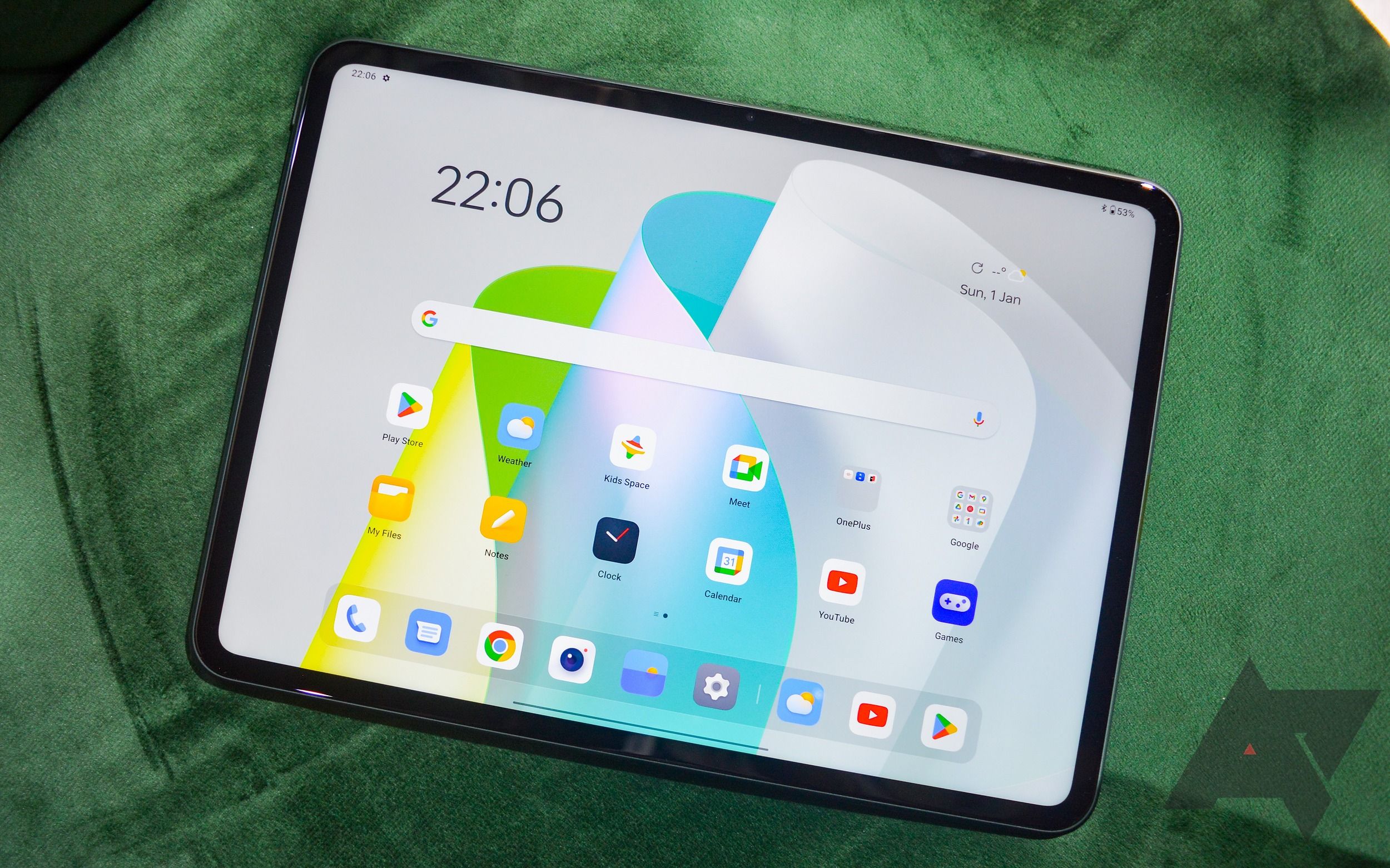 The 11.61-inch LCD display of the OnePlus Pad has a resolution of 2800 x 2000 pixels and a pixel density of 296 PPI. Now, this is something fairly typical for a tablet whether Android or iOS.
However, Samsung's tablets have moly displays rather than LCD, which is one aspect to consider before purchasing any one of these. Also, we can't deny the fact that not having a higher-end display could surely be a deal breaker for many tab users today.
The OnePlus Pad appears to offer plenty of detail as well as decent brightness. It tops out at 500 nits, a little higher than the Lenovo Duet 3i and we noticed good viewing angles based on our initial impressions. The colours on the screen are vibrant and punchy as well.
During our usage, we also noticed that the screen has a slightly different aspect ratio than the norm at 7:5 which is intended to be similar to a piece of A4 paper and works extremely well.
Because the screen-to-body ratio is slightly higher than 88 per cent, the bezels are lovely and slim and they also look great.
There's also an adaptive 144hz refresh rate on board as well as a touch sampling rate of 120 hertz or 144 Hertz.
OnePlus Pad Performance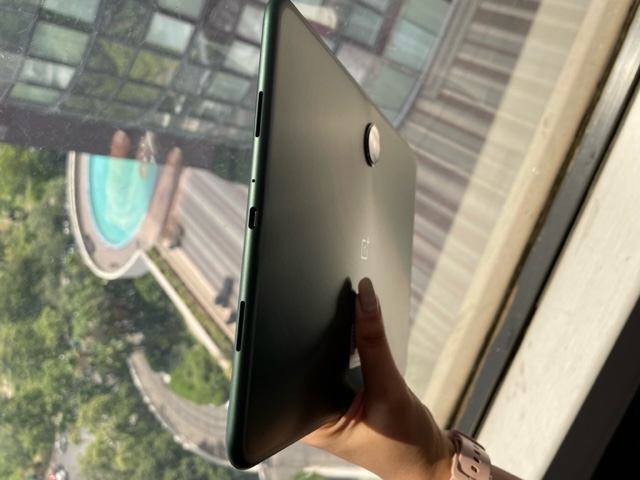 The OnePlus Pad is powered by a high-end MediaTek Demensity 9000 Chipset with a clock speed of up to 3.05 gigahertz. The Snapdragon 8 Gen 2 processor found in the OnePlus 11 and many other Android Flagship phones is set to hit the market in 2023 and isn't quite as powerful but as tablets go the OnePlus pad is a capable beast.
OnePlus has made a big deal about the pad's multitasking capabilities and its 8 or 12 GB RAM. In conjunction with the RAM-vita, this pad is claimed to be able to allow the user to run up to 24 Live apps at the same time
Now, during our hands-on session with the device, we attempted to do just that and while there weren't 24 different apps to test, the OnePlus Pad seemed to comfortably handle simultaneously running more apps than I'd ever reasonably care to use at the same time ever.
Interestingly, the tablet's gaming performance does suffer when 23 other apps are open at the same time but the fact that the tablet had that many apps running along with a heavy gaming session and was still standing strong is definitely impressive.
For more on how multitasking on OnePlus Pad actually feels, we will have to wait till more users come out with their experiences after the recent India launch.
And there are no 4G or 5G options for the OnePlus Pad. So you'll have to rely on Wi-Fi for internet-related tasks.
The OnePlus Pad is powered by the brand's Android 13-based Oxygen OS 13, which began rolling out to OnePlus smartphones in early 2023.
As a result, all of Oxygen OS bells and whistles are present and correct here with the split screen option which allows you to display two apps at the same time for easier multitasking.
This especially suits the OnePlus pads tablet form factor.
OnePlus Pad Camera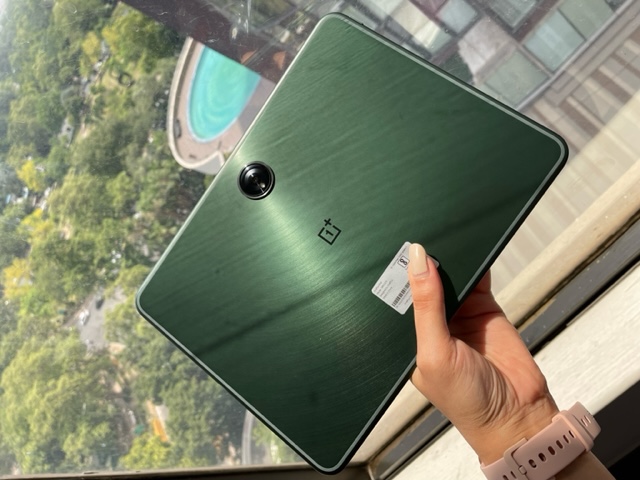 The OnePlus Pad is equipped with two cameras – a 13-megapixel primary sensor on the back and an 8-megapixel selfie camera on the front.
Now, neither lenses are particularly innovative in function or design but the positioning of these cameras is definitely more intriguing than the OnePlus Pad's actual camera setup.
The 13-megapixel circular rear sensor on the rear side of the tablet is smack dab in the middle of the frame. This is something OnePlus claims will help make photos appear a lot more natural.
With only a few sample shots during our hands-on testing of the device, it's difficult to say whether that OnePlus decision about camera placement actually paid off or not. The shots we tried taking using the rear camera came out quite nice, even though there was nothing extraordinary.
The single 13-megapixel camera can shoot up to 4K 30 FPS videos and during our tests, the video results were quite satisfactory.
What will be interesting to compare is the look of pictures taken on the OnePlus Pad to those taken on any of Apple's iPads. This will definitely give more clarity regarding the camera capabilities.
OnePlus Pad Battery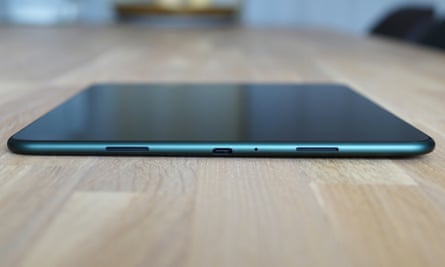 On paper, the OnePlus Pad comes with a massive 9510mAh battery that should outlast some of the best tablets available in the Indian tablet market in 2023.
Moreover, the pad can be fully charged in approximately 80 minutes using its 67-watt SUPERVOOC charging mechanism. As per OnePlus's claim, the pad will be able to provide over 12.4 hours of video watching and one-month standby life.
Now, the battery specification definitely looks promising on paper and our usage experience definitely displayed the strength of the battery,
Verdict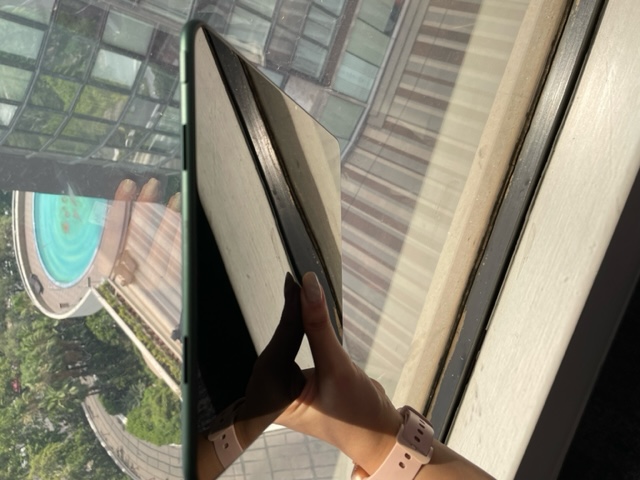 The OnePlus Pad is a lovely slim and slender tablet with a design that is a little different from other Android tablets. It has a premium build quality and some great features that make it an overall ideal choice when it comes to Andriod tablets.
Also, the keyboard on the folio case is great to type on from what we've seen so far.
There is no denying the fact that the OnePlus Pad has been launched with the intention to make a difference.
The stylish device with its really impressive battery power along with inbuilt functionalities will definitely give the device a boost in the market once the user experience starts rolling out as the sale starts.
The device is being marketed as a multitask pad that can be used throughout the day in a seamless manner and in our experience.
OnePlus's well thought move to have 128GB internal storage along with the standard camera setup on both sides promises to cater exclusively to both work and entertainment requirements.
Lastly, an inbuilt 4G VoLTE voice calling facility is a good added feature to have.
Overall, if you are an Android enthusiast and looking for a large device with multitasking capabilities, the new OnePlus Pad is something we will surely recommend you to look at. Priced at Rs 37,999, this one packs everything that you might need in your everyday usage.
Buy OnePlus Pad For
 MediaTek Dimensity 9000 MT6983 chipset
8GB RAM/128GB internal storage
Impressive cameras on the front and the back
9510mAh battery equipped with 67W Super VOOC Charging
4G VoLTE voice calling enabled
5G ready
OnePlus Pad – My Mobiles Rating
Design – 3.5/5
Display – 3/5
Performance – 3.5/5
Camera – 3.5/5
Battery – 3.5/5
Overall – 3.5/5
OnePlus Pad Prices and Availability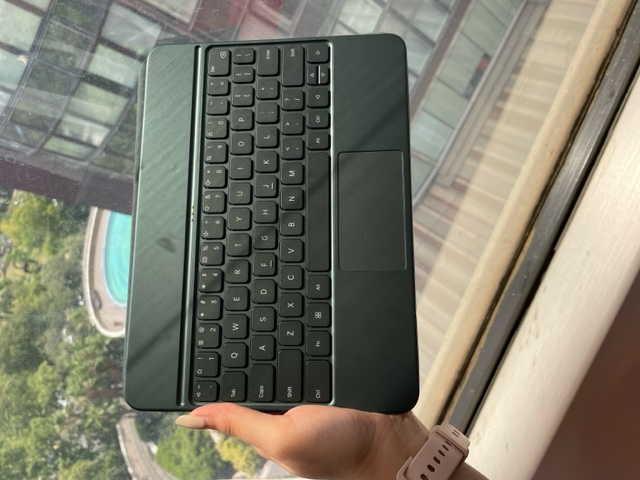 The OnePlus Pad Price in India starts at Rs. 37,999 and will be available for sale from 28th April 2023. The pad will be available in two variants 8 GB of RAM with 128 GB of internal storage and another with 12 GB of RAM and 256 GB of internal storage.
As for the colour variants, OnePlus is releasing the pad in a single colour variant called the Halo Green. It is the regular Green Hue colour that has been seen in many OnePlus smartphones as well.
The pad has a slim, lightweight design with an aluminium chassis and matte finish back panel.
ONEPLUS PAD KEY SPECIFICATIONS
General
Launch Date
April 5, 2023 (Expected)
Brand
OnePlus
Model
Pad
Operating System
Android v13
Custom UI
Oxygen OS
Network
5G: Not Supported in India,
4G: Not Available,
3G: Not Available
Quick Charging
Yes
Design
| | |
| --- | --- |
| Height | 258 mm |
| Width | 189.4 mm |
| Thickness | 6.5 mm |
| Weight | 552 grams |
| Colours | Halo Green |
Display
| | |
| --- | --- |
| Screen Size | 11.6 inches (29.46 cm) |
| Screen Resolution | 2000 x 2800 pixels |
| Pixel Density | 297 ppi |
| Display Type | IPS LCD |
| Touch Screen | Yes, Capacitive Touchscreen, Multi-touch |
| Screen to Body Ratio | 83.86 % |
Performance
| | |
| --- | --- |
| Chipset | MediaTek Dimensity 9000 MT6983 |
| Processor | Octa core (3.05 GHz, Single core, Cortex X2 + 2.85 GHz, Tri core, Cortex A710 + 1.8 GHz, Quad core, Cortex A510) |
| Architecture | 64 bit |
| Graphics | Mali-G710 MC10 |
| RAM | 8 GB |
Storage
| | |
| --- | --- |
| Internal Memory | 128 GB |
| Expandable Memory | No |
| USB OTG Support | Yes |
Camera
MAIN CAMERA

Resolution
13 MP, Primary Camera
Autofocus
Yes
Flash
Yes, LED Flash
Image Resolution
4128 x 3096 Pixels
Settings
Exposure compensation, ISO control
Shooting Modes
High Dynamic Range mode (HDR)
Camera Features
Digital Zoom
Auto Flash
Face detection
Touch to focus

FRONT CAMERA

Resolution
8 MP, Primary Camera
Video Recording
1920×1080 @ 30 fps
Battery
| | |
| --- | --- |
| Capacity | 9510 mAh |
| Type | Li-Polymer |
| User Replaceable | No |
| Quick Charging | Yes, Super VOOC, 67W: 90 % in 60 minutes |
| USB Type-C | Yes |
Network & Connectivity
| | |
| --- | --- |
| Network Support | 5G Not Supported in India |
| Voice Calling | No |
| Wi-Fi | Yes, Wi-Fi 6 (802.11 a/b/g/n/ac/ax) 5GHz |
| Bluetooth | Yes, v5.3 |
| NFC | No |
| USB Connectivity | Mass storage device, USB charging |
Multimedia
| | |
| --- | --- |
| FM Radio | No |
| Audio Jack | USB Type-C |
| Audio Features | Dolby Atmos |
Special Features
| | |
| --- | --- |
| Other Sensors | Accelerometer, Compass, Gyroscope |
FAQs on OnePlus Pad
Q1. What type of display does OnePlus Pad have?
Answer. The OnePlus Pad features an 11.61-inch LCD display with narrow bezels and a 144hz variable refresh rate. The display has a 7×5 aspect ratio which OnePlus claims will provide a book-like reading experience and should be comfortable for all-day use.
Q2. How long does it take to charge OnePlus Pad?
Answer. OnePlus comes with a 67-watt SUPERVOOC fast charging mechanism and a bundled adapter that the brand claims are capable of charging the device from zero to hundred in 80 minutes. Data comes from the OnePlus test laboratory. 60 minutes of charging can provide 86% battery life from 0%. The full charging time is 80 minutes from 0% to 100% battery
Q3. What is the brightness of the OnePlus pad?
Answer. The OnePlus Pad comes with an 11.6-inch LCD panel with a 7:5 ReadFit screen, 88 per cent screen-to-body ratio, a 144Hz screen refresh rate, a touch sampling rate of 144Hz, a resolution of 2800×2000 pixels, 500 nits of peak brightness, and 2048 levels of intelligent brightness controls.
Q4. What are the colours of the OnePlus Pad?
Answer. The tablet comes in a single Halo Green colour option and will be available for pre-ordering on April 28.
Q5. What are some reasons to reset or hard reset the OnePlus Pad?
Answer. Here are some of the reasons that lead you to want to perform a reset, format, hard reset or factory reset of your OnePlus Pad:
My OnePlus Pad works very slow and I want to format it.
I have forgotten my OnePlus Pad unlock pattern or screen unlock PIN code.
The OnePlus Pad is hung or frozen.
My OnePlus Pad does not have enough storage space to install applications.
Clear all information from OnePlus Pad before selling or giving it away.
Restore to factory settings my OnePlus Pad
My OnePlus Pad has trouble picking up calls.
Q6. How to make my OnePlus Pad faster?
Answer. There are several methods to improve the speed of a Pad from OnePlus before resorting to acquiring a new model or resorting to more drastic methods. Unlike a computer or laptop, we cannot expand the RAM of a OnePlus Pad from 8 GB which comes by default so we have to look for methods to improve its performance. Here are some ways
Perform an unnecessary application cleanup. Check all downloaded applications you do not use and delete them.
Remove pre-installed applications. Your OnePlus Pad comes with pre-installed applications that you may not use and are taking up space in your 128 GB 8 GB RAM memory.
Pass media files to the memory card.
Keep your OnePlus Pad updated to the latest software version, Android, OxygenOS 13.1 it is the version of the operating system with which it was released but possibly new versions have come out with performance improvements.
Try restarting your OnePlus Pad
Install an antivirus or cleaning application.
As a last option, you can perform a format, factory reset or hard reset of your OnePlus.
Also Read: OnePlus Pad Price in India Announced, Pre-Orders from April 28 with Exchange and Bank Offers: Check Availability & Specifications
Also Read: OnePlus Pad Price in India, RAM and Storage Options Leaked on Flipkart Before April 28 Pre-Order
Also Read: OnePlus Pad price in India leaked via online listing: Competition with Xiaomi & Lenovo Tablets