HIGHLIGHTS
* OPPO 300W fast charging solution is tipped to be in the works.
* This will match Redmi's 300W charging tech that was announced in February.
* The OPPO 300W solution is expected to break covers before the end of this year.
* OPPO's whopping 300W fast charging solution appears to be on its way.
Redmi 300W ultra-fast charging tech was amnounced back in February. Although the new charging solution is yet to be available on a commercial device, the tech surpassed Realme's 240W charging solution.
OPPO seems to be working on a new solution that will match the 300W charging rate, according to noted tipster DigitalChatStation.
The new solution is said to be in development at the moment but will be paired with a 4,450mAh battery (4,600mAh battery typical).
We can probably expect the solution to break covers before the end of this year.
Over the past few years, there has been a rapid development of mobile phone charging tech. A few years ago, we only had 27W fast charging max.
However, by 2020, the charging power of mobile phones jumped to 65W. As of 2021, we already have 125W fast charging which slowly increased to 200W – 210W. Now, the industry is trying to take a huge leap to 300W super fast charging.
Redmi unveiled a modified Redmi Note 12 Pro+ a month ago. This device is able to handle a 300W fairy second charge and could be fully charged in only 5 minutes.
According to recent reports, a mass-produced model could be launched in the second part of the year. However, Redmi is not alone in the development of fast-charging tech.
OPPO 300W Charging Tech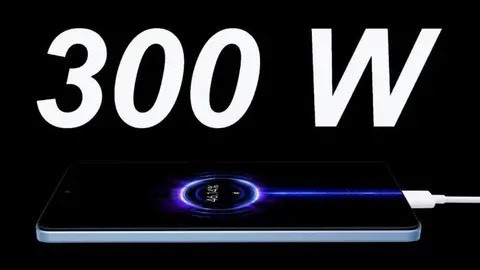 Redmi in its announcement claimed that its 300W charging solution took 2 minutes and 11 seconds to reach 50 percent and under 5 minutes to charge fully. The battery capacity the brand used for the test was a 4,100mAh unit.
We can probably speculate the same turnaround time for the OPPO as well but then again this is largely dependent on the battery capacity as well.
Unlike Redmi's 300W charging solution that could only touch 290W (not the claimed 300W) only once and that too for about 3 seconds of time, we hope OPPO's SuperVOOC solution retains the same speed at least till the battery reaches 80 percent.
We should know more details about the new SuperVOOC solution in the days to come. Fast charging solution is not just about the speed at which the phone charges but also how efficient it is in regulating heat and also how well it can manage the current.
The current highest fast-charging solution available in India is 180W, present on the Infinix Zero Ultra.
The Realme GT 3 currently is the fastest charging commercially available phone in the world at 240W, and is expected to come to India. We doubt the 300W solution will be available in India anytime soon.
FAQ's on Oppo 300 W Fast Charging Tech
1) What Oppo 300W fast charging tech?
Ans) Another Chinese brand, Oppo, is also working on similar tech. There are reports that Oppo has also developed equivalent technologies and that the 300W level of rapid charging has no limits in terms of brand.
A new report from @DCS a popular Weibo tech blogger reveals that the Oga system has special 2220 / 2230 mAh 15C system high-rate batteries.
The equivalent capacity should be 4600 mAh and this should be ready for 300W-level rapid charging.
Nevertheless, using a high-rate battery alone will not enable 300W high-power rapid charging. The entire link, such as chargers, mobile phones or devices, and charging designs, needs optimization and improvement.
In order to further minimize volume, the 300W charging chip design must use the most recent GaN (gallium nitride) tech. Without this, it will be difficult to control the volume of the charging head and the mobile phone.
The 300W battery capacity is still smaller than the more known 100W fast charging + 5000 mAh battery, and the battery life will be somewhat lower.
But the charging time is way shorter, therefore there are trade-offs to be made.
2) What are the details of Oppo SuperVooc Charging ?
Ans) OPPO (or its parent corporation) is already responsible for some of the fastest charging smartphones on the market. Now, the OEM is tipped to go even further with the next generation of its SuperVOOC charging, slated to pack triple-figure wattage into a battery that could fit into a wide range of mobile devices.
Realme owes its place in the "Oga Group" (a catch-all term applied to a number of smartphone brands that started out as BBK Electronics subsidiaries) for the class-leading 240W charging found in its new international flagship smartphone the GT3 (or GT Neo5 for the Chinese market). This Group also contains OPPO, a company that debuted the high-speed SuperVOOC charging accessory line in the first place.
Now, the series is tipped to get even more extreme in its next iteration. According to the reliable leaker Digital Chat Station, OPPO (or possibly the Oga Group in general) is working on a new "15C" battery designed to match Xiaomi's new top-end 300W charging rate.
Also Read: OPPO Find N3 specifications tipped: bigger 8-inch display, Snapdragon 8 Gen2 and Periscope Lens in Line
Also Read: OPPO Find X6, Find X6 Pro Launched In India with Hasselblad cameras, up to 100W fast charging ,1-inch sensor & periscopic camera: Price , Specifications & Availability
Also Read: Best Oppo 5G Mobile Phones in India