Diwali is a festival celebrated by Hindus, Sikhs, and Jains to mark the beginning of a new spiritual year and to celebrate the triumph of good over evil and light over darkness.
The festivities surrounding food consumption are a significant part of almost every event that comes to mind. A common custom during the festival of Diwali is the exchange of sweets, particularly in the form of gifts.
This article explains seven different services in India that either regularly provides snack delivery or give sweets as gifts during the Diwali holiday.
You can select Indian desserts made in the traditional manner or with a modern twist, depending on your state of mind and the way you prefer your sweets to be presented. Each of the listed companies offers convenient direct shipping of these mouthwatering holiday treats to your place of business or residence.
Also Read: Amazfit Diwali Sale
Shubh Kitchen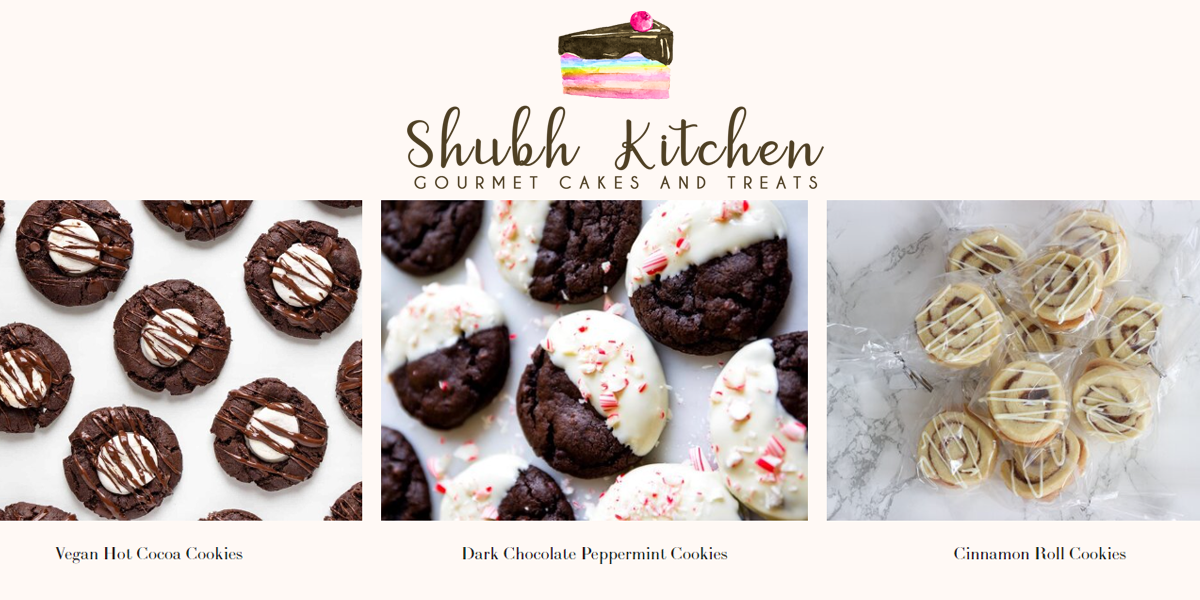 In honor of the Hindu holiday of Diwali, Shubh Kitchen offers a selection of sweets that are entirely made from natural ingredients and require a few. Because of their dedication to the past, this company is well-known for producing eggless baked delicacies using only the finest ingredients. They do this by adhering to the traditions passed down to them. The delicious confections sold at Shubh Kitchen are all made by hand, and a warm-hearted family runs the company.
The founder of the company, Shubham, has a passion for baking, and she is the one who is responsible for making all of the specialty cakes. It is possible to place an order for delectable cupcakes that are also works of edible art.
Also Read: Nokia Phones for Diwali
The Laddu House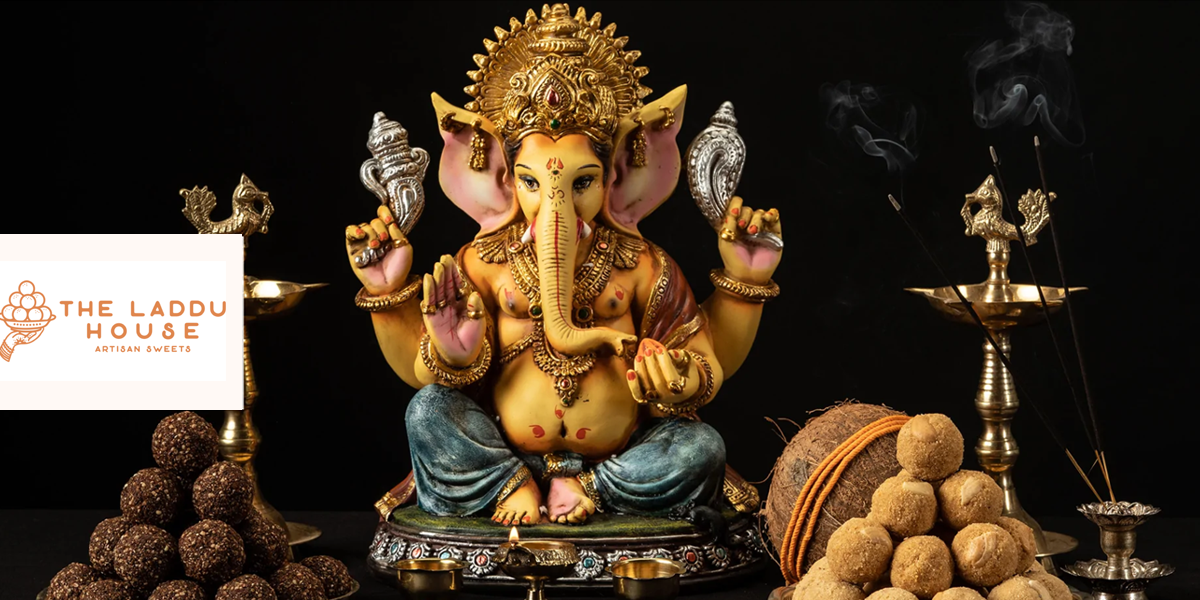 A Peek Inside the Grand Residence of Laddu During the festival of Diwali, The Laddu House is well-known for producing authentic Laddu sweets that are hand-crafted and made using only natural ingredients. At The Laddu House, you won't have to choose between indulging yourself and the people you care about during Diwali and putting your health first because you won't have to.
These delectable morsels contain a considerable quantity of protein, very few carbohydrates, and only a moderate quantity of sugar. The laddus are made in the oven using only natural ingredients and bolstered with ayurvedic superfoods.
Nothing is made up of filler or artificial ingredients to pad it out. Minimal processing and in-house roasting of ingredients provide excellent taste and texture.
Also Read: List Of Best Websites To Order Sweets On This Diwali
Sukhadia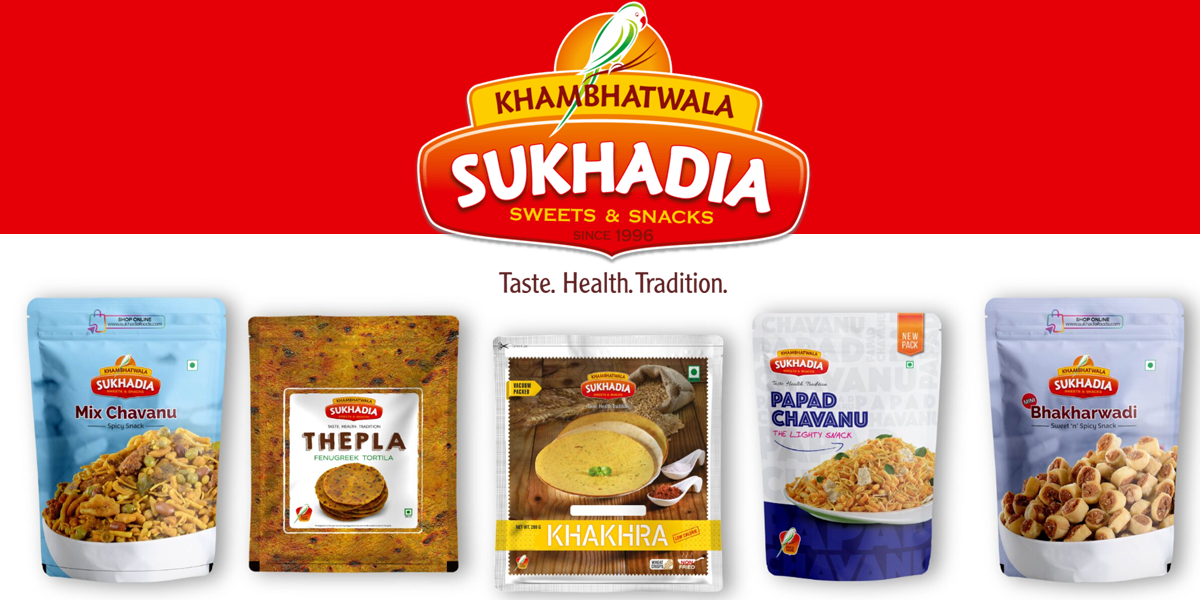 The best Indian food and sweets can be found at Sukhadia's. Established in 1880, the company is now run by its fourth-generation family members. Sukhadia offers authentic, high-quality Diwali sweets. Sukhadia's doesn't specify that its Diwali boxes are vegan, even though some items, including nuts and dried fruits, are vegan by nature.
Several elaborately packaged gift boxes of Diwali treats, including raw and spiced nuts, dried fruit, and various mewa bits in multiple flavors, are included in the Royal Collection. There isn't a more beautiful or well-made gift box out there.
Beautiful gift wrapping options are available if you want to send Diwali sweets online as a present. Customize your present for the Festival of Light by including a card with a special message and your chosen ribbons.
Sukhadia sells a wide variety of Indian goods and items, including Diwali sweets and delights, spices, blends, bread, and curries. The price of sending Diwali treats to a faraway friend, or relative might vary widely depending on how quickly you need them there. We provide overnight delivery options.
Laumière Gourmet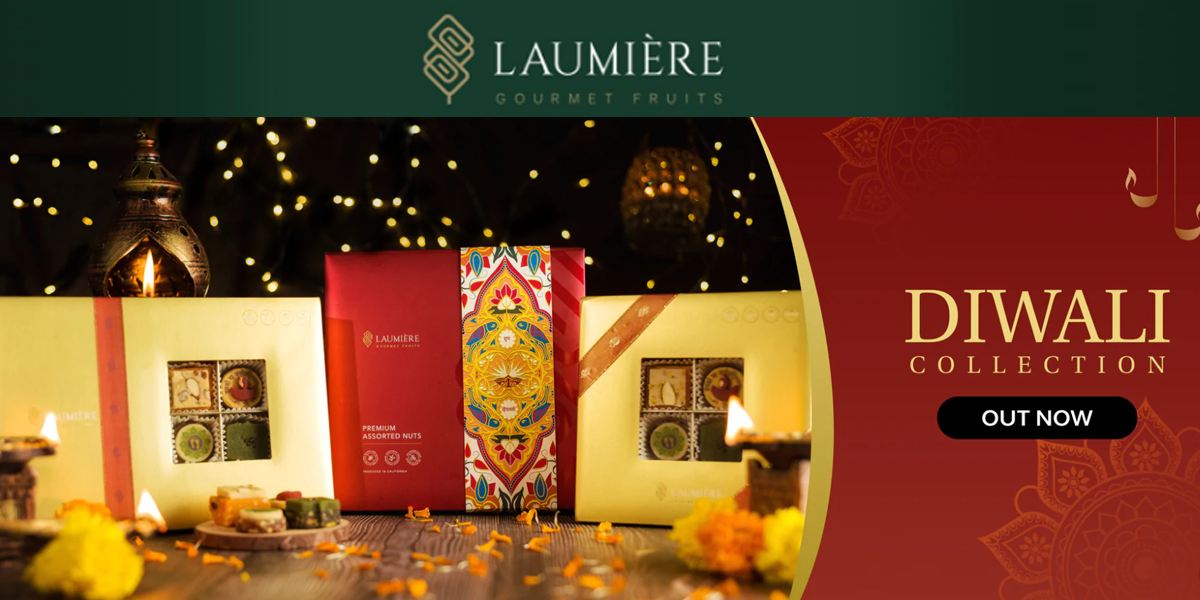 Laumière Gourmet is a business that sells exotic fruits. With a contemporary spin on traditional Diwali sweets, their Diwali Collection is ideal for people who wish to indulge their sweet cravings without sacrificing their health.
Their Diwali sweets are works of art in and of themselves. You could find them so attractive that you want to protect them if it weren't for their taste so good!
Among the goodies in the Diwali gift box are
Date and Cashew Barfi is a contemporary take on a traditional Indian dessert.
A dish of sweet figs and crunchy caramelized pistachio nuts.
Our apricot medley's fig and pistachio brisket are caramelized and roasted to perfection.
One delicious combination is orange peel candied with sweet dates.
It's vegan, gluten-free, and low-carb at Laumière Gourmet. Their Diwali presents come with free delivery. When sending a gift for Diwali, it's nice to write a personal letter to the recipient. Additionally, you may schedule future delivery of your Diwali presents by placing an order now.
Laumière Gourmet has more than just Diwali sweets to satisfy your appetite; they also have a unique superfood selection. Beautiful and powerful, these little superfoods are packed with nutrients. Your energy levels will appreciate it.
Bateel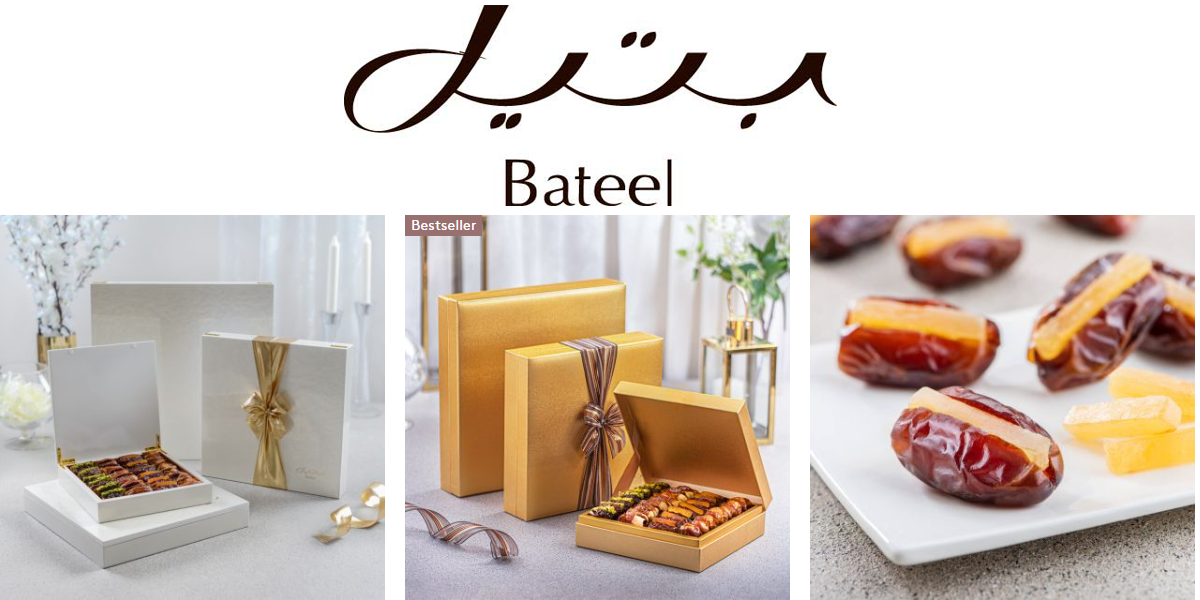 Bateel's gourmet dates were the company's first big hit, and they've since branched out into other decadent Middle Eastern treats. They have two different gift boxes of sweets available for Diwali. You can tell that the Purple and Gold Marigold Gift Box was inspired by exotic Eastern culture.
Choose from various date options, including plain, filled, chocolate, or a combination of the three. An elaborate mandala decorates the lid of Orange Regalia, making it an ideal gift box for Diwali candies.
Either box is excellent for a Diwali present to send to far-flung loved ones. There are three sizes, each holding 30, 48, or 64 pieces. Buy premium Diwali candies from Bateel.
Please consider that the most significant size is only offered in Orange Regalia. This box is sturdy enough to transport your Diwali candies without fear of damage, and it's wrapped in pretty paper to make it look like a gift.
DesiClick
Your search for Indian goods ends with DesiClick. They have a lovely Diwali gift set in a box available in their selection. A true pastry chef makes sweets from scratch using age-old techniques. These sweets will put the spark to your Diwali celebrations.
If you want to stock up on Diwali treats for a party, you can get them shipped free from DesiClick if your order totals $75 or more.
Also Read: Dhanteras 2022 Offers
Two pounds of traditional dry sweets like Kaju katli are included in their unlabeled gift box. There is an option to have a gift card with your purchase.
You can find a variety of Indian jewelry, home and kitchen products, clothing, sweets, and groceries on DesiClick, in addition to Diwali sweets for gifting to loved ones. The best place to shop for presents for your Indian or foreign friends and family!
Conclusion
Depending on your mood and how you wish your desserts to be served, you may choose Indian desserts in classic fashion or with a contemporary twist. Each featured business provides direct shipment of these delectable Christmas delights to your home or place of work.