The Formovie THEATER is a flagship Ultra Short Throw (UST) projector that is also the World's 1st Dolby Vision Compatible 4K UST Laser Projector. The brand Formovie is a strategic venture between Xiaomi and the world-leading laser display technology company, Appotronics.
Formovie THEATER comes with ALPD 4.0 RGB+ Technology for optimum colour accuracy and superior contrast, 4K UHD resolution with up to 150" screen resolution, 2800 ANSI Lumens for ultra-high brightness, and Bowers & Wilkins speakers for enhanced sound quality among its other primary features.
Also Read: Every New Show and Movie
Moreover, the projector is Android TV 11.0 certified and promises endless streaming content from more than 5000 popular apps. So, is this the best UST projector option available in the market at the moment? Let's take a look at Formovie THEATER 4K UST projector review.
Formovie THEATER features and highlights
Vibrant, vivid ALPD® 4.0 RGB+ Technology
Clear & crisp 4K UHD Resolution
2800 ANSI Lumens for ambient room lighting
Super-accurate 107% Rec.2020 colour gamut
World's 1st Dolby Vision & Atmos UST projector
ALLM + MEMC for smoother gaming
Max 150-inch Projector Screen Size
Bespoke Sound Design By Bowers & Wilkins
Certified Android TV 11.0
Review
First and foremost, let's quickly understand what exactly is an Ultra Short Throw projector. It is a type of projector that requires very minimal space between the projection device and the surface aimed for projection, even to cast an image in a large format.
Also Read: Methods To Download Bollywood Movies For Free
A UST projector offers a throw ratio of less than 0.4:1 as compared to the more traditional 2:1 throw ratio of regular projectors. This means we can get an 80-inch image projected from just 14 centimetres of distance using a UST projector.
The first that is instantly noticeable about Formovie THEATER is its compact design. Projectors are usually massive in size and sometime a bit of an eyesore, especially when used as home entertainment devices. But Formovie has taken care of that with this projector.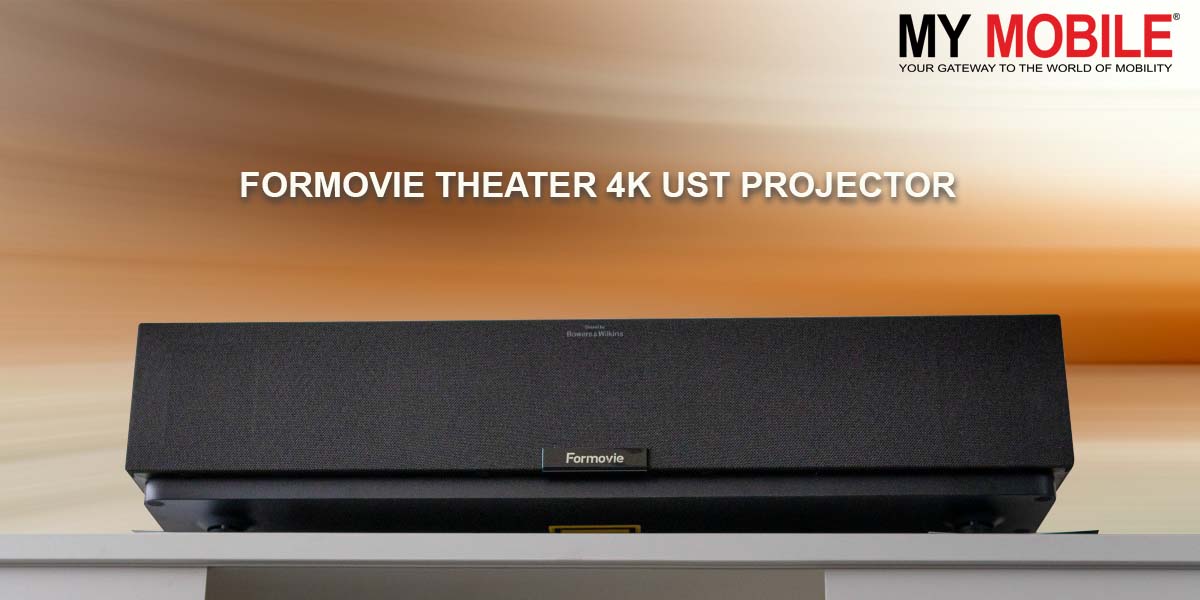 The lightweight portable design of Formovie THEATER is probably the smallest in the market today. Moreover, the usual perception of a bigger projector means better sound or lens quality is myth Formovie breaks with their product's performance despite being small in size.
Also Read: Sony HT-A5000 & HT-A3000 Soundbars Enhances Home Cinema Experience
Formovie THEATER supports HDR 10 Dolby Vision Dolby Atmos 2. It is being advertised as a laser projector, ultra short throw from LAPD with RGB plus technology. The image quality is quite outstanding considering the style of the projector. It has a maximum brightness of 2800 ANC lumens and is running on Android TV 11, which is the latest version.
Formovie THEATER is quite impactful for someone who hasn't experienced UST projectors. The device has three brightness modes for users to adjust as per requirement. There is an "Office Mode", "Viewing Mode" and "Night Mode." All three settings simply decrease the brightness level of the display.
The built-in speakers from Bowers and Wilkins are really impressive and provide optimum sound quality as a part of this projector.
For connectivity, we get almost everything that one would expect from a UST projector. We have three HDMI ports with one HDMI E-ARC port, which is the Enhanced Audio Return Channel for better handling of all the plugins.
All ports are located at the back of the projector, which is something of a clever way to manage the cables but may not be the most convenient position for changing wires once the device settles in its space.
Also Read: Your complete guide to OTT in 2022