There are so many features in our mobile applications that we can gush about all day and still not describe their significance in mere words. WhatsApp is arguably the most popular among other apps that has emerged from being a mere messaging chat app to becoming much more than that.
Today we are going to talk about the important broadcast list feature that people deserve to know about as there are many that are still unfamiliar with the many features that the application promises.
Also Read: How to be Online on WhatsApp Without Being Visible to Your Contacts?
This will allow them to enhance their knowledge and learn more about them because its shocking to know that there are many users that are unaware of the many features of WhatsApp and assume it is just limited to sending and receiving messages like the SMS feature of old times.
With the broadcast list feature you can send messages to several people on your contact lists simultaneously as long as they have a WhatsApp account of their own, of course. You can call broadcast lists as saved lists of message recipients to whom you can send and receive messages.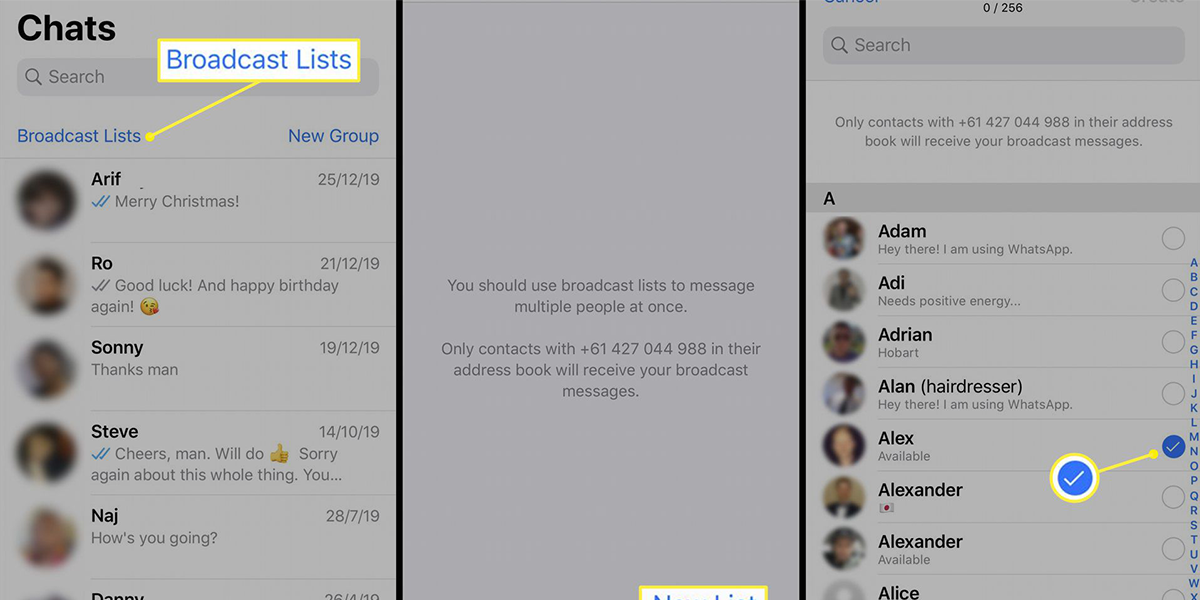 Steps
You need to follow certain steps to create broadcast list so that it becomes easy to work things out once you get through the process and bear in mind that there's no rocket science in doing it.
So you first Open WhatsApp and go to the top of the Chats screen where you'll find Broadcast Lists following which you tap 'New Lists' that is at the bottom of the screen of 'Broadcast Lists'.
Then you will start searching for the list of contacts you want to add and tap 'Create' so that they are added up and the broadcast list will be created. Once you send a message to the broadcast list, it will go to all the recipients that have your number stored in their contact list.
They will receive the message as a normal message and the replies they sent too will emerge as a normal message on your chat screen and this reply will not be sent to other recipients in the broadcast list.
Also Read Here: How can I send photos in their entirety on WhatsApp for iOS?