The fact that we human beings have become so dependent on electronic devices has become way too obvious and there are so many of them out there without which human life will come to a standstill, or so it seems.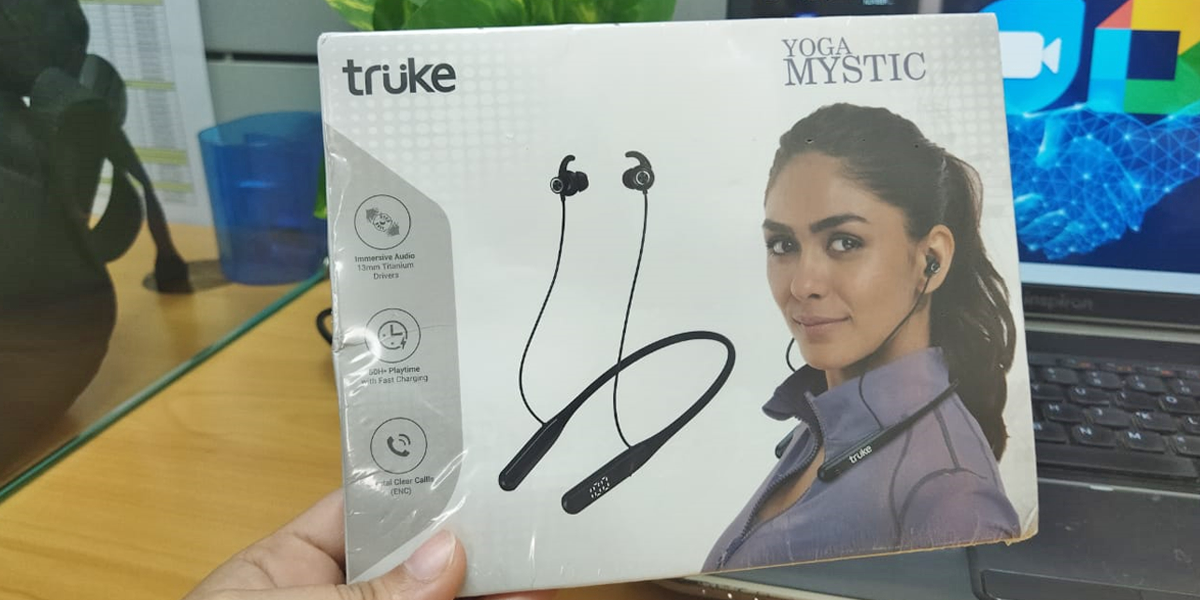 While smartphones are generally more discussed about, other devices tend to take a backseat like smartwatches and earphones despite both of them being equally important, albeit for different reasons, tools to possess.
We always have new earphone models that come out in the market on a regular basis from various reputed brands with Apple and Samsung being chief among others although other devices deserve to mentioned along.
However, people these days are not satisfied with mere earbuds and therefore, most of them have neckbands to make themselves more comfortable so that they can wrap it around their neck and put the earbuds in both ears and listen away for hours and hours of leisure time.
Also Read: Truke Earbuds: Buds S2 Lite Review
My Opinion
Truke Yoga Mystic is the latest in the list of neckband earphones that India has come out it and it perhaps one of the first that is a complete 'Make in India' product and is classified as an industry first of sorts.
Also it is the first one to come with Bluetooth features and a digital battery indicator that its makers take pride in calling it a unibody design made of premium real silicon with 13mm titanium drivers that allows it to stand apart from its counterparts.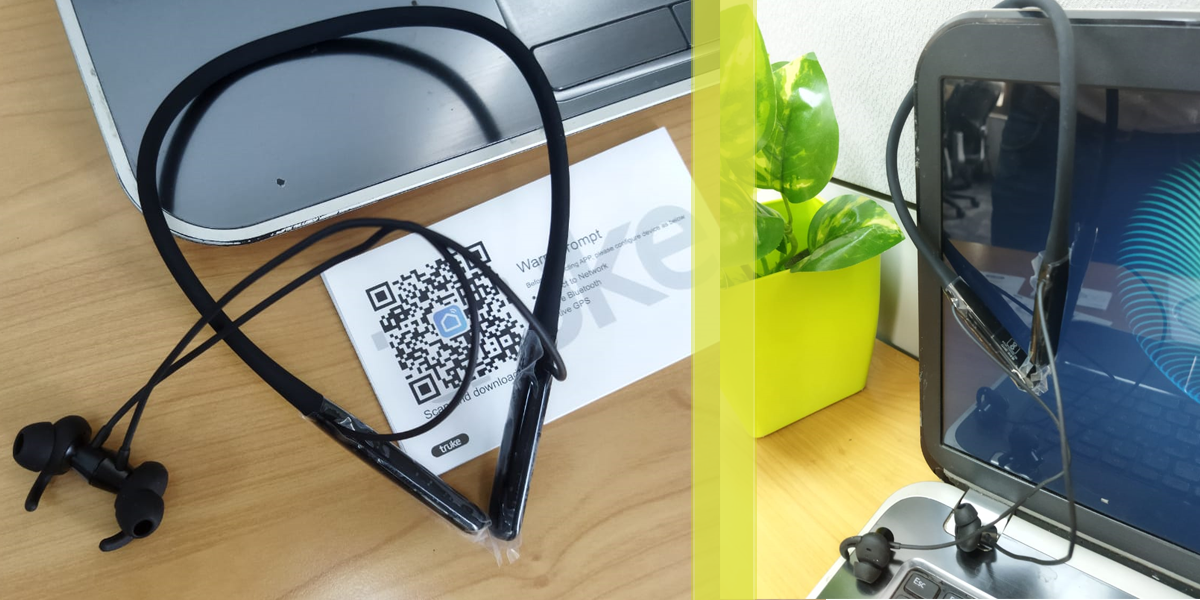 It comes in a white, rectangular box labelled 'Truke' on the top left with Yoga Mystic on the top right and underneath the headline is the picture of a lady wearing the neckband and earphones.
Upon opening the box, you will find the black coloured neckband kept neatly entangled along with its instruction manual, charger, and four spare earbuds. The neckband is pretty light to hold while the earphones cause slight discomfort while putting it into the ears.
Although there the effect is slightly jarring, the overall sound quality is quite strong courtesy of the company's Deep Neural Network ENC chipset solution that is in an advanced phase where the musical sound quality is something different that you will realize once you hear it.
Features of Truke Yoga Mystic Neckband
Yoga Mystic supports different kinds of modes like Music mode, Gaming mode, Mono mode, among others where you just need to connect the single earbud to listen to the mobile phone navigation tone while driving or while making a call so that the journey is safe and sound.
It is perfect for use in stereos as well because you are completely transported into a melodious and tranquil world that is completely devoid of sorrow, tears, worries, anger, depression, and pretty much every negative human emotion in existence.
The neckband is able to connect to two devices simultaneously as it supports dual-pairing technology and comes with many other features like; Type-C charging port, MFB Button, MEMS Mics, and Battery capacity digital display.
It is also packed with Environmental Noise Cancellation (ENC) because are quite demanding when it comes to listening experience and this one is of topnotch quality while game lovers get an added bonus in the form of a 40m ultra-low latency that is perfect for gaming mode.
On a single charge, users can avail up to 50 hours of playtime due to USB-C fast charging port where you get 10 hours of playtime after a mere 10 minutes of charging, which is something that game savvy individuals would love.
It was launched on September 5, 2022, along with Buds S2 Lite earphones, and both devices are now available for purchase on platforms like Amazon and Flipkart, and both have received excellent reviews from users where Yoga Mystic costs Rs.1,299 that is also available at a Rs.300 discount.
Speaking up on the occasion, Mr. Pankaj Upadhyay, CEO, Truke India, said, "In the past 2-3 years we have established ourselves in the industry and served millions of customers across the nation. Despite the tough competition of early entrants in the segment, we have emerged as one of the fastest growing audio brand in India.
Today, we are immensely proud to launch our first MADE-IN-INDIA product, completely designed and manufactured in the country to become a flag bearer of PM Modi's 'Make in India' mission. We are confident that we will successfully inspire other brands towards commencing product manufacture and product assembly in the country and play their part in transforming India into a Global Exporter of high-quality electronics.
With the launch of our new product line of neckbands, we now look forward to a stupendous reception amongst our customers and further extend our arms in wearable electronics segment."
Pairing & Connection of Truke Yoga Mystic Neckband
Yoga Mystic has to be powered on following which it automatically pairs and connects to two different devices but users have to connect them by manual where the Bluetooth is activated and you need to find 'truke YOGA MYSTIC' and click on it so that the neckband is connected and then move on to the second device.
Once you pair and connect the first time, the neckband can pair and connect automatically with two devices once users activate both devices following which they can start using.
Key Specifications of Truke Yoga Mystic Neckband
The Bluetooth version on the device is 5.2 and comes with an urgonomic real silicon unibody design along with a 13mm titanium speaker that is powered by AAC Codec. You also get 20 EQ modes through the Smart Application Support and a Digital battery indicator.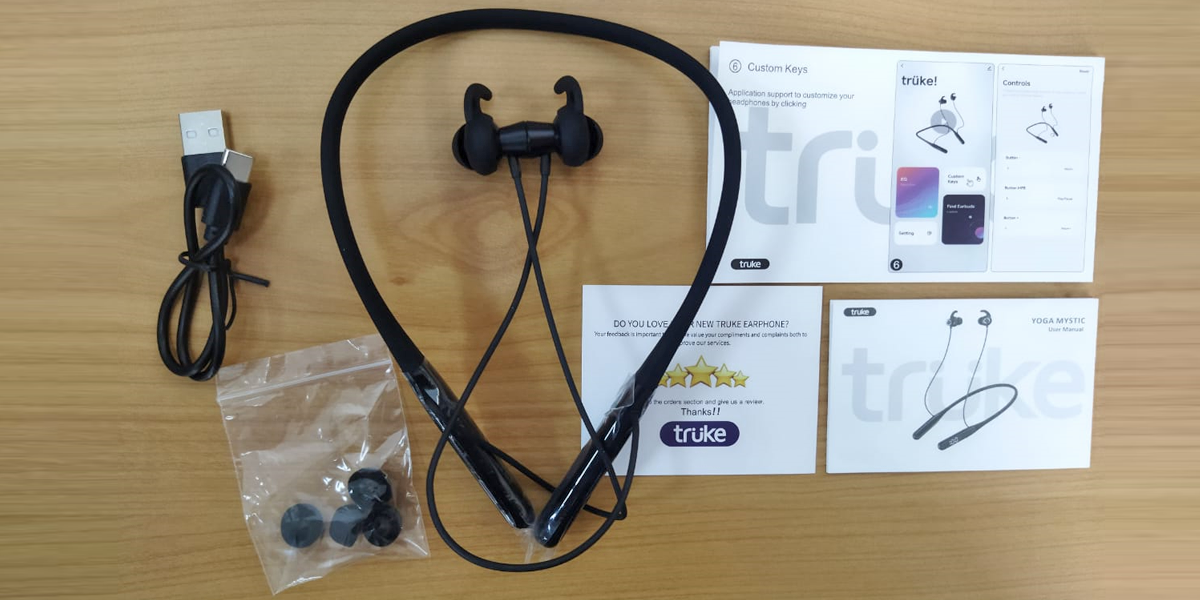 Precautions
There are certain precautions that you need to follow while handling Truke YOGA MYSTIC because just like any other device it also has its fair share of limitations and shortcomings that have to be strictly adhered to.
Never use the neckband under high temperature, humidity, dusty and cold climate, high electromagnetic radiation and during lightning
Be careful never to use non-original charging accessories to charge the neckband
The charging time should not exceed 3 hours otherwise it can overheat and cause problems
Be careful to recharge it every 30 days when not using it for a considerably long time
Using it for a longer period of time without break may cause hearing issues or even damage to the user so never exceed 60 decibels
The neckband comes with a specific warranty period so never disassemble by any unauthorized personnel otherwise it will cause issues before warranty period is over
Once the product is no longer of use or has expired, don't discard it send it to a professional recycling agency otherwise it can pollute the environment
Also Read: Truke sets a record, sells 10K F1 TWS earbuds on launch day