Privacy indicators in Chrome depict the privacy settings of your Chromebook camera and microphone. A green icon appears on the status bar when the camera, microphone, or screen sharing is active.
Google is debuting new features with the release of Chrome OS Flex. The new update is targeting user productivity along with enhanced privacy and security arrangements on the platform. The new security feature has been handed over from android to Chrome OS and the users get an alert while using a camera or microphone in the background. We have come up with a tutorial to enable privacy indicators on a Chromebook.
Also Read: Add Hues To Your Google Chrome Browser's Tab
Enable Privacy Indicators On Your Chromebook
We have come up with a tutorial to enable privacy settings on a Chromebook. Follow the below-mentioned steps:
Get access to the Chrome browser
Enter chrome://flags#enable-privacy-indicators in the browser and press enter
Tap on the drop-down menu
Open Chrome flags settings to enable or disable the privacy indicator
Turn off your chrome book
Power On your Chromebook and open Google Meet
Get access to the privacy indicators at the bottom right corner of the Quick settings panel on the Chrome OS Flex
The privacy indicators are applicable to Linux apps as well. The privacy indicators appear promptly with alerts regarding camera and mic use. You get the option to disable the privacy indicators as well. you have to open the same Chrome flag and disable it from the drop-down menu. Restart and complete your process to update your Chromebook.
Also Read: ChromeOS 107 Update Goes Live with Save Desk for Later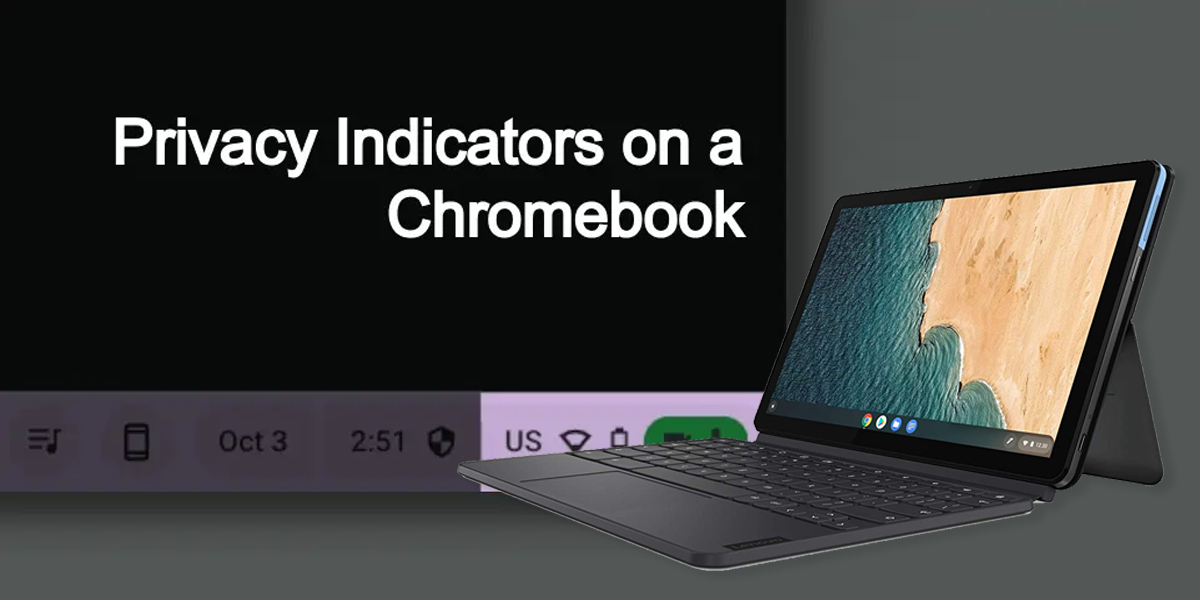 Explore Other Privacy Options
Preload pages
Google assists you in browsing and searching faster. It preloads the pages you might visit. Google uses cookies to execute this function. Other than this, allowing cookies helps it encrypt and send pages through google hiding your identity from sites.
Initiate "Do Not Track" request while monitoring browsing traffic
You get the option to include "Do Not Track" in your browsing traffic. However, several websites still your browsing data to provide enhanced security, content, services & ads and recommendations on the websites.
Also Read: Use These Chromebook Split Screen Techniques To Improve Your Multitasking Abilities
Safe Browsing
Chrome OS Flex alerts you if your search websites could prove harmful. It keeps a check on your browsing activities and alerts you if you head towards any bad website stored in its database. It alerts you if any browsing activity matches that list or any other risky website.
Enhanced Web Security
Chrome sends your system information and page content to Google to be aware of any future threats. you receive such alerts even while visiting or using any such website.
The privacy indicators give you an enhanced user experience without causing any hindrance in your activities. Earlier users faced confusion as they had to remember whether their camera and mike is active.
On the contrary, now you get alerts regarding their working status to enable you a better experience while using Chrome for official or personal use. Currently, it is in the development phase but is expected to roll out soon as its testing phases are complete. The privacy indicator is available on android 12 devices and above.
Also Read: Google Chrome Extensions Are Tracking User Activity