Apple has announced the rollout of its new iPad 2022 with the most important design replacement among its competitors. The 10th gen Apple iPad comes with a 10.9-inch screen along with a fingerprint reader imbibed into the sleep/ wake button. It is incorporated with USB-C and a digital camera facilitated with a landscape-orientation selfie digital camera. The starting price of Rs 44,900 makes it an affordable buy for the new-gen tech lovers willing to purchase premium tech gadgets.
The new launch has arrived in the market coupled with a lot of doubts from buyers' perspectives. Get answers to your doubts here:
How can I buy 10th gen iPad?
The 10th gen iPad is ready for pre-order and will be available in stores from October 28. The pre-order facility is available on Apple's official store and other merchant websites as well.
Also Read: How To Recover Deleted Files On Apple iPhone/iPad?
How much does the 10the gen iPad 2022 cost?
The entry-level Wi-Fi enables 10th gen Apple iPad to come with an affordable price range along with 64GB storage. The buyers get other options depending on the price range and other specifications. Apple lovers can get 64 GB storage for Rs 44,900 and 256 GB storage iPad for Rs 59,900. The yellow and pink colors are in huge demand in the consumer market.
The new iPad (2022) comes in how many color options?
The new iPad comes in several color combinations- red, yellow, blue, and white. You can opt for silver if you are willing to stay neutral in color choice. The pink color iPad is proving to be a show-stopper among buyers. Apple has launched yellow color iPads as well for the first time.
What is the size of the display screen?
The new iPad comes with 10.9-inch screen and Liquid Retina Display. it is supported by True Tone technology and provides up to 500 nits of brightness. The iPad comes with modern features of edge-to-edge display and the viewers do not experience ugly borders surrounding the screen. Apple has used the same technology for iPad Air, iPad Mini, and iPad Pro.
Which processor has been used in the new Apple iPad 2022?
The new iPad is backed by the A14 Bionic processor, the tech similar to that used in iPhone 12. The A14 software does not replicate the technology but is fast enough to execute a lot of real workings such as writing an assignment on Google Docs or playing the latest NBA 2K23 game.
Also Read: New iPad 2023: What We Want to See
Is it compatible with USB-C for charging?
Yes, the new iPad is compatible with a USB-C port for charging. It is built in alignment with the iPad Air and iPad Pro. The USB-C is a universal port and makes the iPad more usable without any specific requirement to use the tech gadget. It increases its user reach and exposes it to a deep stretch of tech gadget lovers.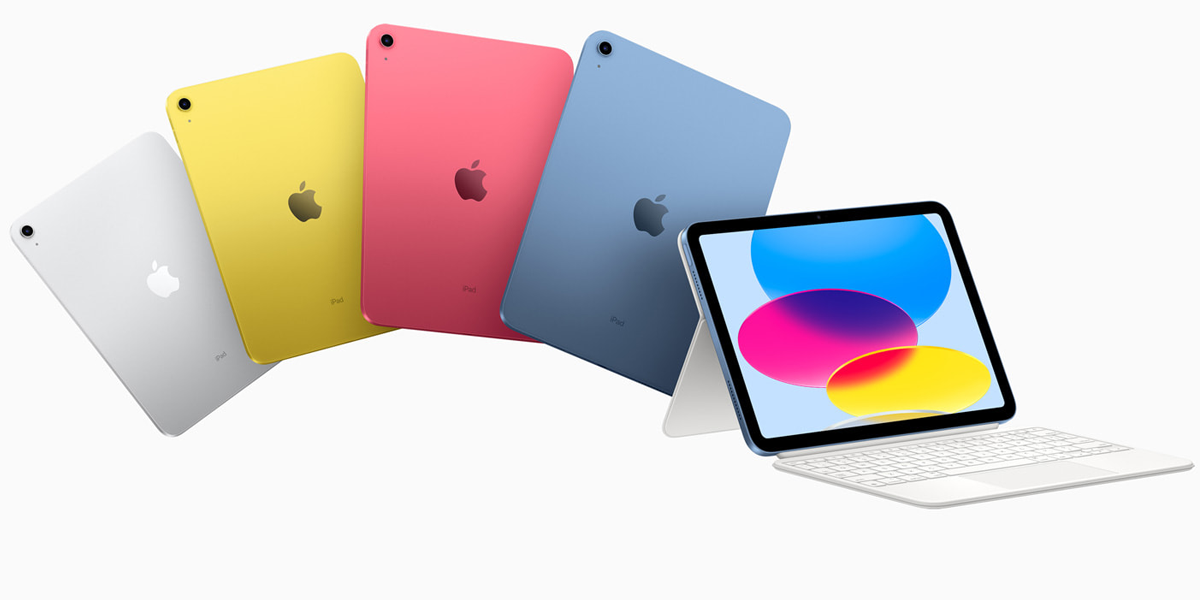 How long does the battery of the iPad (2022) last?
The new iPad comes with all-day battery life. Apple confirms that the battery duration shall remain between 9 to 10 hours. Excess use of the iPad 2022 may create an impact on its battery life but it is expected to be somewhere between 9 to 10 hours. We will provide a detailed review of battery life in our later articles.
Also Read: The Latest iPadOS 16 Beta Brings Stage Manager to Older iPad Pro Models
What are its Camera specifications?
Apple has launched an improved version of cameras on the Apple iPad. For the first time, the users will get a front-facing camera resting on a horizontal edge for a landscape view. It enables the users to get improved and better natural angles during video calls. The new iPad gives you a better and improved version of a 12-megapixel wide rear camera for better photos and rich 4K video.
Is the new iPad(2022) compatible with Apple Pencil 2?
No, the new iPad is not compatible with the second-generation Apple Pencil- which is chargeable on the side of the iPad Air. However, it supports Apple Pencil 1 which is helpful in taking notes, and sketching and enables you to use several note-taking apps.
Does the 10th gen iPad support 5G connectivity?
Yes, the iPad (2022) is compatible with 5G technology. For the first time, the entry-level iPad is all set to give a speed of up to 3.5Gbps in supported areas. Apple needs to update the iPad with a software update to use 5G connectivity.
Is the new iPad compatible with Magic Keyboard?
No, it is not compatible with the magic keyboard used in iPad Pro and iPad. However, the new iPad supports a Magic Keyboard Folio supported by a Kickstand, a trackpad supporting multitouch, and an automatically chargeable magnetic connector. The magic keyboard comes with a function row for easy access to brightness and volume controls. The only drawback is that this keyboard is not compatible with any iPad other than the 10th gen iPad 2022.
Also Read: Apple to Introduce a Foldable iPad in 2024
Who should buy the new iPad (2022)?
Theoretically, the new 10th gen Apple iPad comes with a plethora of features with a huge appeal to students and other buyers in its wide user base. This feature-rich tech gadget comes in an affordable price range of Rs 44,900. It is the best product for you if you crave modern design and looks.
Is 'home button' present in the new iPad(2022)
No, the iPad 10th generation does not come with a home button on the display screen used for contact ID. As an alternative, the new 10th gen iPad 2022 comes with a fingerprint sensor.
Also Read: iPad Dock & iPad Pro News