HIGHLIGHTS
* Bhediya is reportedly coming to Jio Cinema on April 21st
* Vikram Vedha is expected to premier on the same platform on May 8th
* The reason for the delay in their OTT release is still unclear
The mystery around the OTT release of mainstream movies like Vikram Vedha and Bhediya has now been apparently resolved. New reports coming in suggest the two movies are on their way to the online world with release slated for the next few weeks.
If you have been wondering when you will be able to stream these Bollywood movies online, here are all the details.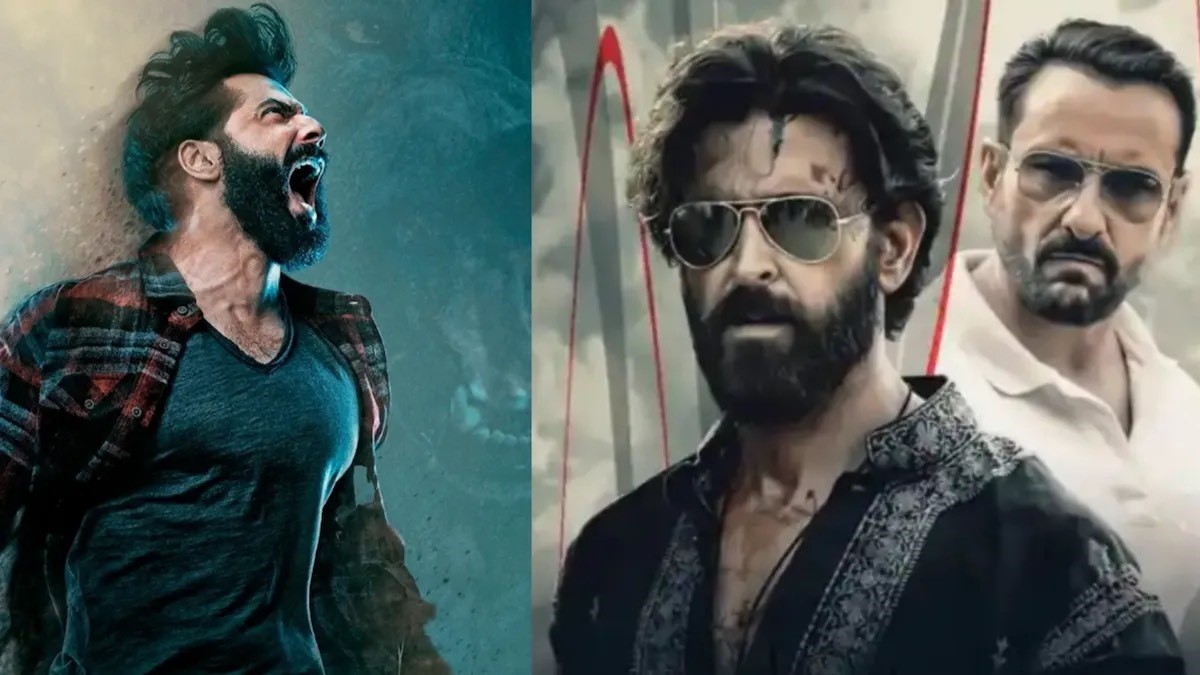 According to Telly Chakkar quoting other reports, Bhediya is coming to OTT first – Jio Cinema on April 21st. Then, we reportedly will see the release of Vikram Vedha on the same platform on May 8th.
Interestingly, Bhediya released in theatres on November 24th 2022, while Vikram Vedha came out much earlier on September 30th last year. This gives them an OTT release almost 21 weeks and 29 weeks after their theatrical releases. The usual norm in Hindi cinema is about 8 weeks for mainstream movies.
A report from last week had suggested the OTT release of Bhediya and Vikram Vedha had been delayed indefinitely because Reliance Jio was planning to launch a new app. On this app, certain movies like the ones mentioned here would premiere weekly, in an attempt to lure viewers to the new entertainment app.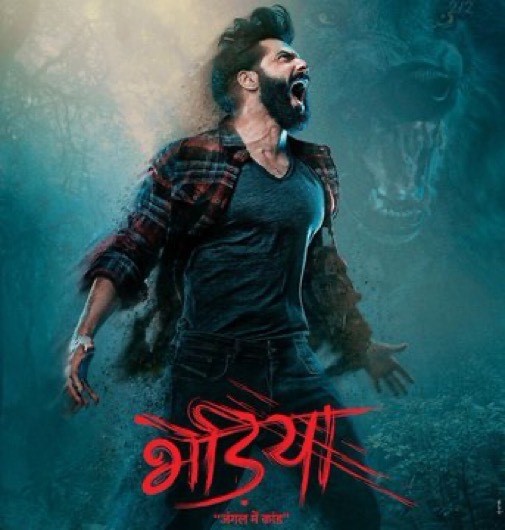 However, it seems plans for the app have been shelved for now and the movies will come to Jio Cinema. Notably, IPL 2023 is currently underway on the JioCinema app.
With Varun Dhawan and Kriti Sanon in the lead, Bhediya is a supernatural horror-comedy set in a small town in India, where a young couple's life takes a bizarre turn when the man turns into a werewolf.
As they try to deal with this unexpected situation, they uncover a sinister plot that threatens the entire town. The movie has been appreciated for its excellent special effects and comic timing.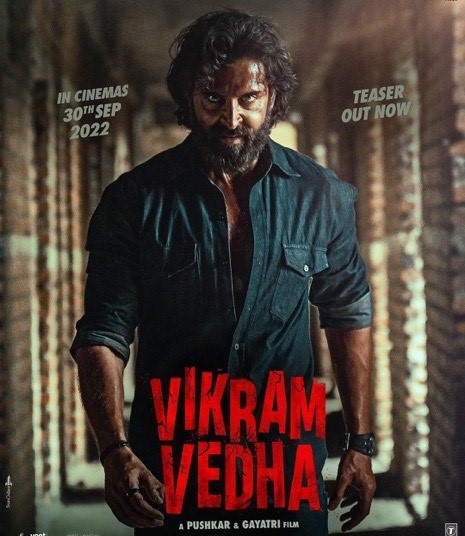 On the other hand, Vikram Vedha is a gritty Indian crime thriller, in which an encounter specialist cop, Vikram, sets out to catch a notorious gangster, Vedha. As Vikram delves deeper into Vedha's life, he begins to question his own morality and whether he is on the right side of the law. The movie stars Hrithik Roshan and Saif Ali Khan.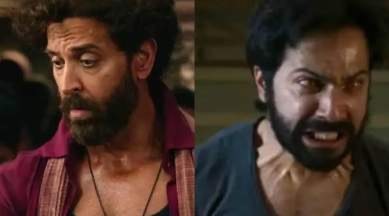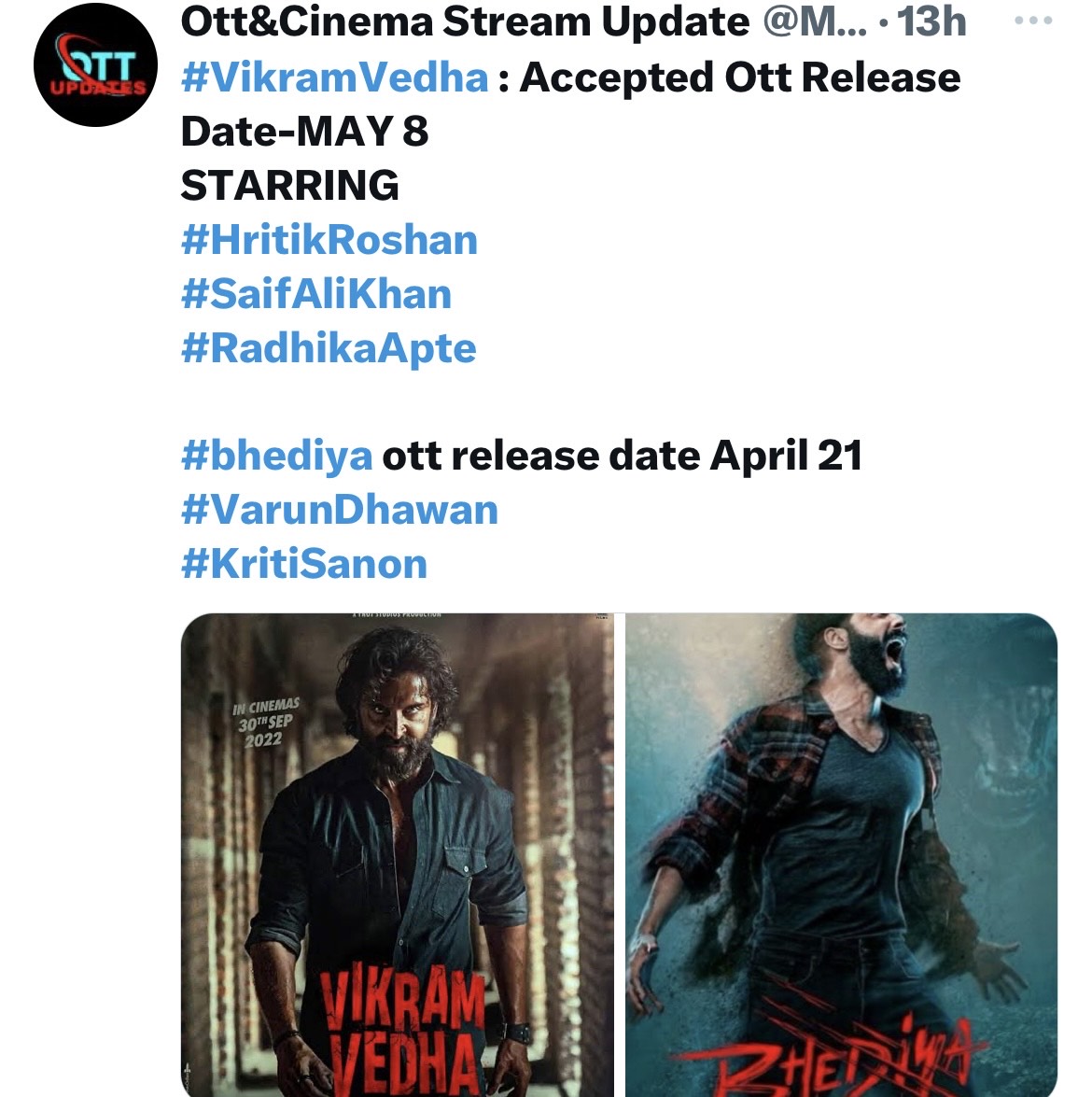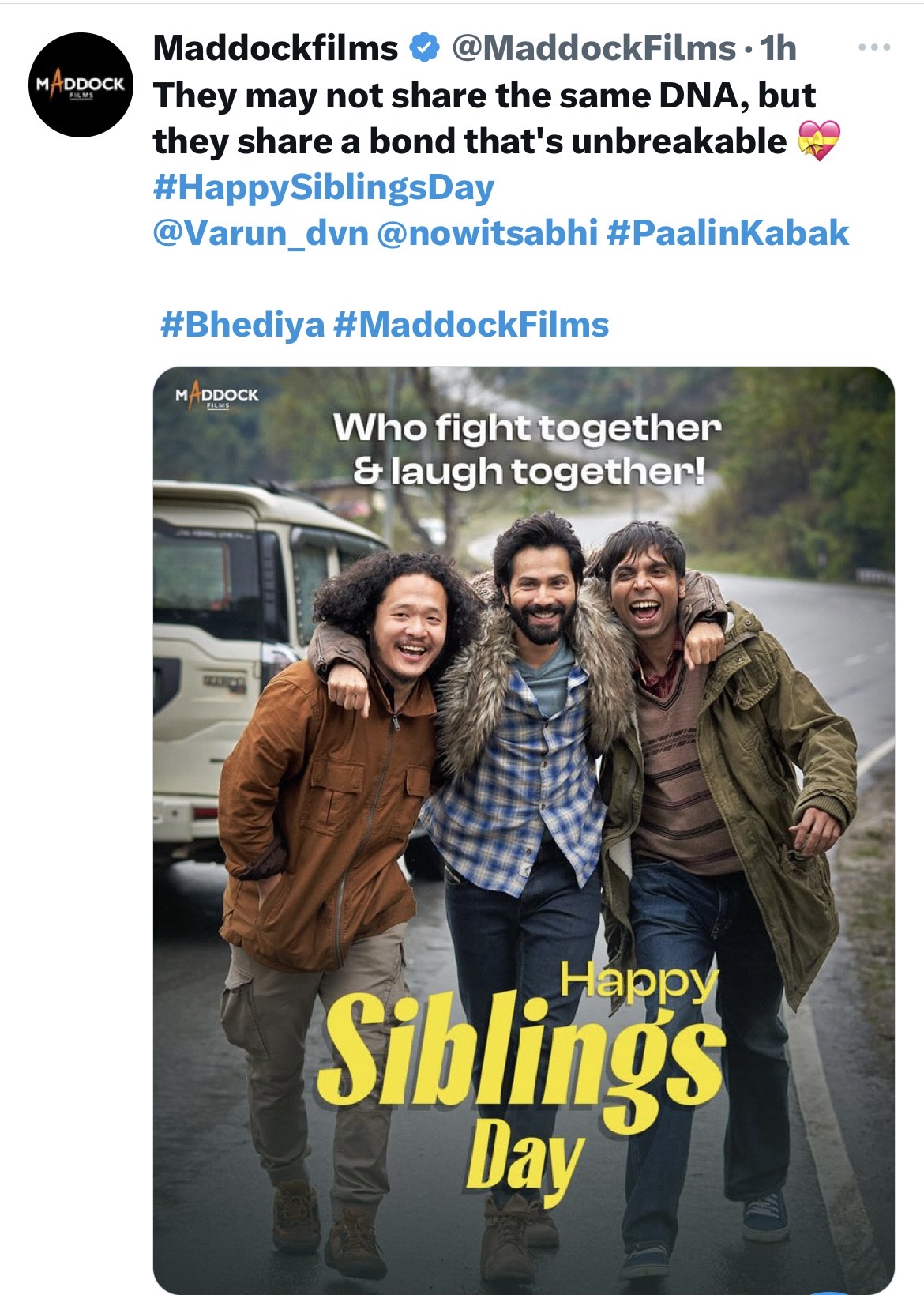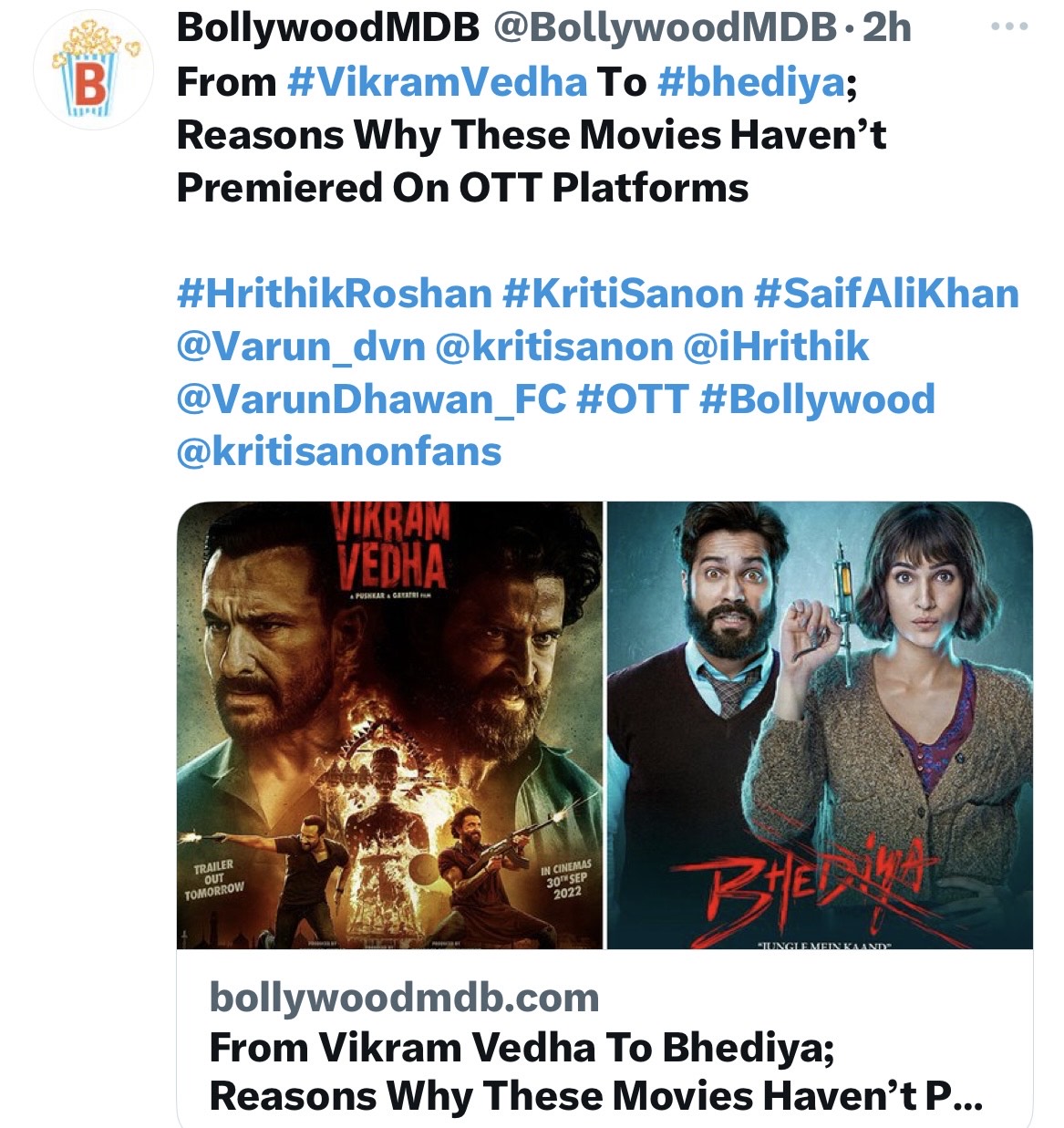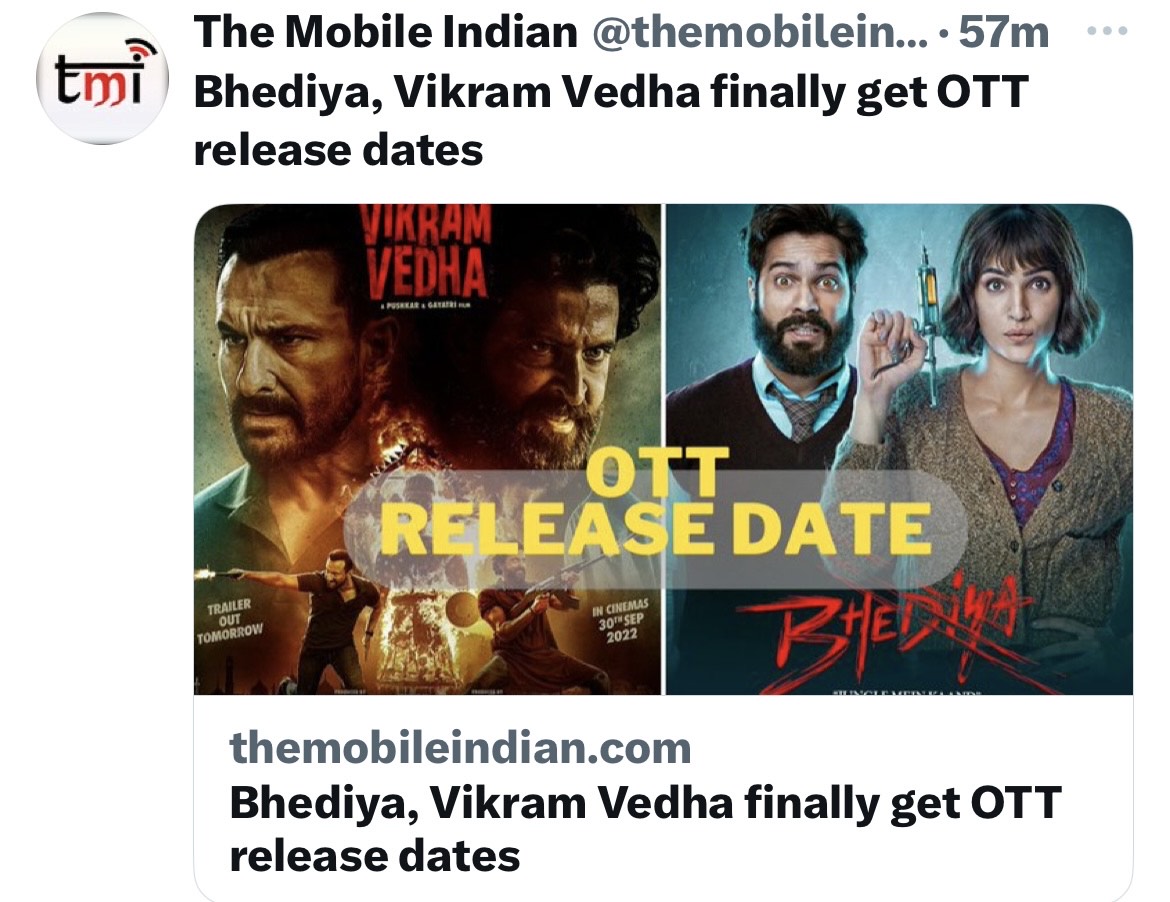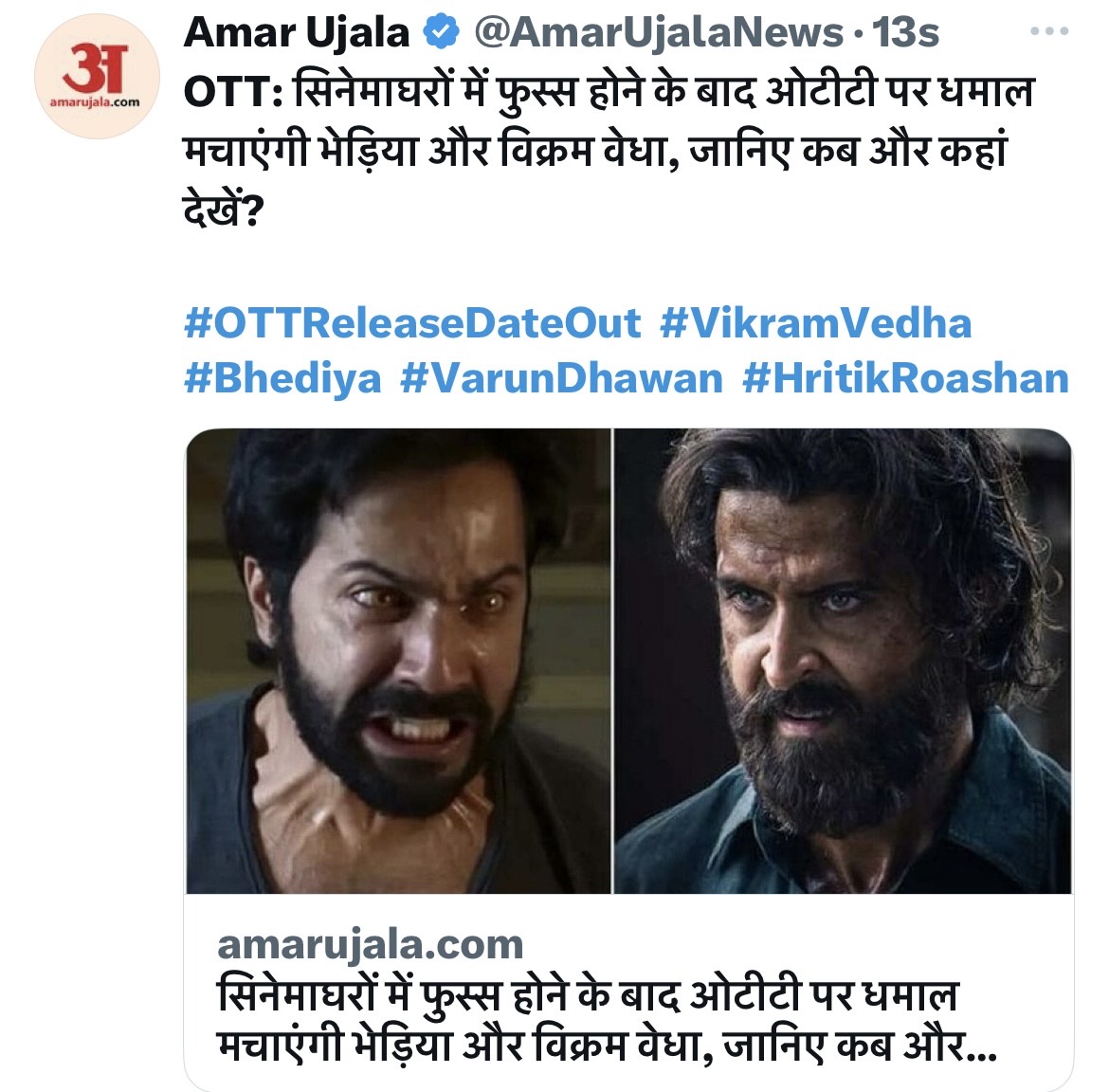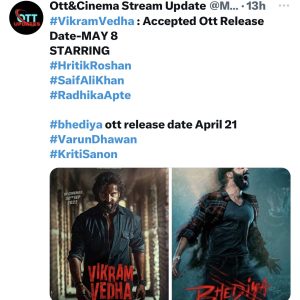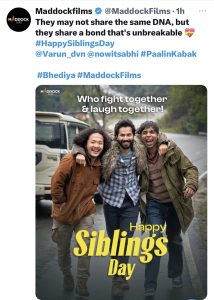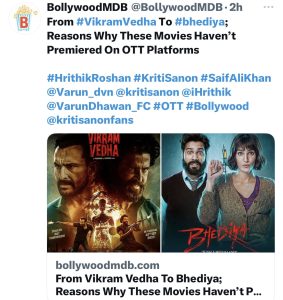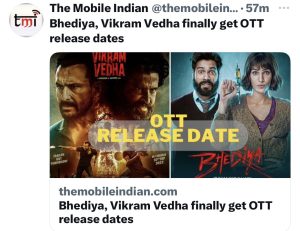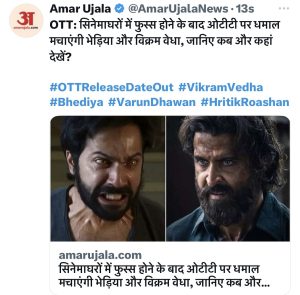 | | | | |
| --- | --- | --- | --- |
| Movie Name | OTT Release Date | OTT Platform | IMDb rating |
| Mrs. Undercover | 14th April 2023 | Zee5 | TBA |
| Bhediya | TBA | Jio Cinema | 7.7 |
| Khufiya | 7th June 2023 | Netflix | TBA |
| Kathal | TBA | Netflix | TBA |
| Tiku Weds Sheru | TBA | Amazon Prime Video | TBA |
| Vikram Vedha | TBA | Jio Cinema/Voot Select | 7.1 |
Faqs on Vikram Vedha & Bhediya
1) What are the dates for Vikram Vedha & Bhediya OTT Release ?
Ans) As per reports, Bhediya will release on Jio Cinema on 21st April, and on other hand, movie Vikram Vedha will release on the same platform on 8th May.
2) Whats the story of Movie Bhediya ? What is the cast of the movie Bhediya? What's the IMDb Rating & Where can I watch it on OTT?
Ans) The movie's plot revolves around Bhaskar, who is bitten by a wolf and starts to change into a shape-shifting werewolf. He and his friends look for answers and try to stop the transformation. Along the way, they experience many twists and turns, laugh a lot, and learn more about themselves.
IMDb rating – 7.7
Where to watch – JioCinema
Cast-Varun Dhawan, Abhishek Banerjee, Kriti Sanon, Abhinay Raj Singh, Deepak Dobriyal, Bhavesh Lohar, Sharik Khan, Joynal Abedin, Muqadas Farooq Awan, Prabhat Singh Bhadauriya, Prashant Kumar, Joynal, Ammar Taalwala, Krupesh Patoliya
3) What's the story of Vikram Vedha ? What's the starcast of Vikram Vedha ? Where can I watch the movie Vikram Vedha on Ott ? What is the IMDb rating of the movie ?
Ans) This movie has been directed by Pushkar-Gayathri, who has also penned the script. Production has been a joint venture between Jio Studios with Reliance Entertainment, T Series Films, YNOT studios, Theme Studios and Friday Fireworks.
The story revolves around Vikram, and his partner Simon who are after Vedha. Finally, when Vedha does decide to give in and surrenders, he offers to tell Vikram a tale instead of going to jail. He tells him 3 stories, which changes the perception of good and evil for the policeman.
As he hears Vedha's story, Vikram's life gets turned upside down. In this movie we meet a straightlaced cop on a mission to find a dangerous gangster.
IMDb rating – 7.1
Cast – Saif Ali Khan, Hrithik Roshan, Radhika Apte, Rohit Saraf, Sharib Hashmi, Yogita Bihani, Sudhanva Deshpande, Manuj Sharma, Govind Pandey, Bhupender Negi, Dev Chauhan, Kapil Kashyap, Vijay Sanap, Saurabh Sharma, Rati Shankar Tripathi, Bhushan Vikas, Sahidur Rahaman, Varun Pande. 
Where to watch – Voot Select
Also Read: Vikram Vedha OTT Release Set for January 9
Also Read: Hrithik Roshan and Saif Ali Khan's jaw-dropping faceoff in the new Vikram Vedha teaser made "bad" look so "good"!
Also Read: JioCinema breaks records in TATA IPL 2023 opener: 50 crore viewers & 2.5 Cr downloads becomes most downloaded app in a single day During CSK vs GT T20 Match