Highlights
Finance Minister Nirmala Sitharaman announces a reduction in basic customs duty on electronic components in the Union Budget 2023.
What the industry experts have to say about Union Budget 2023 from the perspective of Mobile Manufacturing in India.
Mobile Manufacturing in India crossed 31 crore units in 2022-2023, FM confirmed during budget.
The Finance Minister of India Nirmala Sitharaman, during her Union Budget 2023 speech, acknowledged the unprecedented growth registered in the mobile sector in the last few years.
Finance Minister said, "As a result of the various initiatives of the government, including phased manufacturing programs, mobile production in India increased from 5.8 crore units valued at Rs 18,900 crore in 2014-15 to 31 crore units valued at Rs 2,75,000 crore in the last financial year."
As a major encouragement to the mobile phone manufacturers of India, the government announced a further reduction in customs duty on mobile phone component imports that are heavily used in the manufacturing of mobile phones along with reduced customs duty on open cells used in the manufacturing of television sets.
"Customs duty exemption is being provided to import of specified capital goods and machinery required for the manufacture of lithium-ion cells for batteries used in electric vehicles as is available for the manufacture of lithium-ion cells for batteries used in mobile handsets," as per the Budget documents.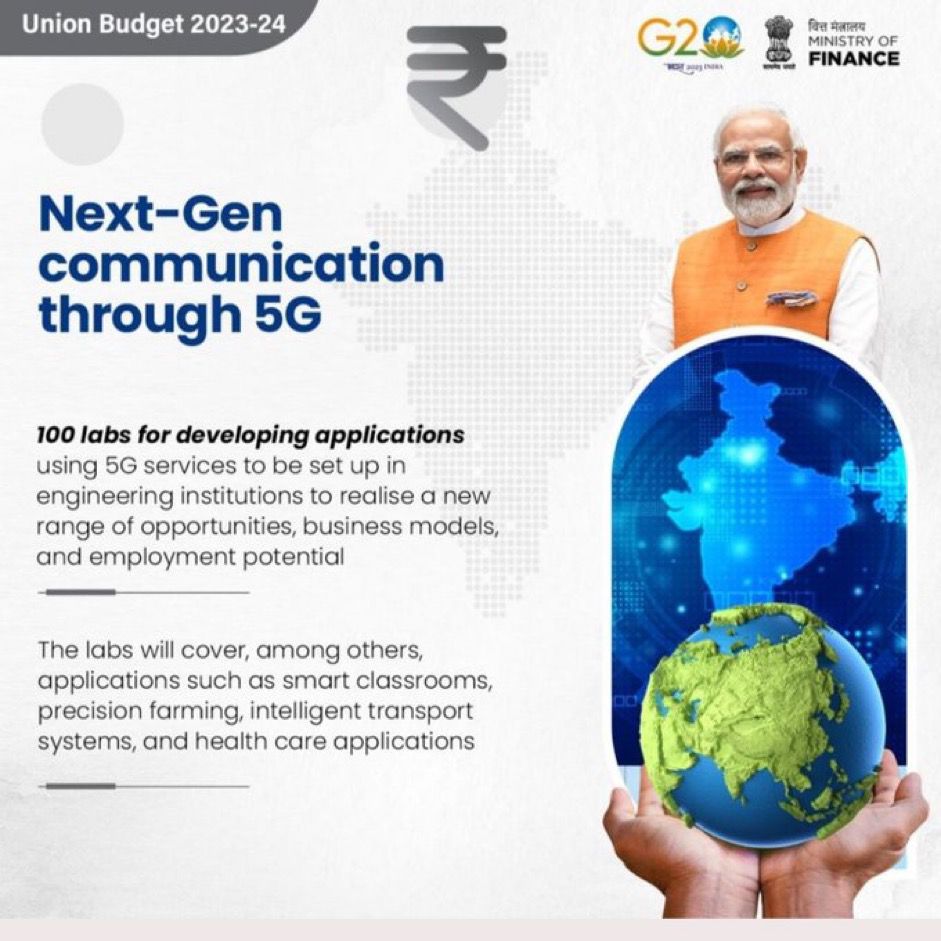 To encourage mobile manufacturing in India – major announcements made during the Union Budget 2023:
75 per cent reduction in the duty of camera lens.
Removal of the duty on inputs to parts of connectors.
5 to 2.75 per cent reduction in basic customs duty on parts of Open Cell of TV panels.
One year extension of custom duty exemptions due to expire on 31st March 2023.
Concession on import of lithium-ion batteries to further promote Make in India in the mobile phones production sector.
These steps will have no significant impact on the final product price but are generally in the right direction.
The cost impact on mobile phone's Bill of Material (BoM) will be 0.16% to 0.19%.
What the Industry Experts Have to Say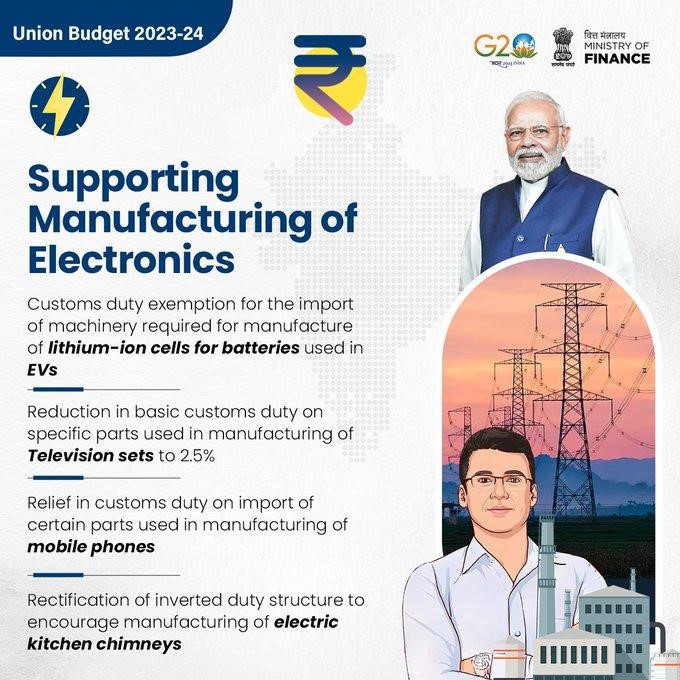 Muralikrishnan B, President, Xiaomi India
Muralikrishnan B, President of Xiaomi India believed GOI's focus on turning India into a major digital powerhouse economy is encouraging.
Muralikrishnan B said, "Customs duty reduction in select component parts used in mobile phones and televisions will help increase domestic value addition. This will have a positive impact on the domestic component manufacturing industry. Overall, multiple drivers, including income tax relief for the middle class and the 10 lakh crore government capex allocation announced today, will spur growth in consumption demand and industrial growth across sectors."
Pankaj Mohindroo, Chairman, India Cellular & Electronics Association
Pankaj Mohindroo, Chairman of India Cellular & Electronics Association, however, believes that the relief in customs duty can have negligible impact on mobile phone pricing for consumers.
Mohindroo said, "A high performing sector's genuine requests have not been addressed.
These could have provided a significant impact on competitiveness leading to better exports, arresting the grey market and boosting revenue."
The significant gaps are as follows:
Capping of BCD on import of High-End mobile phones to arrest the burgeoning smuggled market which has crossed Rs. 12000 crores in 2023.
This measure would have boosted government revenue, reduced smuggling, ensured fair trade and helped build legal businesses in India.
Removal of input duties on Resin, Mesh, Sponge, Film, Gasket, Logo, Cover Tape, Adhesive Tape from 8.25% to 16.5% to Zero level.
This was essential to promote the manufacturing of a very critical Vertical – Mechanics.
Removal of input duties of 2.75%, duty imposed in the previous budget on the many Inputs of PCBA, Inputs of Connector & Inputs of Camera module.
Removal of duty on certain parts of the Chargers. While we have built a huge charger manufacturing industry, these changes would have helped us to become more competitive.
Mohindroo added: "While the industry had met the 2021-22 manufacturing target of Rs 2,75,000 crore, we will fall short of the manufacturing target of FY 2022-23 because of domestic demand shrinking in 2022-23."
Inspite of a glorious performance in exports which will cross Rs.70,000 crores in 2022-23 (versus Rs.45,000 crores in 2021-22 plus 50% increase). The 50% increase in GST from 12% to 18% has dealt a very cruel hand to this high performing industry which kept the nation's economy moving during the Covid pandemic.
Competitiveness is the key for both buoyant domestic demand and export."
Sanmeet Singh Kochhar, Vice President, India & MENA HMD Global
Sanmeet Singh Kochhar, Vice President, India & MENA HMD Global said that the Union Budget 2023 will have a direct impact on Made in India initiative. Kochhar said, "
"We welcome the promising Union Budget 2023 announced by honourable FM today. While the budget is futuristic with elements like Data Governance Policy, Centre of Excellence on AI, and Green Growth, the conventional thrust areas of infrastructure have also received a big boost, which will directly impact device manufacturing in India. Mobile Phone production in India has witnessed a phenomenal increase in recent years owing to policy support. The announcement to further reduce customs duty is another great step in this direction."
Manish Sharma, Chairman, Panasonic Life Solutions India and Chair for the FICCI Committee on Electronics & Manufacturing
Manish Sharma, Chairman, Panasonic Life Solutions India and Chair for the FICCI Committee on Electronics & Manufacturing said the Union Budget 2023 brings good news for the industry. Sharma said, "It is encouraging to see a reduction in customs duties for inputs/parts of certain electronic items like lithium Ion batteries, TV, and Camera Lens. This will improve the feasibility of enhancing backward integration and subsequently enabling local manufacturing of electronics. We are also delighted to note that the reduction in tax for both the middle and upper classes indicates more money in the hand of taxpayers thus stimulating demand and driving consumption."
Mahesh Jaising, Partner at Deloitte India
"Make in India push continues in line with the announcements in the previous few budgets. Customs duty is proposed to be reduced across sectors from 21% to 13%. This is a welcome change. Relief by way of reduced customs duty on inputs meant for mobile phone production is also specifically proposed."
Maneet Pal Singh, Partner, I.P. Pasricha & Co
 "This is a big boost to the manufacturing of mobile phones and television in India by extending the reduction in customs duty. This will welcome global players to establish manufacturing in India."
Prabhu Ram, Head, The Industry Intelligence Group, at Cyber Media Research
"To further provide impetus to domestic value addition, the finance minister has proposed relief on customs duties of import of certain parts, including camera lens and batteries, by another year," said.
Avnet Singh Marwah, CEO and Founder at Super Plastronic Pvt Ltd
"This is a welcome move by the government of India to reduce customs duty on the open cell to 2.5%, we will pass on this benefit to customers. Television prices can come down up to ₹3,000 on larger screens." Super Plastronic Pvt Ltd manufactures TVs for brands including Kodak and Thomson.
Union Minister, Rajeev Chandrasekhar
Chandrasekhar, commenting on the overall budget, said"I thank Finance Minister and PM for having navigated India during difficult times of the Covid pandemic and even when many countries of the world are still struggling with their economies, the Indian economy is the fastest-growing economy in the world."
FAQs
 Q1. What are the items that will get costlier after Union Budget 2023?
Answer. Finance Minister Nirmala Sitharaman presented the Union Budget 2023 in the parliament on 1st February 2023 and as per the various announcements made some items in the market are expected to get costlier in near future. The items expected to get costlier include the following:
Electric kitchen chimney
Imported bicycles and toys
Electronic vehicle imports
Articles made from gold bars
Cigarettes
Imitation Jewellery
Silver
Q2. What are the indirect tax proposals made in Union Budget 2023 for electronics and electricals?
Answer. The major announcements for electronics, the Government of India would be providing relief in customs duty on certain components of mobile phones, and parts of open cells of TV panels. On the other hand, for electricals, the government announced plans to increase customs duty on electric kitchen chimneys from 7.5 to 15 per cent and reduce custom duty on chimney heat coils from 20 to 15 per cent.
Also Read: Make in India: By 2027, Every 2nd iPhone Will Be Manufactured by India
Also Read: Over 97 Percent of Phones Used in the Country Are Made in India, MoS IT Rajeev Chandrasekhar
Also Read: Apple Wants to Shift Manufacturing to Indian Soil; Sooner than Later
Also Read: Samsung Electronics Eyes Mass Production; Chip Manufacturing