Soon after an acquisition agreement between Twitter and Tesla and SpaceX boss Elon Musk, several hashtags started trending on the micro blogging site. Musk, a high-profile Twitter user and a controversial one, has more than 83 million followers on the platform, which he has used over the years.
Musk has repeatedly stressed in recent days that his goal is to bolster free speech on the platform and work to "unlock" Twitter's "extraordinary potential."
#GoodbyeTwitter, #ParagAgrawal, #TwitterTakeover #ElonMusk #leaving twitter and #CEOOF Twitter are among other hashtags trending on the Twitter.
Poking fun at supposed liberals who couldn't stomach Musk's approach to free speech, users are tagging their posts with #GoodByeTwitter.
Twitter on April 25 announced that it has entered into a definitive agreement to be acquired by an entity wholly owned by Elon Musk at approximately $44 billion. Twitter will become a privately held company after completion of the transaction.
In addition to hashtags, Twitter is also bombarded with some of the funniest memes and reactions. Musk, a self-proclaimed "free-speech absolutist," has been critical of Twitter policies. In his first tweet after the acquisition deal, Musk writes I hope that even my worst critics remain on Twitter, because that is what free speech means. Several celebrities also reacted on deal between Twitter and Elon Musk.
I hope that even my worst critics remain on Twitter, because that is what free speech means

— Elon Musk (@elonmusk) April 25, 2022
In no time, this led to a meme fest on Twitter and some users started immediately advocating for the reinstatement of those who have been banned from the micro-blogging site, including former President Donald Trump.
Asking Musk when are you planning to run for President, a Twitter user said you understand free speech better than most—including our Congressional reps.
Replying to Elon Musk's tweet, another user suggests him to create your own platform? It will cost you around 1 mil $ or so.. PM for more info.
While a user by name Humberto A Lopez asked Musk if he has any plans for people who spread misinformation.
Another user called Basit Bhat shared an image showing a pictorial conversation between Amazon.com Inc founder Jeff Bezos and Elon Musk. Bezos can be seen asking Musk 'heard you are buying Twitter'. In his response to Bezos, Musk says Amazon is next and has been added in the cart.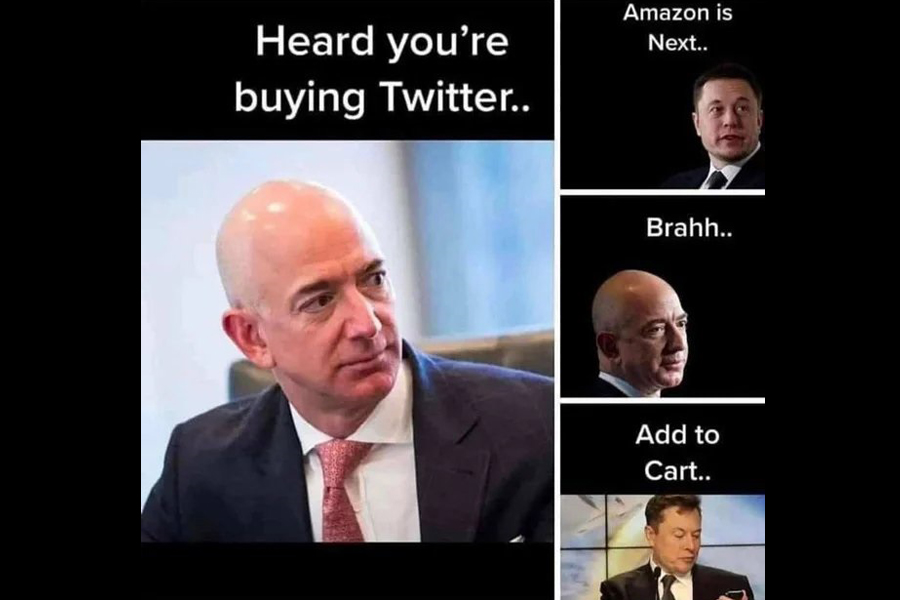 Musk himself is known for regularly blocking social media users who have criticized him or his company. Tesla CEO also used the platform to bully reporters who have written critical articles about him or his company. Some users tweeted that free speech had prevailed and the phrase "Make Twitter Great Again" began trending.
Transaction terms and financing
Twitter Board of Directors have unanimously approved the transactions and is expected to close in 2022, subject to the approval of Twitter stockholders, the receipt of applicable regulatory approvals and the satisfaction of other customary closing conditions.
Musk has secured $25.5 billion of fully committed debt and margin loan financing and is providing an approximately $21.0 billion equity commitment. There are no financing conditions to the closing of the transaction.
First quarter 2022 earnings results
Twitter is expected to announce its first quarter fiscal year 2022 results before market open on April 28, 2022. There will be no corresponding conference call in view of the pending transaction.
Also, Read Here: Tesla CEO and SpaceX founder Elon Musk declines to join Twitter's board, says Parag Agrawal