HIGHLIGHTS
* Tu Jhoothi Main Makkaar released in theatres on March 8th.
* The movie stars Ranbir Kapoor and Shraddha Kapoor in lead roles.
* Tu Jhoothi Main Makkaar is reportedly set to release on OTT giant Netflix.
* Digital rights for Tu Jhoothi Main Makkaar have been bagged by Netflix
* The movie looks to be a fun, breezy rom-com and will stream from May 5
Tu Jhoothi Main Makkaar is one of the highest anticipated OTT arrivals after its super successful theatrical run.
Starring Ranbir Kapoor and Shraddha Kapoor, the comedy-drama movie is directed by the Pyaar Ka Punchnama fame Luv Ranjan. The chronicles the journey of a millennial couple, who go through many ups and downs but overcomes them all due to the support of their family and friends.
Reportedly, the Ranbir and Shraddha starrer is speculated to be out on Netflix on May 5, however, the makers have not done any official announcement for the OTT release date for Tu Jhoothi Main Makkaar as of yet.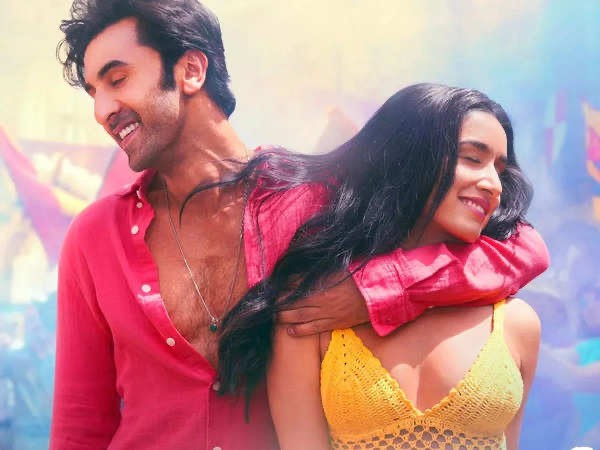 Fans eagerly await the digital premiere of the comedy-drama film that garnered immense praise for its story as well as the performances of all the actors.
The box office number skyrocketed soon after the theatrical release of the film as well as the love, support and praise started pouring in from fans on social media platforms.
Even almost two months after the release, fans are not able to stop talking about the box office collection of the film and their anticipation to get an OTT release for Tu Jhoothi Main Makkaar as soon as possible.
Recently, one of the fans took to Twitter and shared, "#TuJhoothiMaiMakkaar 75m+ (7.5cr+) trailer View's 100M+ (10cr+) song view's Tere pyaar mein 33M+ (3.3cr+) song view's meine Pi rakhi hai Still running successfully Worldwide in theatre today 50 days Completed 227cr+ Worldwide box office collections running super hit (Sic)."
Along with Ranbir and Shraddha, Tu Jhoothi Main Makkaar also stars Anubhav Singh Bassi along with filmmaker Boney Kapoor in their acting debuts with Dimple Kapadia in significant roles.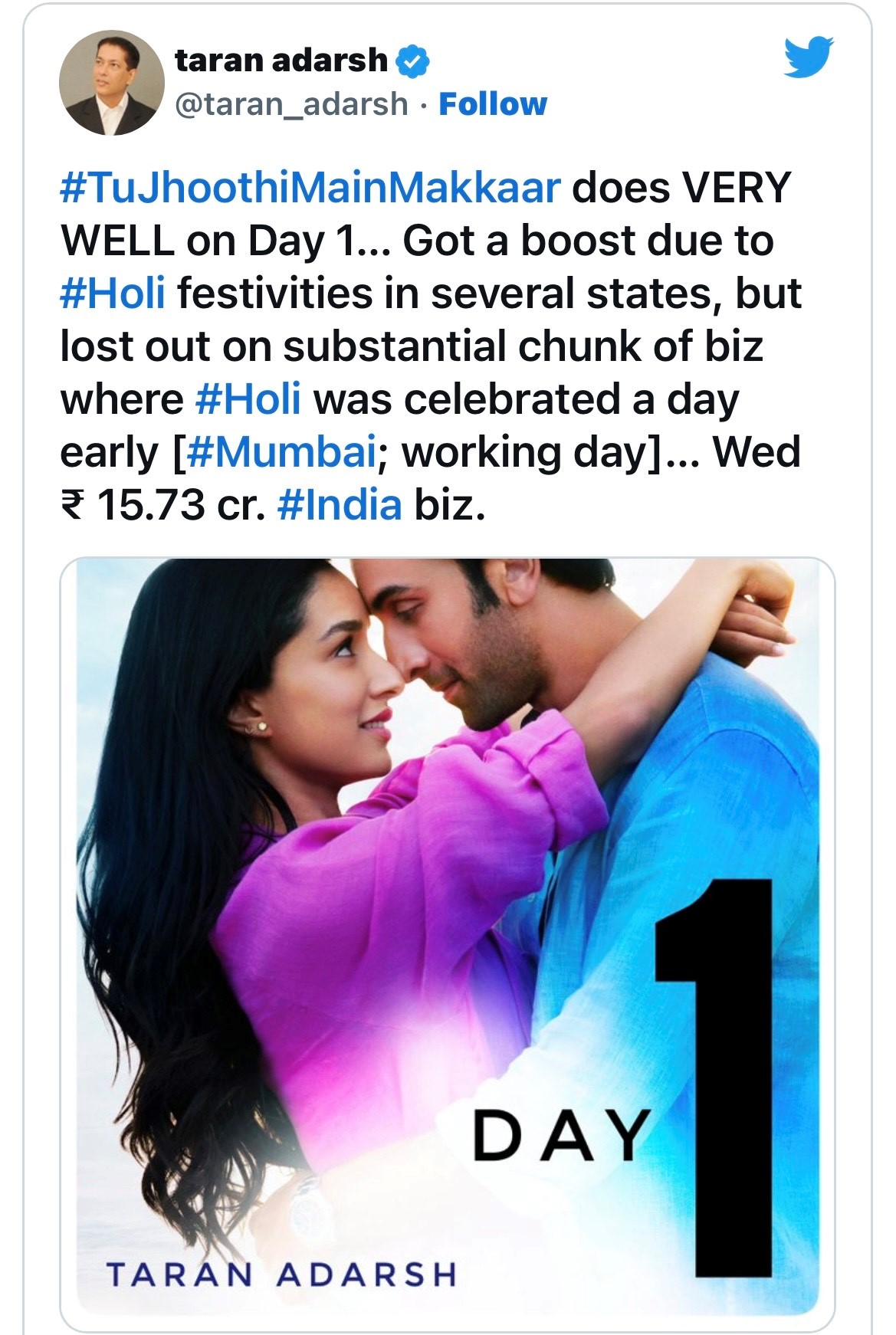 Tu Jhoothi Main Makkaar is a Luv Ranjan-directed Bollywood romantic comedy that is now reportedly all set to make its OTT debut. The film released in theatres on March 8th, 2023, and starred Ranbir Kapoor and Shraddha Kapoor as leads.
While critics gave Tu Jhoothi Main Makkaar mixed reviews, the movie still managed to raise over ₹200 crore globally.
Now for those awaiting the movie's arrival on OTT, as per the reports, Tu Jhoothi Main Makkaar OTT is said to release on Netflix this coming weekend.
Here are the details of the OTT release of Tu Jhoothi Main Makkaar
With Tu Jhoothi Main Makkaar, after a long time a romcom has worked at the box office. Though the film had mixed reviews from critics, audiences have loved it for its family-viewing quotient and comic elements.
When and where is the OTT premiere of Tu Jhoothi Main Makkaar?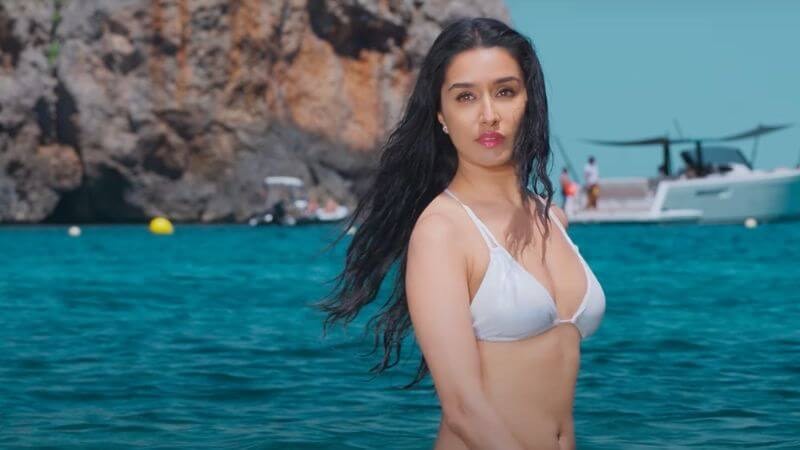 Tu Jhoothi Main Makkaar is all set to premiere on OTT on the coming weekend that is May 5, 2023. It will be released on Netflix.
About Tu Jhoothi Main Makkaar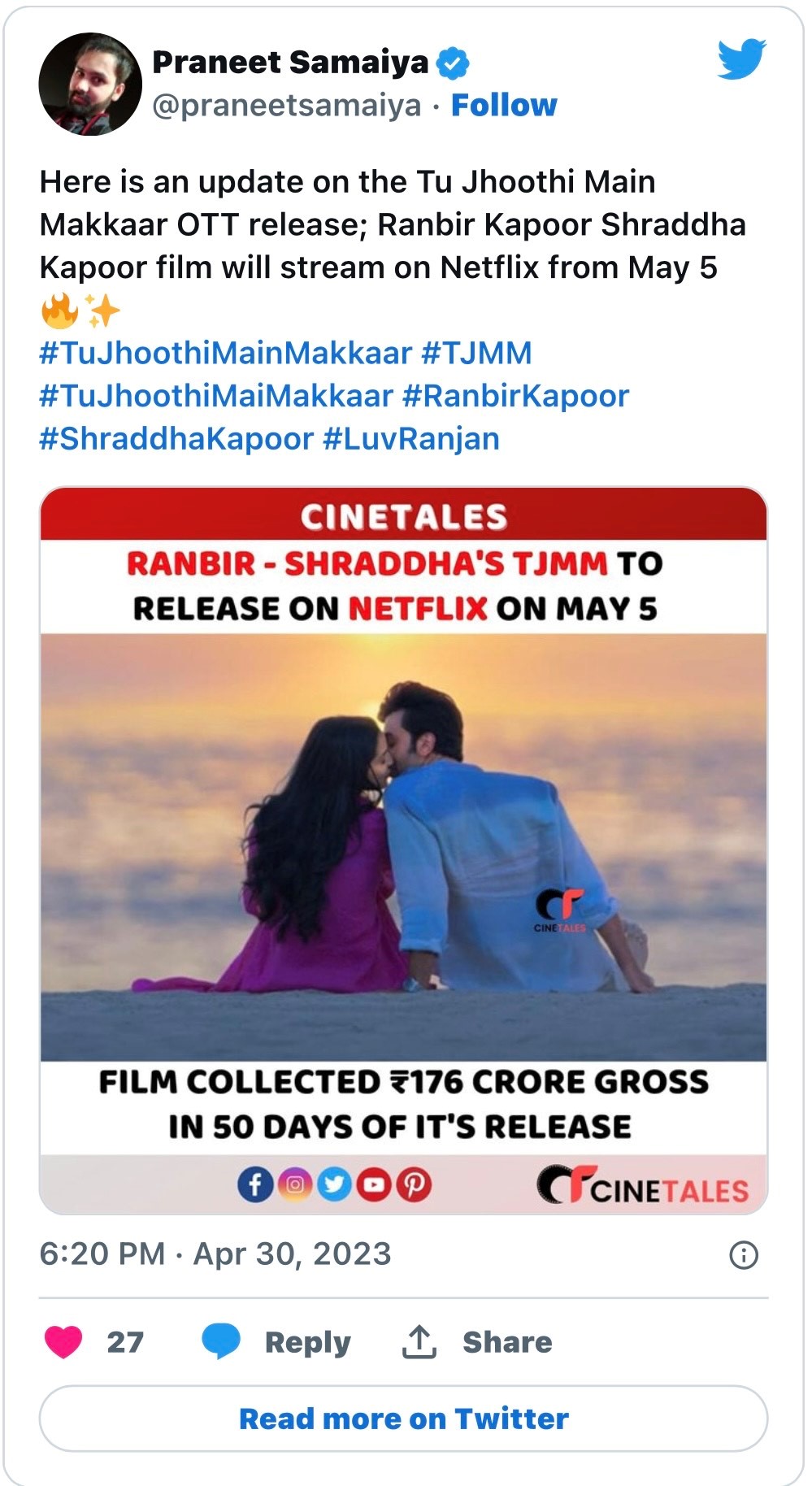 The story of TJMM revolves around Rohan (Ranbir Kapoor), a well-to-do man who loves his family and believes in relationships but works as a break-up consultant on the side.
Rohan happens to meet Tinni (Shraddha Kapoor) and falls in love with her, and they get engaged. All hell breaks loose when Tinni has second thoughts about Rohan, and hires a break-up consultant – who happens to be Rohan. She doesn't know it but he does, and the film shows how she comes around finally and marries Rohan.
TJMM is directed by Luv Ranjan, and also written by him along with Rahul Mody. The movie has been produced by T-Series Films and Luv Films.
Tu Jhoothi Main Makkaar Box Office Collection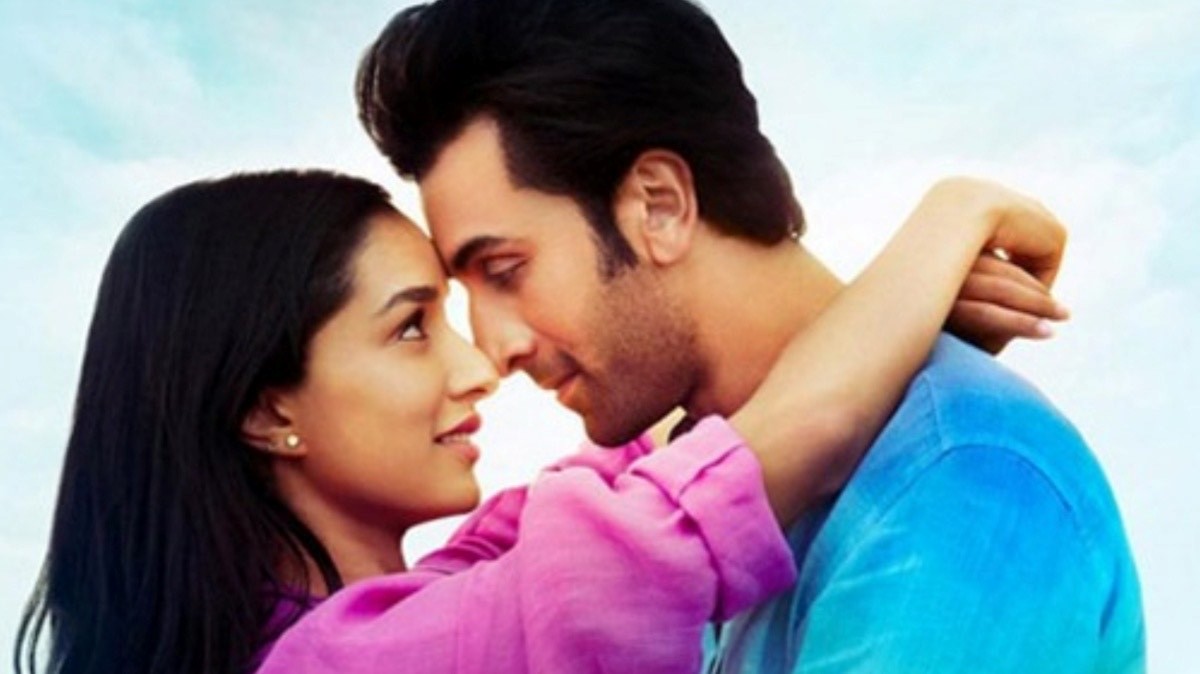 Despite receiving mixed reviews, Tu Jhoothi Main Makkaar grossed over Rs 219.01 crore worldwide. The film is the second-highest grossing Hindi film this year, only behind Shah Rukh Khan's Pathaan.
Talking about the film in an interview, Ranbir Kapoor said that he feels he is too old to feature in rom-com films. "I think it was a mix of a lot of things. It may have been conscious. Also, there were other films that were being offered to me. I always have had bad luck with my films taking a long time. Barfi took 2 years and Rockstar took a while too.
I also felt that the kind of rom-coms that were being made or being offered to me weren't too exciting. There was nothing new that they were offering. Somewhere, I was retired from this genre in my head," the actor told Pinkvilla.
"I thought maybe it is a dying genre and nobody wants to watch rom-coms anymore and they want big ticket experiences," Ranbir Kapoor added in his interview.
Tu Jhoothi Main Makkaar OTT Release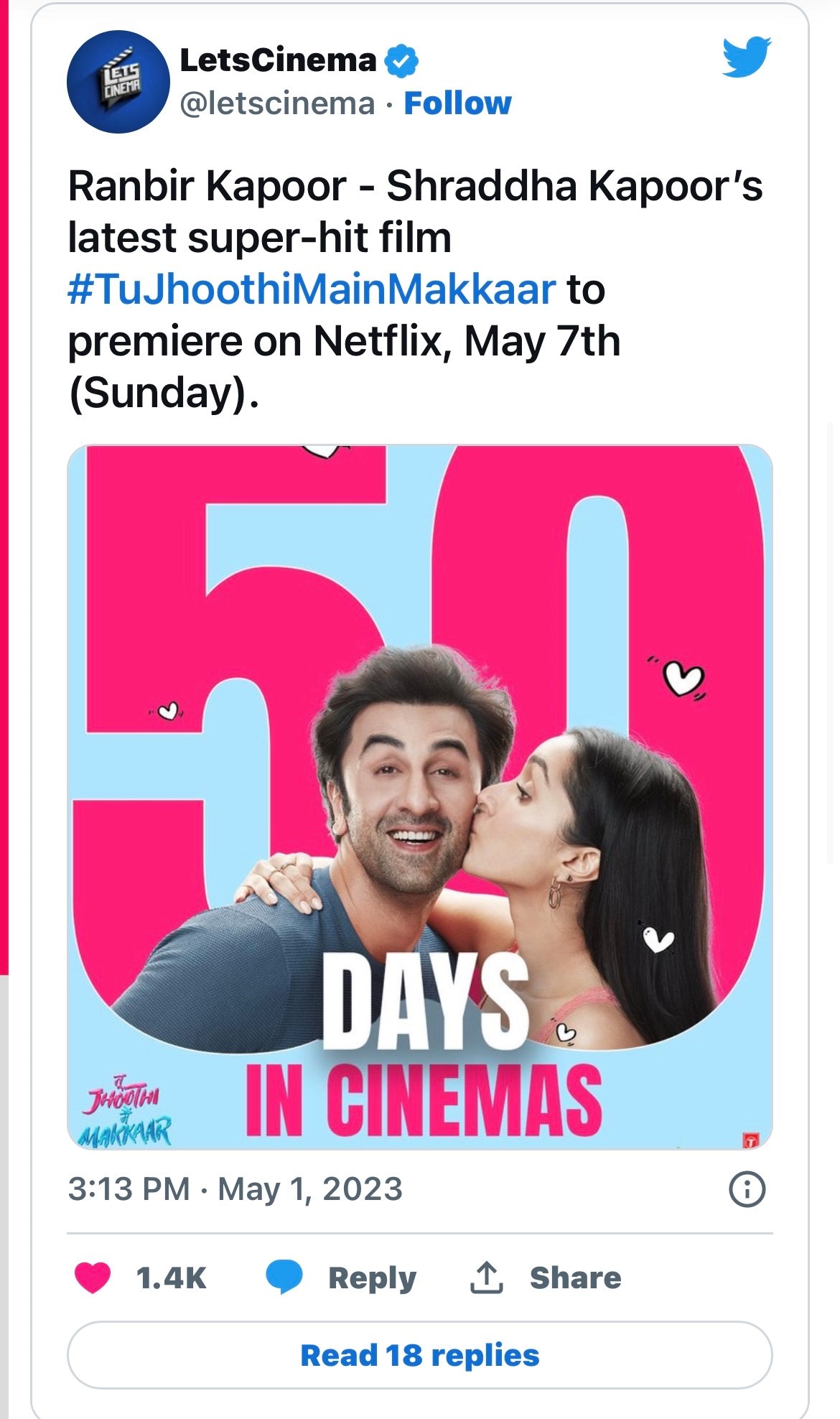 Tu Jhoothi Main Makkaar is all set to make its debut on the OTT platform Netflix on May 5th, as per various unconfirmed reports on the internet. There is no official word from the makers yet. Fans just need a Netflix subscription order to watch the movie as and when it releases on the platform. Meanwhile, have a look at Tu Jhoothi Main Makkaar's official trailer which has already crossed 75M views on YouTube.
Tu Jhoothi Main Makkaar Plot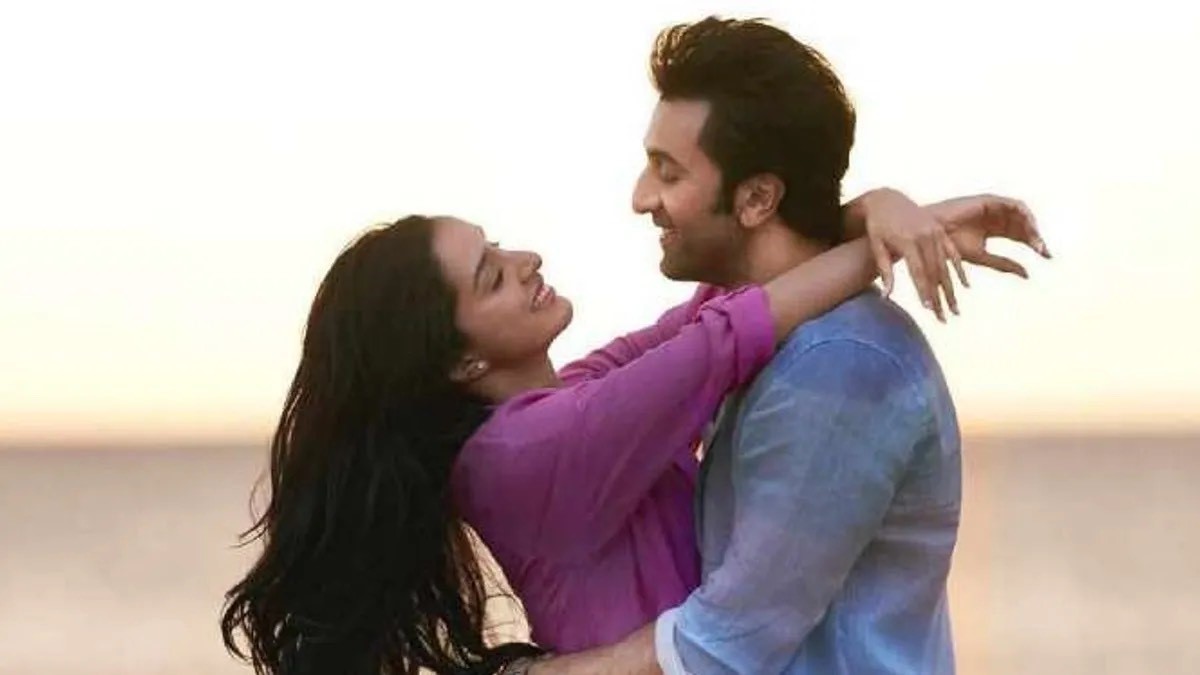 The movie is about Mickey and Tinni falling in love and deciding to get married but in a twist, Tinni decides to break up with Mickey. Tinni later reaches out to a breakup consultant to seek advice on breaking up with Mickey without realising that the breakup consultant is Mickey himself, who also is unaware of the fact that it is Tinni who's seeking his advice.
Tu Jhoothi Main Makkaar Cast
Tu Jhoothi Main Makkaar stars Ranbir Kapoor as Rohan "Mickey" Arora and Shraddha Kapoor as Nisha "Tinni" Malhotra in main roles (their first project together on the big screen), Dimple Kapadia as Renu Arora, Mickey Arora's mother, Boney Kapoor as Ramesh Arora, Mickey's father, Hasleen Kaur as Minny, Mickey's sister, and Anubhav Singh Bassi as Manu Dabbas, Mickey's bestie (marking stand-up comedian Bassi's acting debut). While Pritam has composed the music of the film is composed, the lyrics are written by Amitabh Bhattacharya. The movie has received 6.7 IMDb rating out of 10.
Faqs on Tu Jhoothi Main Makkaar
1) National Chains And Global Box Office Earnings For The Ranbir Kapoor and Shraddha Kapoor Starrer Tu Jhoothi Main Makkaar?
Ans) 1st Week
Wednesday: 15.73 cr
Thursday: 10.34 cr (34% drop)
Friday: 10.52 cr (2% jump)
Saturday: 16.57 cr (57% jump)
Sunday: 17.08 cr (3% jump)
Monday: 6.05 cr
Tuesday: 6.02 cr
Wednesday: 5.15 cr
Thursday: 4.98 cr
First Week Total: 92.44 cr nett
2nd Week:
Friday: 3.51 cr
Saturday: 6.03 cr
Sunday: 7.16 cr
Monday: 2.62 cr
Tuesday: 3.06 cr
Second Week Total: 27.69 cr nett
3rd Week
Friday: 1.60 cr
Saturday: 3 cr
Sunday: 3.34 cr
Monday: 1.15 cr
Tuesday: 1.30 cr
Wednesday: 1.40 cr
Thursday: 1.10 cr
Third Week Total: 12.99 cr nett
4th Week:
Friday: 0.60 cr
Saturday: 1.17 cr
Sunday: 1.45 cr
Weekdays: 2.60
5th Week:
Friday: 0.80 cr
Saturday: 1.20 cr
Total Domestic: 140.94 cr Nett
Domestic Gross: 169 cr
Overseas: 5 million USD (41 cr)
Worldwide gross: 210 cr
2) Ranbir Kapoor And Shraddha Kapoor starrer Tu Jhoothi Main Makkaar jumps Big on fifth Saturday Crosses 141 Cr Nett.Details?
Ans) TJMM, which was produced by Luv Films and T-Series, is Shraddha Kapoor's sixth 100-crore grosser and Ranbir's seventh. Given that it is still about 55 crores away from surpassing "Yeh Jawaani Hai Deewani," which seems doubtful, it will end up becoming Ranbir Kapoor's fourth-largest film.
TJMM is getting close to crossing the 200 crore mark at the global box office and should do so this week. Considering the post-pandemic situation, the movie has performed reasonably well, but it could have performed even better.
TJMM accomplished a respectable 70 cr nett over a five-day weekend, but a significant hold was needed on Monday, which didn't occur. After then, the movie did hold on weekdays, but at a reduced level. In its first week, the movie brought in 92.75 cr. The movie earned 27.69 cr nett in its second week, which was a typical hold.
Due to a lack of Hindi-language competition on the third Friday, the movie did well. The movie made 12.99 crores net in the third week, a remarkable decline from the previous second week of only 55%.
On Fourth Friday, despite competition from fresh releases, the movie brought in 60 lacs net. Film revenue increased significantly by 100% on the fourth Saturday, totaling 1.17 cr nett positive. On the fourth Sunday, the movie earned 1.45 crores. Over the fourth weekend, the movie earned 2.95 crores. The movie earned 2.60 cr nett on weekdays and 5.87 cr nett in the fourth week. This significant reduction was anticipated following the release of "Bholaa.
On the fifth Friday, the movie brought in 80 lac nett, and on the fifth Saturday, it increased by 50% to bring in 1.20 cr nett. Over the fifth weekend and during the fifth week, the movie will gross over 3.25 cr nett. This grip is respectable.
The movie earned 140.94 million in total. The movie is expected to gross between 143 and 144 million dollars worldwide, which is a fair result for the movie and a success for the producers thanks to the more than 125 million dollars in ancillary revenue. The movie has earned over 211 cr globally.
3) Here Is The Proof That Ranbir Kapoor And Shraddha Kapoor Starrer Tu Jhoothi Main Makkar Trimmed By 5 Minutes.Details?
Ans) Ranbir Kapoor and Shraddha Kapoor starrer 'Tiger Jhoothi Main Makkar' set to release this Holi on 8th March. Film is making noise as lead pair is promoting the film all over.
We reported in our Exclusive a week back that fil has runtime of 2 hours 44 minutes and advances will start from 5th March. Film has opted for 'popular pricing' on lines of 'Drishyam 2'. Then news surfaced that film's runtime was 2 hour 39 minutes and then we dig deeper to find out the truth.
As per censor certification, TJMM had runtime of 2 hours 44 minutes and then film was resubmit or edited by 5 minutes. It is clearly mentioned in censor certificate. Probably longer runtime forced makers to cut it by 5 minutes.
4) Tu Jhoothi Main Makkaar: Production Issues?
Ans) The production schedule of Tu Jhooti Main Makkaar began in January 2021, and the filming was completed in mid-2022.  The film has been shot in several locations in India, Spain, and Mauritius. The team had to face several challenges owing to the coronavirus (COVID-19) pandemic. However, an unfortunate incident on the sets of the film in Mumbai claimed the life of a crew member. While an introduction song was being shot, a fire broke out in Mumbai's Chitrakoot Grounds, eventually stalling the production, where a crew passed away, and a member from the lighting department, Manish Devashi, was injured.
5) This is how the lifetime total of Top-10 romcoms looks like
Ans) Yeh Jawaani Hai Deewani – 188.92 crores
Tanu Weds Manu Returns – 152 crores
Tu Jhoothi Main Makkaar – 146 crores* (still playing)
Dream Girl – 142.26 crores
Bala – 117 crores
Badrinath Ki Dulhania – 116.60 crores
Sonu Ke Titu Ki Sweety – 109 crores
De De Pyaar De – 103.50 crores
Pati Patni aur Woh – 97 crores
Luka Chuppi – 95 crores
Also Read: Sima Aunty is back for Indian Matchmaking Season 3, now streaming on Netflix: Everything You Need to know About Popular Reality Show
Also Read: Vikram Vedha, Bhediya OTT release dates are here: Where to watch the movies online, story, cast & more