Brief Up
There are many ways to relieve your mind of stress, which has become a huge problem for many people in both personal and professional life and sometimes even take a toll on the individual's health.
It is said that listening to music is a remedy to keep your mind stress-free and has been proven as such many times. Music has different forms and facets that appeal to each person as to what kind of music they prefer to hear.
Some people prefer soft music, one which soothing and tranquil that keeps your mind in a deep sense of bliss while others prefer loud music that forces you to dance your heart out and can even be called cacophony.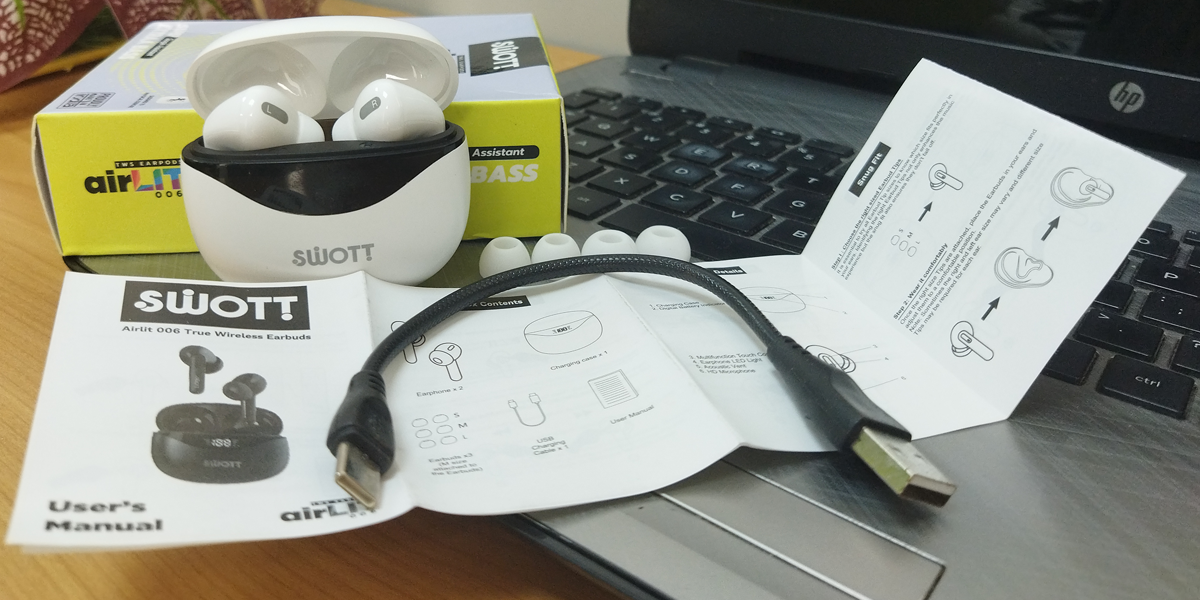 In India, music is generally synonymous with film music by and large but it doesn't mean that other forms like Classical, Western, folk, etc. don't have an audience here because India is so diverse that many forms of music is met with great acceptance here.
One of the best ways to listen to your favourite music/songs is to have powerful earphones or earbuds that has become rare to find but today we are going to talk about one excellent example what you can call powerful earbuds.
Also Read: List of Best Earbuds in India Under 1500 
My Opinion
Swott AirLit006 has joined the list of the brand new TWS Ear Pods rolled out by the company that the makers hope will meet with the same success and appreciation from users as its predecessor, SWOTT AIRLIT005.
They are the latest 'Made in India' TWS earbuds that are classified as a modish and ergonomic pair where you can avail the latest Bluetooth technology along with topnotch features like Digital Dual Power Display, USB-C Charging at high speed, Smart Soft Touch Controls, Triple VA Compatibility and many others.
AirLit006 comes in a green and grey square-shaped box that has the brand 'SWOTT' labelled on top and right beneath is 'TWS EARPODS' AirLit006 with the image right in the middle.
Upon opening you can find the white case in which the earbuds are kept, which are also white in colour, with the slot for charging at the bottom. Upon inspecting further, you find another cover at the bottom of the box that contains the charger and four spare earbuds.
The earbuds are quite delicate and lightweight to hold that are said to be designed with strong quality materials so as to give it a regal look of sorts and has been crafted in a shape that is quite unique even for normal earbuds.
The buds are made from silicone tips that are immune to sweat and gives a pleasant feeling when it comes into contact with the skin. These earbuds are the perfect companion for those that lead an active and hectic lifestyle.
It means that those that are sweating it out in the gym to gain muscles or exercising cardio to lose weight and calories, sitting at the office desk from morning till night, or even working at home 24/7, AirLit006 earbuds will provide you the necessary stressbuster from the workload you get from any of these tasks.
Once you insert the earbuds into your ears, they provide a snug feeling as though you've stuffed cotton and when the music starts playing through them, the sound quality is outstanding without a jarring note anywhere.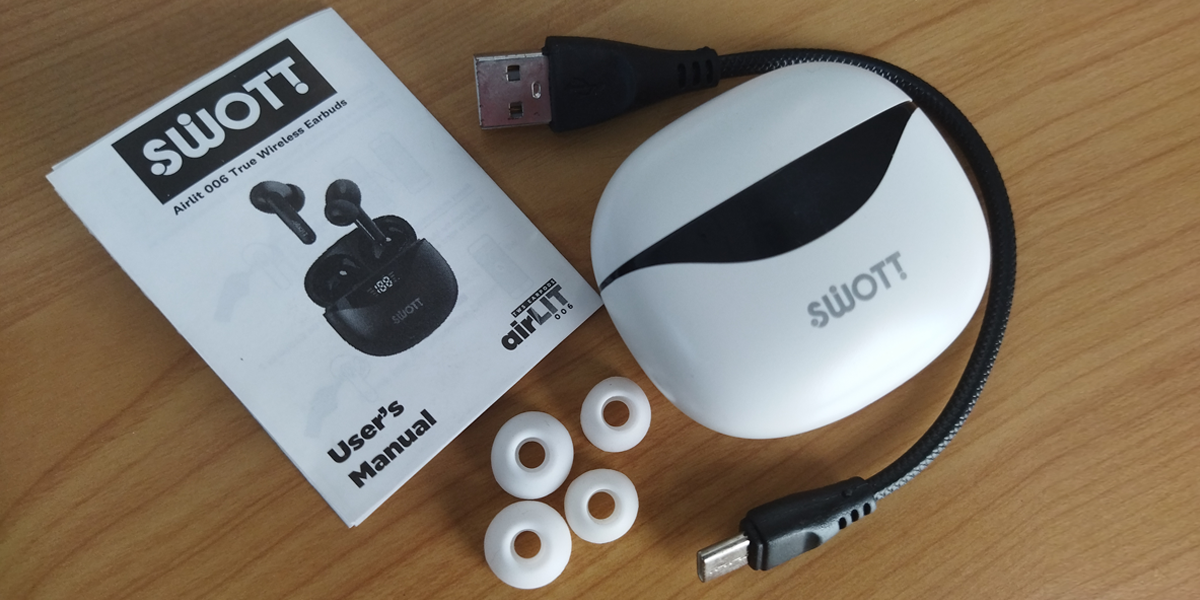 Price and Availability of Swott Airlit006
SWOTT AirLit006 TWS Earbuds come with a starting price of Rs.2,199 but the introductory price is Rs.999 as the company feels that maximum users should avail it in the initial stages and give their honest opinion about the new device.
The earbuds come in two colour options viz. black and white where users can also avail a 6 month warranty if purchased from Amazon.in and SWOTT's official website, swottlifestyle.com.
Features & Specifics of Swott Airlit006
The earbuds deliver a HiFi Stereo sound performance as they sport large 10mm drivers and that too for different genres of music. Considering how particular the people in India are regarding the choice of music they want to listen to, this is an excellent feature that the company added.
The EQ Modes are programmed prior to use so whether you prefer deep high sound or low bass, you can avail it in perfect quality and that just doesn't include music but movies and games as well.
So one can call AirLit006 a double bonanza for game and movie lovers as they can enjoy all three of them with no compromises on the sound quality on either of the three while the Bluetooth V5.0 chip connects instantly to another device where you can get a powerful connection even at longer distances.
What is unique about the earbuds is that they can be used in single bud mode as well while the other can be charged in the case and rejuvenate itself. The interesting thing is that the buds will start charging automatically once they are placed in the charging case and the lid is closed.
There is an LED screen on the case that displays battery percentage whilst the moving batteries indicate that charging is in progress and once it is complete, the LED screen will go off automatically.
The makers have recommended the USB C-type charging port cable that is found inside the box along with the four spare earbuds. You can listen to music and attend phone calls easily.
For music, you need to single tap the multifunction touch control on either/both earbuds to play or pause the music and triple tap the same to change the song where the left earbud is to rewind to the previous track while the right one is to go to the next track.
For calling, again you single tap the touch control on either or both earbuds to answer an incoming call or disconnect an outgoing one while for rejecting any call, you need to long press the multifunction touch control on either of the buds for 2 seconds to reject it.
The charging case battery and earbuds battery is 300mAh and 40mAh, respectively while fast charge will give a playtime of 3 hours and the charging time for the buds is 60 minutes so take care to charge it fully within that time.
The charge time for the charging case is 90 minutes while the music playtime is 6 hours non-stop on a single charge while the total playtime is 30 hours and the operating frequency is 2.4 GHZ to 2.48 GHZ.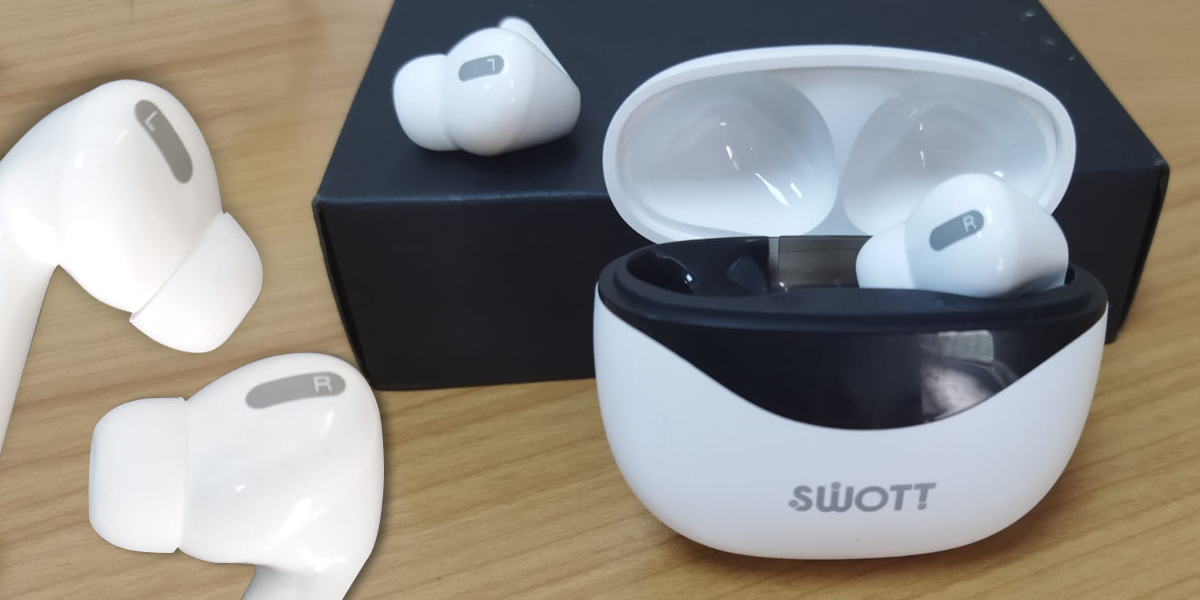 Precautions
Makers have strictly advised that the volume level of the earbuds have to range from low to moderate because using it at a high volume may result in hearing issues and sometimes even permanent damage.
The earbuds have to be completely dry before placing them in the charging case as while they may come with an IPX5 rating that makes them resistant to water and sweat the charging case doesn't have any such rating so it can lead to problems.
Try avoid using the earbuds while driving any mode of transport like cycle, car, machinery, or any other task where you need to hear sounds. Never use any corrosive cleaners or liquids that have harmless acids to clean the earbuds.
Take care to not use the buds in a storm as they run the risk of being hit by lightning and never clean them with water or even a wet cloth. Both the charging case and the busd have to be kept out of reach of small children.
Also Read: SWOTT AirLIT005: New Made in India TWS earbuds from the Smart Electronic Brand