Apple unveiled its new iPhone 14 series on September 7 during a flagship event. During the event, the company revealed the iPhone 14, iPhone 14 Plus, iPhone 14 Pro, and iPhone 14 Pro Max.
The biggest updates since the iPhone 12 series, which was launched in 2020, are found in the iPhone 14 series. The new iPhones offer several significant improvements in their performance, camera systems, and design.
The best part is that the new larger iPhone is available for less than $1,000. In addition, Apple introduced Dynamic Island and always-on displays in the iPhone 14 Pros, giving users new ways to use their smartphones.
No doubt, when it comes to the iPhone 14, it doesn't differ significantly from the iPhone 13. Thus, the older model is a better buy. The iPhone 14 Plus, iPhone 14 Pro, and iPhone 14 Pro Max, on the other hand, are the most compelling choices, and we've outlined the top ten reasons why you should take them into account.
Longer battery life
With the iPhone 14 Pro, you can watch videos for up to 23 hours, stream videos for up to 20 hours, and listen to music for up to 75 hours. The maximum playback times for video, streaming video, and audio on the iPhone 14 Pro Max are 29 hours, 25 hours, and 95 hours, respectively.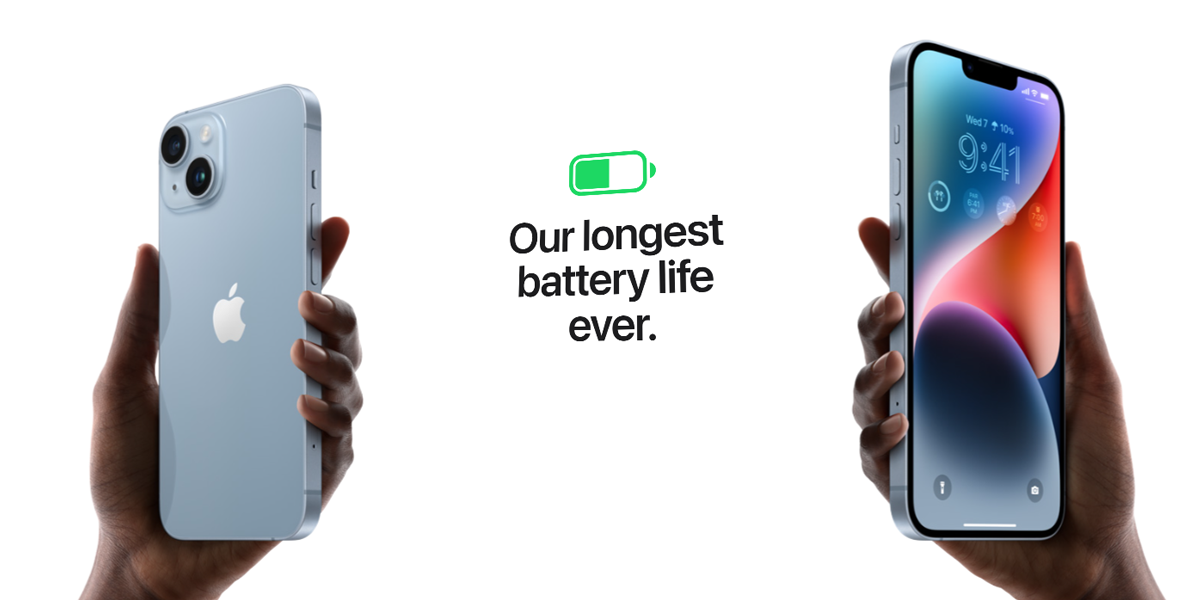 The iPhone 14 Pro models provide about an hour extra of battery life for video playback when compared to earlier iPhone models.
Both devices support fast charging and can be charged 50% in 30 minutes using a power adapter of 20W or higher.
Always-on-display
The new 1Hz refresh rate option makes an Always-On display feature possible, making the iPhone the first device to support it. Always-on display technology has been available on the Apple Watch for a while, but this is the first time Apple has successfully implemented it on an iPhone without significantly reducing battery life.
This is because, to preserve battery life, the screen completely dims when the iPhone is placed face-down or in a pocket.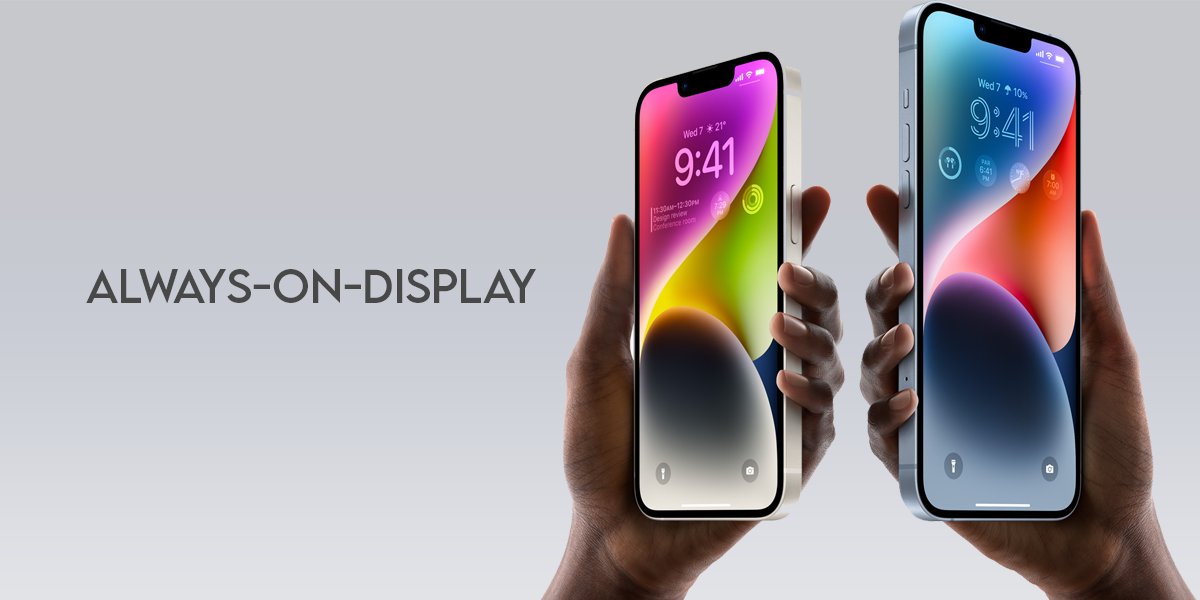 The time and widgets remain active on the Lock Screen with the Always-On display, and the wallpaper is darkened to give it a subtle appearance. Additionally, the status bar, flashlight, and camera buttons are hidden when the display is not in use.
Display Island
By incorporating Dynamic Island into the user interface, Apple gave it more significance than just a cutout. It transforms and adapts to fit what is displayed on the iPhone's screen and serves as a sort of information hub that is front and centre.
Apple uses Dynamic Island to show quick access to information about the apps and services you are using on your iPhone, blending it into the display. It can show the status of the AirPods connection, Apple Music, timers, Maps directions, and more.
The iOS 16 integration allows you to track sports results, Uber rides, and more directly from the top of the iPhone's display without leaving the current app.
If you want to see what's on your display, you can collapse it down. Additionally, if you tap it, though, it will open up so that you can interact with the content.
There is a feature that enables it to split out into two distinct cutouts that display different information, and third-party apps can also add Dynamic Island support.
The iPhone 14 Pro's screen borders have also been thinned out for a sleeker appearance in terms of overall design.
Also Read: iPhone 14 Non-Pro Models Facilities Not Present In iPhone 13
A-16 Bionic Chip
Apple's brand-new A16 Bionic processor, which powers the iPhone 14 Pro models, not only offers the best performance from an iPhone to date but also enhances the quality of the photos and videos.
It is the first chip produced using a new 4-nanometer process, and Apple created the A16 Bionic chip specifically for the iPhone 14 Pro and Pro Max.
The A15 chip in the iPhone 13 Pro is replaced by this chip, which has two high-performance cores and four high-efficiency cores.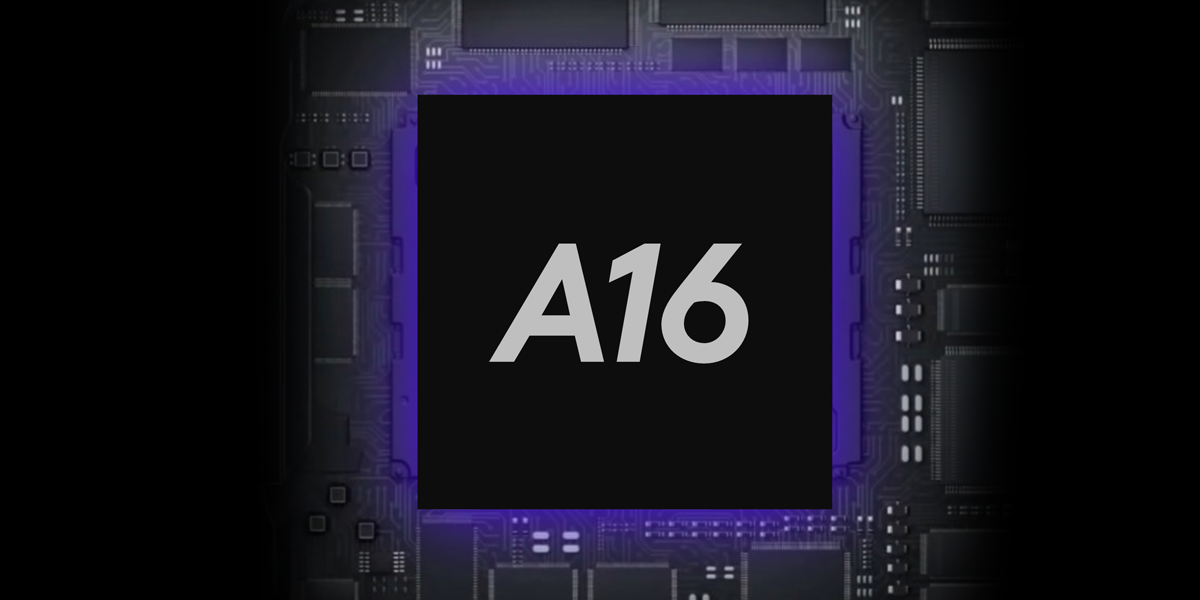 The A16 achieved single-core scores of 1887 and multi-core scores of 5455, while the A15 achieved single-core scores of 1707 and multi-core scores of 4659. That represents an improvement of 10.5, and 17.1, respectively.
An accelerated 5-core GPU with 50% more memory bandwidth is part of the A16 Bionic.
ProMotion
Like the iPhone 13 Pro models, the iPhone 14 Pro and Pro Max include upgraded low-power display backlighting that enables ProMotion refresh rates.
The adaptive refresh rates available on this year's iPhones are 1Hz to 120Hz, compared to last year's models that had refresh rate of 10Hz to 120Hz range.
The refresh rate of the display varies depending on what is displayed on the screen. The iPhone will therefore use a lower refresh rate when viewing a static website.
However, while playing games, watching movies, or scrolling through information, the phone will use a higher refresh rate of 120Hz. This provides a smoother and more responsive experience.
Big Screen Option
Before the introduction of the Pro models, Apple offered a "Plus" option, which was last seen in the iPhone 8. Apple has now brought it back in the iPhone 14, giving people a large-screen iPhone that doesn't cost over $1,000.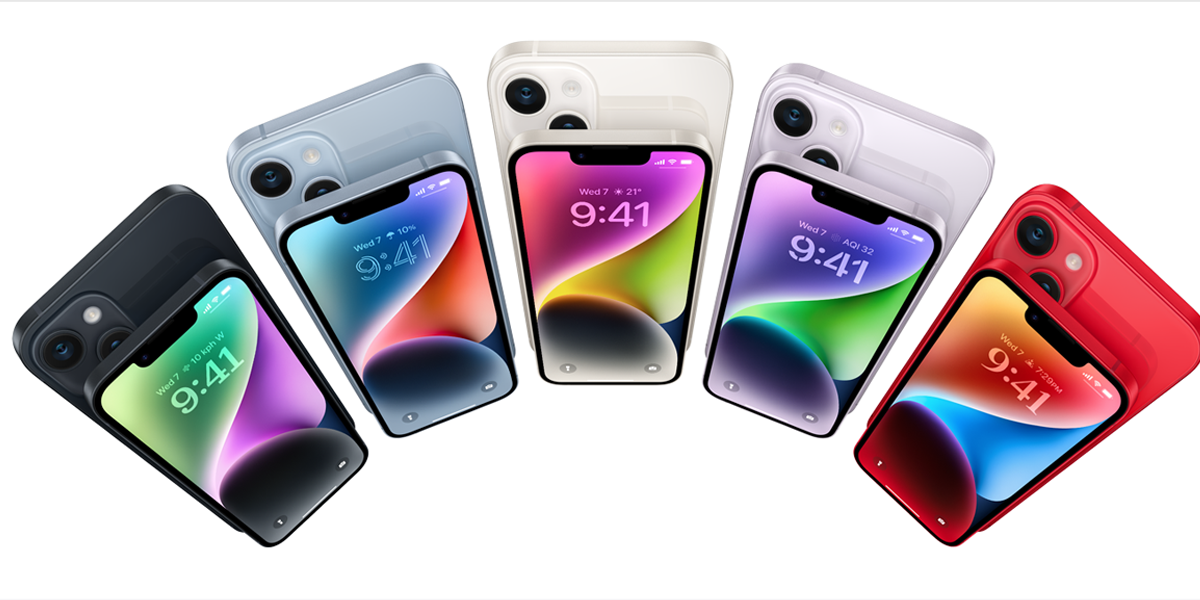 The iPhone 14 Plus has a 6.7-inch screen — the same size as the iPhone 14 Pro Max — but costs $200 less, at $899. Arguably, it's something Apple should have done years ago, as it limited the big iPhone experience to those who could afford the Pro Max iPhone models.
Other than a bigger display and longer battery life, the iPhone 14 Plus shares the same internal specs as the iPhone 14.
Crash detection
This new hardware enables a crash detection function on the iPhone by combining a barometer that can detect changes in cabin pressure brought on by deployed airbags with a high dynamic range gyroscope and a dual-core accelerometer that can record G-forces up to 256Gs.
When the automobile's occupants are critically injured or unable to reach their iPhone, the iPhone 14 models can detect a major car crash and automatically phone emergency services.
More than a million hours of actual driving and crash record data were used by Apple to accurately train motion detection algorithms.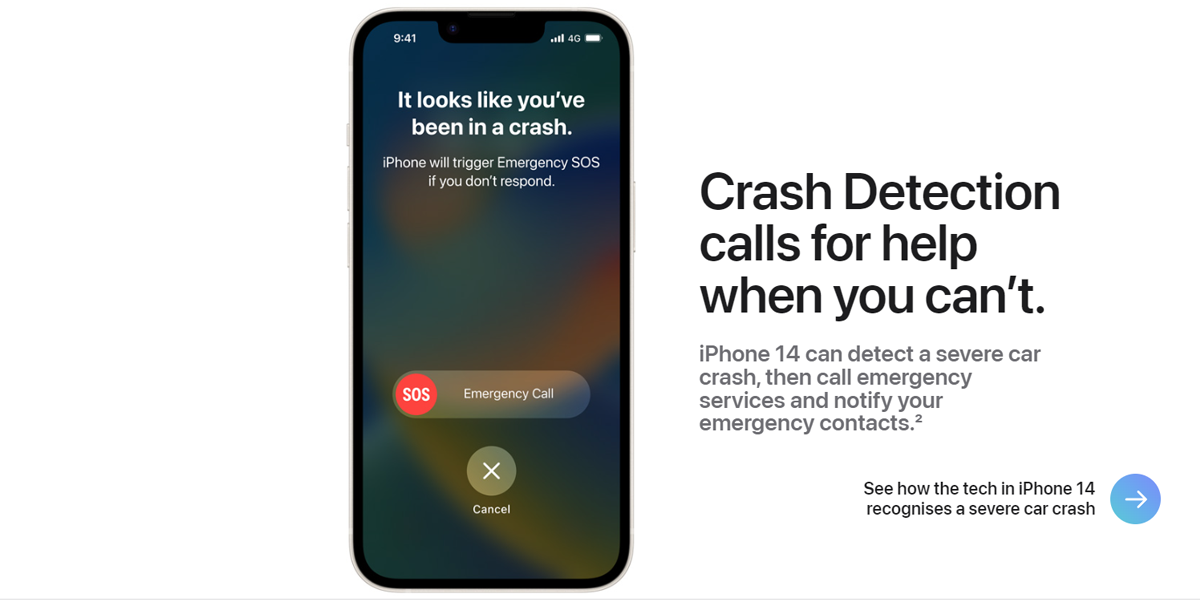 The iPhone's GPS can identify changes in speed, and its microphone can identify loud noises that are typically connected with serious auto accidents.
When a collision happens, emergency services are contacted by a combination of the iPhone and Apple Watch thanks to Crash Detection, which is also available on the Apple Watch.
5G connectivity
A Qualcomm Snapdragon X65 modem that allows 5G connectivity is included in the iPhone 14 Pro variants. While only sub-6GHz is available in other countries, iPhone users in the US can connect to both mmWave and sub-6GHz networks.
The fastest 5G networks are those that employ mmWave technology; however, mmWave is short-range and can be blocked by objects like trees and buildings, therefore its usage is only permitted in densely populated regions like big cities and urban centers, as well as at events like concerts and airports where large crowds gather.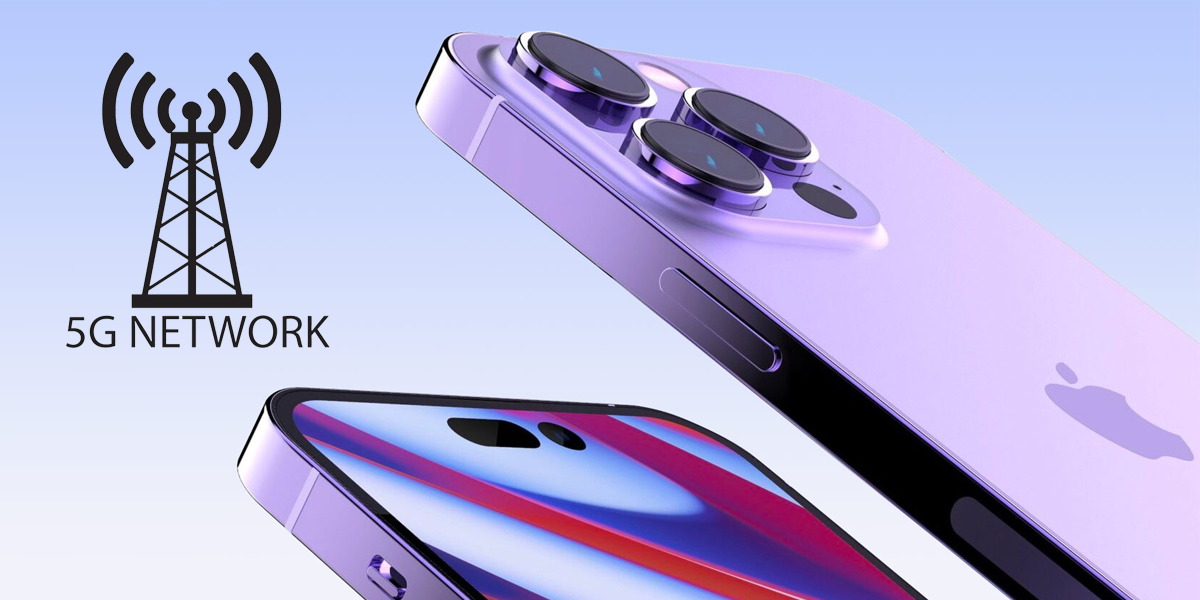 In urban, suburban, and rural locations across the United States and other nations, sub-6GHz 5G is more prevalent and accessible. Sub-6GHz 5G is often faster than LTE, especially when mid-band spectrum is used, but it isn't always the blazing fast 5G that you expect when you use a 5G network.
More than 20 5G bands are supported by the iPhone 14 Pro versions sold in the US.
When 5G is not available, the iPhone 14 models continue to offer Gigabit LTE with 4×4 MIMO for connecting to LTE networks.
Emergency SOS via satellite
When cellular and WiFi connectivity are unavailable in an emergency, the iPhone 14 models can now connect to satellites. With the new Emergency SOS via satellite feature, Apple has made it possible for the iPhone's antennae to connect with Globalstar satellites.
The feature is intended to be utilised in broad areas with minimal trees so the iPhone can connect to a satellite that is in the sky and is available in emergency scenarios where you cannot connect to WiFi or a cellular tower.
Apple has created a compressed messaging protocol because transferring data via satellite can take minutes, and the business has a walkthrough interface that explains how to hold the iPhone to connect to a satellite. A brief communication to emergency responders can be sent in as little as 15 seconds in an area devoid of trees.
Camera Upgrades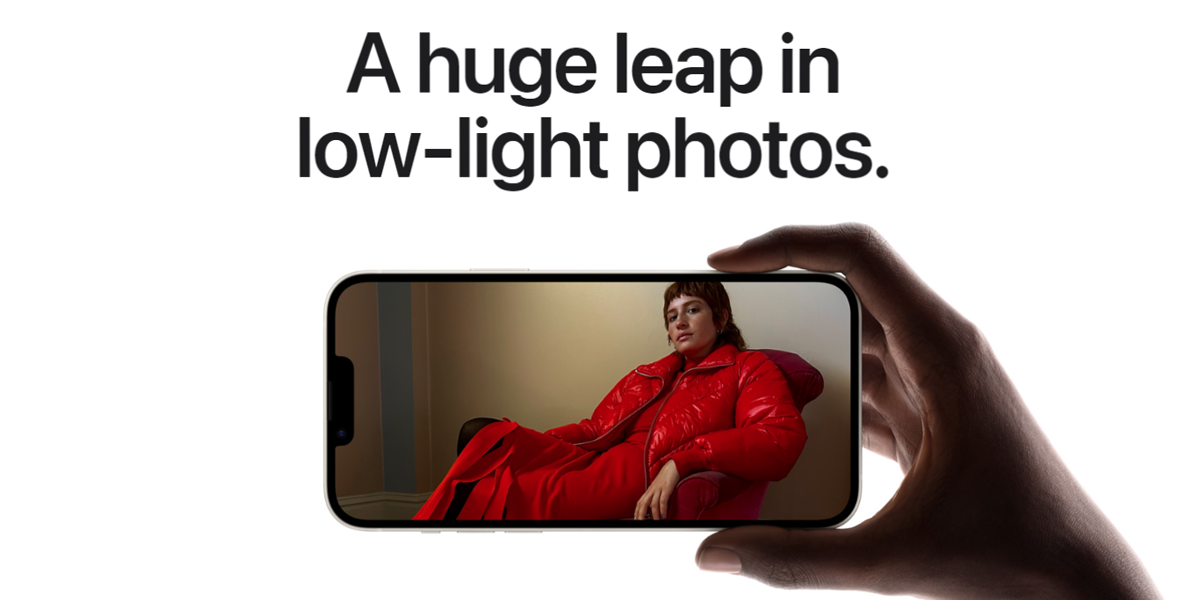 The largest modifications is done the iPhone 14 Pro cameras. The main camera is now 48 megapixels, a significant improvement from the iPhone 13 Pro's 12 megapixels.
As a result of the increase in resolution, you can now zoom in or out of an image without reducing the quality of the image. It also permits a new 2x zoom. Moreover, Apple claims that the sensor has been improved to collect more light and produce even higher-quality images.
Action Mode, a new video stabilization function from Apple, helps to lessen jarring motion while shooting video when running.