Highlights
Resident Evil 4 remake adds a new parry mechanic
Pre-orders are now live, alongside PC system requirements
Resident Evil Village: Gold Edition demo is live now, with third-person mode
In Brief
When it comes to the best and renowned film franchises, there are many options to choose from like The Godfather, Rocky, X-Men, James Bond, Harry Potter, and many more, that have acquired an iconic status in the many years that they came out.
Even today, they continue to be just as popular with the new generation as they were during the original release of those films. Interestingly, all these films have also been spawned into video games, which have also become popular among gaming aficionados as they simply cannot get enough of it.
Also Read: 10 Best PlayStation Plus Games You Can Play Right Now
Talking of film franchises being turned into game franchises, Resident Evil too cannot be missed out and it has spawned 3 successful seasons, with the fourth one all ready for release. Yes, you read it right, Resident Evil 4 is being remade as its gameplay trailer, while its launch is all set for March 2023.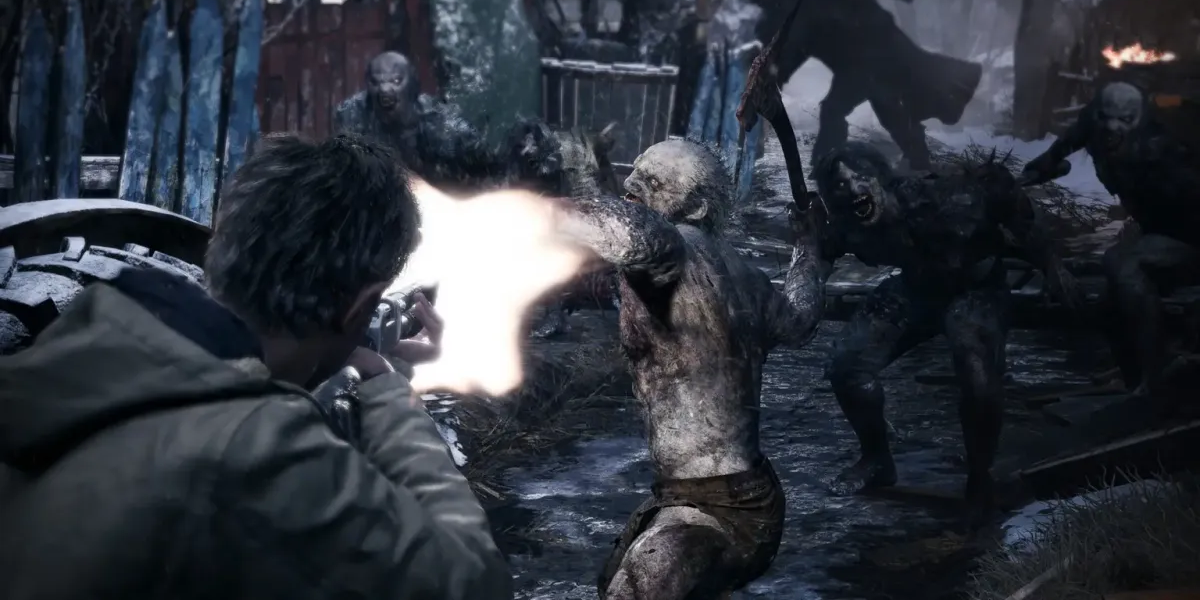 The die-hard fans of the series got to enliven a nearly six minute long footage at the Resident Evil Showcase of Leon Kennedy, the secret agent, where his journey into a European village that has been plagued by a plague is shown.
It is not surprising that Resident Evil is Capcom's highest rated game, which is why part 4 has had a lot of expectations riding upon it, whether it is the realistic depiction of the haunting village, or the surreal graphics that are quite cutting edge, but the real triumph is that despite the newness of everything, the trailer never loses its essence.
Also Read: Top 5 God of War Ragnarok-like Games to Play
The trailer begins with Leon pushing away the tree branches in a realistic manner while he is wandering deeper and deeper into the dense forest while tracking a trail of blood, following which it cuts to a combating glimpse.
Game Editions
Standard, Deluxe, and Collector's Editions have been confirmed by the studio, where the last comes with a special statue called Steelbook and physical artbook, while the deluxe edition is seen as romantic and casual, in the in-game costume sets.
The price of Resident Evil 4 remake on PC is Rs.3,599, while the pre-order bonus has an Attache Case: Gold and Charm: Handgun Ammo-, while the Deluxe edition costs Rs.4,199 that also includes the bonus mentioned above.
Also Read: List of the best PS4 and PS5 Exclusive Games You Can Play Right Now
The Xbox series too costs the same i.e. Rs.3,599 for standard edition, while the deluxe edition is around Rs.4,199. Coming to PS4 and 5, the standard edition costs Rs.3,999, while the deluxe costs Rs.4,799 where PS4 users are advised to purchase the latter version.
Conclusion
All eyes are set on March 2023 when Resident Evil 4 remake finally comes out and we'll get to see whether it lives up to the expectations of its prequels but it goes without saying that game lovers will surely get to witness an rollicking adventure with Leon as he continues his adventures and fighting dark forces.
Also Read: Top 11 PlayStation Plus Free Games Available Right Now