Agni, the first Indian 5G smartphone by Lava International Limited topped the list in the Unboxing Score by research & analytics agency Techarc. Launched on November 9, 2021, Agni scored 62 points above the new benchmark in this price segment due to its low price, chip size, higher RAM, and display size when compared to its competitors.
Lava Agni 5G is powered by Mediatek's latest chipset – Dimensity 810, a large 6.78 inch FHD+ IPS punch hole display with a 90Hz refresh rate & comes with 8GB RAM + 128 GB ROM. Agni's Quad camera sits beautifully in a fiery blue matte finish fingerprint resistant body. The 64 MP primary camera, along with a 5 MP wide angle camera, 2 MP Depth camera, and a 2 MP Macro camera gives you a superior photography experience. The phone also has a 16 MP front camera for all your selfies. Agni houses a 5,000mAh battery and comes with a 30W fast charger.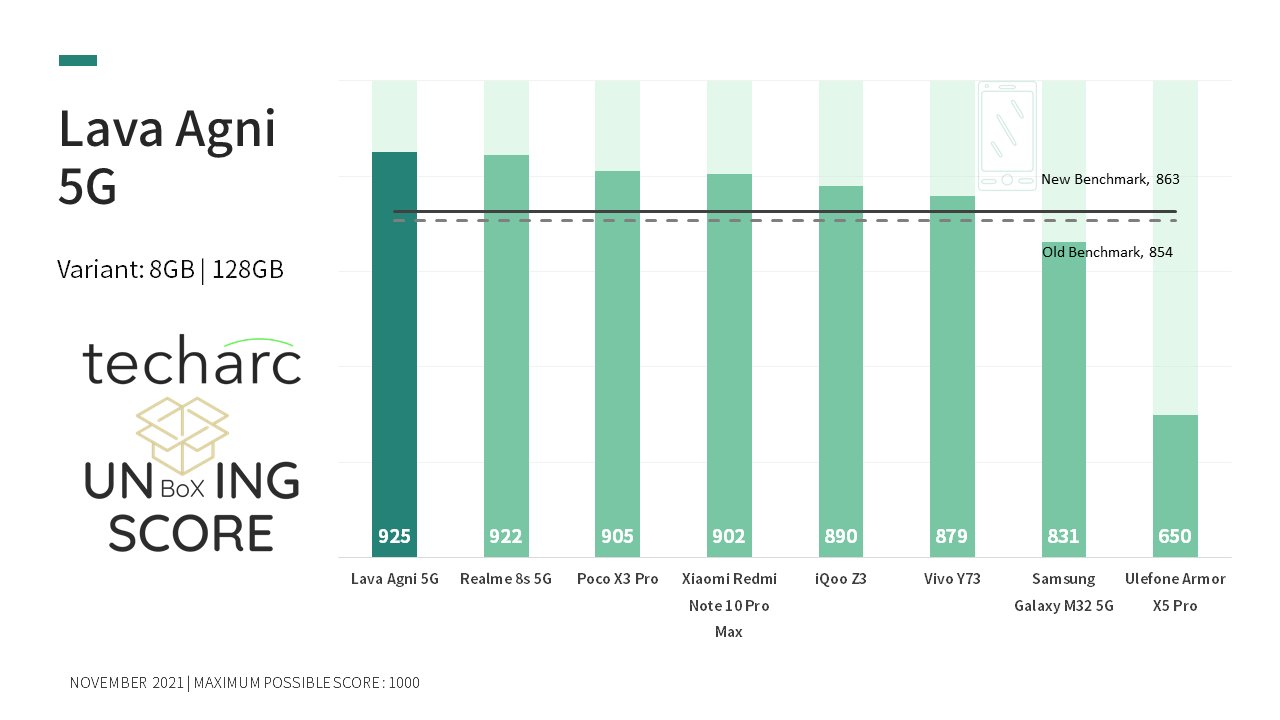 The Lava Agni 5G will be available across retails outlets & through Amazon & Flipkart from November 18, 2021 at Rs 19,999. The phone comes with a special pre-booking offer that lets the buyer avail a discount of Rs 2,000 on the phone. The pre-booking window is open for users from November 9 to November 17 on the Lava e-store by paying a pre booking amount of Rs 500. All pre-booked orders can grab the Lava Agni at a special price of Rs 17,999.
Also Read | Lava Probuds N1 wireless earphones launched at Rs 1499
Techarc Unboxing Score Methodology:
Techarc's unboxing score helps consumer make the right decision driven by an absolute number determining the value of the offering by a brand. The score, driven statistically, indicates the superiority of the offering in terms of features (specifications) it offers at a particular price point. Such evaluation helps smartphone brands to measure how they fair within competition and also gives insights about how the offering can be made competitive to become customer's choice by seeing maximum value in purchasing a particular product.
A competition zone is defined based on the price of a particular product. All the specifications and sub specifications are compared within the competition zone. The product (model) offering the best among competition defines the benchmark and all others are compared against it. Similarly, the price is also compared. The lowest price in the range becomes the benchmark and others are compared with it. Based on pre-defined weights (which have been defined basis consumer preferences arrived through regular consumer surveys covering over 20,000 respondents in case of smartphones), the final scores are computed summing the individual specification scores and the pricing score. A bar chart is used to show the unboxing score of the device and its competition offerings. The benchmark score of the zone is also determined. This shows whether the smartphone in question is above the benchmark or below it.
Also Read: Google Maps gets Dark Mode for iOS users, here's how to use