The FIFA World Cup 2022 official Twitter handle recently shared an unseen video of BTS singer Jungkook and Qatari singer Fahad Al-Kubaisi right before the opening ceremony performance that took the world by storm. The video showed both Jungkook and Fahad giving each other a hug before walking up to the stage for the performance. The video included the high-octane Kpop idol's performance from the ceremony as well.
FIFA World Cup shared the video on Twitter via @FIFAWorldCup. The tweet read, "Unseen footage of Jung Kook at the opening ceremony #FIFAWorldCup | #Qatar2022"
As FIFA World Cup shared the video on Twitter, reactions from fans from all across the world started pouring in. One BTS fan was quick to write in the comments section, "FIFA made the best choice in choosing Jungkook to sing this year's World Cup song. More & more people are falling in love with him & what he stands for."
One Jungkook fan even requested FIFA World Cup bring the singer back for the closing ceremony. Twitter user @kookgallery_ tweeted, "We want Jungkook, the legend of this generation, back for the FIFA World Cup Closing Ceremony, please bring him back."
Jungkook, the heartthrob South Korean singer and the youngest vocalist of the popular South Korean boy band BTS, has been winning hearts all around the world after his explosive performance in the opening ceremony of the FIFA World Cup Qatar 2022. The live performance at the Al Bayt Stadium along with Qatari singer Fahad Al-Kubaisi left the audience cheering throughout. Many popular songs were performed including the 2022 song "Dreamers," which is part of FIFA's official soundtrack for the tournament.
Amongst the many videos going viral from the opening ceremony and Jungkook's performance, another was sometime before the performance where Jungkook can be seen rehearsing his dance steps while walking up to the stage.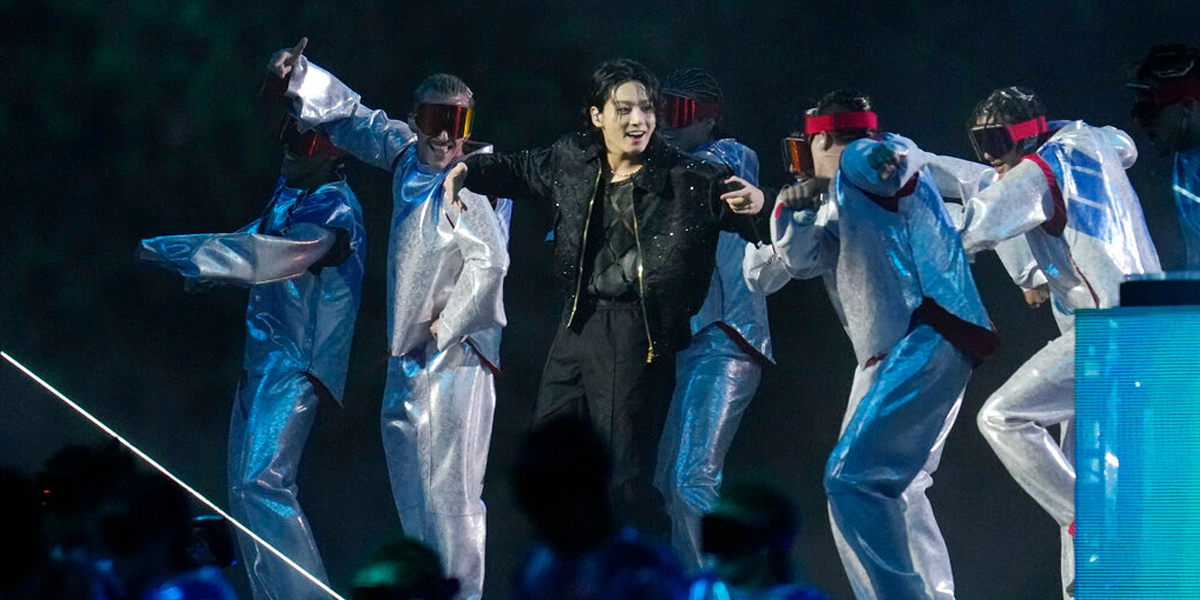 The BTS Army, the online community of BTS fans that is extremely vocal and includes fans from all around the world, has been sharing the video of Jungkook dancing during the opening ceremony. The song "Dreamers" have since then broken many records online including being the most featured FIFA song audio on Instagram reels. "Dreamers" have broken the record of the last most popular FIFA World Cup song "Waka Waka."
The "Waka Waka" online fan community, however, have tried to snub "Dreamers" after the FIFA World Cup official handle tweeted the video. One such fan @wanderlust1587 was quick to respond on the video, "Nothing tops Waka Waka(SHAKIRA) & Wavin' Flag(K'NAAN). Faster FIFA understands the public mood better it is." The discourse started from there and quickly went south when the BTS army responded to this by breaking the notion that "Waka Waka" is an original song.
User @BangtanWorldBT5 who appears to be a devoted BTS fan pointed out in a tweet as a response to the above tweet, "Waka Waka is not original song First Shakira stole that song from Cameroonian when the African make a noise Shakira and her label pay and credited the original singer and composer and songwriter."