With all the big tech giants launching their devices in the past few months at such a breakneck pace, how can Honor be left behind? The company is all set to launch its new smartphone, Honor X6, in Saudi Arabia with the same fanfare and festivities as it does in the other big markets.
There were many speculations going on about whether the model will be launched in the middle eastern regions or not but the company put all of them to rest and confirmed the news via its official website along with their other social media platforms so that the news is spread far and wide.
Brief Summary
However, with all that being said, the tech giant has expressed its reservations for releasing its devices in the middle east like whether it will be as well received as in the west or the Asian parts of the globe even though the middle east is no lesser a market for the company as the others.
As with any other device, Honor X6 will have its fair share of features and specifications that users are excited about. Another question that haunts tech experts and users is whether this new model will live up to the predecessor and its company's name.
We all know how fickle natured the audience are and get dissatisfied easily if a smartphone's, or any other gadget for that matter, features don't live up to their expectations, which keep changing at the drop of a hat.
Although the official price of the model has not yet been specified by the company, the other details are now out in the open for public scrutiny as it is up to them to decide whether it is their money's worth or not.
One of the biggest complaints that users constantly make is that the new device's design is very similar to that of the previous model, especially when it has been launched within mere months of its predecessor.
This was seen during the launch of iPhone 14 series where many users, including Steve Jobs' daughter, expressed their reservations regarding its design and argued that its model is almost indistinguishable from the iPhone 13 series.
Also Read: Honor MagicBook X 14, X 15 unveiled in India: Details here
Features & Specifications
Honor X6 comes with a 6.5 inch TFT LCD display with a resolution of 720×1,600 pixels, 20:9 aspect ratio, and 16.7 million colours. Apart from this, it will be powered by MediaTek Helio G25 SoC, which will be an octa-core, paired with an IMG GE8320 GPU with an additional 4GB of RAM.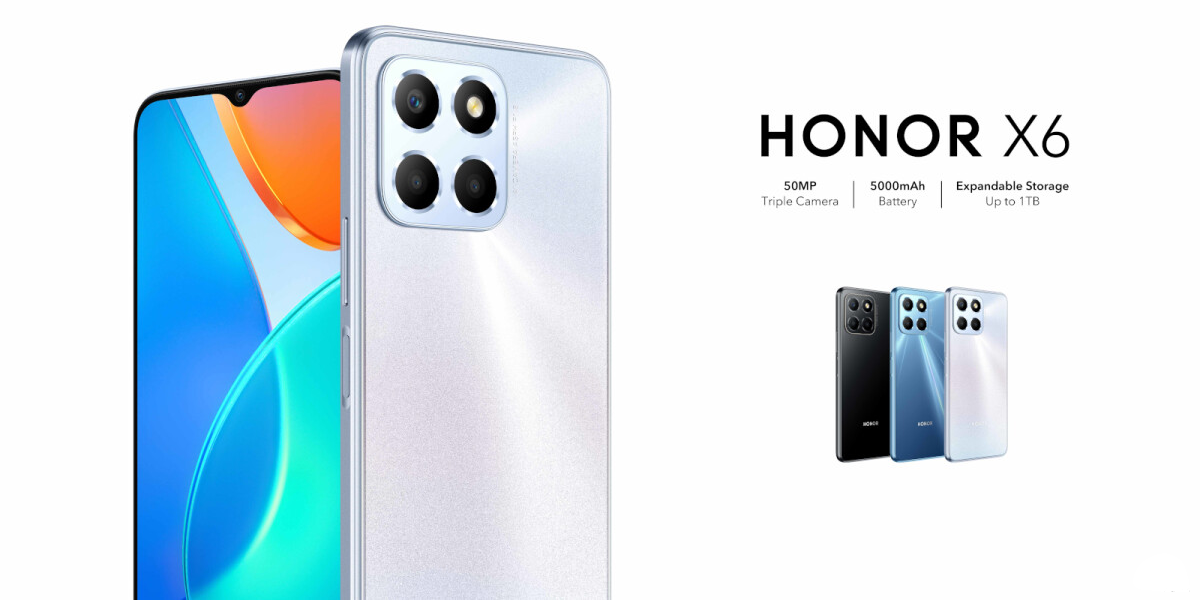 The storage variant will be 64GB RAM +128GB internal configuration and will come in three colour options viz. Ocean Blue, Midnight Black, and Titanium Silver, all of which were mentioned on the official website of Honor along with the specifications.
The 128GB internal storage configuration can be extended up to 1TB via microSD card while the handset also features a triple rear camera setup with an LED Flash along with a 50 megapixel primary sensor that has an f/1.8 aperture, depth camera with an f/2.4 aperture, and macro camera of f/2.4 aperture.
It also comes with a Bluetooth v5.1, NFC, GPS, 3.5mm audio jack, 4GB LTE, dual-band Wi-Fi, along with an OTG support for connectivity with three sensor options- ambient light, proximity, and gravity.
To conclude, Honor X6 comes with a battery power of 5,000mAh that has a 10W fast charging support and weighs 194g. Coming to security measures, it sports a side-mounted fingerprint scanner and face recognition feature along with a USB Type-C port meant for charging.
Also Read: Honor Magic 4 Series: Everything you need to know