Garena Free Fire Max is the classic version of the Garena Free Fire launched in 2021. Now we know that the original Free Fire is banned by the government along with some other apps and games, leaving the fans disheartened and disappointed. However, it's a blessing in disguise that we have the apt substitute for the original battle royale game. Furthermore, the redemption codes for March 30 2022 are also out to make sure you've grabbed yours!
Garena Free Fire Max
Garena Free Fire Max has gained a lot of popularity as a multi-player Battle Royale game developed by the 111 Dots Studio. The game features 50 players at a time battling in the arena for about 10 minutes. Players also get to decide their starting positions, choose weapons, and collect supplies they would require to survive till the end. Since it is an action-adventure game, only one and the best player wins the round.
Garena Free Fire Max: Redemption codes for March 30, 2022
Now, as it is a Battle Royale Game, it has many premium features that can be unlocked by buying some specific crates. However, the developers keep adding some special alpha-numeric codes, which the players can use and get free items and rewards in the game. 
So, here are the codes available to grab the rewards for March 30, 2022. Check it out!
EUUM 7G33 N2T8
 HZFR YHCQ VFR9
 WXAD BEOE NR1W
QZ29 JLEN DSAM
V7FQ AQFA 1JTX
1UJD 20PP N9RP
A4HW 8O47 L2EO
 N2S0 4IQL ZUX7
 B0Z3 YZ94 MLTU
 5YGK AFM2 1994
 529I 3QJ9 QN9K
 K6EE 6AZR 1834
 RXQ7 2H2L 5W6Y
 AEL3 VFM3 56WE
 G7HJ AAS9 DHXR
 GA5D 1PWF CUEC
 QKGL 6Z6Q GLV4
 390D XB4P AZNW
 TRVP 5HEJ Y8DV
 2K3E KUM2 3FB7
How to redeem the codes for March 30, 2022, in Free Fire Max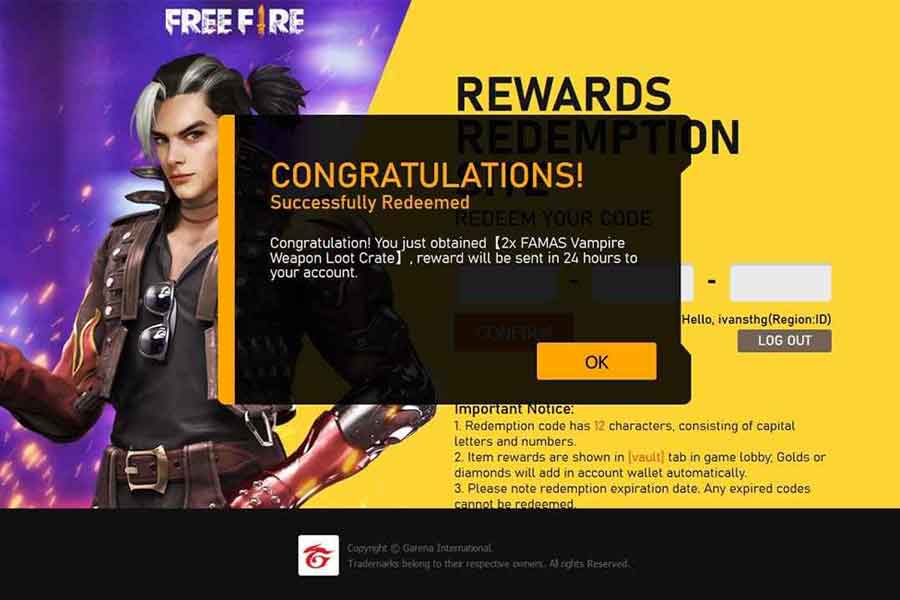 It is very easy to redeem the codes in Free Fire Max. Still, if you have any doubts about the process, follow the steps mentioned below:
Step1: Visit the official redemption website at https://reward.ff.garena.com/en
 Step2: Sign in using your Social Media handle. You can use your Facebook, Twitter, and Google ID.
Step3: Copy and paste the codes on the text box and then confirm the same.
Step4: You will see a confirmation dialogue box on the screen for cross-reference. Now just click ok to redeem the codes.
Step5: You will get the reward in your in-mail section.
(Rewards take up to 24 hours to get credited to your account).
Also Read: Twitter makes it easier for you to search for specific messages, Know how!