Doctor G was a typical Ayushmann Khurrana starrer that released on October 14, 2022 to generally positive reviews and an okayish box office performance like most of the Bollywood films this year, which is now ready to stream on Netflix on December 11, 2022.
Netflix December 2022 Releases: Qala, Glass Onion, Emily in Paris Season 3, and More
Highlights
Doctor G marked the directorial debut of Anubhuti Kashyap.
Kashyap is known for helming the Amazon Prime Video series Afsos.
Doctor G also stars Rakul Preet Singh, Sheeba Chaddha.
Ayushmann Khurrana's Doctor G OTT Launch; When and Where to Watch It (Netflix on December 11)
Ayushmann Khurrana can be considered one of the most unique actors of the new generation, much different in the post-Khans era, as he often chooses unique subjects that are considered taboo to even discuss in the general society.
His films often come with a social message but is presented with all the typical Bollywood tropes like song and dance, slight melodrama, and other things, which the audience has been able to completely relate to.
Vicky Donor (2012) dealt with sperm donation, Bala (2019) discussed premature balding, Badhaai Ho (2019) showcased a middle-aged woman getting pregnant, among others.
Doctor G is a medical drama presented as a campus comedy where a man wants to become a Gynaecologist, which leads to chaos. It was released on October 14, 2022 to good critical reviews, although its box office performance was decent enough to recover its modest budget.
Fans of the movie will be delighted to know that it will go straight to Netflix on December 11, 2022, where everyone can sit comfortably at home to watch it with the family, although it is not classified as a family oriented subject.
Doctor G marks the directorial debut of Anubhuti Kashyap, sister of maverick filmmaker Anurag Kashyap, who made masterpieces like Gangs of Wasseypur (2012) and Raman Raghav 2.0 (2016).
Anubhuti is known for her Amazon Prime Video series 'Afsos' that was extremely well received by one and all, while this film too has been described as a unique subject for a first-time director.
Doctor G Star Cast & Crew
The film stars Ayushmann Khurrana in the lead role, supported by Rakul Preet Singh, and Shefali Shah, while the supporting cast boasts of actors like Sheeba Chaddha, Indranil Sengupta, among others, who have given excellent performances.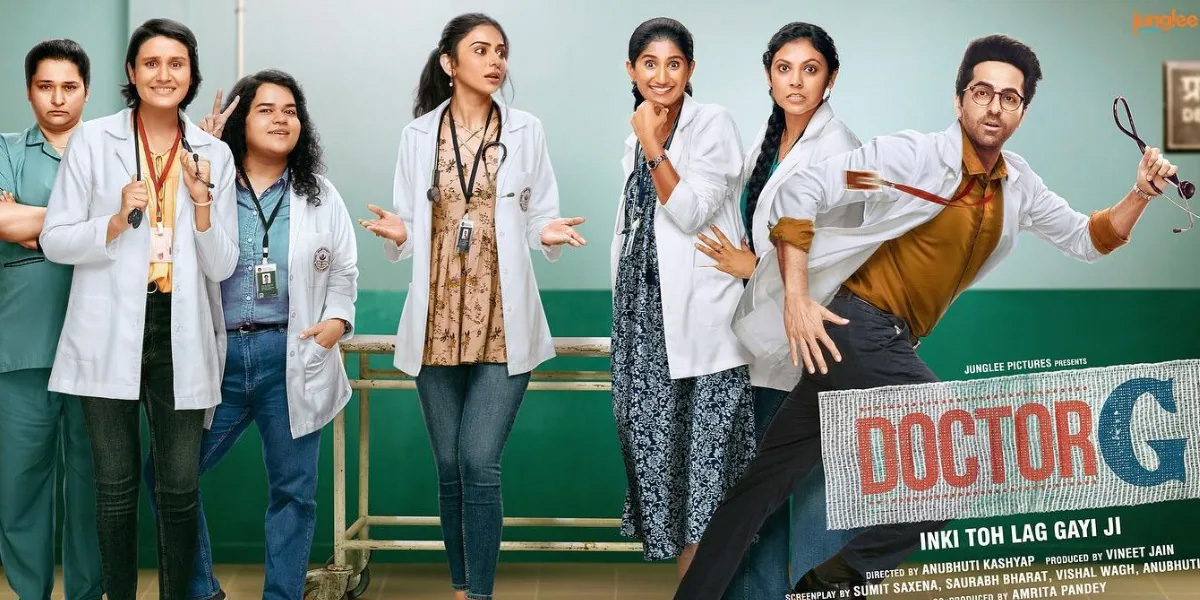 Khurrana plays Uday Gupta, a budding doctor who enrolls himself in gynaecology classes for post-graduation as there are no seats available in Orthopaedics, his desired specialty, leading to confusion, chaos, and ridicule from an all-girl class, who aren't used to having a male student in gynaecology.
He then takes the help of his teacher, played by Shefali Shah, who advises him to lose his 'male touch', following which he starts exploring diagnostic methods that are tender in nature that will help him while attending to a woman.
The film is being produced by Vineet Jain and co-produced by Amrita Pandey, while Anubhuti Kashyap is helming it as the director, with music given by Ketan Sodha, who has come up with a commendable score.
Doctor G Rating
Rotten Tomatoes have given it a 70% rating, Google Users have given it a 4.4/5, while BookMyShow has also given it an excellent 7.7/10, so it can be said that audiences have loved this film.
Doctor G has received an IMDB Rating of 7.3/10, while Times of India and NDTV have given it 4/5 and 3.5/5, respectively, which are excellent coming from two of the biggest media houses in the country.
Kantara to Get Netflix OTT Release in Hindi on December 9
Doctor G Budget & Box Office
Doctor G was made at a modest budget of Rs.35 crore, although its performance was abysmal as it barely recovered the budget at Rs.41 crore, whereas a film needs to earn double its budget to be classified as a 'hit', although it could mainly be due to audiences' disinterest in going to theatres in the post pandemic era.