Smartwatches are progressively becoming an integral part of our lives, especially for those who are always on the go and are very much concerned about their health metrics. Indian brands, in particular, are leading by example with their innovative offerings at affordable prices. Crossbeats happens to be one such homegrown player which has made a mark in a very short span of time, with smartwatches having high-end features. While we have already reviewed some of its wrist-gears, the company's recently-launched Ignite S4 (priced at Rs 5,499) is even more advanced and will definitely grab your attention with its premium look and out-of-the-box features, at least on the paper. Let's get into the detail of this smartwatch to find out how worthy it is on different parameters of excellence. Here we go!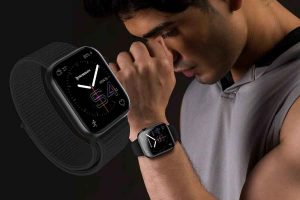 Build and Design
The all-new Crossbeats Ignite S4 comes in three colour options – Forest Green, Oxford Blue and Coal Black – with two pairs of easily swappable straps (one is made of Silicon material, whereas the other is made of nylon). I had the Coal Black variant for review, which looks quite elegant and will give you the feeling of Apple Watch SE on your wrist. It comes in a rectangular design, which looks almost square shaped, and consists of a metal dial, giving it a very solid build, whereas the back of the device has a shiny glass finish with sensors and a charging terminal.
The smartwatch sports a 1.8-inch large HD display with a resolution of 384×480 pixels and a 60Hz refresh rate with up to 600 nits brightness. The sleek 3D curved display with minimal bezels will give you a crystal clear and colourful output with excellent brightness that you can adjust as per your convenience. You'll not face any issue in reading texts in sunlight conditions. While there's a speaker grille towards the back on the left, you get a tactile button on the right side to wake the smartwatch display and customise the in-built watch faces. There's a mic too on the right side towards the bottom.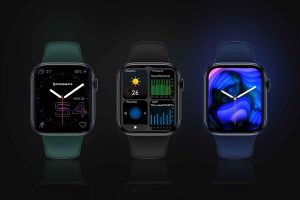 Comfort-wise, the Crossbeats Ignite S4 offers a perfect dial size, which is neither too large nor too small and is made for all wrist sizes. It's lightweight and hangs on to your wrist perfectly. The smartwatch is comfortable to wear for hours and will not cause any sort of irritation, thanks to the silicone straps, which I preferred to use instead of the nylon variant. These straps can easily be swapped with a third party strap.
In terms of protection, the smartwatch comes with IP67 water-resistant rating which can withstand mild water splashes, sweat and slight drizzles pretty much what we encounter on a regular day. Overall, it gives you a premium feel with a great colour reproduction.
Also Read: Crossbeats Orbit Review: Classy, comfortable and a calling companion
Functionalities
The Crossbeats Ignite S4 is compatible with Android and iOS devices, and easily gets connected with your smartphone via Bluetooth 5.2. You first need to download the companion app, Wearfit Pro, from Google Play or App Store. As soon as you sync it to your handset, the smartwatch gets access to your phone contacts, which is helpful in Bluetooth calling. The watch also lets you control the music on your phone and proves helpful when using it to click pictures. The app can be used for getting a detailed view of your activities. You can also use it to customise watch faces.
The wearable vibrates to alert you of SMS, social media and other smartphone notifications. The shuddering is worthily sound and you'll not miss even a single message or call. It offers a decent range and you have a sufficient freedom to move around without your phone.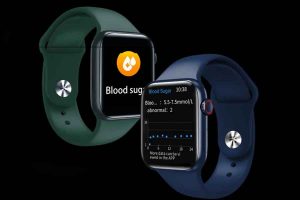 It's very smooth and amazing in terms of touch response, similar to a good smartphone. It'll easily take you from one option to the other. The smartwatch has an in-built speaker that you can use to answer or make calls. You can also play music with it. The speaker produces sufficient sound and you'll not face any difficulty while hearing the person on the other end or listening to music. The watch sports a readable dial pad that will let you type a number or make a call straight from the wrist very easily.
Overall, it's a very easy to use smart wearable. I didn't find any sort of connectivity issue with my phone.
Features and Performance
The Crossbeats Ignite S4 has got a very smooth and attractive user interface (UI). The icons are big and bright and easy to use. The main screen shows the time, date, steps and heart rate. There is no lag while swiping across screens. To keep a tab on your health, the smartwatch comes with heart rate monitor, SpO2 monitor, blood glucose monitor, blood pressure monitor and sleep monitor. The results of these health sensors were fairly convincing, although variable in some cases. With blood glucose monitor, there's no need of pricking the finger's tip, although I'm not sure about its readings that how accurate they are.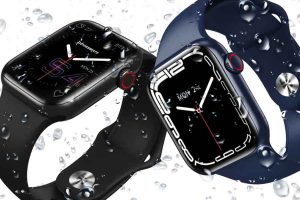 There are 13 multi-sports modes such as running, walking, cycling, climbing, situps, pushups, open water swimming, etc. Among all these, counting the footsteps happens to be on everyone's mind while using a smartwatch, and I fail to understand how it recorded some extra steps that I hadn't taken. Crossbeats must take a note of irregularities in this basic feature.
Besides voice calls, voice assistance, remote camera and music control, the smartwatch also supports always-on display and location sharing features. It also comes with business card QR code – by using this feature, you can share your social media links and business with others easily. The smartwatch also has the find my phone feature that's helpful in tracking your device. The presence of some paid watch faces available via Wearfit Pro app happens to be the flip side of this device, as most of the smartwatches nowadays offer free custom watch faces.
Also Read: Amazfit GTR 3 Pro Review: An amazing companion with loads of features
Battery Life
The smartwatch is backed by a 300mAh Li-Polymer battery that claims to offer up to 10 days of battery life, in terms of simple use. Although the battery life depends upon how you use the device, its brightness level and the features that you use, I observed two days of battery backup with Bluetooth calling feature on. The wearable takes around 90 minutes to charge fully. The battery department is satisfactory, overall.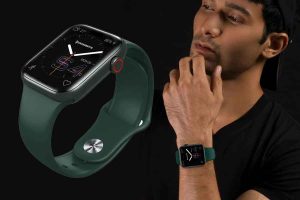 Conclusion
Sporting a great display, and a premium and durable design, the Crossbeats Ignite S4 looks like Apple Watch SE that anyone can get confused at the first sight. The dial pad is pretty readable. It offers utmost comfort on your wrist and is super-smooth in terms of performance. It comes with some out-of-the-box features such as Bluetooth calling, SpO2 monitor, blood glucose monitor, always-on display, location sharing and business card QR code. These features make a lot of sense in today's time when everyone is in a hurry in his/her respective areas. Even the battery life is not bad. It's something you'll fall in love with at the given price.
Also Read: Wearables: How Indian Brands Are Leading By Example