Highlights
Diwali Festive Season
Smartphone Discount
Realme Diwali Gift
Realme Festive Days Sale
In Brief
Realme is one of the most well known smartphone brands in the world as its devices are loved by one and all. The festive season of Diwali is just around the corner due to which all tech giants are making use of an opportunity to cater to their fanbase by giving out excellent discount offers on their devices.
Both Flipkart and Amazon had the Big Billion Days Sale and Great Indian Festival, respectively, during the Dussehra season, which was immensely successful as customers delighted in getting expensive devices and gadgets at ridiculously low offers, which meant they got to choose quality options at affordable prices.
Both e-commerce portals have done the same for Diwali as well due to which Realme too has come up with discount offers on their smartphones, which is sure to be welcomed by the general public.
Realme Festive Days Sale is a six day offer where Realme users can avail devices at a lower price than usual, and not just from Realme's official website but also on Flipkart, Amazon, and other retail stores.
All the offers will be different on all the portals, which users can choose based on their preference because they're extremely particular about price issues like, for example, a Flipkart offer could be affordable for some while others might want the device at a lesser price.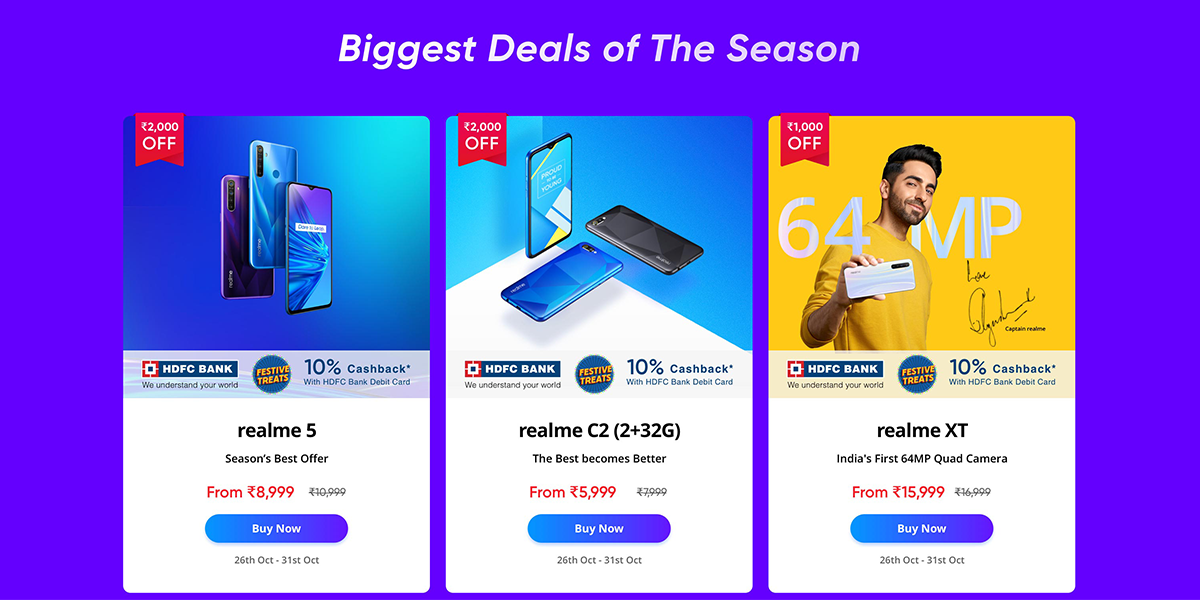 Tabular Form
The following tabular column lists all the offers on Realme Smartphones for the Diwali festive season where you have the devices' model name, variant, portal offers, price, and other details.
| | | | | | | | |
| --- | --- | --- | --- | --- | --- | --- | --- |
| Model Name | Variant | Current MOP | Flipkart Offers | Flipkart Sale Price | realme.com offers | realme.com sale Price | Channel |
| realme 9 5G | 6GB+128GB | Rs 17499 | Rs 3000 | Rs 14499 | Rs 3000 | Rs 14499 | Flipkart+realme.com |
| realme 9 5G SE | 6GB+128GB | Rs 19999 | Rs 4000 | Rs 15999 | Rs 4000 | Rs 15999 | Flipkart+realme.com |
| realme 9i (4G) | 4GB+128GB | Rs 14999 | Rs 3000 | Rs 11999 | Rs 3000 | Rs 11999 | Flipkart+realme.com |
| realme 9i 5G | 4GB+64GB | Rs 14999 | Rs 2500 | Rs 12499 | Rs 2500 | Rs 12499 | Flipkart+realme.com |
| realme 9i 5G | 6GB+128GB | Rs 16999 | Rs 1500 | Rs 15499 | Rs 1500 | Rs 15499 | Flipkart+realme.com |
| realme C30 | 2GB+32GB | Rs 6999 | Rs 700 | Rs 6299 | Rs 700 | Rs 6299 | Flipkart+realme.com |
| realme C30 | 3GB+32GB | Rs 7999 | Rs 1000 | Rs 6999 | Rs 1000 | Rs 6999 | Flipkart+realme.com |
| realme C30 (DLC) | 2GB+32GB | Rs 6999 | Rs 700 | Rs 6299 | Rs 700 | Rs 6299 | Flipkart+realme.com |
| realme C30 (DLC) | 3GB+32GB | Rs 7999 | Rs 1000 | Rs 6999 | Rs 1000 | Rs 6999 | Flipkart+realme.com |
| realme C30s | 2GB+32GB | Rs 7499 | NA | Rs 6699 | NA | Rs 7499 | Flipkart+realme.com |
| realme C30s | 4GB+64GB | Rs 8999 | NA | Rs 8999 | NA | Rs 8999 | Flipkart+realme.com |
| realme C33 | 3GB+32GB | Rs 8999 | Rs 1000 | Rs 7999 | Rs 1000 | Rs 7999 | Flipkart+realme.com |
| realme C33 | 4GB+64GB | Rs 9999 | Rs 1000 | Rs 8999 | Rs 1000 | Rs 8999 | Flipkart+realme.com |
| realme C35 | 4GB+128GB | Rs 12999 | Rs 1300 | Rs 11699 | Rs 1300 | Rs 11699 | Flipkart+realme.com |
| realme C35 | 4GB+64GB | Rs 11999 | Rs 1200 | Rs 10799 | Rs 1200 | Rs 10799 | Flipkart+realme.com |
| realme C35 | 6GB+128GB | Rs 1299 | Rs 1400 | Rs 12599 | Rs 1400 | Rs 12599 | Flipkart+realme.com |
| realme GT 2 Pro | 12GB+256GB | Rs 57999 | Rs 8000 | Rs 49999 | Rs 8000 | Rs 49999 | Flipkart+realme.com |
| realme GT 2 Pro | 8GB+128GB | Rs 49999 | Rs 8000 | Rs 41999 | Rs 8000 | Rs 41999 | Flipkart+realme.com |
| realme GT 2 | 12GB+256GB | Rs 38999 | Rs 8000 | Rs 30999 | Rs 8000 | Rs 30999 | Flipkart+realme.com |
| realme GT 2 | 8GB+128GB | Rs 34999 | Rs 8000 | Rs 26999 | Rs 8000 | Rs 26999 | Flipkart+realme.com |
| realme GT Neo 3 | 12GB+256GB | Rs 42999 | Rs 3000 | Rs 39999 | Rs 3000 | Rs 39999 | Flipkart+realme.com |
| realme GT Neo 3 | 8GB+128GB | Rs 36999 | Rs 3000 | Rs 33999 | Rs 3000 | Rs 33999 | Flipkart+realme.com |
| realme GT Neo 3 | 8GB+256GB | Rs 36999 | Rs 3000 | Rs 33999 | Rs 3000 | Rs 33999 | Flipkart+realme.com |
| realme GT NEO 3T | 6GB+128GB | Rs 29999 | Rs 7000 | Rs 20999 | Rs 7000 | Rs 22999 | Flipkart+realme.com |
| realme GT NEO 3T | 8GB+128GB | Rs 31999 | Rs 7000 | Rs 22999 | Rs 7000 | Rs 22999 | Flipkart+realme.com |
| realme GT NEO 3T | 8GB+256GB | Rs 33999 | Rs 7000 | Rs 26999 | Rs 7000 | Rs 26999 | Flipkart+realme.com |
| | | | | | | | |
| --- | --- | --- | --- | --- | --- | --- | --- |
| Model Name | Variant | Current MOP | Amazon Offers | Amazon Sale Price | realme.com offers | realme.com sale Price | Channel |
| narzo 50i | 2GB+32GB | Rs 7499 | Rs 1750 | Rs 5749 | Rs 1750 | Rs 5749 | Amazon+realme.com |
| narzo 50i | 4GB+64GB | Rs 8999 | Rs 2000 | Rs 6999 | Rs 2000 | Rs 6999 | Amazon+realme.com |
| narzo 50i Prime | 4GB+64GB | Rs 8999 | Rs 1750 | Rs 7249 | Rs 1750 | Rs 7249 | Amazon+realme.com |
| narzo 50A Prime | 4GB+64GB | Rs 11499 | Rs 2500 | Rs 8999 | Rs 2500 | Rs 8999 | Amazon+realme.com |
| narzo 50A Prime | 4GB+128GB | Rs 12499 | Rs 2500 | Rs 9999 | Rs 3500 | Rs 9999 | Amazon+realme.com |
| Narzo 50 4G | 4GB+64GB | Rs 12999 | Rs 2500 | Rs 10499 | Rs 2500 | Rs 10499 | Amazon+realme.com |
| Narzo 50 4G | 6GB+128GB | Rs 15499 | Rs 3250 | Rs 12249 | Rs 3250 | Rs 12249 | Amazon+realme.com |
| narzo 50 5G | 4GB+128GB | Rs 16999 | Rs 3250 | Rs 13749 | Rs 3250 | Rs 13749 | Amazon+realme.com |
| Narzo 30 5G | 6GB+128GB | Rs 16999 | Rs 4000 | Rs 12999 | Rs 4000 | Rs 12999 | Amazon+realme.com |
| narzo 50 Pro 5G | 6GB+128GB | Rs.21999 | Rs.3000 | Rs.18999 | Rs.3000 | Rs.18999 | Amazon+realme.com |
Also Read: Realme introduces budget smartphone Narzo 50i Prime with 6.5-inch display, 5000mAh battery