Apple recently announced the latest MacBook Air with the powerful M2 chip at WWDC 2022. Now, the same is going to be available via pre-order starting July 8, 2022. The latest MacBook Air 2022 is a complete and refreshed redesign of its last predecessors. To name a few, it comes with a powerful chipset, that was too revealed for the first time at the event only.
The all-new MacBook Air features a big display paired with Liquid Retina technology to protect your eyes from strain. It sports a 1080p FaceTime HD camera so you never miss on quality while having a call with your loved one with a four-speaker sound system. Additionally, it comes with a great battery life of up to 18 hours paired with MagSafe charging functionality.
Also Read: Apple Adds Lockdown Mode to iPhone
New MacBook Air M2 pre-order: Price and offers
The latest MacBook Air offers two storage options: 8GB RAM + 256GB SSD, and 8GB RAM + 512GB SSD. Furthermore, coming to the price, the base model with 8GB RAM + 256GB SSD is priced at Rs 1,19,900 ($1,199), and the higher variant with 8GB RAM + 512GB SSD is priced at Rs 1,49,900 ($1,499). Furthermore, both the laptop comes with an 8-Core CPU and a 10-Core GPU. Moreover, both the laptops feature the same stunning and classic MacBook shades: Midnight, Starlight, Space Grey, and Silver. Additionally, the users who will place the pre-orders for their MacBook Air M2 will get it as early as July 15, 2022.
New MacBook Air 2022: Specifications
Coming to the specifications of the latest MacBook Air 2022 model features a good 13.6-inch Liquid Retina display for an enhanced colour saturation with 44 per cent better quality than the non-Retina ones. Also, it has a 1080p FaceTime HD camera so you get a better clearer look at your loved ones.
Furthermore, it features Apple's most powerful chipset- the M2 chipset, which was also revealed at the event. Talking about some of the major updates that M2 includes an 18 per cent faster CPU performance over the basic M1. Additionally, it also has a faster GPU (35% faster) which is further efficient to offer up to 18 hours of battery life.
As per the build of the laptop is concerned, it features an all aluminium unibody offering supreme durability and a lighter appearance. It also delivers up to 20 per cent improved volume reduction than the previous models. Additionally, the Magsafe charger, it features a dedicated charging port which makes it easier to connect it to power while protecting it as well.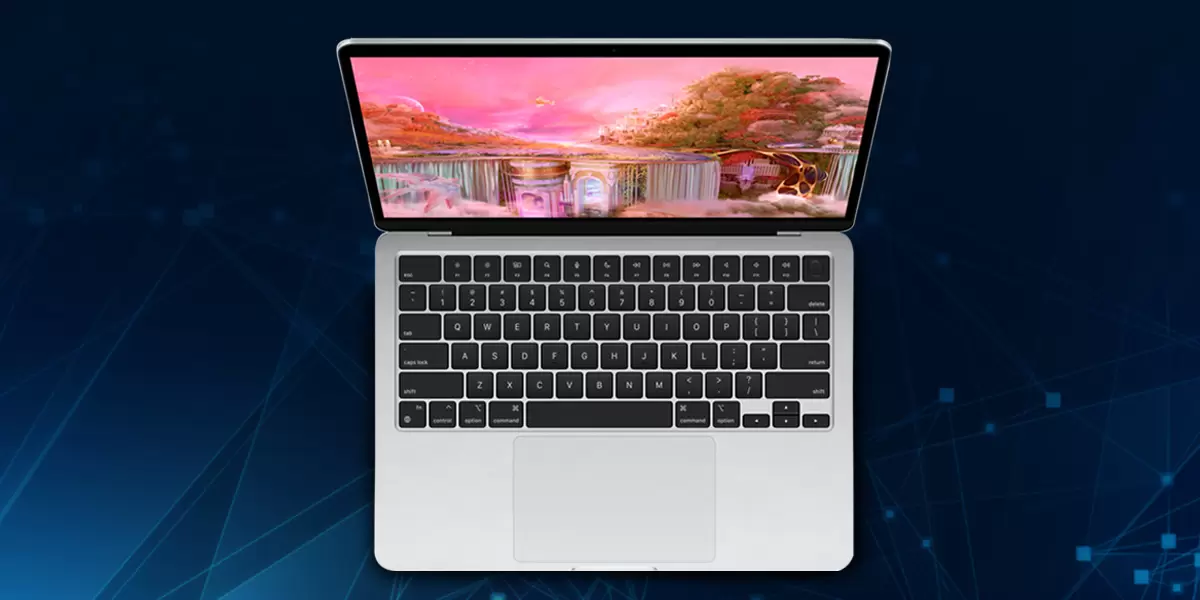 It has a sleek bezel design and, like it or not, improves on the last model. A 13.6-inch Liquid Retina display with 500 nits of brightness is featured on it. This is an improvement over the M1 MacBook Air's 400 nits.
The M2 MacBook Air sports a rear with a flat form and a more streamlined appearance. Its measurements are 11.97 inches by 8.46 inches by 0.44 inches (30.41cm x 21.5cm x 1.13cm). The laptop's basic model includes a 30W USB-C power adapter. The higher-end laptop model also has a 67W USB-C Power Adapter option.