Apple users are in for a surprise because the company has now decided to add a new feature to the device which is the Lockdown Mode. This feature will be available for tablet and laptop as well.
This is because of the increasing risk to the data that is becoming more and more vulnerable to hackers with each passing day and they have a strong spyware that breaches through even tight security arrangements.
Although security measures have increased to a great level, a determined person can always devise new ways to break them which is why this new feature will act as a remedy to the problem.
The spyware used by these devious hackers is highly sophisticated in nature that sometimes sends your brain into knots but luckily Apple is one step ahead and has paid a $10 million grant to increase cyber security experts to research and develop a new mercenary spyware to counter the hackers.
Measures
Lockdown Mode, which mostly focuses on privacy features, is expected to come out within the fall is what the makers claim and it will be interesting to see how things will work out because it is estimated that protection enablement will make the devices less useful.
While some users are not happy that certain features in their iPhone will be not function as strongly as before due to lockdown mode, they can at least heave a sigh of relief that their device is less vulnerable to cyber-attacks.
Cyber-security personnel have always held a high opinion on Iphones, or any Apple device in particular, which is a big reason why it is also the favorite of high profile and influential people like politicians, businessmen, movie stars and social rights activists.
Pegasus, an Israeli tech firm that has strong spyware that hopes to breach the security measures of many electronic devices is going take Apple head because the latter has privacy tools of the lockdown mode.
There are many other state sponsored malware that this new feature will take on where Apple mentioned in a recent news report that the addition of Lockdown mode in phones, tablets and laptops will harden the defences in the device at the cost of a few other applications that suffer from limitations.
Also Read Here: iOS 16: Check out the list of new features announced by Apple 
They include slow opening of certain apps, block to message access, web browsing and FaceTime calls and while some youngsters may not like it, they'll understand that it was for their own good.
Test Version
This feature is going to be tested thoroughly before its launch to make sure that it will serve its purpose once it comes out where it will help identify bugs and other potential weaknesses.
Apple has even invited security research team to decode bypasses in the Lockdown Mode and reward them based on the success they achieve through the Apple Security Bounty Programme.
This isn't the first time that a big tech giant has worked on enhancing data security of its users because Google tried it out a couple of years back through Advanced Protection in an effort to prevent fraudulent access to accounts, phishing and sharing of documents to third parties.
Microsoft isn't far behind either because it has the Super Duper Secure Mode that is on similar lines for safeguarding data but what sets Apple apart from others is that Lockdown mode will be available to all users and all Apple devices.
Some important features have to be disabled so that the Lockdown mode works flawlessly although its exact functions have yet to be disclosed so users have to wait until further information on the matter by Apple.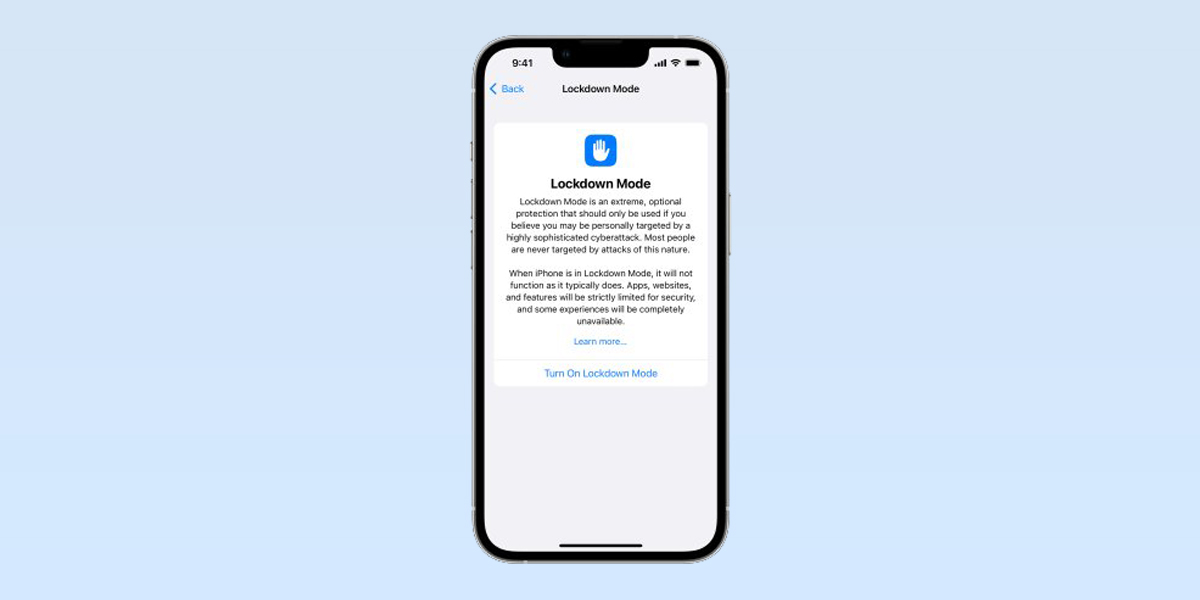 Apple filed a lawsuit against NGO Group last year for trying to hack iPhones through Pegasus and while the case is subjudice, the final outcome would be interesting to learn about.