The much awaited Apple's Worldwide Developer Conference 2022 (WWDC) has finally kicked off. On the first day of the event, Apple showcased its iOS16 where the tech-giant has added a ton of new features.
From recalling a sent messages to scheduling a mail, personalising the lock screen to sharing family photos in iCloud Shared Photo Library, and discover more with Live Text and Visual Look Up are the features of the iOS16.
The developer preview of iOS 16 is available to Apple Developer Program members at developer.apple.com starting June 6, and a public beta will be available to iOS users next month at beta.apple.com.
New software features will be available this fall as a free software update for iPhone 8 and later. Features are subject to change and some of them may not be available in all regions or all languages. Detailed information can be obtained, apple.com/ios/ios-16-preview.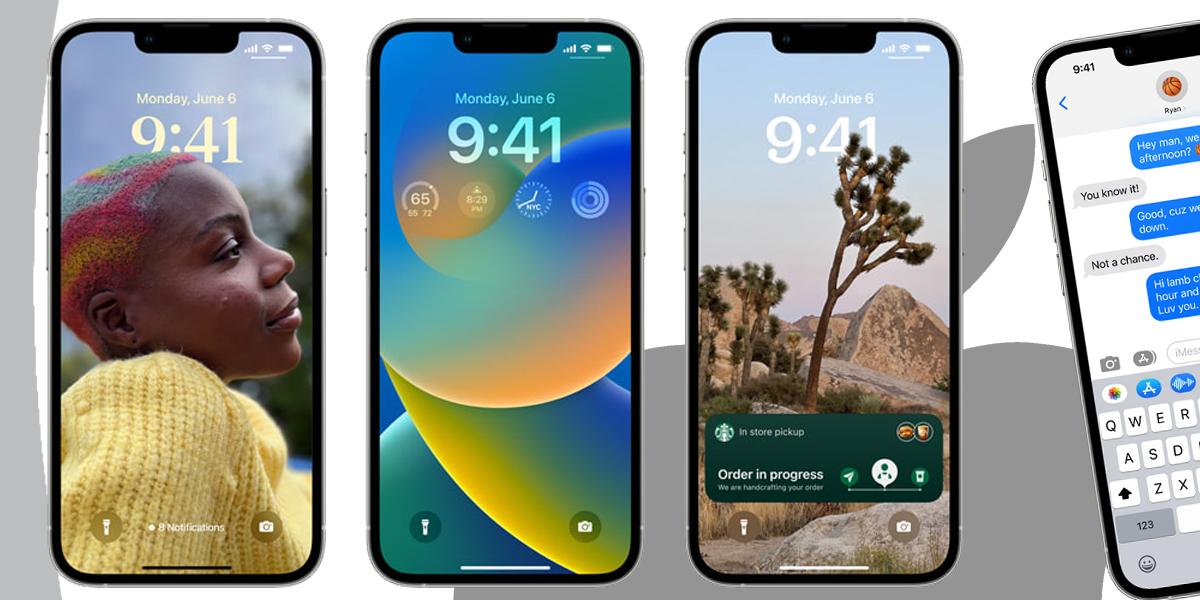 To seamlessly share a collection of photos with family, iOS 16 introduces iCloud Shared Photo Library. Streamlined communication through new capabilities in messages and mail updates to help users stay in touch with ease, and powerful enhancements to Live Text and Visual Look Up have also been announced.
According to Craig Federighi, Apple's senior vice president of Software Engineering, iOS 16 is a big release with updates that will change the way users experience iPhone.
Federighi further adds that they have reimagined how the Lock Screen looks and works with exciting new features that make it more personal and helpful. "Apple has harnessed enhanced intelligence with updates to Live Text and Visual Look Up," says Apple's senior vice president of Software Engineering.
A Personalized Lock Screen Experience
With iOS 16, the Lock Screen gets more personal, beautiful, and helpful. To create a sense of depth, the subjects of photos are artfully set in front of the time on the Lock Screen with a new multi-layered effect. With expressive type styles and color choices, Users have the freedom to change the look of the date and time.
Featuring widgets, the Lock Screen makes it easy to get information at a glance such as upcoming calendar events, the weather, battery levels, alarms, time zones, activity ring progress, and more. With multiple Lock Screens, users can switch between their favorites with just a swipe.
A new feature called Live Activities has also been added by the Apple. This feature allows users stay on top of things that are happening in real time, such as a sports game, workout, ride-share, or food delivery order, right from the Lock Screen.
To ensure a clear view of their personalized Lock Screen, Notifications have also been redesigned to roll up from the bottom.
Find Balance with Focus
To activate a Focus, users need to swipe the corresponding Lock Screen. More powerful but easier to set up, and now connects to the Lock Screen, offering users a way to tie a Lock Screen wallpaper and widgets to a particular Focus. With Focus filters, apps like Calendar, Mail, Messages, and Safari can display only the content that is relevant to a user's Focus, helping them to find better balance.
iCloud Shared Photo Library
. This new feature also allows users to send photos to the Shared Library automatically using a new toggle in the Camera app. With iCloud Shared Photo Library, families can share photos seamlessly with a separate iCloud library that up to six users can collaborate on, contribute to, and enjoy. Participants can choose to share existing photos from their personal libraries, or share based on a start date or people in the photos. This feature also gives suggestions to share a photo that includes participants in the Shared Photo Library. Every user in the Shared Photo Library has access to add, delete, edit, or favorite the shared photos or videos, which will appear in each user's Memories and Featured Photos so that everyone can relive more complete family moments.
Edit or recall recently sent message
The iOS 16 let users to edit or recall recently sent messages. They can recover recently deleted messages and conversations can be marked as unread so they can come back to them later.  The SharePlay feature to Messages will make it possible to enjoy synced content like movies or songs and shared playback controls all while chatting in Messages.
New Tools for Mail
For the convenience of users, new tools for mail allows users to schedule emails and are offered a moment to cancel delivery of a message before it reaches a recipient's inbox. Users will get an alert in case they forgot to include an important part of their message, such as an attachment. With Remind Later users can resurface a message at any date and time, while Follow Up suggestions automatically remind users to follow up on an email if they have not received a response.
Searching recent emails, contacts, documents, and links have also become easy.
Live text and visual look up enhancements, Apple Pay Later, Order Tracking, and Other Features, The Next Generation of CarPlay, Safari, Apple Maps are among host of other features of iOS 16.
Also, Read Here: Apple WWDC 2022: Here's what you can expect and how to watch it