India completes 75 years of Independence on 15 August, 2022 and there are many things to look forward like the Great Freedom Festival Sale by Amazon where you can avail some relevant electronic gadgets for the occasion.
Whether it is smartphones, Smart TVs or laptops, you name it and you'll get so we are going to look at some of the best models that you'll get at the freedom festival sale as the main aim of this festival is that customers have their money's worth to celebrate independence day.
This is a five day sale that kicked of last weekend and is coming to an end on 10 August, 2022 so without further ado, let us look at some of the best deals that you can look forward to in this sale and it will give an idea to the consumers as to which one they can select based on price and features.
Also Read: Amazon Announces Prime Phones Party Sale for Prime Users in India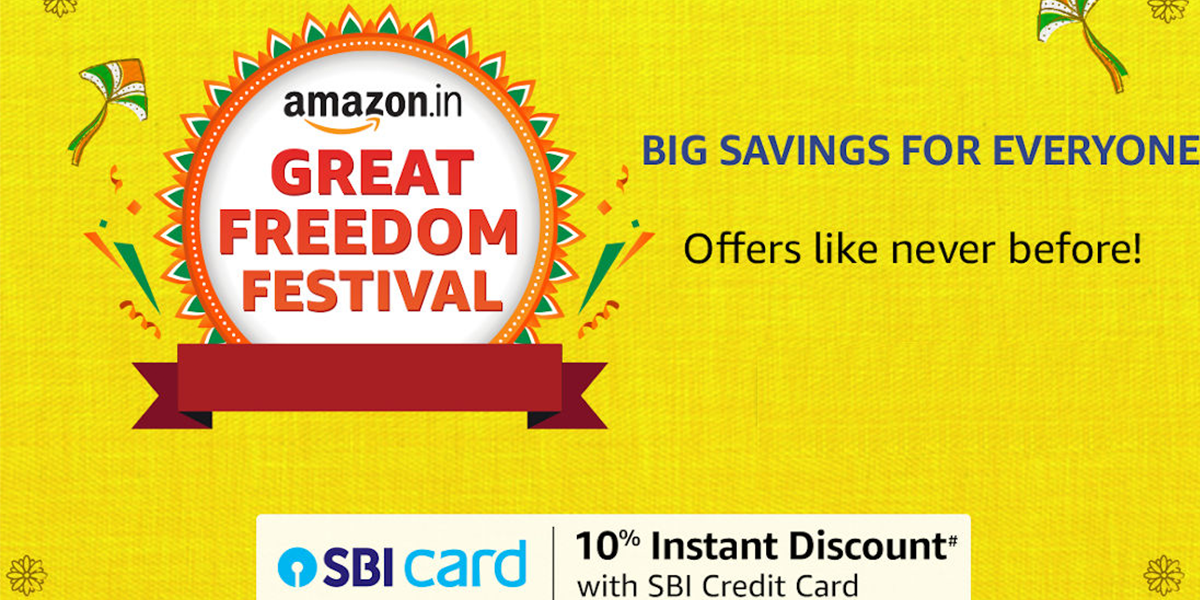 Smartphones
Realme Narzo 50 5G
 An excellent choice to begin with that comes at a starting price of Rs.15,999 on Amazon and rightfully belongs to the festival sale where SBI card holders can get a discount offer of Rs.1,500.
You can also swap an older smartphone to receive another discount of Rs.13,050. The device itself is powered by MediaTek Dimensity 810 chipset that is supported by 4GB RAM along with a dual rear camera setup of 48 megapixel and a battery of 5,000mAh.
Samsung Galaxy S20 FE 5G
It comes with a storage capacity of 8GB RAM + 128GB internal configuration with a starting price of Rs.30,990 using a coupon that is available on the product's listing page of Amazon that also comes with an exchange offer at Rs.13,050 that is furthered by 10% discount for SBI card holders.
Also Read: How to Use the Amazon Fire TV Stick?
Apple iPhone 13
This offer is for those who missed the Prime Day offer on iPhone 13 where you can bring down the price by combining the bundled exchange offer. It comes at a discounted price of Rs.68,900.
Smart TVs
OnePlus U Series 4K LED Smart Android TV
Although the original starting price of the Smart TV is Rs.69,999, it can be brought down to Rs.61,999 during the Great Freedom Festival Sale of 2022 by Amazon. It has received support from all major streaming services in India and includes three HDMI ports, two USB ports, and also supports Dolby Audio.
Also Read: Amazon Prime Video Gets OTT Rights of Pathaan
TCL 4K Ultra HD Smart Android LED TV
This you can get at Rs.39,990 during the sale where you can swap an old TV and get another instant discount up to Rs.3,760, which is the best offer you can get for a large screen Smart TV at an affordable price.
Laptops
Lenovo IdeaPad Slim 3
It is a 14 inch laptop that comes at a price of Rs.62,390 that can be brought down to Rs.34,990 on Amazon. It is quite light and thin that comes with a coupon based discount of 10% that can also be exchanged with an old laptop at Rs.18,100 and is powered by an 11th Gen Intel Core i3 processor.
Also Read: Amazon Offers Rs.22,000 Discount for Apple iPhone 13