How many times does this happen when we have to decide where to go with friends or family and we couldn't agree on one destination? Or do we find it so complex to decide whether to get a pizza or a burger? Sometimes, all we need is a poll where we can make decisions easily and quickly. So, WhatsApp has heard you well and it's working on the solution!
Last month we saw WABetaInfo reports on WhatsApp working on a new poll feature for all the group conversations. The feature was first introduced on Twitter, and then Instagram brought the same to the users. Now WhatsApp is all set to roll out polls on its platform and we can take a closer look at this forthcoming function for a more clear picture.
WhatsApp Poll Feature: What to expect
Reportedly, WhatsApp beta version 22.8.0.72 adds more information to the poll tool for group chats. Although the feature is still in the testing phase, beta users may still use it now. Also, the report suggests that it will provide up to 12 options when generating a poll. It will also let all the group members see the final results irrespective of their participation in the same.
As per the WABetaInfo reports, You can see in this screenshot that the company is now working on poll options, so the ability to enter some possible options for the poll. You can read that it is possible to add up to 12 possible options and while you are creating them, you can also move an option to a different position.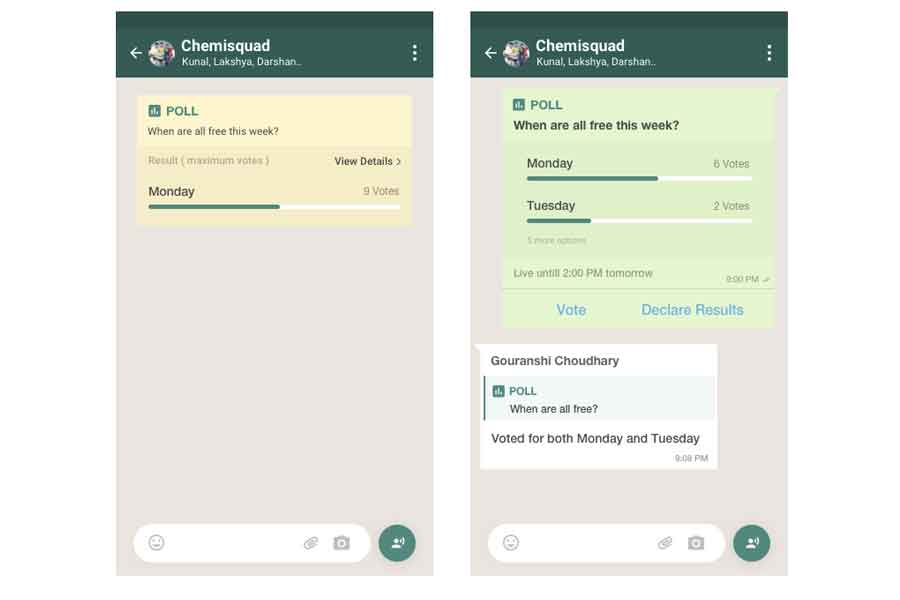 This feature will come in handy when deciding where to get out on weekends with friends, what to eat for supper or snacks, or even what movie to watch with family members in group chats.
While we now have a lot of information on WhatsApp's polling feature, there are still a few questions that are unanswered. It's unclear whether the corporation will provide additional poll duration alternatives. We also don't know if WhatsApp users will be able to construct single-answer and multi-answer polls, or only the former. Both, hopefully. We'll probably find out soon enough.
While WhatsApp is finally bringing the poll feature, which we believe, could have been introduced earlier. It's one of the most popular messaging applications, featuring a business-specific app as well. It would be really beneficial for them to be able to create polls and receive client input. Telegram and Facebook Messenger, both of which are Meta platforms, already have similar functionalities. Thankfully, Meta has also decided to add it to WhatsApp now.
Some other new features on WhatsApp
Aside from that, WABetaInfo claims that WhatsApp Desktop beta version 2.2212.1 has finally addressed the ability to see link previews. Due to technical issues, customers who enable multi-device compatibility reported that link previews were not working on WhatsApp for Desktop in the last few weeks.
With the newest beta version, the firm has solved this error. "It is still not possible to produce link previews on WhatsApp Web because this is one of the unsupported capabilities following the move to multi-device," according to the newspaper.
Also Read: Last month we saw WABetaInfo reports on WhatsApp working on a new poll feature for all the group conversations