Communities, a group-related feature that has been in development for months, has now been unveiled by WhatsApp. Although the functionality will not be available to all users right once, WhatsApp will gradually roll it out. In a word, the communities feature will allow WhatsApp users to combine several group conversations together in one area. This will result in the formation of a community of various groups with a common goal.
People would be able to "bring together diverse groups under one canopy with a structure that works for them" using WhatsApp Communities. In this way, users will be able to get all of the information related to a community created around a single issue. WhatsApp Communities, as indicated in the title picture, will bring numerous groups together and allow administrators to deliver messages to all of them at once. What more to expect from this upcoming feature? How it is going to help the users? How we can control it? Find out all the answers below!
WhatsApp Communities: How does this work?
One thing is for sure, Communities are one of the most eagerly awaited features of WhatsApp. The functionality of this feature is super straightforward. Users will be able to keep distinct groups in one location thanks to this functionality. The Community feature is a private space where group administrators will have more control over specific WhatsApp groups.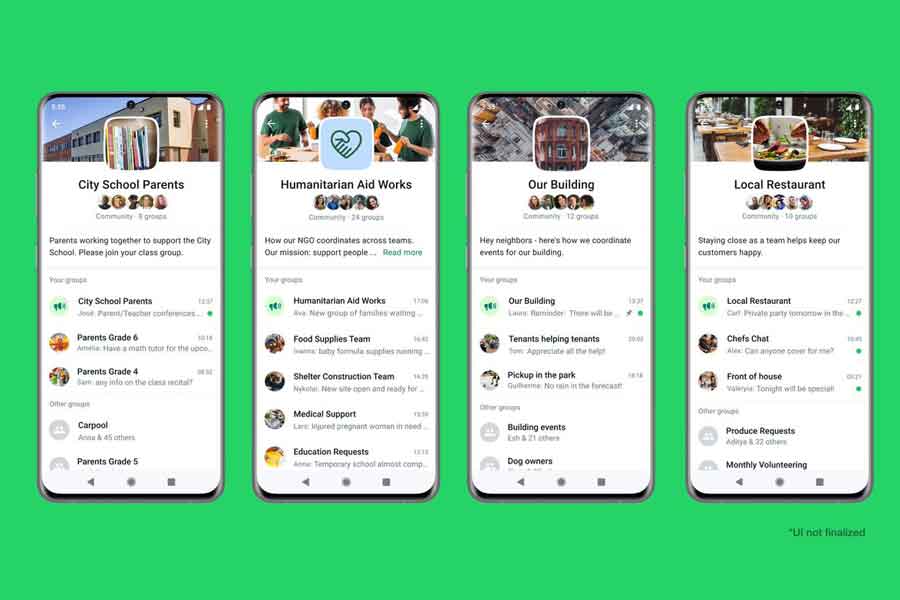 Admins of Communities can bring together other groups in one area and have additional privileges. For example, they will have the ability to send out announcement messages to everyone. Admins will also have control of the participation of various groups and will allow them accordingly.
Features and specs
The Communities tool, for example, can assist a School Principal in bringing all of the school's parents together to communicate important information and form groups around certain subjects, extracurricular activities, or volunteer needs.
Furthermore, Communities also offer the admins to create a sub-group within a group. For example, a volunteer organisation might form a sub-group for individuals working on a specific issue, such as a food drive. A parent group might split into sub-groups based on the ages of their children. Sub-groups for various grades or extracurricular activities might exist inside a school. People might also create sub-groups to plan the club's different events and activities. And so forth.
Upon the launch of WhatsApp Communities, Mark Zuckerberg says "we built WhatsApp Communities to make it much easier to organize all your group chats and find information." Adding to it, Zuckerberg says "We're also adding new features to groups on WhatsApp, including reactions, large file sharing, and bigger group calls." Find more details about what is WhatsApp Communities, how will admins be able to manage WhatsApp Communities and will the feature be secure.
Also Read: YouTube Shorts to be available on PC and tablet too, will it pose challenges to Instagram