Aren't you always looking for a cool and fun bio for the WhatsApp About section? Even when you finally find one, it appears outdated soon and then the search for another one starts.
To assist you in this ongoing quest of finding a cool WhatsApp bio, we have compiled a list of some fun, cool, and creative WhatsApp bio ideas for you. But before we get to that, let's try to understand what WhatsApp bio is exactly.
What is a WhatsApp Bio?
WhatsApp is an instant messaging and calling platform now popular worldwide for its convenience and unbelievable reach. However, it is no more just a messaging platform and now is being widely used for mass communication purposes for both official and unofficial orders. A WhatsApp status or bio is what defines that purpose.
Your entire contact list or anyone who has your WhatsApp number will get to know about you or why you are using the app through your bio.
WhatsApp Bio is quite clearly a reflection of your personality and purpose. But is not always so simple to come up with a bio, which is why we have tried to prepare this list of 150 Plus Best and Short WhatsApp Bio Captions and Quotes for Boys and Girls in English for you to use.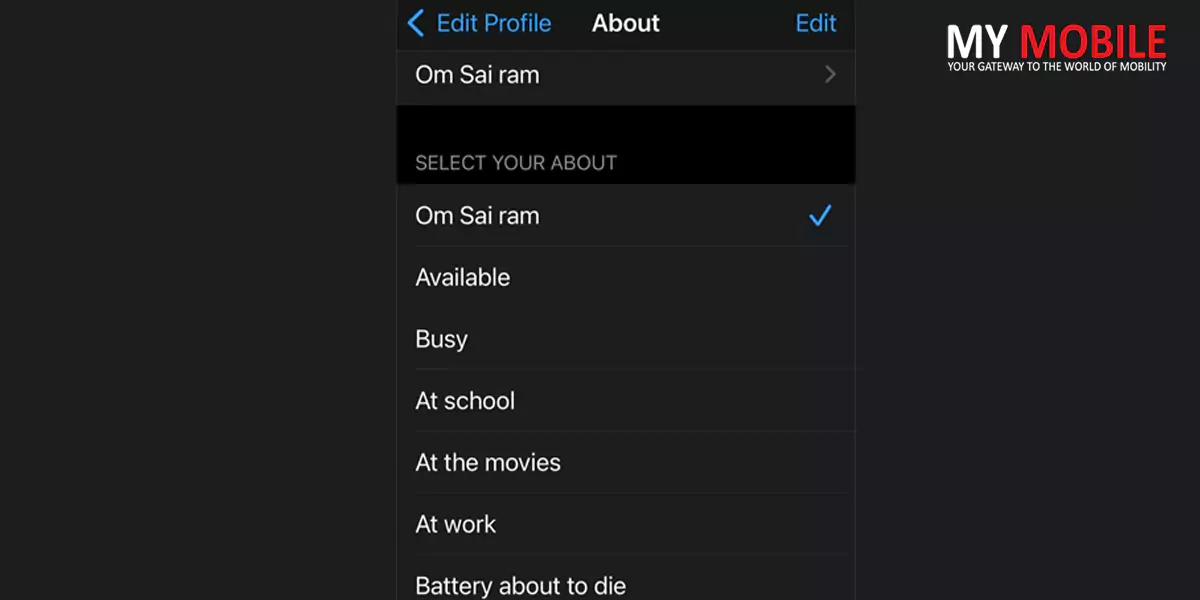 Best WhatsApp Bio for Boys
Below are some cool, fun, motivational, short and yet meaningful WhatsApp Bio options for boys that can be used with emojis creatively on their WhatsApp status.
Motivational Quotes for WhatsApp Bio
There's no remote control for life. You have to get up if you want the channel changed.
At the day's end, I am grateful that my blessings outnumber my problems.
Your followers may not always be your fans
Life can get only as good as you think.
The start is always tough. Don't give up.
In life, we don't lose friends. We only learn who our true friends really are.
Don't squander your opportunities for achieving temporary comfort.
Within every person is a sun.
Cool WhatsApp Bio
To be number one, you better be odd.
Honesty might be the best policy. However, insanity is a better defence.
Ice Cream is cheap. Therapy isn't.
Making peace with my pieces.
When you see me, what can you see?
Life always throws up surprises.
Find your goal in life, and then be obsessed about reaching it.
I feel great today.
If not me then who? If not now then when?
Make sure you're perfect before judging me
Hating me won't help you.
Get better. Don't stagnate.
Wanna be the best? Learn how to handle the worst.
Ever since my childhood, I was always the winner.
Creative WhatsApp Bios
Don't look at me funny.
If you're tired, keep going. Stop only when you're done.
Self-confidence – the best outfit.
Grow through what you're going through.
Simplicity – the key to brilliance.
Live the life you've dreamed of.
I woke up flawless.
Think and live positive.
Don't be disheartened if you're struggling. It means you're progressing.
Follow your dreams.
No place worth going has shortcuts.
Without struggle, strength is absent.
Go where your heart feels alive.
Love yourself and conquer the world.
Be the person you'd want to meet.
What you've left behind is nothing. Anticipate the future.
I'm not lazy, I'm just chill.
I'm a better version of myself.
I just levelled up.
Crazy is a trademark of a true pioneer.
Want to be second? Follow me.
Hakuna Matata
Describe my personality? Some things are a mystery.
Classy, sassy and never trashy.
I radiate good vibes.
In a world of trends, I'd like to remain a classic.
My best dress is the smile you gave me.
Under construction.
If you are devoid of a smile, here's mine.
I am on top of the world.
Walking in the sunshine
Relaaaax – note to self.
Get rid of the ordinary.
You're the reason for my smile.
Just because I am single I am not available.
Time to awake and turn on awesome.
Why am I smiling? I have no clue what's happening.
Too lazy to come up with a caption.
WhatsApp Bios for Life
Life gives you many choices-choose wisely.
Surprises – expect them.
Life does not have to give you what you anticipate
Be the person God would rather you be.
Joy or grief – life goes on.
Be with people who make you feel loved.
Life is like a new book – the next chapter is shrouded in mystery.
There's just one life – live it your way before your time comes.
Time never stops.
People enter and exit your life every day.
Time changes everyone and everything.
Enjoy living as much as possible- money doesn't buy immortality.
Life is gonna end soon. Enjoy it while you can.
This world, these generations won't ever end.
Life goes on! So go on and live.
Best WhatsApp Bio for Girls
Below are some cool, fun, motivational, short and yet meaningful WhatsApp Bio options for girls that can be used with emojis creatively on their WhatsApp status.
Funny Options for WhatsApp bios
Can someone please give me a loan and then leave me alone?
A surprised woman stands behind every successful man.
Neither single nor taken. I'm just on reserve for the one that deserves my heart.
The more haters I have – the more fame I gain.
Make your oddness shine bright so others like you can find you.
Shopping is an art and I'm a high calibre artist.
I talk to myself because I like interacting with smart people.
I don't have an attitude problem. I have a personality you cannot handle.
I would call my fashion style "clothes which still fit".
Motivational Quotes for WhatsApp Bios
Success becomes an attitude.
Always look up UNLESS taking help from someone.
Positive vibes=positive life.
Satisfy your soul, forget about society.
Focus on whatever you want, everything else is just a distraction.
Your goals don't give a rat's ass about your feelings.
Let your smile alter the world. Don't let the opposite happen.
I don't dream of success, I work towards it.
I can because I think I can.
Don't count time, instead make the time count.
Train your mind to stay calm in adverse circumstances.
Don't forget God once He gives you what you prayed for.
Look where you are now. Remember how badly you wanted this?
Think highly of yourself. What the world thinks is inconsequential.
One bad chapter doesn't end a story.
Life isn't a competition. Everyone's on their own trip.
Cool Options for WhatsApp Bios
Priorities are at the whim of time.
I really care-even though we may not talk every day.
I walk the talk.
I am a private person so if I talk to you, I trust you.
Don't throw attitude. My blocklist exceeds your friend list.
My hate is much dicier than my love.
Not for your ex or for me. Be ambitious for you!
Don't alter yourself to suit fashion. Let fashion change to suit you
I'm a girl that enjoys being in her own world.
Latte in one hand, swag in another.
His story is history. My tale is a mystery.
Time to stop being a lady. Time to be a legend.
Laughing like a child, living like a queen.
Love me or not, I will shine irrespective.
Be a butterfly. Stunning and difficult to trap.
When you forget to love yourself – your best friend comes to the rescue.
Grateful for those who have always had my back.
Be real or leave me alone.
I'm not quiet, I just detest drama.
Creative WhatsApp Bio Options
Accept me for who I am or you can watch me walk away.
I'm not someone you find twice.
If I delete your number you're cut off completely.
Be single and focus on your aim.
I will rise from the ashes like a Phoenix.
Cherish your own emotions, never undervalue them.
I may turn my sadness into a joke, don't worry about me.
I don't act like a Queen – I am a Queen.
WhatsApp bios for Life
I don't have a game plan for life, I am the game plan for life.
Cool life cool rule – that sums me up.
Judge me only when you're perfect.
Make-up is my weakness.
If everyone likes you, it isn't a good sign. Cheap items have high demand.
It's just a matter of time. Lose me once and I'm gone forever.
Goodness and cuteness – are two of my key ingredients.
I wasn't born to be perfect-just real.
Act like a lady, think like a Queen.
Your head, heels and standards should always be high.
Ego is my passion, attitude is my hobby.
Stylish Option for WhatsApp Bios
Nothing is what it seems.
Life is straightforward if we are simple.
Continuous hope is a spark of something good start.
Plan to inspire before you expire.
Smile and the world will hold up a mirror.
My smile is my best piece of jewellery.
My clothes aren't stylish. I am a trendsetter.
I am a queen because I know how to be in control.
Every woman is a Queen. Speak to her and she will answer.
A wise girl knows her limits. A smart girl knows she has none.
Cool Options for WhatsApp Bios
Never ever give up.
Working hard for something you don't care about causes stress. Working for something you love is passion.
When you discard public opinion is when you are free.
End the day with positive thoughts.
Proud to be an Indian.
One day you will touch success.
Short WhatsApp Bio Options
Be you, Queen.
I'm a Queen – that's all you need to know.
My talent – my attitude.
Always misunderstood.
Dad's princess, Queen of my world.
We may not talk that doesn't mean I don't care.
I just want us.
Not together, always connected.
Aching to talk, too scared to text.
SImply happy
Feeling good
Faq's on WhatsApp Bio
1)How to hide your "Last Seen" on Whatsapp?
Ans) Step 1. Open WhatsApp on your iPhone or Android.
Step 2. Go to your WhatsApp settings.
On iPhone, tap Settings – the gear icon – in the bottom right corner.
On Android, tap the More icon – the three vertical dots – in the top right corner, and then select Settings in the menu.
Step 3. In Settings, tap Account.
Step 4. On the Account page, tap Privacy.
Step 5. Tap on the "Last Seen" option to change your online status.
Step 6. There are two options to hide the online or Last Seen status on your WhatsApp account — you can choose for only My Contacts to see your status or for Nobody to see your status.
After saving your settings to "Nobody" in the Last Seen section, you can rest assured that nobody would be able to check your Last Seen time stamp.
2) How To Be Online on Whatsapp Without Being Visible to Your Contacts?
Ans) There are no internal WhatsApp settings that can assist you in remaining invisible when online to the rest of your contacts. In order to stay online without being visible, you will have to use certain third-party apps such as "WA Bubble for Chat."
You can visit Play Store on your Android device or App Store if you are iOS to download the "WA Bubble for Chat" app. Once downloaded, you can start using the app for chatting without opening WhatsApp.
All your WhatsApp will be visible in different bubbles and you can start chatting in any particular bubble without actually opening WhatsApp. This way you actually never technically are online and thus, remain invisible to the rest of your contacts.
3) What is the View Once Text feature in WhatsApp ?
Ans) The View Once Text, as the same clearly suggests, is a feature that will delete messages sent once the recipient opens and reads them once. The app already has a view once photo feature that deletes photos shared once seen. The View once text could be extremely useful when you are sharing information that you do not want the recipient of your message to save on their device.