German personal audio brand Truke is consistent with product launches in India, and is finally getting noticed by consumers, thanks to their high-end features in the budget segment. Continuing its trend of unveiling two devices at a time, Truke recently launched Air Buds and Air Buds+ in the country. The two new TWS earbuds promise premium user experience, with an array of top-notch features, 20 pre-defined EQ modes along with customizable EQ via smart application. They come with price tags of Rs 1,599 and Rs 1,699 respectively and offer a long-lasting battery life, a highlighting feature the brand is known for. We used these earphones for a couple of days, and here's what we experienced so far.
Build and Design
Following the distinctive TWS design language, both the Air Buds and Air Buds+ offer a pebble-shaped charging case that easily slips into your pocket. Made of a high-quality plastic that is non-slippery, non-reflective and fingerprint-resistant, the case is painted black from outside and red inside.
The Air Buds+ offers a little bigger case than Air Buds, and this could be because of the presence of the digital display on the front of the former. The LED display – which lets you know the battery levels or charging status of the case and buds – happens to be the main distinguishing feature between the two models. On the other hand, the basic Air Buds offers a tiny LED notification light on the bottom of the case, which shows its battery level. Both the cases house a USB Type-C port on the bottom for charging the buds. The lid on the cases opens and closes gently, offering you a satiating experience.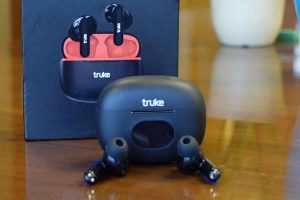 Now, moving to the earbuds of these TWS models, they are indistinguishable and have a plastic build and an in-ear design with a shiny finish. Weighing anywhere between 4-5gms, the buds are lightweight with the 10mm drivers on each side. The secure fit and feather light earphones are ergonomically built for all-day comfort and are tilted at 45 degree to provide the best possible fit in your ear canal. Besides the pre-installed medium-sized silicone ear tips, the company also offers a pair of small as well as large sized ear tips in the box, which a person can choose as per his/her ear canal size.
Akin to the earlier TWS offerings from the house of Truke, you get multifunctional touch sensors on the stem of both the earbuds, which also offers the company's branding along its length. Furthermore, these earbuds come with IPX4 water resistant rating that makes them your ultimate companion for adventures.
Also Read: Tecno Pova 5G Review: The fastest 5G budget smartphone
Functionalities
Both the devices easily get paired with your phone via Bluetooth 5.1 technology. You need to open the earbuds case that automatically puts them in pairing mode, and then open the Bluetooth settings on your smartphone and connect to the Air Buds or Air Buds+. The connection range is nearly 10 meters, which is common in most wireless devices, and its quality, of course, is not bad.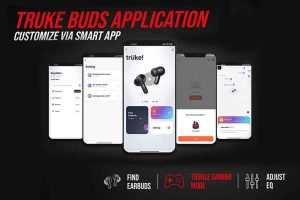 Interestingly, these are the first Truke earbuds that come with support for an app called Tuya Smart, which appears to be a third party service that can connect to smart devices. It enables a couple of features as soon as connected via the app. You can select between 20 EQ modes, toggle gaming mode/music mode, and also turn on in-ear detection that works smoothly.
The touch panels present on these devices work precisely, letting you control play/pause, go to next or previous song, control volume, open Google Assistant and attend or disconnect calls.
Performance
In terms of performance, the call/sound quality is decent and the mic on both the earbuds pick up audio appropriately. Both the Air Buds and Air Buds+ come equipped with Quad MEMS mic along with deep neural network call noise cancellation technology, which precisely picks up sound waves using Artificial Intelligence. With the help of an adaptive algorithm, the voice of the caller is separated from other voices in real time, bringing a high quality calling experience. Both sides of the call can be heard clearly even in a clamorous environment.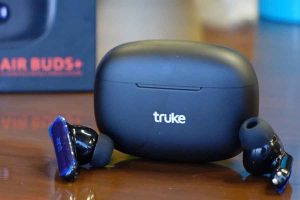 You can operate these earbuds in two modes- gaming mode and music mode, and it can be switched from one mode to the other with a triple tap on the right earbud. In both modes, the earbuds communicate via the SBC codec, though in gaming mode, the latency is significantly lower (i.e. up to 55ms). These earbuds adopt high-precision contact sensor achieving real-time detection on wearing status. With in-ear detection, music plays/pauses automatically as you wear in/out the earbud ensuring that you never miss out on anything. You can turn on/off in-ear detection by tapping 3 times on left earbud and also from the app. The sound stage is well-adjusted for the most part with emphasis on the bass.
No call cut-offs, connection drops or sound breaking were experienced during our tests. Considering their prices, these TWS devices offer more than enough features and deliver par excellence performance.
Battery
Both the TWS models have a battery capacity of 40mAh in earbuds and 300mAh in the charging case, promising a playback time of up to 8-10 hours with a single charge and 48 hours of total playtime with the case. It takes around 2 hours to charge these devices fully via USB Type-C port, whereas the earbuds take nearly one hour to charge. Like their predecessors, both the Air Buds and Air Buds+ stand tall in this department.
Conclusion
Considering their prices, the Truke Air Buds and Air Buds+ are outstanding in almost every department. Among the top-notch smart features that they offer, sound quality is superb, both in terms of gaming and music modes. The app support with EQ pre-sets and find my buds make them even more special. Overall, they are more than the value for money products. If you have budget constraints, don't think twice before grabbing any of these two models.
Also Read: Truke Air Buds Lite and BTG 3 Review: Simply outstanding and punches above their weight