Sennheiser's consumer audio branch may be under new leadership, but that hasn't stopped it from introducing new products. The Sennheiser CX and CX Plus were just released in India, and they compete with Samsung, OnePlus, and Jabra's existing offerings in the mid-range TWS category. So, today I'll be talking about the updated version of the original CX Wireless Earbuds: CX Plus True Wireless Earbuds, from last month. These come with the added bonus of the ANC (Active Noise Cancellation).
The Sennheiser CX Plus true wireless headphones are officially priced at Rs. 14,990 in India (the price online is roughly Rs. 12,990). Under Rs. 15,000, you get active noise reduction, app compatibility, and Qualcomm aptX Adaptive Bluetooth codec, making this an appealing prospect. The brand also says that with CX Plus you get a high-quality listening experience with Active Noise Cancellation, superior sound quality, and a comfortable sleek design. So is that decidedly modest description actually accurate, or is it a steaming pile of pants? I've had the earbuds stuffed to my head, using them as my full-time buds for the last few weeks. Here's my in-depth review of the earbuds!
Sennheiser CX Plus True Wireless: Design and fit
Coming to the design and build of the earbuds, Sennheiser CX Plus True Wireless comes in two basic colour options- Black and White. Well, in my opinion, it's actually a smart move by the brand to not offer these in an extensive range of lush colours, as it simply confuses people, especially me.
Now, talking about the size of these earbuds, these might look like huge buggers. Almost like somebody has taken lids from a pair of marker pens and rammed them into your head. However, despite being such big in size these are surprisingly comfortable. Actually, these can be worn for long hours after time. This has also helped along by the fact that of course, you get different sized rubber tips bundled in the box. So, using the right sized rubber tips if I can get these to fit into my ears without any trouble, they simply just stay in there. Also, one interesting fact about these earbuds is that they never feel they are going to shift about the place.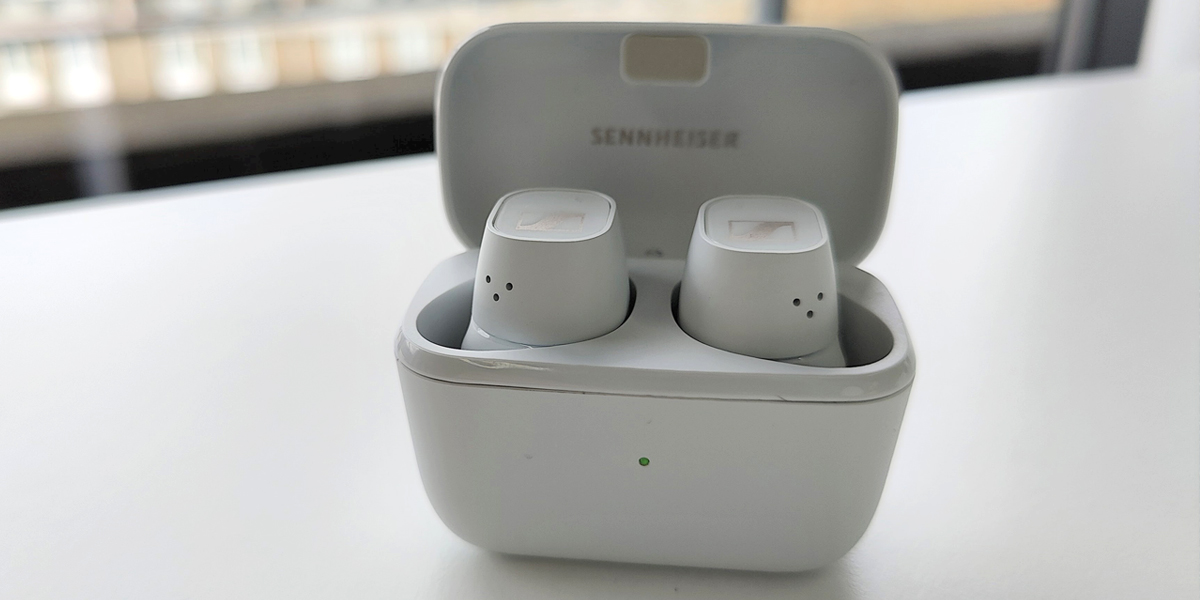 These come in handy despite the size, these are quite light-weighted, surprisingly. Why I prefer to use wireless earbuds, is that I like to listen to my music tangle-free, while I'm running. And this is why I enjoyed them precisely. I will say that these have never slipped out of my ears, even at my high jogging pace or when I'm doing star jumps at the park. It never felt like they will just come out flying and bray at some unfortunate passerby. The tailored oval-squarish shape helps them to stay in the place even during your intense workout or running sessions. For a more customised fit, they come with four alternative silicone ear tips in varying sizes.
Sennheiser CX Plus True Wireless also comes with an IPX4 splash resistant. This means the pair can survive water sprays, making it ideal for running and strenuous exercises. The charging case, like the AirPods Pro case, is very small, yet it will easily slip into most pockets.
Touch Controls
With Sennheiser CX Plus True Wireless you get comprehensive touch controls. So, each bud here registers a single tap, a double-tap, a triple tap as well as a long press. The functionality of these wireless earbuds worked perfectly during my period of review, as well as was very intuitive. The taps are so quick and easy to remember so I picked them up literally in a minute or so, even without any manual. Also, one great feature that you get on these earbuds is that it also provides progressive tunnel feedback on every tap so you know that your taps are registering. This is a quick review of each tap I did on the earbuds:
| | | |
| --- | --- | --- |
| Action | Left earphone (L) | Right earphone (R) |
| Single tap | Toggle Transparent hearing | Play / Pause |
| Double Tap | Previous track | Next track |
| Triple Tap | Toggle Noise cancellation | Trigger Voice assistant |
| Hold | Volume down | Volume up |
These are the generic controls to use the earbuds for your music playing. Now if you wish to use it for calls, here's a quick view of how they work:
Action
Left earphone (L)
Right earphone (R)
Single tap
Answer/end calls
Double Tap
Reject call
Setup and connectivity
Sennheiser CX Plus True Wireless also comes with a Sennheiser smart control app. Now the good news is that the app is very much useful and onboards a lot of customization options. You can easily figure out how each of the buds performs and what are their specific functions. It is certainly the most flexible on the touch controls than a lot of the other true wireless earbuds. How? With the fresh and unique customization options that it offers.
The Sennheiser smart control app is very easy and helps a lot in customizing the earbuds as per the users' convenience. Now, if you're someone who can't remember this much tapping information, you can simply disable some or all of the touch controls if you don't like using them. During my review, I did find that I accidentally triggered them when I was just trying to fumble one of the buds out of my head. So, it's okay if you feel like these touch controls are just not for you, you have options!
The Sennheiser CX Plus earbuds provide Bluetooth 5.2 connectivity and support for four audio codecs: aptX, aptX adaptive, AAC, and SBC. Although this is normal for earbuds in this price range, there is no support for LDAC. The connecting procedure is straightforward: remove the earphones from the case, hold both touchpads for three seconds, and it should appear in the menu of your Bluetooth device. There is no way to factory reset the earphones because there is no physical button on the casing. To execute a factory reset, you'll need to utilise the associated smartphone app.
The Bluetooth range is rated at 10 metres, and I had no issues with the connection throughout my testing. The Sennheiser worked well with the Samsung Galaxy S22 Ultra, OnePlus 10 Pro, and Dell XPS 13 laptops. The only bummer is that you can't connect the earbuds with many devices at once. I'm hoping Sennheiser will include this capability in future devices, as Jabra appears to be one of the only manufacturers to do so.
Soundcheck
Sennheiser's unique 7mm True Response transducers, which are dynamic and closed back, are used in the CX Plus. Unlike other earphones, the CX Plus is well balanced across the frequency spectrum. They also get very loud in my view, and the earbuds sound substantially better at higher levels. For in-ear wireless earbuds, the sound stage is adequate, with acceptable separation of instruments and vocals. Here's a detailed breakdown of the sound that these little monsters emit:
Audio quality
Now coming to the most awaited part, the audio quality here, on the CX Plus Wireless Earbuds is just like the original CX2 wireless earbuds. So, you get the most respectable and perfect support of all the basic yet substantial codecs with a mix of aptx action. In other simple words, with CX Plus True Wireless you have the best sound and synced sound quality while streaming Netflix and other OTT platforms. However, I did find that with some riotous rock tunes things get a little muddy or complex in the earbuds.  But certainly, with more complex tracks like Lata Mangeshkar's songs, one of the classics, you won't miss out on any fine details going in the background that you would certainly miss out on other/less capable wireless earbuds. You will be able to listen to all the high and low notes with these earbuds.
Speaking of the vocal's quality, it's truly amazing. They come out very crisp and clear. If you're like me, who likes to consume content in different languages and in the original one, this is one of the best options you have. I have seen many of my favourite K-drama, Japanese Anime, and even some Thai shows using these earbuds, and trust me the language sounded very clear. Also, if you find any problem with it, you also get to balance it out with the Equalizer tool with the Sennheiser Smart Control App. So, you can use the controller to tweak the output as per your listening preferences. With the Equalizer, you also get a bass boost tool, which I don't think is much convincing, as there's plenty of bass pumping out from these earbuds even without that active.
ANC (Active Noise Cancellation)
Coming to the main reason why you should pick up the CX Plus instead of the original CX Wireless is the presence of ANC. Now, this is feature was a massive miss on the originals, and certainly, one that most of the earbuds around this price range offer as standard.
The ANC on CX Plus works perfectly fine. So, when you're walking down the street, they will surely cut down that heavy traffic noise and any other rumbles and grumbles going on. This is certainly another great thing about the earbuds they offer pretty good and natural isolation from such noises.  Now you know why these are designed to fill your entire ear canal! Also, I didn't get any serious issues with the wind feedback or anything. Just like any other earbuds, there was some distortion when things get a little blustery. But, overall, I think I could walk through a kinder garden, listening to my favourite podcasts or audiobook perfectly, even with the volume turned fairly low. So, yeah, this is a fair test.
Transparency mode
Sennheiser has also added a Transparency Mode to the CX Plus True Wireless Earbuds. For those who don't know, it's the total opposite of ANC. Those external mics basically pick up on everything going around and feed it directly into your head. It also amplifies everything that's going on the outside. So, if someone's talking to you, you can quickly activate the mode as an alternative to pulling out your earbud. I find it very convenient as pulling out an earbud each time someone's talking to me is really messy. So, it's a great alternative. The transparency mode does pause the music or audiobook you're listening to, but you can change it with the Sennheiser Smart App.
Battery life
Each earbud contains a 55mAh battery, while the charging case contains a 400mAh cell. The earbuds have an 8-hour standby battery life and a total battery life of 24 hours with the charging case, according to Sennheiser. Now, do these really fulfil the claims? Absolutely yes!
Battery life is actually one of the strongest features of the CX Plus True Wireless Earbuds. I finally got between 6-7 hours of use from a single charge, with ANC active. Also, if you knock off the ANC you will surely get a couple of more hours. So, overall the battery performance is very impressive, being said that these come with ANC.
Coming to the case it comes in also works pretty fine. So, when you're done with the earbuds and need a refill, you can simply pop them back into the case. These earbuds also charge really quick. However, you only get about 1.5 charges out of the box, despite the fact it's a chunky morphe. There is also no support for wireless charging.
Sennheiser CX Plus True Wireless: Verdict
Sennheiser is expanding its truly wireless earbuds portfolio in India, which is fantastic. They haven't been competitive in this area in a long time, and things should only get better from here.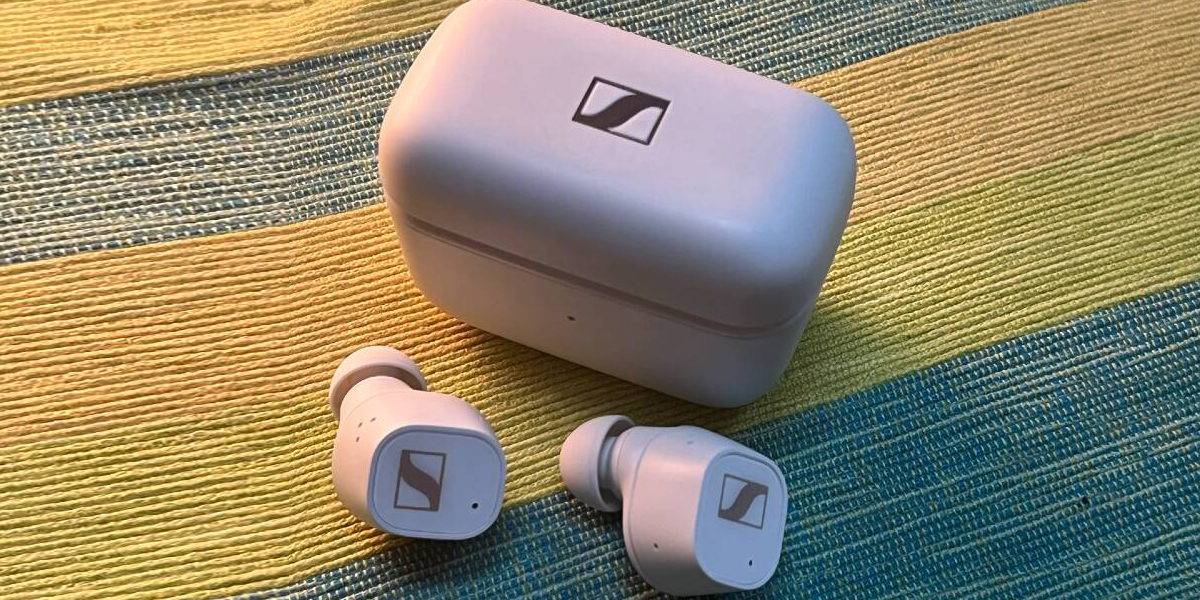 It offers some amazing features. Like it's good to see ANC plugged into these original buds now, one truly missing feature. It also sets these stunners apart from their basic predecessors.
I really liked using these earbuds during the entire review time. However, I will say that the design, you know, is going to sway some people away from them, no doubt. Such a boxy and bulky appearance isn't everyone's choice anyway. But with the respectable audio quality, a great bit of ANC action, and a fantastic battery life, I won't mind spending a couple more bucks for the Sennheiser CX Plus True Wireless Earbuds.
Also Read: PlayGo N35 Review: Flexible Bluetooth earphone with impressive battery