With so many powerful brand of smartphones out in the market, it becomes difficult to choose any one of the lot as they're all unique in their own way. Some people prefer a certain brand over others and yet some first try out a few smartphones and pick their brand of choice.
OnePlus smartphones too have rode high on popularity as its devices are quite popular amongst one and all while for some people it is a personality brand rather than just another brand that manufactures smartphones and other devices.
While not spoken in the same vein as Apple or Samsung, OnePlus has its own cult following that has helped it carve out a distinct niche for itself especially with Android aficionados and power users for which credit goes to its slick software.
The company also boasts of a 'never settle' motto that helped it should into the tech stratosphere where increase in demand meant increase in supply, which in turn led to increase in prices but the brand stood ground and different enough to keep its fans hooked.
Times have changed now as OnePlus is totally preoccupied with its sister company Oppo that has led to their efforts be merged and the brands are nearly indistinguishable from one another.
OnePlus 10T 5G has been viewed as an intriguing device as 'T' is used to denote mid-year refreshes but there was no OnePlus 10 to look into but this model is relatively newer than OnePlus 10 Pro with quite a few modern features that is being launched as an heir apparent to its previous model.
Also Read: OnePlus Nord Buds CE Review
Brief Up
The starting price of OnePlus 10T 5G is Rs.49,999 for the base variant with a storage capacity of 8GB RAM and 128GB storage configuration but if you want more of that you can get an option with 12GB RAM and 256GB storage configuration for Rs.54,999 and going further, you have 16GB RAM and 256GB storage at Rs.55,999.
Users are always excited to know more and more about any device that they intend to purchase which is why they are on a constant lookout for online reviews that will help them in this regard.
The million dollar question is this- Is OnePlus 10T 5G worth your money? Or is it like any other random smartphone with the usual features? Does it live up to the expectations of its users?
Although the usual OnePlus handsets come in a tall box, this design is quite standard and contains a strong and protective case, few stickers, a Red Cable club membership card, a letter from OnePlus, a large 160W charger, and finally, a red USB Typc-C cable.
It is almost identical to OnePlus 10 Pro 5G if you look at the camera arrangement with the only difference being the rear panel of this model, which bulges a little while 10 Pro 5G has a separate band.
Another noticeable feature of this model is that the rear panel is quite reflective with the volume buttons on the left, power button on the right but there isn't an alert slider but you can find small speaker and mic holes at the top while there are the dual-SIM tray, primary speaker, and the USB Type-C port at the bottom.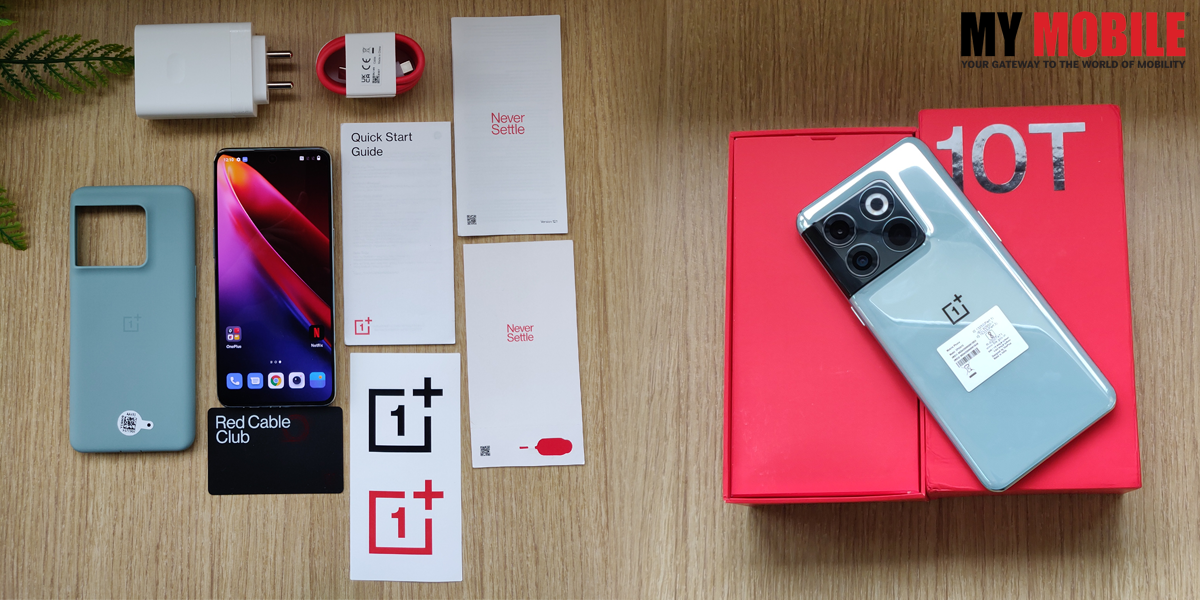 The rear is made of glass but you don't get the premium and regal feel upon holding it, which might be due to its heavy and bulky frame, which is 8.75mm thick and 203.5g. There are two colour options for this phone- Moonstone black and glossy Jade Green, which is this particular model.
10T 5G variants always support 150W charging while OnePlus has a list of measures for safety as there are many users that are concerned about it but as of now, you can brick to charge other devices as it is compatible with USB-PD up to 45W.
Once you begin the setup process, you will find privacy and personalization options but you have to first choose a system font then setup security and then practice navigation gestures.
There are apps like OnePlus Community, Netflix, and a game manager that are preloaded while the unit has OxygenOS 12.1 based on Android 12 but if you dig further into the settings you will find a some options for personalization.
OnePlus is quite confident that users can do without certain features, even at the available price, an official IP rating, wireless charging, eSIM support, and the Hasselblad camera branding.
The company still holds 10 Pro 5G as its flagship option for users that want the best camera features while 10T 5G is just what the doctor's ordered for gaming aficionados and those that are looking for fast charging.
Features & Specifications of OnePlus 10T 5G
The features include a top-tier Qualcomm Snapdragon 8+ Gen 1 SoC that contains an elaborate cooling system along with 16GB of LPSSR5 RAM, which is quite astonishing and up to 256GB of UFS 3.1 storage.
OnePlus has claimed that users can find 30 apps running in the background, which allows users to pick up where they left off. Then there is the 6.7 inch AMOLED panel that comes with a full HD+ resolution, a 120Hz refresh rate, and a fingerprint sensor which is integrated.
The chin is thin while there are slim borders all around and the device itself is made of Gorilla Glass 5 that supports HDR 10+ with batter power 4899mAh, Bluetooth 5.3, Wi-Fi 6, GPS and NFC.
The rear camera has a 50megapixel Sony IMX766 sensor with optical stabilization that has an f/1.8 aperture along with an 8 megapixel ultra-wide camera and 2 megapixel macro camera while the front one has a 16 megapixel resolution.
Although these specifications are nothing much to write home about, the company guarantees rick detail even during low light all thanks to 10 bit colour capture support and processed algorithms that have considerably improved while video recording is up to 4K 60fps.
The most recently launched smartphone by the company is nearly indistinguishable from the Realme GT Neo 3 and does not fit the OnePlus mould by any stretch but there are many questions exploding with the launch of OnePlus 10T 5G on the same trajectory.
This will be interesting to look into on whether this device will be received in the same manner as its predecessors or will not go down well due to some issues as mentioned above.
Also Read: OnePlus 10 Pro Gets Android 13-Based OxygenOS 13 Open Beta 1 Update: The new upgrade you should know about!