Highlights
Antenna Features
Communication Satellites
MIT Lincoln Laboratory
MBTT Description
We have seen so many technological advancements since time immemorial. Any new invention or discovery that was considered a benchmark/breakthrough during its time is now considered an ordinary thing.
This has been happening for a long time where we witnessed the social media revolution at the beginning of the 21st century and today, in 2022, the likes of Twitter, Facebook, YouTube, Instagram, etc. have become normal, everyday platforms but at that time, were considered revolutionary.
Now we are on the threshold of Artificial Intelligence (AI) that will set a whole new benchmark as and when it comes out. The Massachusetts Institute of Technology (MIT) is in the process of testing advanced satellites for communication for which it is working hard.
MIT is making use of a reconfigurable antenna that has the capacity to transmit and receive signals over multiple radio frequency bands that are relevant for commercial and military applications as these bands come in great use in such operations.
The MIT Lincoln Laboratory is the place of operations where a dome shaped radio antenna enclosure standing 38 feet high sits on the rooftop of the laboratory building, while inside the environment is climate-controlled, which protects it from the weather of New England.
There is this steel structure that supports a 20,000 pound satellite communications antenna (SATCOM), which is nearly 20 foot in diameter. The antenna is called the Multi-Band Test Terminal (MBTT) and has the capacity to rotate 15 degrees per second, thereby completing a whole revolution in just 24 seconds.
The virtuosity of this achievement can be gauged from the fact that with this speed, MBTT can locate, detect, and track satellites in low and medium earth orbit, which is referred to the altitude at which the satellites orbit the Earth.
Earlier the lab had no choice but to rely on smaller sized antennas for testing SATCOM but once MBTT was installed in 2017, things became easy to manage as MBTT is designed in such a way that it can be easily configured to support multiple radio frequency (RF) bands.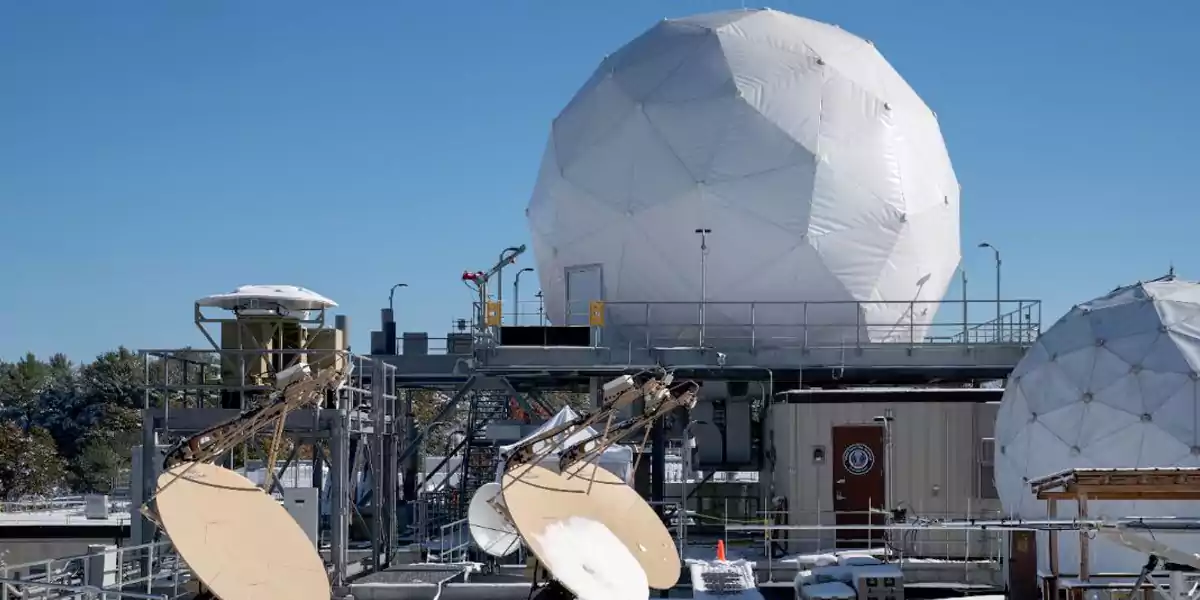 Brian Wolf, who is part of the technical staff at the lab, has clarified that MBTT will prove to be a gamechanger of sorts in the near future for enabling development of advanced SATCOM technology, while the project takes place in the Advanced Satcom Systems and Operations Group, of which Mr. Wolf is an indelible part and has played a vital role in enhancing the project to a whole new level.
Wolf has further explained that there will be a waveform called PTW that will be used for transmitting signals between two modems that are communicating amongst one another and will provide safe, secure, and jamming resistant communications because jamming is when communication signals are interfered with.
It has been five years since MBTT was installed and throughout its duration, it has supported a range of experiments and tests where PTW has played a significant role like during the Protective Tactical Service Field Demonstration when MBTT conducted satellite tests at regular intervals.
Adding on, MBTT made use of the Inmarsat-5 Satellite for testing a prototype enterprise management and control system so as to enable resilient, focused, and uninterrupted SATCOM where the PTW modem prototype, onboard a 737 aircraft, communicated via Inmarsat-5 Satellite on its way back to MBTT.
Conclusion
MBTT has also supported non-PTW testing and is strongly connected via fiber-optic links for research facilities in the laboratory where it is set to perform more and more tests in the coming days while Brian Wolf and his staff have successfully tested the new signal processing technology to tackle jammer interference so that signals can be detected easily.
Also Read: Satellite Communications Key to Driving India's Technology Ambitions, Internet Reach, MoS IT Says