HIGHLIGHTS
* LG has launched its 2023 soundbar lineup in India
* The lineup comprises the LG S95QR flagship soundbar, which comes with 9.1.5 channels and 810W of max audio output
* All the LG soundbars feature high Dolby Vision, IMAX Enhanced, Dolby Atmos and DTS:X 
* The LG S95QR gets a newly designed speaker driver, chamber, and a subwoofer for improved bass
LG Electronics has launched a new series of Soundbars for the Indian market.
The 2023 Soundbar Series is designed to enhance the home entertainment experience as it boasts of an immersive sound, user-friendly features, and sleek, eco-friendly designs that aim to impress. The 2023 Soundbar Series has 5 models.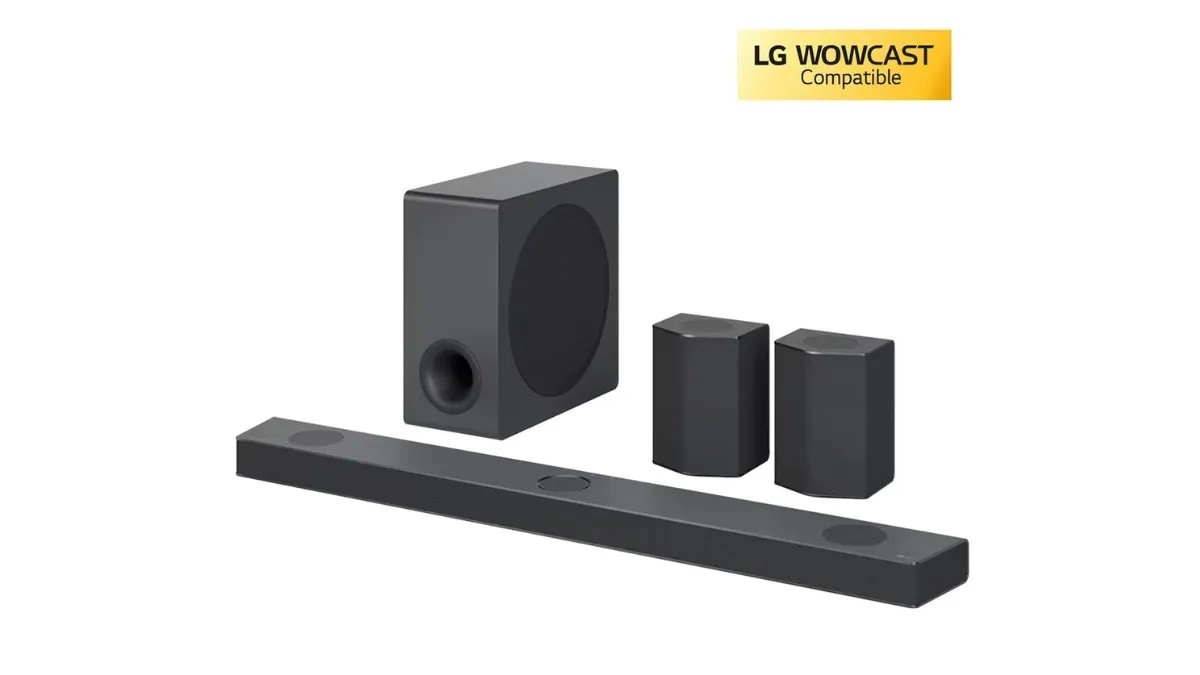 The new 2023 LG soundbar lineup has officially been launched in India. The lineup comprises as many as five models, namely LG S40Q, SH7Q, S75Q, SX9S, and S95GR.
The LG S95QR is the main highlight of the lineup. It features high-sensitivity receivers that allow more distance between components without loss of audio quality.
Besides that, the premium models also get a new Music Mode tuned by Meridian that allows multiple channels to be synthesised into a 9.1.5-channel with high levels of audio quality.
The 2023 LG soundbars are also equipped with IMAX Enhanced, Dolby Atmos and DTS:X.
2023 LG Soundbar Lineup Price and Availability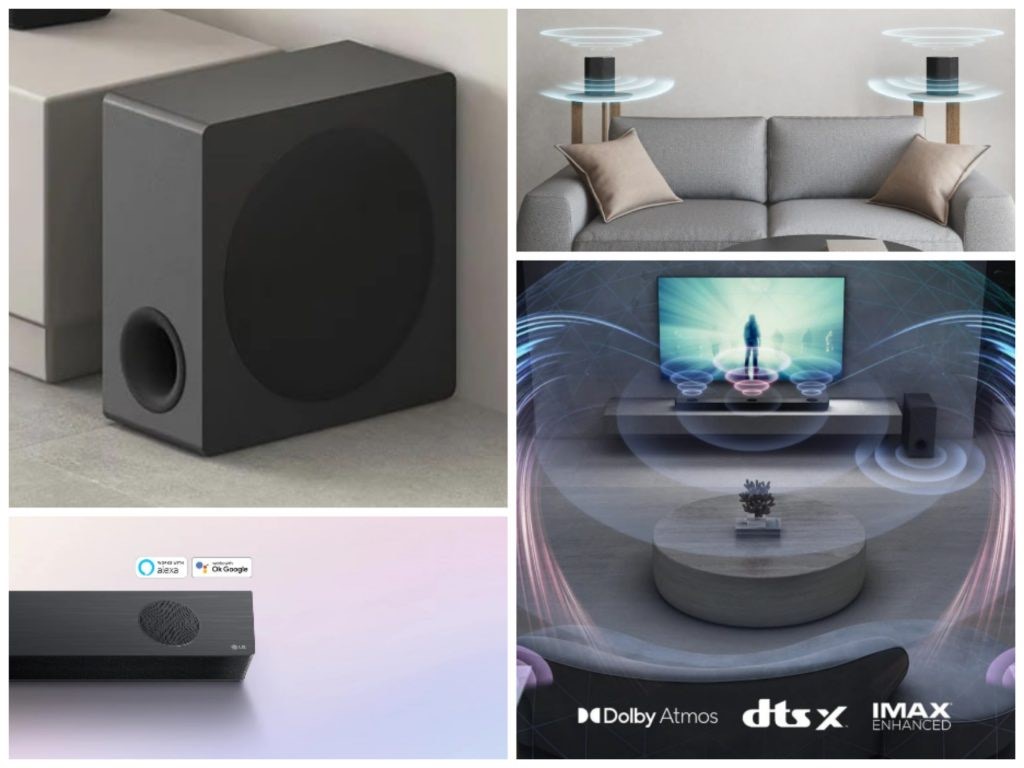 The 2023 LG soundbar lineup consists of the LG S95QR, SC9S, S75Q, S40Q, and SH7Q. The prices are mentioned below:
* LG S40Q – Rs 22,990
* LG SH7Q – Rs 47,990
* LG S75Q – Rs 50,000
* LG SC9S – Rs 59,990.
* LG S95QR – Rs 1,39,990
The LG S95QR, S75Q and S40Q are available on LG's official website. The LG SC9S and SH7Q will be available starting April 2023.
LG Soundbars: Features

The series has a flagship S95QR soundbar that is an all-in-one solution perfect for home cinema enthusiasts.
It gives an output of 810W, 91.5 channels, and has center up-firing speakers. It has 5 up-firing channels, 3 on the soundbar itself and 2 in the wireless rear speakers that create an expansive dynamic soundscape enveloping the audience.
The LG SC9S has 3.1.3 channels and 400W offers a 300W sound output while the LG S75Q 3.1.2 channel speaker has an output of 380W. The 2.1 channel S40Q model gives 300W output and there is also an SH7Q model with 5.1 channels and 800W output.
The LG S95QR, the SC9S, and the S75Q soundbars come with many key features like support for Meridian, Dolby Atmos, DTS:X, and IMAX along with Triple Level Spatial Sound for a 3D Surround sound experience.
The soundbars also have features like 4K/120Hz pass-through with Dolby Vision and HDMI compatibility. The S95QR and SC9S models support VRR and ALLM both aiming to enhance the gaming experience.
The 2023 soundbars have a sensitive receiver that creates a distance between the soundbar, subwoofer, and rear speakers without affecting the sound. They also support Clear Voice Pro, AI Room Calibration Pro, WOW orchestra, and eco-friendly design.
Faqs on LG Sound Bars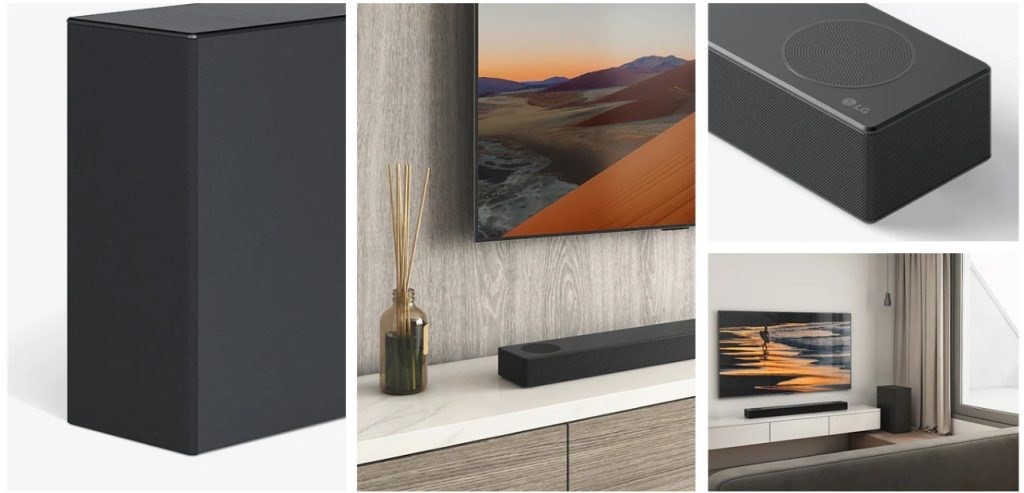 1) What are 2023 LG soundbar lineup specifications?
The LG S95QR is the flagship soundbar from the company and features 9.1.5 channels and 810W of max audio output. 3D surround sound experience, Dolby Audio, DTS X, IMAX Enhanced, and Meridian Audio Technology are all supported on the LG S95QR soundbar. The LG SC9S is another flagship model that supports 3.1.3 channels and a 300W max sound output. Both the LG S95QR and LG SC9S flagship soundbars offer support for variable refresh rate (VRR) and auto low latency mode (ALLM).
The LG S75Q speaker gets 3.1.2 channels and a 380W max sound output. It supports Dolby Atmos and DTS:X. The SH7Q model gets 5.1 channels and 800W max output and the S40Q model gets 2.1 channels and 300W max output. These sound systems are equipped with AI Sound Pro which learns the user's sound range and adapts accordingly.
The soundbars support 4K/120Hz pass-through with Dolby Vision and HDMI (eARC) for high visual quality. The devices also come with AI Voice Assistant, Bluetooth connectivity, etc.
2) What are LG Soundbar Series: Price & Availability?
The series has the following Soundbar models-
* LG S40Q– Rs. 22,990
* LG SH7Q– Rs. 47,990
* LG S75Q– Rs. 50,990
* LG SC9S- Rs. 59,990
* LG S95QR-Rs. 1,09,990
The SC9S and SH7Q will be available in April 2023 while all the other models are currently available through LG's website.
Also Read: LG Optical Zoom Sensor to Solve Camera Bump Issue
Also Read: LG UltraGear Gaming Monitor Specifics Revealed Ahead of IFA 2022
Also Read: LG UltraGear 45-Inch Curved OLED Gaming Monitor With 240Hz Refresh Rate Revealed Ahead of IFA 2022