Meta keeps on working on Instagram to make it more interactive and Tik-Tok like. Now, it is bringing a new feature to make make the app resemble TikTok even more. Do you remember opening Tik-Tok and watching the videos on full-screen? This is how Instagram is planning to change its visuals. Reportedly, Instagram is testing full-screen vertical home feeds.
This upcoming feature will help users view vertical content as soon as they open the app. Here are more details about this upcoming feature. Check it out!
Instagram full home screen: Bring video more front and center
Meta continues to add TikTok-like functionality to Instagram and Instagram Reels. According to the company's earnings conference last week, its TikTok-like Reels account for more than 20% of users' Instagram time. Now, the social media behemoth is experimenting with a new feature that allows you to view your home feed in full-screen mode. Its goal is to "move video to the forefront" of the platform. The upcoming functionality is confirmed by Instagram CEO Adam Mosseri. He also said that taller photographs and videos would begin to display in select feeds.
📣 Testing Feed Changes 📣

We're testing a new, immersive viewing experience in the main Home feed.

If you're in the test, check it out and let me know what you think. 👇🏼 pic.twitter.com/dmM5RzpicQ

— Adam Mosseri (@mosseri) May 3, 2022
Users can still use the bottom navigation bar to access the discovery tab, reels, and their personal page even while testing the full-screen home feed. Also, other options of the top bar like switching accounts, creating a post, alerts, and browsing messages are still there.  Despite the fact that the test picture we received doesn't indicate where Stories appear, an Instagram official verified that they stay at the top of your page — they just aren't visible in this mockup since the snapshot was captured after scrolling past the top of the feed.
Instagram testing full home screen: First look
Meta-owned Instagram even shared a picture boasting the looks of the upcoming full home screen feature. The full-screen post dominates the home feed, with comments, captions, likes, and other features put on top of the post rather than below it.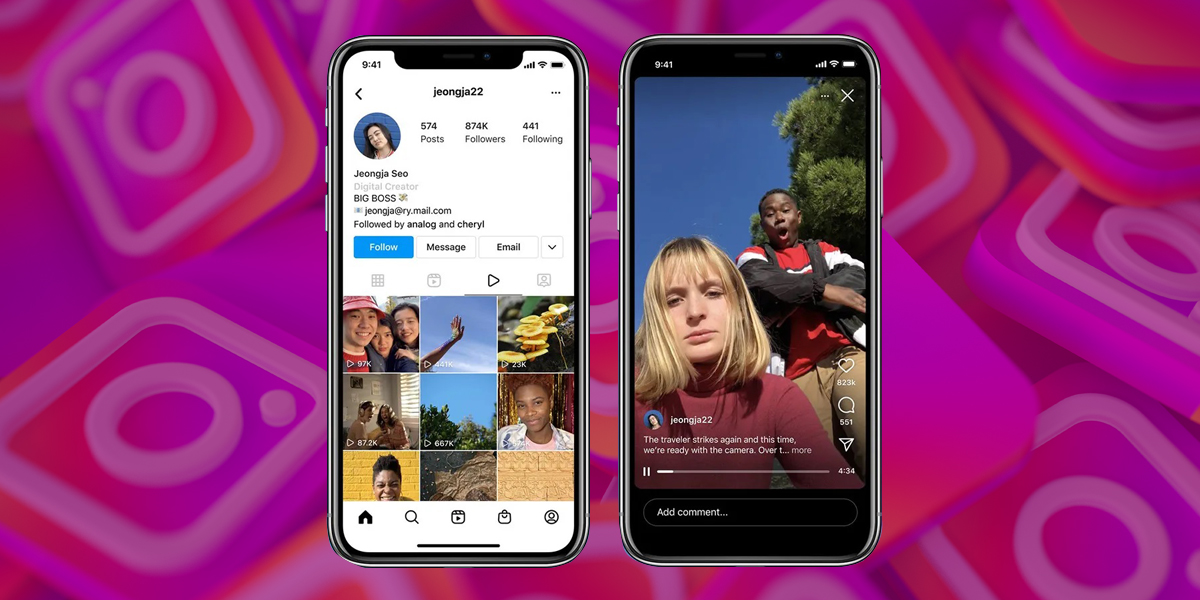 Though the Stories bar isn't visible at the top of the screen in the image, a Meta representative, Seine Kim, claims the view reveals the home feed once users start scrolling and that Stories will still be available at the top of their screen. The bottom of the screen still has buttons for search, reels, purchasing, and a user's individual profile. Notifications, messages, and new post features, as well as the option to move between accounts, remain at the top. Still, photos and video postings will be included in the full-screen stream, according to Kim.
Instagram's decision to experiment with feeds that centre on immersive video isn't exactly surprising. The short-form video has been extensively promoted by the firm to makers and consumers, with monetary bonuses offered to those who make the best Reels. I would also appreciate it if you stopped uploading TikTok videos on the platform. Mosseri said in late April that the platform's ranking algorithm will be changed to favour "original" material over reposted content. In order to steal original material from its competitors, the platform has been investing in creator tools: In late April, Instagram started testing Templates, which enable artists to utilise common Reels formats on their own films.
Also Read: Why Instagram's pinned posts could be beneficial for many