Chinese tech behemoth Huawei has finally launched a range of smartphones, smart watches, and tablets powered by its new HarmonyOS 2 operating system, including a new version of the Huawei Mate 40 Series and Huawei Mate X2, the Huawei Watch 3 Series, and the Huawei MatePad Pro.
At a launch event in Shenzhen, the company also released the Huawei FreeBuds 4, its next-generation open-fit Active Noise Cancellation (ANC) wireless Bluetooth earbuds, and two high-end monitors, the Huawei MateView and the Huawei MateView GT.
The company took this opportunity to announce that roughly 100 other Huawei devices – including both smartphones and tablets – will be upgraded to run on HarmonyOS 2, giving consumers access to a seamless intelligent experience across multiple devices in all different types of scenarios.
As a next-generation operating system for smart devices, HarmonyOS provides a common language for different kinds of devices to connect and collaborate, providing users with a more convenient, smooth, and secure experience. It uses distributed technology to meet the varied needs of all types of different devices with a single system, enabling flexible deployment as needed. HarmonyOS also combines previously independent devices into a cohesive and holistic Super Device that integrates all hardware and resources to freely leverage the capabilities of its component devices based on the user's real-time needs. For developers, HarmonyOS allows cross-platform development and cross-device deployment of apps, making the development of apps across devices easier than ever before.
Huawei Watch 3 Series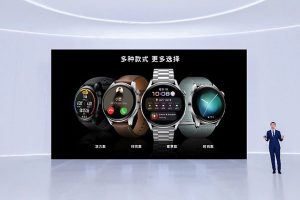 Featuring a curved glass screen and 316L stainless steel case, this stylish watch comes complete with a brand-new 3D rotating crown that senses different levels of pressure and provides haptic feedback in response to user input, making the watch both comfortable to wear and easy to operate. The Huawei Watch 3 Series also allows you to make and receive phone calls and listen to music using the same phone number and data plan as your smartphone.
The Huawei Watch 3 Series runs on HarmonyOS 2, which allows it to integrate seamlessly with Huawei smartphones to serve as a multifunctional travel assistant. Functionality flows directly from your smartphone to your wrist, making all ride-hailing and flight information available at a glance. On the ride home from the airport, if you're taking public transit, both your watch and your phone will remind you when you're getting close to your final destination.
The Watch 3 Series also serves as a professional fitness and health manager that supports more than 100 workout modes. In addition to a broad range of healthcare support options, the watch can now monitor skin temperature with a new, high-precision temperature sensor. It also supports fall detection and SOS functions so users can monitor and manage their health in real time.
The Huawei Watch 3 Pro features an ultra-long battery life, which lasts five days in smart mode and 21 days in ultra-long battery life mode. The Huawei Watch 3, in turn, has a battery life of three days in smart mode and 14 days in ultra-long battery life mode.
Huawei MatePad Pro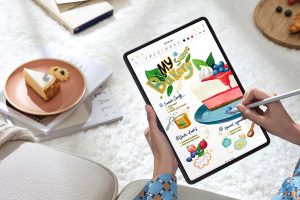 The new Huawei MatePad Pro features a stunning 12.6-inch OLED FullView Display with a 90% screen-to-body ratio, the highest among all tablets currently available in the market. Every display comes with a ?E colour difference of less than 0.5 for incredibly high colour accuracy, delivering a crisp, colour-accurate picture that is on par with professional monitors. The Huawei MatePad Pro also has an ultra-high contrast ratio of 1,000,000:1 and supports a DCI-P3 colour gamut.
Equipped with Kirin 9000 series chipsets, the Huawei MatePad Pro delivers incredible levels of performance. Supported by the distributed data management and task scheduling capabilities of HarmonyOS, the tablet can work together seamlessly with smartphones and PCs to double your productivity and creativity in different scenarios, whether you're in the office or at the drawing board.
The HUAWEI MatePad Pro also supports multi-screen collaboration with PCs. The tablet can become a drawing board in Mirror mode and a monitor in Extend mode. It also supports cross-device file dragging and dropping, delivering a more efficient and collaborative multi-device experience.
The second-generation Huawei M-Pencil was unveiled together with the Huawei MatePad Pro. The new smart pen features a new platinum-coated nib for high-precision handwriting and ultra-low latency, accurately differentiating between 4,096 levels of force. The Huawei M-Pencil supports FreeScript, which converts handwriting in any input box into digital text in real time. In addition, intelligent interactions such as double tap to switch, Instant Shape, and Instant Table make handwritten input more seamless and natural to fit your unique workflow.
An entirely new interactive experience
Multi-device interaction with HarmonyOS makes working across multiple devices as simple as controlling one. The new Control Panel supports simple and intuitive connections through a drag-and-integrate feature that allows users to freely connect the devices they want based on specific scenarios.
For example, if you want to watch a movie at home late at night, all you have to do is open up the Control Panel and drag the smart screen icon to your phone icon, and the movie jumps directly from your phone to the TV. If you're wearing your Huawei FreeBuds 4, you can then drag the earphone icon to the phone icon, at which point the movie will play on your smart screen while rerouting its sound through your FreeBuds. This is just one example of the Super Device experience.
HarmonyOS 2's new Task Center allows apps to travel between different devices at will without installing them on each and every one, so that all functions and services are available whenever and wherever they're needed. On any device that's part of a Super Device system, you can see the tasks running on all other devices. If you want a bigger display for mobile gaming, you can simply swipe up and hover to bring up the Overview Screen, and then transfer the game to your Huawei MatePad Pro to continue the fun.
The new HarmonyOS Home Screen is more streamlined and organized than ever. You can swipe up on apps to generate Service Widgets that display real-time, easy-to-access information or services without having to open the app itself. You can customize the size of the Service Widgets, tap apps and swipe up to display their widgets, and tap any vacant location on the home screen to hide them. Service Widgets can also be used to access Atomic Services, which can be easily called on and shared in the Service Center without the need to download or install anything, making it easier and more convenient to access functions like news aggregation.
In terms of look-and-feel, the beauty of innovative interaction lies in the aesthetic details: The specially designed HarmonyOS Sans font and natural Gravitational Animations offer a consistent user experience across all HarmonyOS devices.
Huawei HiLink has been upgraded to HarmonyOS Connect to equip more non-Huawei devices with smart features. Smart home devices can be connected to your mobile phone with a single tap: Tap your phone against a Midea oven that supports HarmonyOS Connect and select a recipe to start preparing your meal instantly. Keep your leftovers safe for longer with Haier refrigerators that automatically adjust their temperature based on the type of food you're storing. And get the perfect soymilk for your body with Joyoung soymilk machines that can recommend recipes based on the data in your Health app. When working together, these connections can turn your kitchen into a personal health coach.
HarmonyOS 2 runs even more smoothly than the last generation of EMUI. A HarmonyOS 2 phone can maintain read/write speeds similar to those of a new phone after 36 months of use, even with very little storage still available on the device.
HarmonyOS 2 keeps opened apps running in the background so that your tasks are always available where you left off. You can return to the last action or page on a given app even if you have dozens of other apps open. What's more, you can enjoy a longer battery life with a HarmonyOS 2-based device. After upgrading to HarmonyOS 2, the Huawei Mate 40 Pro can run Game for Peace for 5.1 hours straight.