The COVID-19 pandemic has taken a toll on every individual's mental health. The youngsters are worried about employment, students are worried about their exams, breadwinners of the family are worried about sustaining, surviving and providing the basic needs of their family, which have given rise to a plethora of mental health issues, including stress, anxiety, and depression.
We bring to you a solution that will help everybody stay mentally fit. A lot of people are turning to mobile apps for mental wellness purposes. With plenty of wellness apps available, it's always confusing to get the desired one, which constitutes a complete package.
We personally tried HeartApp by Heartfulness Institute and here is our review about the same.
About the App
HeartsApp lets you experience a sense of peace, calmness and inner connectedness through special guided relaxation, meditation and rejuvenation practices. HeartsApp allows users to connect with Heartfulness trainers seamlessly and conveniently from wherever they are located and experience Heartfulness meditation through the app. Heartfulness meditation is a unique practice, and its most fascinating aspect is Yogic Transmission or Pranahuti, (Life energy). HeartsApp is free of costand Heartfulness practice doesn't charge any fee for its offerings. The app is available to download on both iOS and Android devices. The size of the app is just 42MB, so it won't need too much space to fit into your smartphone.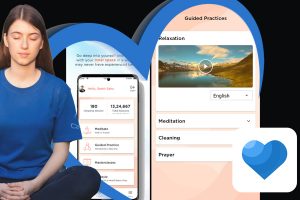 Design and Layout
As you open it, the app needs permission for DND, once you approve it, you'll directly go to the home page. The app offers you a range of options such as, you can meditate with a trainer, attend a masterclass, lifestyle suggestions by Heartfulness, and introductory sessions. Relaxation audio will be played before starting meditation, to help to prepare for a meditation session. Timer feature indicates how much time the meditation session has gone on.
Features and Performance
The "MEDITATE WITH A TRAINER" option on the app is operational only when you have successfully attended 3 masterclasses. This option allows users to connect with live trainers anywhere in the world at any time of the day. Users can take live sessions with the transmission which is the unique differentiation of Heartfulness.
The "Guided Practices" offer introductory sessions with options like – relaxation, meditation, cleaning and prayer. The "masterclass "offers a 3-day session with Daaji, Guide of Heartfulness Institute which includes relaxation, rejuvenation, and connection.
The "LIFESTYLE" option of the home page offers a variety of detoxes like fear detox, anger detox and stress detox.
Verdict
Altogether, we liked the app. After few days, I felt a sense of peace, calmness and lightness in my body, especially in my heart. In these times, where negativity, bad news and unsatisfactory life expectations are all around us and inside us, this app is a must-have. If you suffer from anxiety and weak mental strength, this app is made for you. It was extremely easy to use, and the best part is all facilities provided can be enjoyed by all, as it is free of cost.