So yes. There comes a time when you feel the urge to delete your social presence and enjoy life in some solitude with lots of positivity. And this urge is not temporary!
Whether it is the unhealthy environment created online or the people getting more social-centric, this is something we hear more than often now. So if you're trying to protect your mental peace or trying to focus on other important aspects of your life, here's a guide on how to do it easily.
How to delete your Instagram account
Instagram is a great photo-sharing platform that helps you to keep up with your friends and follow the celebrities you really admire. However, sometimes it becomes a burden to document your life every day. It is even more tiring to onslaught picture-perfect moments of others, hitting your anxiety levels.
Deleting your Instagram account might seem a complex step, but if you're determined enough to take your life back in your hands, it's easy to carry out. If your Instagram is also giving you a ball and chain vibes, here's how you can get rid of it!
Steps on how to delete your instagram account
Also, one more thing to keep in mind, if you're deleting your Instagram account permanently, there's no going back. You will lose all your photos, followers, videos, and likes permanently. Also, you won't get the same username if you ever wish to join the community again. Now, lets move towards the steps.
Step 1: Login into your Instagram Account at Instagram.com using a computer/mobile browser.
(Well, no, you can't delete your account from within the app).
Step2: Visit the Delete your Instagram Page.
Step3: Select a reason for deleting your account from the dropdown menu.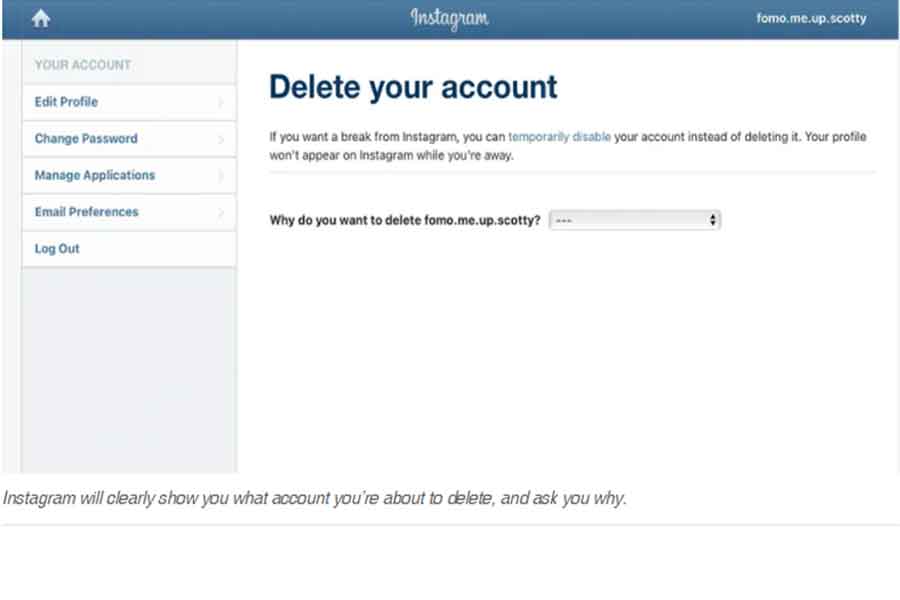 (Based on the reason you select, you will see various links from Instagram reassuring you to fix the issues or messaging you to check the account you're deleting).
Step4: Re-enter your password in the given box.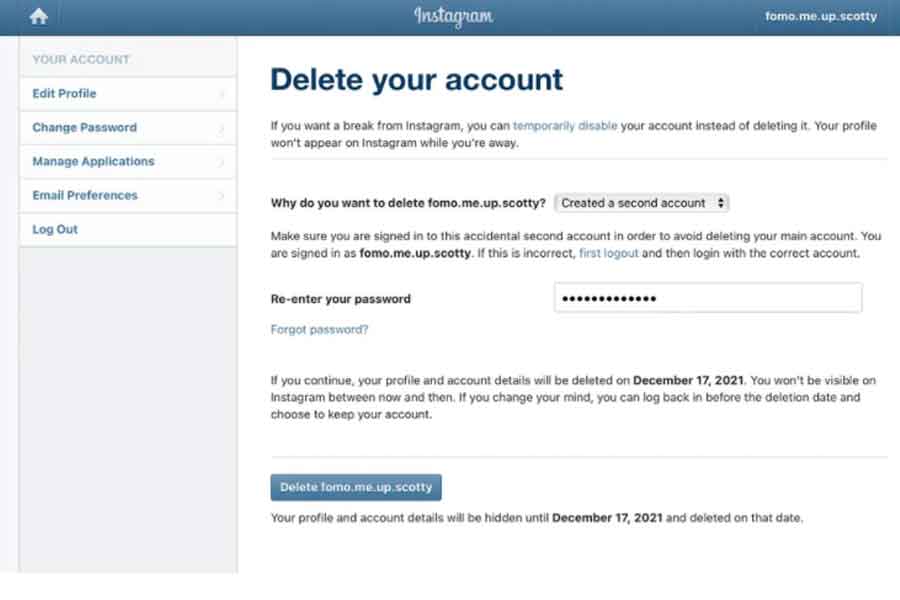 Step5: Press the 'Delete' button to confirm your decision.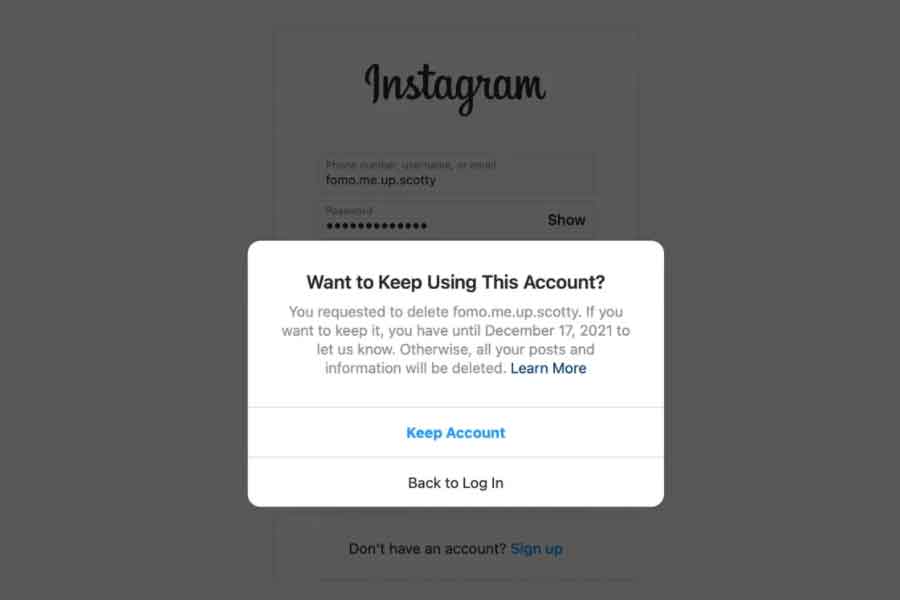 Some Important steps to follow before deleting your Instagram account
We already told you that once you delete your account permanently, Instagram removes all the information. However, you might be interested in saving your profile information, posts record, and comments as well. So Instagram gives you an option where you can download all your precious data and keep a track of it.
Here's a step-to-step guide on how you can download all your data on Instagram.
Step1: Open your Instagram and tap on the profile icon in the lower right corner.
Step2: Tap on the menu (hamburger icon) and then tap settings at the bottom.
Step3: Select the 'Security" option then scroll down to 'Download data' option.
Step4: Enter your email address and then tap on 'Request Download'.
You will get an email from Instagram within 48 hours with a file of your data to the email you provided. The file will have all your photos, comments, information related to your profile, and everything else you need to access in the coming future. It is also an essential step to follow in case you need the data or wish to see it again.
So once you have saved all your data, you can go and delete your account following the above mentioned steps.It is definitely an essential step to follow if you wish to save your data, otherwise it will gone and won't come back no matter how hard you try!
How long Instagram takes to delete your account
Once you permanently delete your account, Instagram takes around 30 days following the request. Meanwhile, your Instagram Account will become invisible, and nobody would be able to see or search you.
Also, if you're wondering how much time does Instagram take to delete accounts that are inactive or reported (spams/bots), the answer is still a mystery. It takes a while to delete inactive accounts on Instagram or the bot regulated ones through their system. The time limit is not set, but it does it periodically.