HIGHLIGHTS
* Garmin has launched its MARQ (Gen 2) lineup of luxury smartwatches in India.
* The Garmin MARQ (Gen 2) luxury smartwatches consist of five distinct models that aim to cater to five individual user personas.
* Garmin MARQ (Gen 2) luxury smartwatches use high materials like Grade-5 titanium and domed sapphire lens.
* The collection offers 16 days battery in smartwatch mode and up to 42 hours in GPS mode.
* MARQ (Gen 2) smartwatches have a magnetic charger. 
Garmin India today announced a slew of new luxury smartwatches with the launch of the Garmin MARQ Gen2 Collection.
The collection includes five modern tool watches – the MARQ Athlete, MARQ Adventurer, MARQ Golfer, MARQ Captain, and MARQ Aviator.
The company says that this premium collection is specially designed for adventure enthusiasts offering a vibrant AMOLED touchscreen display with a domed sapphire lens and Grade-5 titanium for a better outdoor experience.
Further, the MARQ second gen collection smartwatches are equipped with a rechargeable lithium battery that lasts up to 16 days in smartwatch mode and up to 42 hours in GPS mode.
"The MARQ collection is a true testament to Garmin's commitment to providing a luxury experience with super premium quality, innovation and reliability.
Each watch from the MARQ collection is crafted in a beautiful design with gorgeous luxury materials and equipped with smartwatch capabilities which makes it a new standard in the watch industry.
The second-generation MARQ collection- is specifically designed for athletes, adventure & aviation enthusiasts.
With this launch, we believe to cater to the luxury smartwatch market more abundantly, we have served for many years," said Mr. Yeshudas Pillai, Country Head, Garmin India.
Garmin MARQ (Gen 2) Smartwatches Price in India, Availability
The Garmin MARQ (Gen 2) Athlete costs Rs 1,94,990 whereas the Adventurer is priced at Rs 2,15,490.
The Golfer, Captain, and Aviator models carry price tags of Rs 2,35,990, Rs 2,25,990, and Rs 2,46,990 respectively.
The luxury smartwatches will be available for purchase starting February 25th from the brand's store, Just in Time stores, Amazon, Tata Luxury, and Synergizer.
The smartwatches carry the following Price Tags:-
Garmin MARQ Athlete: Rs 1,94,990
Garmin MARQ Adventurer: Rs 2,15,490
Garmin MARQ Golfer: Rs 2,35,990
Garmin MARQ Captain: Rs 2,25,990
Garmin MARQ Aviator: Rs 2,46,490
All Garmin MARQ Gen2 Collection smartwatches are priced above Rs 1 Lakh in India.
Garmin MARQ (Gen 2) Smartwatches: Features & Specifications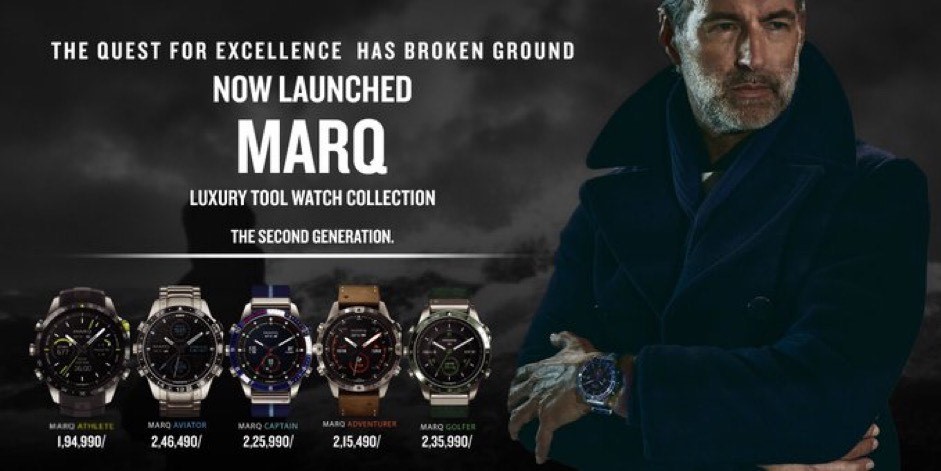 The new MARQ (Gen 2) collection from Garmin is built with high performance Grade-5 titanium which is five-time stronger and harder than most steels, making it more scratch-resistant and lightweight on the wrist compared to stainless steel.
The 46mm watch case houses a domed sapphire lens and an AMOLED display with a highly responsive touchscreen.
The Marq (Gen 2) smartwatches provide up to 16 days of battery life in smartwatch mode. MARQ collects vital biometric data while sleeping to give individualized information on sleep quality, stress, and recovery.
The watch comes with a magnetic charger that aligns easily with each MARQ watch, with a charge time of one hour—twice as fast as the previous design.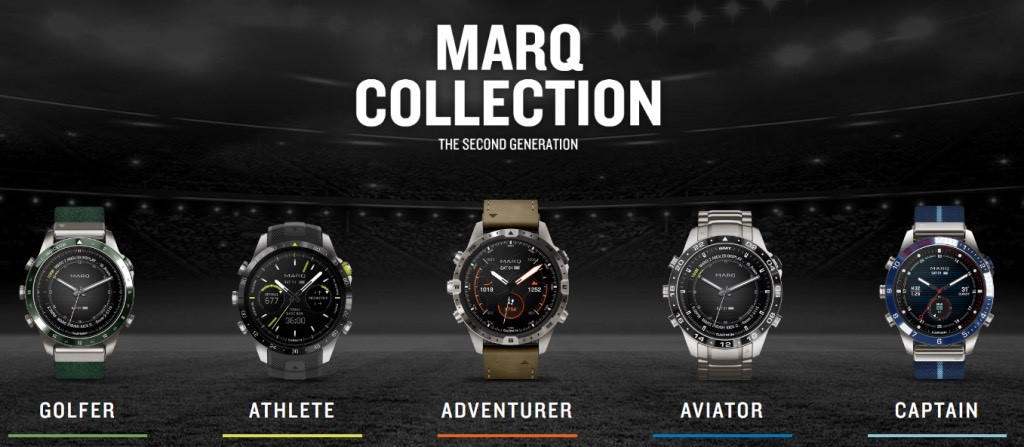 The MARQ collection includes Garmin's suite of 24/7 health and wellness features like wrist-based heart rate, respiration and stress tracking, advanced sleep insights, Body-Battery energy monitoring and a new Jet Lag Adviser.
New to all MARQ watches, the collection includes support for multi-band GNSS, multi-frequency GPS (L1 + L5) and Garmin SatIQ technology, which secures superior positioning accuracy in any environment while optimizing battery life.
This technology automatically selects the right satellite mode for the environment in real time.
MARQ Athlete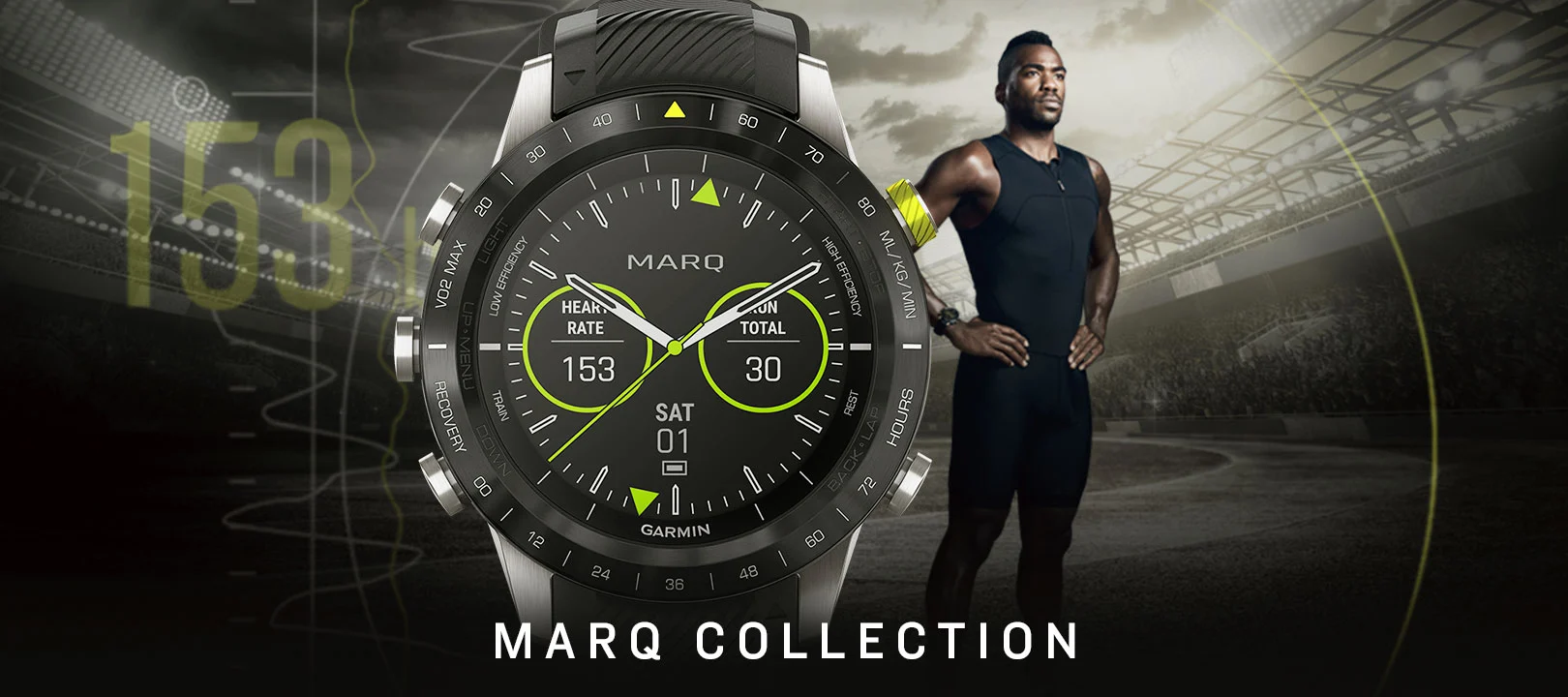 MARQ Athlete, which is the cheapest MARQ (Gen 2) series smartwatch, is built with a titanium case, brushed DLC-coated bezel and fashioned with a lightweight vented silicone rubber strap.
With MARQ athelete, users will be able to track all aspects of their performance, training and recovery with advanced metrics like training readiness, which gives a score based on sleep quality, recovery, training load and more.
For runners, MARQ Athlete includes a wide range of advanced training features like PacePro, which keeps a runner's pacing strategy on track with grade-adjusted guidance as they run a course, and real-time stamina to track and manage exertion through activity to avoid burnout.
In addition to daily activity tracking, the MARQ Athlete comes preloaded with sports apps for all athletic pursuits like running, cycling, swimming, skiing, golf, pickleball & tennis, gym workouts, and surfing, just to name a few, along with easy-to-follow animated cardio, strength, yoga and Pilates workouts.
MARQ Adventurer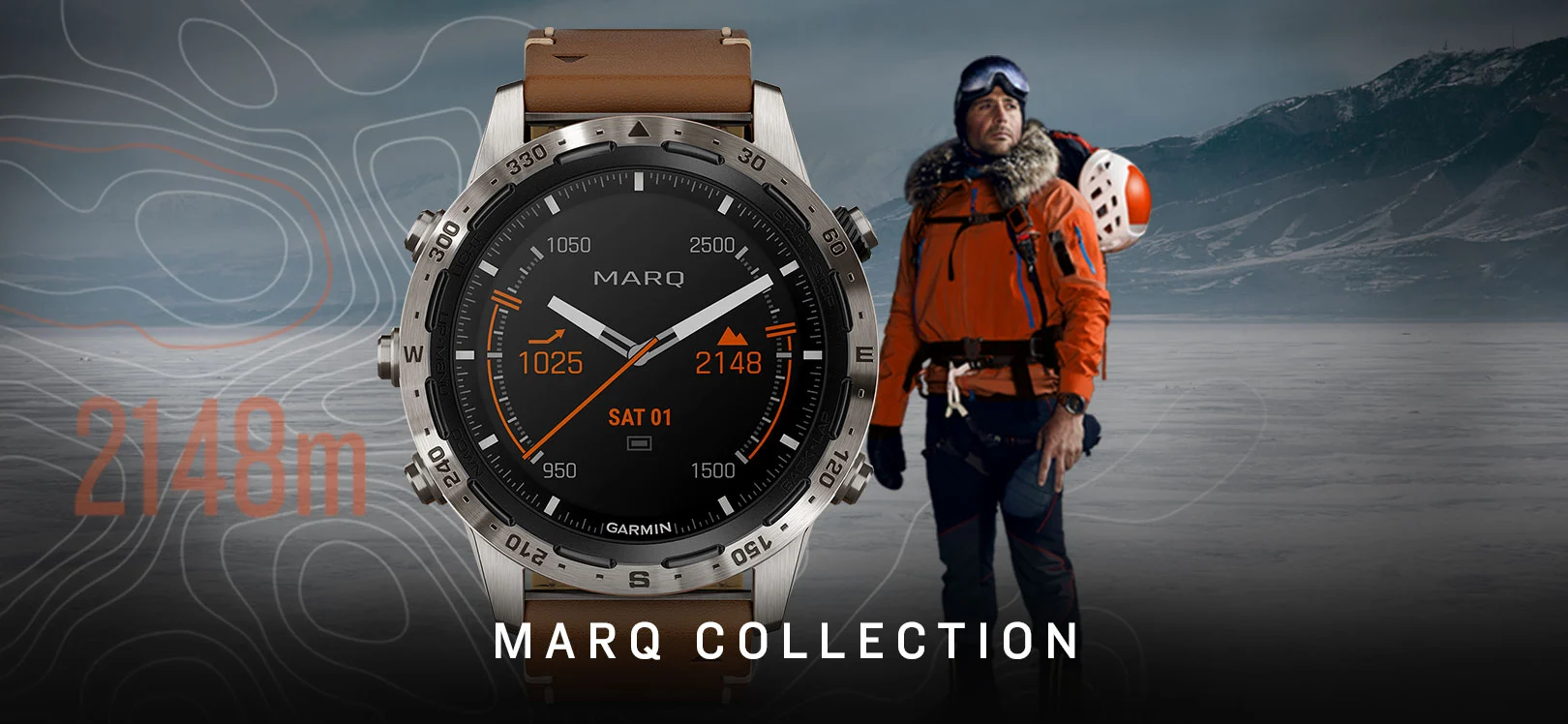 MARQ Adventurer features an edge to edge leather design and durable FKM rubber hybrid strap.
It comes with increased sweat and stain resistance.
The compass bezel uses cardinal directions and 360-degree markings to help keep users on track as they use the Orienteering feature to navigate to their destination.
MARQ Golfer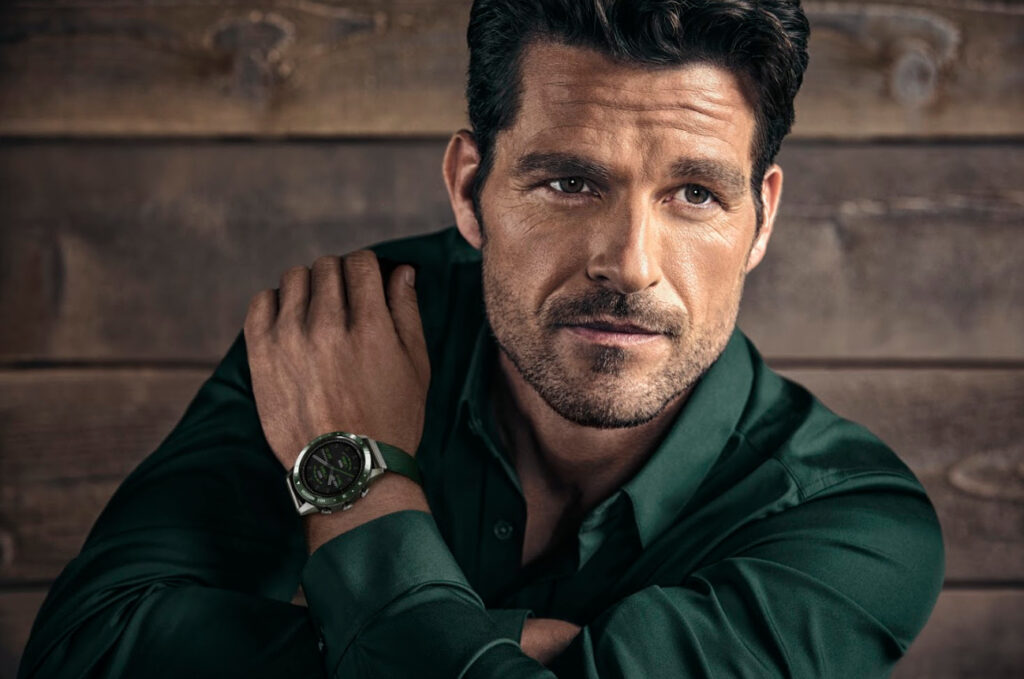 With a golf course-inspired colour scheme, green ceramic inlay, custom etched bezel, and tritone green jacquard-weave nylon strap, this watch comes preloaded with over 42,000 worldwide golf courses.
MARQ Golfer will autodetect which course is being played to give precise distances to the front, middle and back of the green, plus slope direction with Green Contours (Active Garmin Golf app membership required).
MARQ Golfer includes Garmin's most advanced set of golf features, including Virtual Caddie, Hazard View, Wind Data, PinPointer and includes three Approach CT10 golf club sensors for automatic club tracking.
MARQ Captain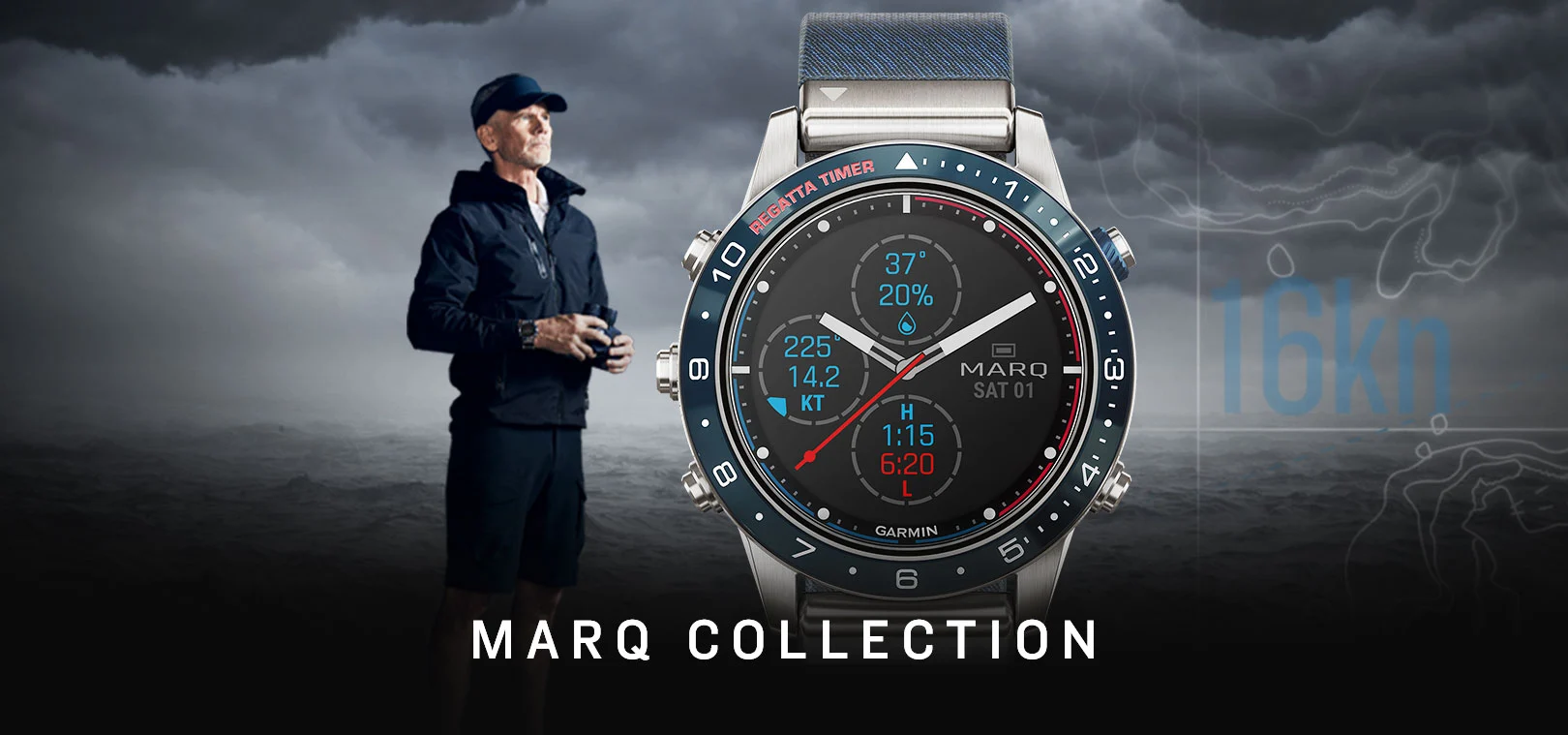 Crafted with nautical details like a navy ceramic bezel with regatta timer and race-inspired striped jacquard weave nylon strap, MARQ Captain has an built-in Regatta Timer that helps racers cross the starting point at precisely the right time, utilizing the GPS time to burn to calculate the ideal position and a countdown timer that shows time to the gun.
For better situational awareness on the water, Alerts and Alarms will signal to imminent tide changes and anchor drag. Access the autopilot right from the wrist with MARQ Captain to change heading, engage pattern steering and follow a route. MARQ Captain also includes profiles for other on-the-water activities like kayaking, standup paddleboarding, windsurfing, kitesurfing and kiteboarding.
MARQ Aviator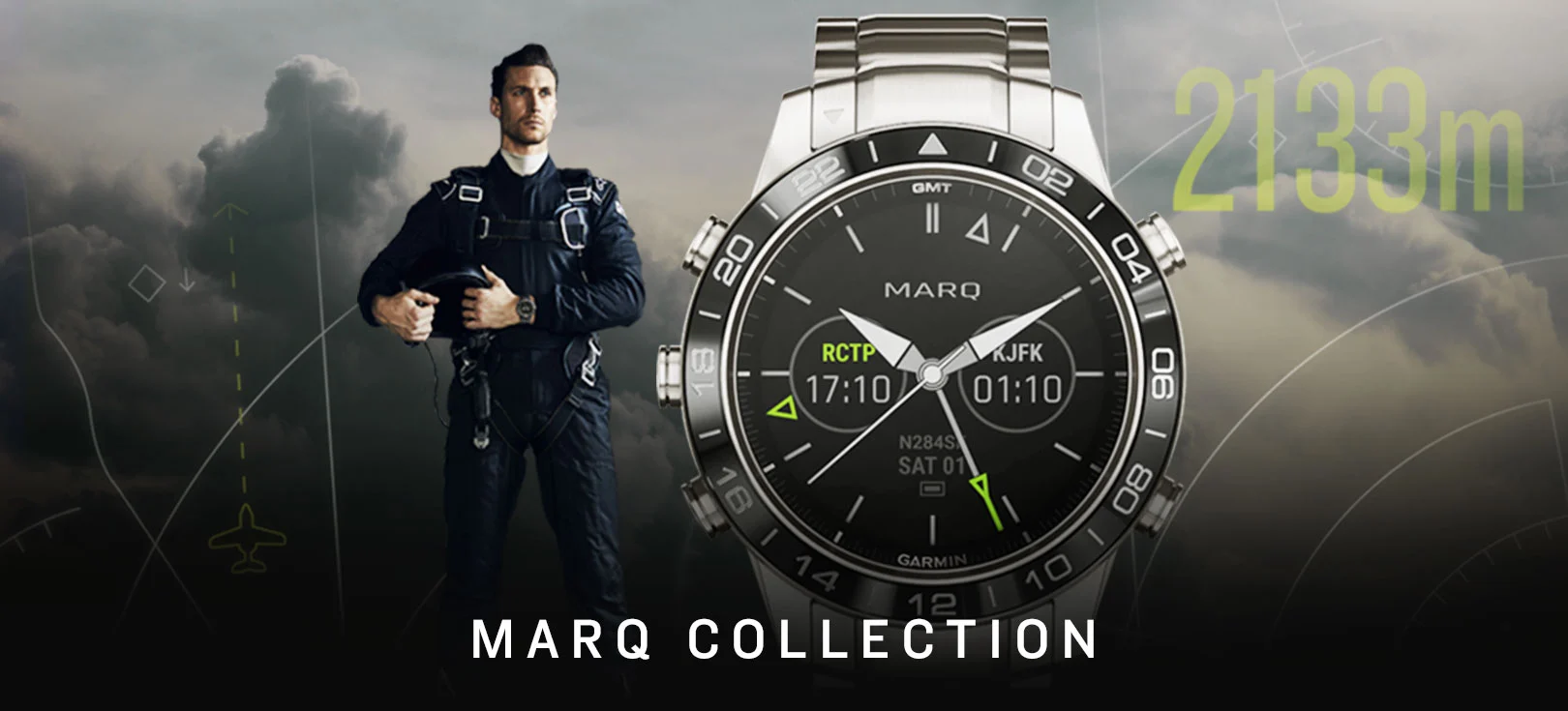 The most expensive smartwatch in the MARQ (Gen 2) series is the Aviator. It is designed with a brushed titanium bracelet, swept-wing links and locking clasp, plus ceramic 24-hour GMT bezel.
MARQ Aviator can be used to navigate to a location or waypoint in the worldwide aeronautical database or to choose the nearest function to activate a path to a nearby airport.
With aviation alerts, pilots can set a minimum crosswind and flight condition they're comfortable with and be notified when it's a good time to go flying.
For world travelers, MARQ Aviator's Jet Lag Adviser watch face displays the aviator's home time zone, a "feels like" time and, once fully acclimated, will automatically update to show 24/7 guidance on light, sleep and exercise.
FAQ's Garmin MARQ (Gen 2)
1) What are the key features of the new luxury Garmin MARQ Gen 2 Smartwatches ?
Ans) The entire MARQ (Gen 2) range's chassis is made up of Grade-5 titanium, sapphire crystal, ceramic, and jacquard-weave nylon.
The use of titanium makes the watches five times stronger. These are also lightweight and scratch-resistant.
All of them feature an AMOLED circular display and come with up to 16 days of battery life (42 hours when GPS is on) on a single charge.
The various health features include a heart rate sensor, a sleep tracker, and a respiration and stress tracker.
There's a new Jet Lag Adviser, which will help people stay active, both physically and mentally while traveling to another country. This feature makes use of sleep history and other data to provide recommendations on the sleep schedule, light exposure, and the amount of exercise needed.
It also gives suggestions to easily adjust to the new time zone.
All MARQ Gen 2 smartwatches come with support for the Garmin Connect app, GPS, multi-band GNSS, and SatIQ technology for accurate positioning while maintaining the battery life.
2) What is the price of the five new Garmin MARQ Gen 2 Smartwatches?
Ans) Here are the prices.
* Garmin MARQ Athlete: Rs 1,94,990
* Garmin MARQ Adventurer: Rs 2,15,490
* Garmin MARQ Captain: Rs 2,25,990
* Garmin MARQ Golfer: Rs 2,35,990
* Garmin MARQ Aviator: Rs 2,46,490
3) Where can I buy the Garmin MARQ Gen 2 Smartwatch ?
Ans) The new MARQ smartwatch series starts at Rs 1,94,990 and will be available to buy from Amazon, Synergizer, Tata Luxury, Just in Time Watch Stores, and the Garmin Brand Stores, starting February 25.
Also Read: Best Smartwatches For Men under 2000a
Also Read: Apple Sold Over Half of the World's 'High level' Smartwatches
Also Read: Best Premium Smartwatches That You Can Buy In 2022